demand a final say on brexit at a protest in london this weekend
Here's how you can get involved.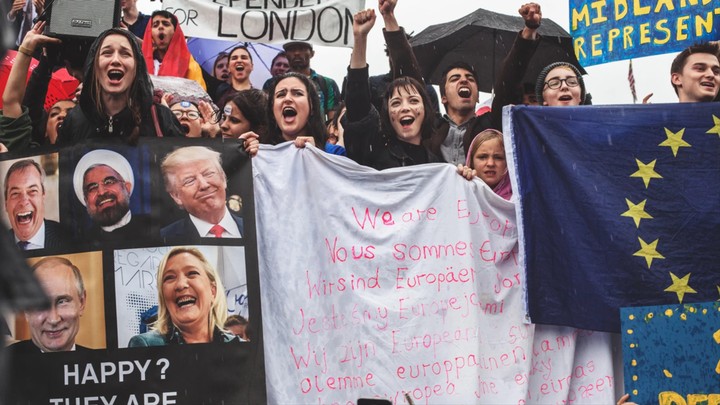 Photography Christopher Bethell.
In June, more than 100,000 people marched on Parliament to support a final say on Brexit, which at the time had dragged on for two years. Now, three months on and apparently no closer to a deal, another huge protest is planned to demand the government listen to those who want a final 'People's Vote' (essentially a second referendum) on the outcome of the talks.
The People's Vote March for the Future, which will take place on Saturday, aims to be even bigger than June's march, and will be led by young people who were among the hundreds of thousands who felt dismayed the initial Brexit result back in 2016. Organised by The People's Vote, a grassroots campaign with more than 700,000 supporters and 20,000 activists, the march is billed as "the most important protest of our generation".
"A crisis is coming this autumn when MPs will have to decide whether to make the country poorer, trash our vital public services and wreck the life chances of the young or give us all a People's Vote on any Brexit deal," writes the organisers.
The protest will take place this Saturday 20 October at 12pm, when activists will congregate at Park Lane, London. They will then march towards Parliament Square where speeches will take place, including one from London Mayor Sadiq Khan.
"Whether you voted leave or remain, nobody voted to make this country worse off, to harm jobs, to damage the NHS, to affect the future of millions of young people, or to make this country more divided," says The People's Vote. "The more the shape of the final Brexit deal becomes clear, the more it is clear that it will do nothing to improve social justice, reduce inequality, increase our standard of living, or create a better future for future generations.
"This Government has failed on Brexit: there is no mandate for its car crash proposal or for a disastrous no-deal Brexit. We won't let them get away with a bad deal -- that's why we will be there in Central London making the case for a People's Vote."

You can find out more information about Saturday's protest and how to get involved here .