the life of the fabulous through the lense of lenny kravitz
As Dom Pérignon's Creative Director, Kravitz brings his artistic flair to the storied house, throwing a bash with his daughter Zoë, Abbey Lee, and Susan Sarandon.
Photo by Lenny Kravitz.
Lenny Kravitz is leading us round an exhibition of his photographs, which are really hard to focus on in the presence of the man himself. Kravitz's voice, as one might imagine, is quite hypnotic, as is the level of knowledge he seems to have about, well, everything. The artist came to photography early, after his father gave him his Leica camera, but it fell by the wayside when he became an internationally famous rockstar. In the last few years, superstardom firmly established, Kravitz has felt the freedom to pick up the camera again, at the urging of friends such as Jean-Baptiste Mondino. In 2015, he published Flash, a surreal look at his fans, and now he's back with an exhibition for Dom Pérignon, for whom he is Creative Director. It chronicles an evening with some of those closest to him, who of course are also super glamorous, including Susan Sarandon, model Abbey Lee, and his daughter Zoë Kravitz, and is in the style of Ron Galella's most iconic paparazzi photos. There is perhaps a theme here — Kravitz has become an interesting form of paparazzo, turning the lens on the hordes around him, rather than himself. i-D talked to the gently voiced icon about his love of photography, the art of champagne, and his new friend Harvey Keitel.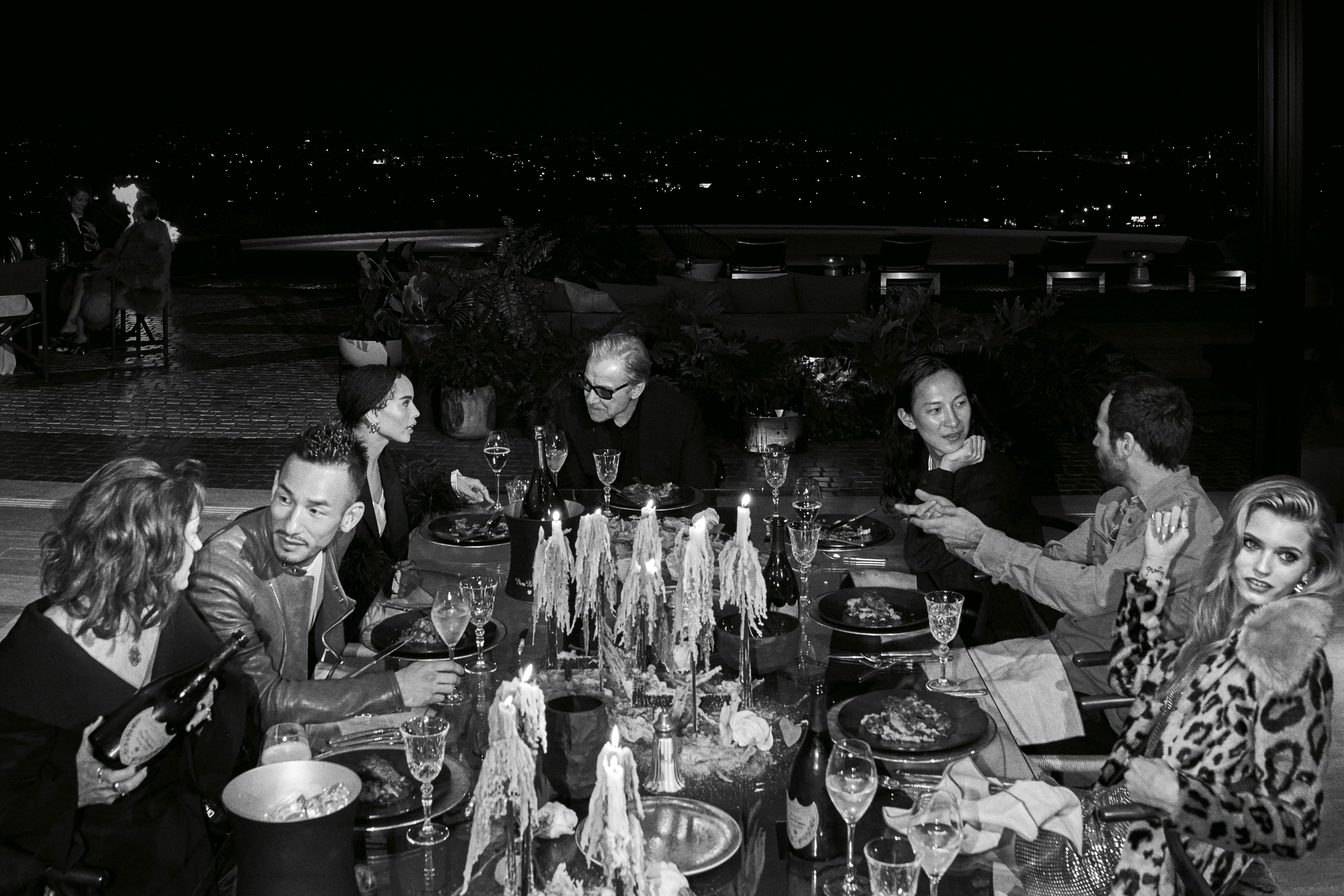 What's your relationship with Dom Pérignon like?
It's wonderful! It's wonderful. It started out, and still is, personal. This is not something thought out to make big business. I became good friends with Richard [Geoffroy, Dom Pérignon's Chef de Cave]. I only have to say one name, he's like Cher, or Madonna, or Prince [laughs]. We became friends through a mutual friend who's a wine expert, and then Richard and I began to talk. This is years ago. I became interested in what he does, he then invited me out to Dom Pérignon. I spent time there with him, we toured the cellars, and there was a lot of listening. We began to have these dinner parties, which had a lot of themes. One of my favorites was one called "The Seven Sensualities," which paired seven different vintages with seven different courses. But we just spent time together over the years, and that was it.
He started coming to my concerts, and then after one of my concerts, he told me that he had been inspired for one of the vintages he was working on. Which I found very strange. But when you talk to Richard about his vintages he'll use words like "intensity," and "focus." Whatever words it may be! In any artform, whether you be a painter, or making champagne, or writing a book, it really is the same process. It's a discipline. And so, we just realized that we were more alike than different. Even though he and I are quite different!
And so, just by virtue of our friendship, we thought it would be interesting to one day do something together with Dom Pérignon. Years went by, we remained friends… and then we put it to action. And here we are. And I'm honored to be Creative Director at this point right now, shooting the campaign, creating objects for the house. My company, Kravitz Design, is designing some things. It's a wonderful collaboration because it's personal. Even though it's for this big house, that's legendary, we're all having a great time. And that's what works for me.
And how did your interest in photography develop?
Through my father. My father was a journalist, he worked at NBC News, he covered the Vietnam War. He came home with this Leica camera that I used to play with as a kid. I had no idea how to use it, but I was drawn to the camera itself. I thought i was very interesting. Then later on in life, my father gave me the camera, when I was 21. And when I was 24 I got a record deal, and I began to have to be in front of the camera. Which is all well and good, but I thought it was far more interesting what was going on behind the camera. So I'd talk to photographers, and they'd invite me into their darkrooms to see their process, people like Mark Seliger and Jean Baptiste Mondino. They'd show me how the camera works, and techniques, but I didn't really understand it at first. And then, one day I just got the bug, and went out and bought my own Leica to figure it out. I'm technical, but the way I learn to play instruments is to get the instrument, put it in my hands, and figure it out. So that's what I did with the camera.
In 2012, on tour, I started to shoot. That ended up being my first book and exhibition, called Flash, which was me shooting all these people who were shooting me. Which was not what I intended on shooting, but every time I went out to shoot I got chased down by paparazzi, and/or fans. So they ruined my pictures, and ended up being what the exhibition was. Which was Jean Baptiste-Mondino's idea, not mine. He said it hadn't been done. "Of course it's been done." And he researched it and it had not been done, so, wow, it's not often you get to stumble upon that. And this is my second exhibition now, here with Dom Pérignon.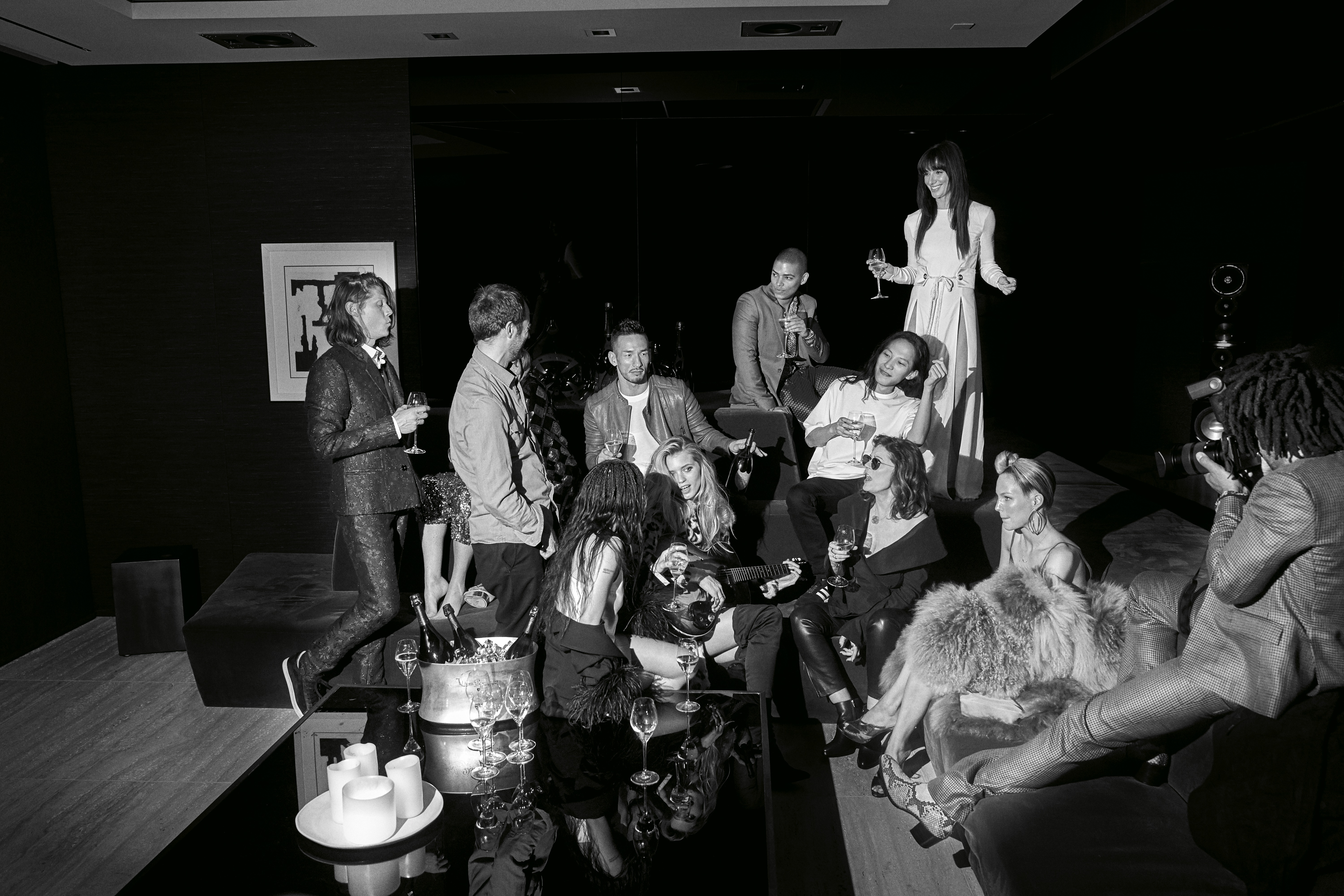 What were you thinking with the images presented here?
Well, I was very inspired by this book of photos of Studio 54 by Ron Galella. Who shot all those wonderful shots of New York nightlife. So, inside, in the dark, with a flash. And we hung out! We had a dinner party, and a dance party, and you can see by the end that everybody really knows each other now [laughs]. It started off with everybody standing around, because it can be stiff. Even though a lot of them are actors, they're still not comfortable just kind of showing up. They don't have a script! So we just started to hang out and talk, and my daughter was the catalyst. She got everyone talking.
And whenever anybody has a party, no matter how big the house, everybody's in the kitchen. You can have 30 rooms, everyone's in the kitchen. So we started in the kitchen, talking, and that started the photo session. We had a wonderful dinner party, and then went downstairs to the club — we built a nightclub in this wonderful house, the Stanley House. It was just a real evening of this eclectic group of artists, hanging out… I now have a new friend in Harvey Keitel, and I didn't see that coming!
Finally, how would you describe Dom Pérignon?
As a classic. This is something that's been tried and proven. You expect a certain level of quality, of the highest level. It's also a name and an idea. When people think of Dom Pérignon, they think of something very special. But it's also something you're opening for a reason. Now, I know people who pull it out because it's Tuesday, and that's wonderful. Tuesday is an occasion. Every day of life is an occasion, we're not promised tomorrow! But it marks a time. And it's an art form. I've learned how difficult it is, and what a disciplined art form it is to make this incredible champagne.