what it's like to date when you're literally an alien from another planet
With a reboot in the works, we take a dive into Roswell -- the 90s TV show that tackled teenage alienation, well, literally.
At the turn of the century, a spate of television shows crash landed on our screens. Taking the well-trodden path of teenage alienation and pushing it the nth degree; they tackled adolescence, outsiderdom and a niggling sense of not fitting in, through a prism of demons, different dimensions and interplanetary space travel.

There was Smallville (the story of a young Clark Kent), Charmed (a show about a trio of teenage witches) and, most famously, Buffy the Vampire Slayer -- the genre-defying classic that followed the life of a high school student tasked with protecting the planet from dark forces.
Each achieved cultural prominence. But there was one show that best represented the brooding, seemingly inhuman body changing of adolescence better than all others: Roswell.
First aired on 6 October 1999, Roswell saw a group of teenage aliens posing as humans in the town of Roswell, New Mexico. Much more than the "X Files meets Dawson's Creek" mash-up initially suggested, over three seasons it followed the lives of Max Evans (Jason Behr), his sister Isabel (Katherine Heigl) and their friend Michael Guerin (Brendan Fehr), as they attempted to piece together the secrets of their past following a 1947 UFO crash that left them orphaned, emerging from stasis pods in the form of six-year-old human-alien hybrids in the early 1980s. Confused? You should try being one of the human characters.
The show begins with one of the greatest cold openings of all time. "I'm Liz Parker, and five days ago, I died. After that, things got really weird." Liz plays the human love interest to Max. When a fight kicks off in the UFO-themed diner in which she works, Liz is accidentally shot and Max, harbouring a longstanding crush, heals the wound by putting his hand over it and leaving a mysterious imprint on her stomach. The next day, when Liz asks him where he's from, Max points towards the sky. ''Up north?'' she suggests, optimistically. Oh, Liz. His finger goes higher.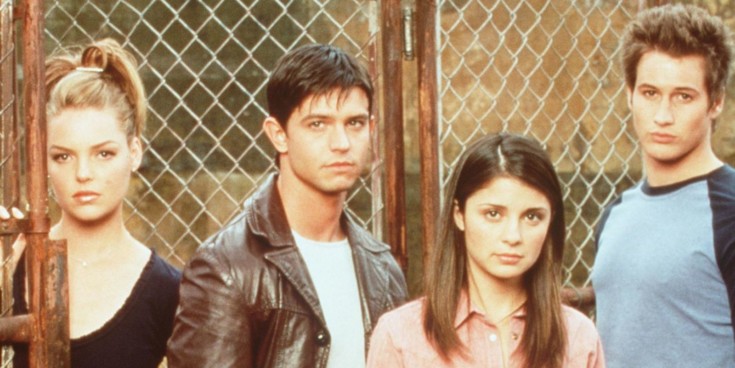 In Max, you have the perfect embodiment of teenage outsiderdom -- the anxiety over impending adulthood, the feelings of unbelonging, the familial issues (in this case, how to hide the fact that he and his siblings are clones of the royal family of Antar). It's a character we've seen since time immemorial -- in Beverly Hills 90210, in My So Called Life, in Dawson's Creek -- only here, the emotional landscape of teenage life is metaphorically transplanted onto a story of extraterrestrials. Even Max's growing supernatural abilities speak to the changing of the male adolescent body and the feeling of increased strength that comes with it.
What makes Roswell so successful, is that these are feelings that all teenagers have had to endure. When Max attempts to hide his powers in a bid to seem normal, he's doing what everyone has done at some point in their lives; modifying his behaviour in the hope of fitting in. When the siblings are revealed to be inhuman, it's because we've all been inhuman. When he embarks on a relationship with the non-extraterrestrial Liz, a relationship that defies rationality and common sense, it's because, well, all teenage relationships defy rationality and common sense. That's why they make such good songs.
Through a parable of different planets and mind-melding supernatural powers, Roswell taught a generation of teens how to deal with the pain of puberty. So, in answer to the question, 'What's it like to date when you're literally an alien from another planet?' -- just ask yourself. You've probably been one.