marques'almeida want to empower a generation of girls
The LVMH Prize-winning heroes we need but don't deserve in these troubled times.
|
20 February 2018, 4:11pm
Who?
Marques'Almeida. The LVMH Prize-winning heroes we need but don't deserve in these troubled times. A beacon of positive fashion reinforcement, at a time when it would be very easy to be down about the state of the industry we work in. Eschewing a detailed, look-by-look fabric-by-fabric press release, they instead wrote a simple but powerful message that might as well encapsulate everything the brand stands for: "Marques'Almeida has a will, a passion and a joyful responsibility for making fashion inclusive, diverse and relevant for girls and women living today. We hope to empower generations of girls to do great things and feel represented and supported through fashion and many other ways." A sentiment we should all get behind.
The brand was initially known for its radical, frayed approach to denim, but has become defined by its tribe of M'A girls who represent the cutting-edge cool the brand stands for.
This season the brand collaborated with Louise Gray on the collection, creating a series of baggy, sloganed sweaters together.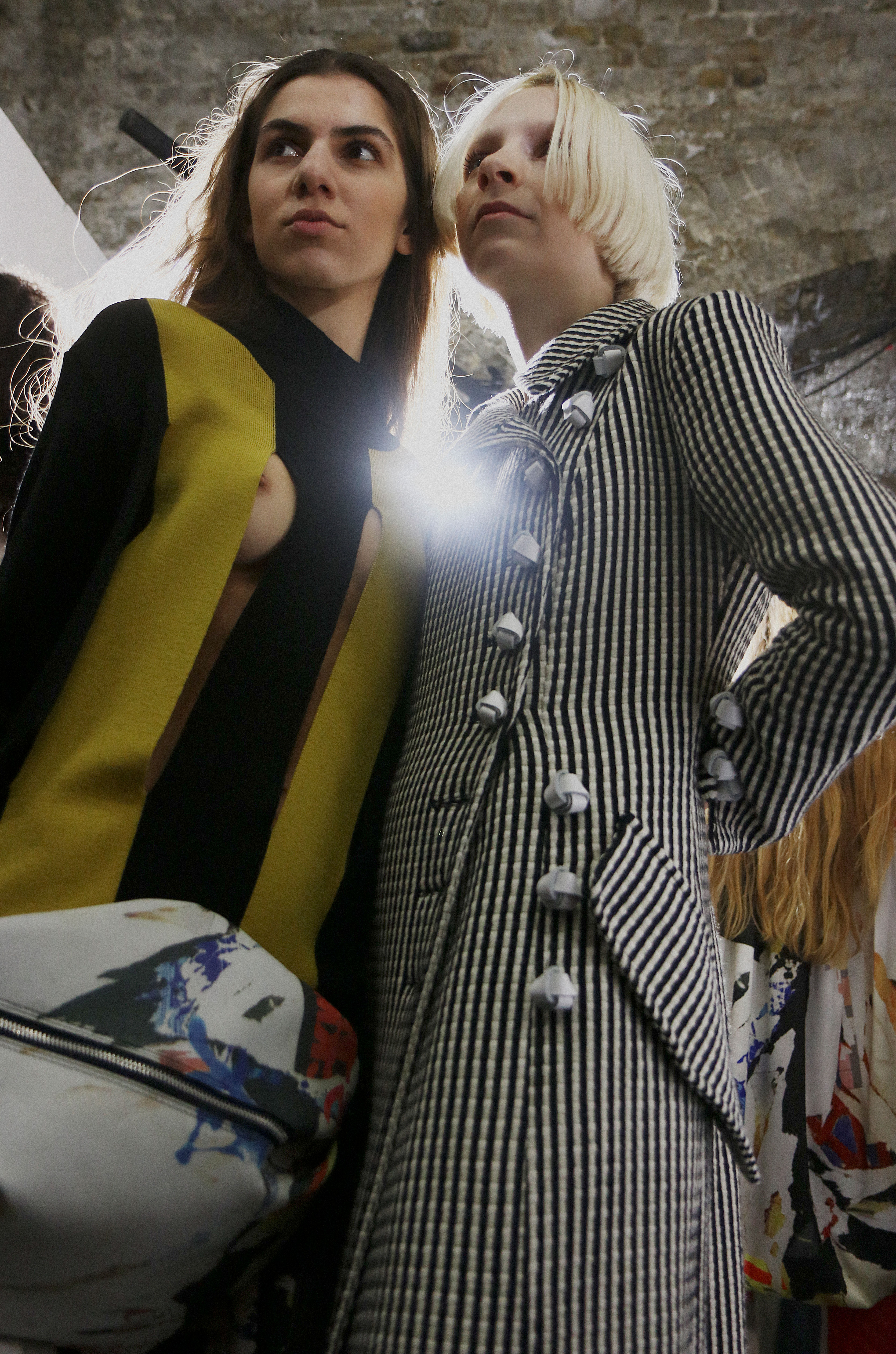 What?
The collection felt like a development and continuation of last season. Despite being a "denim brand" the blue stuff was totally paired back, and expanded on the label's other signatures; thick blocky pinstripes, grungy attitudes and a relaxed unfussy sense of cool. There was a 90s-flecked retro-futurist space age vibe to some of it, countered by a very grounded, earthy feeling. A kind of everyday real life, dressing up sense of glamour. Or just enjoying wearing nice things.
This mood came about, they explained, by finding inspiration in how the gang of M'A girls dress IRL, and trying to create clothes they all might want to wear. "We were inspired the girls we are obsessed with," they said backstage. "They are our inspiration. We see them through our eyes, our perspectives, but it really starts with the girls. We always have been inspired by them, but I think this season we took it further and really made it about them. The references came from what the girls wear and we put that on the moodboard, and this is what came out."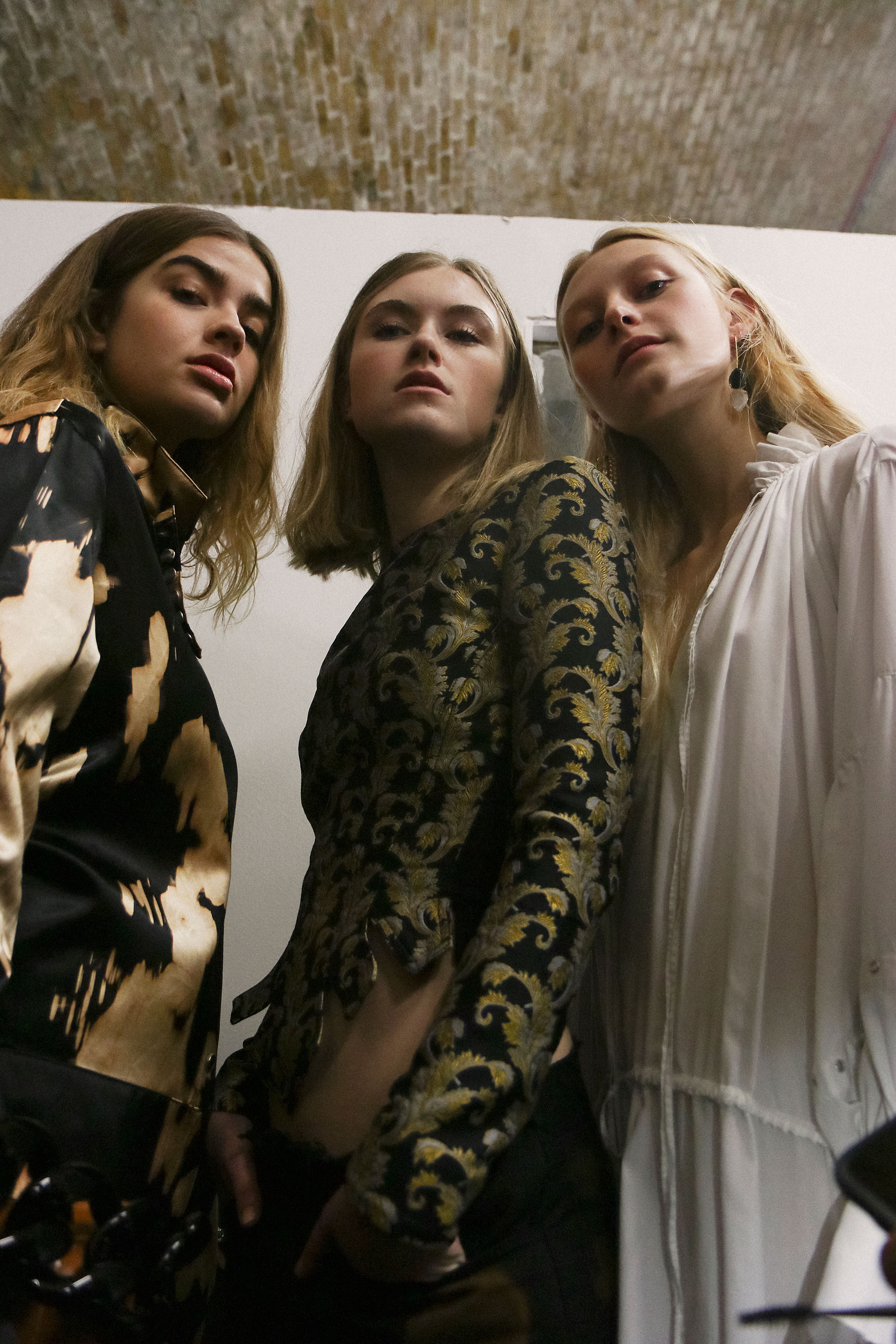 Wow!
Marques'Almeida have totally honed what their army of fans want, and know how to do what they do with aplomb. So what shone through most though was the message. Fashion's been rocked by too many scandals to list recently, and a mood of questioning hangs over the industry. There might be some disillusionment, but it should also allow us to refocus on the positive potential of fashion. Backstage, post-show, Marta and Paulo expanded on that saying: "We've always done things a certain way in fashion, and we've always been slightly uncomfortable with the way girls are treated and portrayed. Trying to get 17-year-old girls to wear something that a 50-year-old women is going to wear -- to us that makes no sense. It makes sense for us to empower our girls, the inspiration for Marques'Almeida comes from them, and it's for them too." Every brand should take that to heart.