watch 'call me by your name' author explain the iconic peach scene
When are peaches in season again?
|
28 February 2018, 7:40pm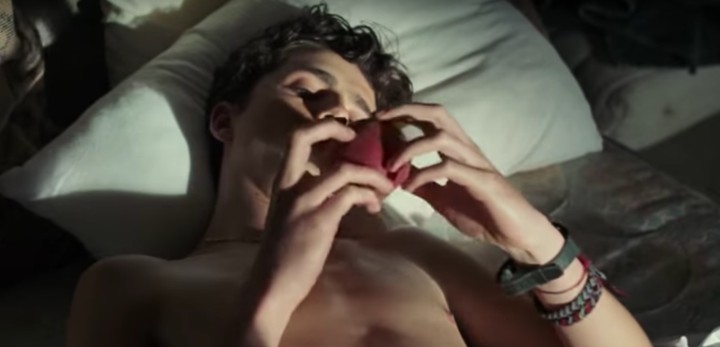 Screenshot via YouTube
The film adaption of Call Me By Your Name has had a magnanimous effect on pop culture. Not just for expanding representations of queerness on screen, but also for gifting an entirely new meaning to the peach emoji. The cultured teenager Elio, played by Timothée Chalamet, puts a ripe peach from his Northern Italian garden to innovative use in one scene — while laying back and fantasizing about Oliver. The moment may sound like something out of a Sean Cody film, but it's actually just as sweet as a peach. You can feel Elio's gut-punching longing for his first queer lover. It could easily be argued the emotionally charged scene is what scored Timothée an Oscar nomination for Best Actor this year.
André Aciman, the author of Call Me By Your Name, recently explained why he included the peach scene in the 2007 novel. "The peach scene is very essential," the writer told TIFF Originals. "Partly because it's so shocking, but also at the same time because it's the most intimate moment between the two men."
There is one major difference between the novel and Luca Guadagnino's film though. In the book, Oliver eats the… um… "stuffed" peach after Elio is finished pleasuring himself with it. "Oliver says, 'I want every part you,'" Aciman recounts for us. "'If you die, I want part of you to stay with me in my system.'" However, in the film, Oliver simply makes a gesture to eat the fruit before Elio stops him and begins crying. "That is good enough for cinema," Aciman says. "We don't need to see more."
However, directorial decisions like these have sparked criticism from some in the queer community. Miz Cracker of Slate declared the film not to be a "gay movie," partly because "all 'gay' sex takes place off screen." Guadagnino has defended these omissions by saying, "To put our gaze upon their lovemaking would have been a sort of unkind intrusion."
Regardless, the moment will likely become one of the most iconic masurbation scenes in film history. It puts an emphasis on intimacy, shifting the focus away from performative masculinity and sexuality. There's some other great Call Me By Your Name commentary getting released. Enjoy this two-hour long commentary track from Timotheé Chalmet and Michael Stuhlbarg, who plays Elio's father.