Miuccia Prada by Francesco Vezzoli. The Pain & Pleasure Issue, No.298, April 2009.
the a-z of miuccia prada
As the British Fashion Council announce that she will receive the Outstanding Achievement Award at The Fashion Awards 2018, we recite the alphabet to the Pradasphere.
|
27 November 2018, 8:00am
Miuccia Prada by Francesco Vezzoli. The Pain & Pleasure Issue, No.298, April 2009.
As the British Fashion Council announce that Miuccia Prada will receive the Outstanding Achievement Award at The Fashion Awards 2018 in partnership with Swarovski, i-D share an alphabetical guide to fashion's most radical thinker.
"We are thrilled to be honoring Miuccia Prada with the Outstanding Achievement Award for being an incredible design maverick and for spearheading the evolution of the Prada group from a family business to a global brand," Caroline Rush, CEO British Fashion Council explained in a press release. "Mrs. Prada's intuition for the zeitgeist and her blending of multiple creative disciplines including fashion design, art, and architecture since the beginning have made her a pioneering force in our industry," added Stephanie Phair, Chairman British Fashion Council. She might be following the likes of Donatella Versace, Ralph Lauren, Karl Lagerfeld, Dame Anna Wintour OBE, i-D's very own Terry and Tricia Jones, and Manolo Blahnik CBE in accepting the award at next month's ceremony, no doubt wearing her iconic flat, black lace-ups — but there's only one Miuccia Prada. If you ever needed a reason to learn the A-Z of Miuccia, this is it...
A is for Archive
There are few designers that can reference their own archives deftly and do so without it looking like they've run out of ideas. Once Miuccia Prada honed in on her obsession with the practical yet pliable pocone nylon, which revolutionized the luxury goods world back in 1984, it became the central anchor to Prada's autumn/winter menswear collection; repurposing, re-contextualizing and ultimately, refreshing her well-versed design language for a new generation. In particular, a whole host of archive Prada prints were resurrected in new hybrid compositions.
Another A to learn is Actors. From John Malkovich's appearance in the Prada autumn/winter 95 campaign to Willem Dafoe, Adrien Brody, and Gary Oldman all making their catwalk debuts in autumn/winter 12, Miuccia Prada loves casting film stars.
B is for Bananas
Prada's Minimal Baroque spring/summer 11 collection drove us bananas and inspired so many knock-offs that its seismic effect can still be seen in the counterfeit market today. The visuals were anything but minimal, though, as Josephine Baker's jazz age spirit coursed through this rambunctious collection. The banana print drawn in a deliberately cartoonish manner, along with swinging monkeys, baroque scrolls, and bold stripes, became the number one target for street style snappers to shoot.

...and Backpack
How many commuters did you see this morning wearing backpacks? Whether or not they know it, Miuccia is the reason they're acceptable. In the mid 80s, Miuccia created the first "It Backpack," subverted luxury, and made practicality chic. To continue the lesson, see N below.
C is for Cinema
After a number of Prada and Miu Miu pieces were worn in The Great Gatsby test scenes, Baz Luhrmann and costume designer Catherine Martin unsurprisingly turned to Miuccia to realize their hyper-glamour take on the 1920s. This collaboration is widely known, but did you know Miuccia created two looks for Luhrmann's best adaptation, Romeo + Juliet? His take on Shakespeare's doomed romance remains as youthful and as effervescent as ever and Miuccia created one of film's most iconic dresses — the white dress and wings Claire Danes wears to the costume party. She also created the navy suit Romeo wears to wed his young bride. Swoon.

...and Christophe Chenin
The Berlin-based French artist worked with in-house designer Fabio Zambernardi, as he provided his response to the Prada universe and combined his own obsessions to create a series of artworks that were used in both the men's and womenswear autumn/winter 16 shows. So dreamy.
D is for Devil
Well, because the The Devil Wears Prada. How many fashion houses have their name in a book and film title? "I was terrified — the book was awful," Miuccia told Italy's Corriere della Sera of the Meryl Streep-starring Hollywood adaptation of Lauren Weisberger's novel. "The film, on the other hand, was fun." You have to laugh or cry when confronted with a caricature of fashion's most frivolous of fallacies and gut-wrenching truths.
E is for Excellence
Miuccia has held the position of Lead Creative Director and Co-Chief Executive Officer of the Italian fashion brand Prada for 40 years. Before taking over the family business and revolutionizing not only the company but the wider fashion industry too, the fashion intellectual completed her PhD in political sciences. She might have left socio-political academia to work at her parent's leather goods company in the late 70s but her passion never left her, instead, it has propelled her to persistently probe relationships between dress, gender, and power. Her achievements include the 2004 International Award from the CFDA; in 2005 Time Magazine named her one of the 100 most influential people in the world; in 2013, she won the inaugural International Designer of the Year award at the British Fashion Awards and the following year, the Costume Institute of the Metropolitan Museum of Art in New York dedicated to her – together with Elsa Schiaparelli – its annual exhibition, titled Elsa Schiaparelli and Prada: Impossible Conversations. Bow down before fashion's queen.
F is for Flames
For spring/summer 12, Miuccia sent a flurry of flames that fanned their way across a revved up trip down Thunder Road. These flames were fired up on the hems of pleated Marilyn Monroe-esque skirts, but also as ornamentation on the back of wedges that became the "IT" shoe of the season. Very 50s American diner kitsch.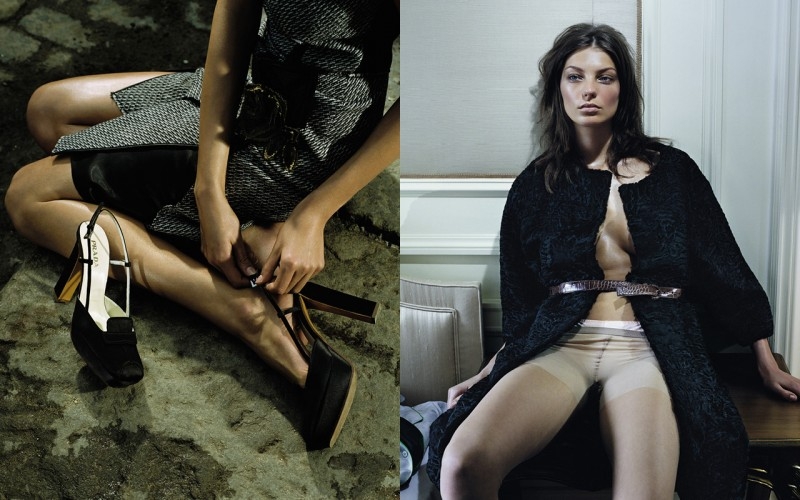 ...and Fondazione Prada
For the last two decades, Prada's institution dedicated to contemporary art and culture has continually questioned perceptions and challenged intentions through an evolution of projects. From Utopian monographic artist commissions to contemporary philosophy conferences, imaginations are ignited over and over again. With the opening of the OMA-designed cultural complex in Milan back in 2015, the Fondazione has been able to offer new opportunities to learn and inspire. It's also home to a Wes Anderson-designed Bar Luce, which is a candy-colored celebration of traditional Milanese cafes.
G if for Grandfather
In 1913, Mario Prada, Miuccia's grandfather, opened the very first Prada store in the Galleria Vittorio Emanuele II in Milan — the world's oldest active shopping mall. He sold bags, trunks, and travel accessories to the well-heeled Milanese and by 1919 became an official supplier of the Italian Royal Household. Miuccia, the youngest granddaughter, took over the family-owned luxury goods manufacturer in 1978 and she quickly transformed the business. Mario would be proud.
H is for High-Tech
Earlier this year Prada relaunched the classic Prada Linea Rossa — first launched in 1997 — as an evolved, reactive technical collection for a high-tech tomorrow. It might just be a little red line but it blurred the boundaries of fashion and streetwear like nothing before it.
I is for i-D cover star
For i-D's The Pain & Pleasure Issue (No. 298, 2009), artist Francesco Vezzoli created a smile and a wink needlework portrait of his patron and muse especially for the front cover of i-D. Inside, Francesco and Miuccia discussed art and the power of the media. It should be one of your favorite ever i-D interviews. Read it again as soon as you've recited the alphabet in full.
J is for James Jean
The Taiwanese-American former DC comic artist first collaborated with Prada on a fairy-filled Trembled Blossom print for spring/summer 08. It sparked countless copycat illustrations and fashion tie-ups ever since. The pair reunited for Resort 18 and reminded us of the beauty of the original. Today, artist collaborations are commonplace in fashion, but rather than reproduce existing artwork verbatim, Miuccia consistently chooses to start a two-way dialogue.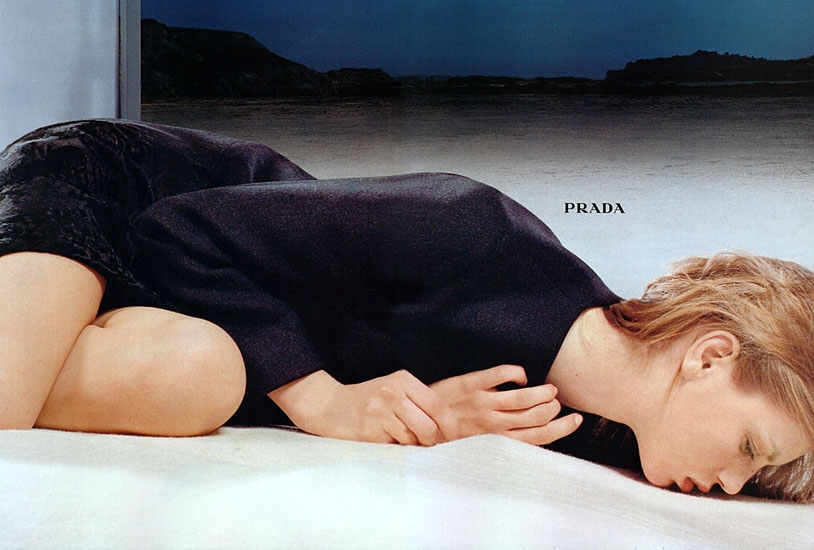 K is for Katie Grand
The British stylist and founding editor-in-chief of LOVE was approached by Miuccia and asked to "do something fun for me" for Prada's seminal sister line Miu Miu, back in autumn/winter 2002. The pair have worked together on countless projects since, and in recent seasons the kid sister has grown-up and is ready to take on the world. Katie also gave us the below quote about Miuccia's style that perfectly sums up the Pradasphere: "Once, she was standing in the studio in this very prim, calf-length, pleated white dress, and you could see straight through it to her electric pink underwear. I don't know if she knew it was transparent or not, but that mixture of being sober and conservative and then something quite shocking is totally Prada and totally her. It's an unseen sexiness that's completely instinctive."
L is for Lipstick
Today, the Prada lipstick print is considered a modern collectible and surely ranks as one of the most recognizable prints to have emerged in fashion. Inspired by Yves Saint Laurent's own lip print, in her spring/summer 00 collection Miuccia arranged lips into polka dot formations and lipsticks into uniform rows on prim skirts and blouses. Rendered like a computer-generated painting, these outwardly feminine objects looked like bullets (make-up is after all often described as a form of armor). The lipstick print's iconic status was further cemented when featured at the Met Costume Institute's 2012 exhibition Schiaparelli and Prada: Impossible Conversations where their common affinity for surrealism was highlighted.
...and Linea Rossa
In the late 90s, Prada Linea Rossa paved the way for fashion's sportswear obsession, pioneered high-tech luxury, and dominated the UK garage scene. Re-e-wind...Miuccia recently resurrected this cult, futurist sports line to dress the nightlife tribes of today.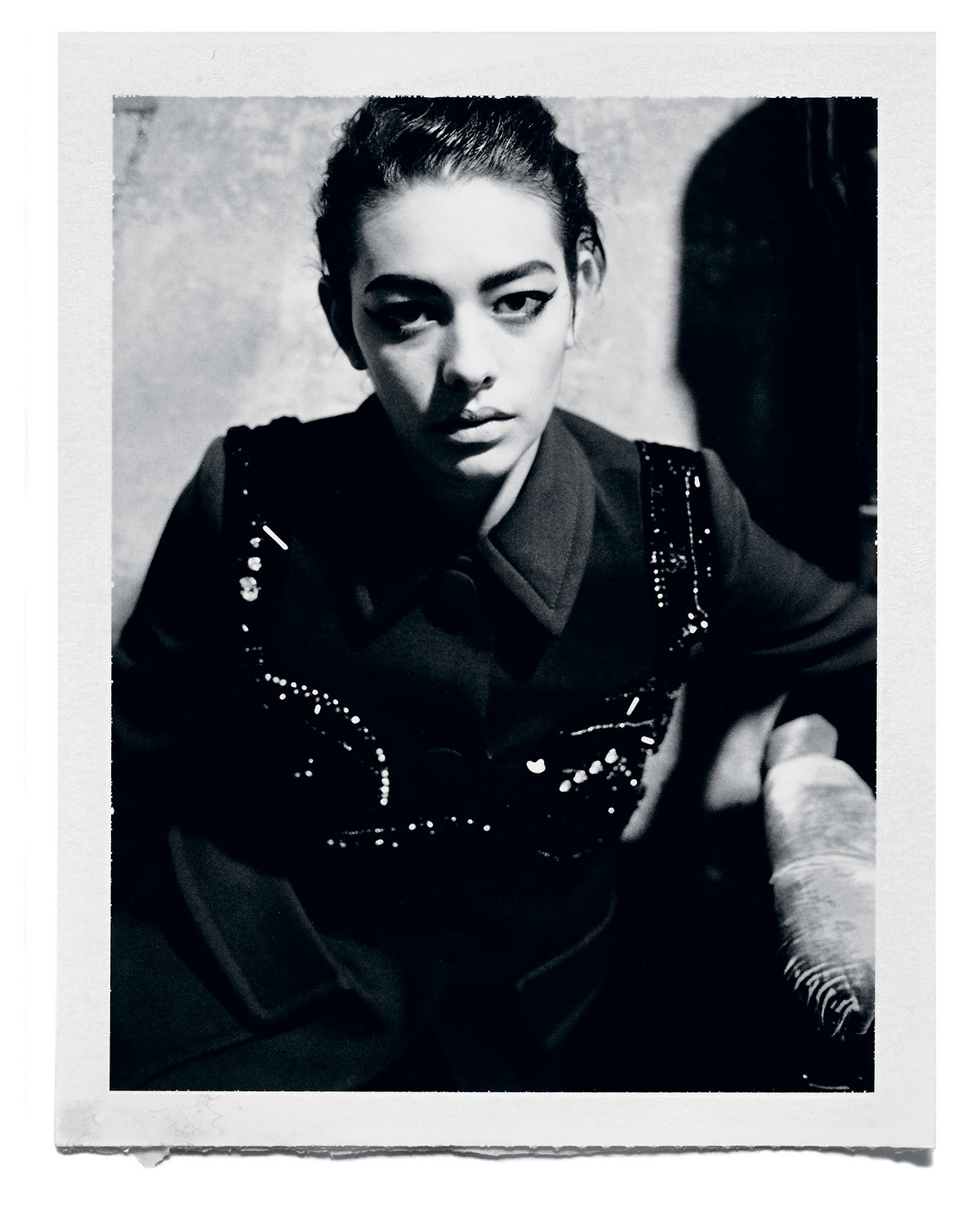 M is for the late, great Manuela Pavessi
Photographer, influential stylist, and Miuccia's closest collaborator — her right hand — Manuela consulted on the house's collections and strategies throughout a career spanning more than four decades. Although she passed away in March 2015 after a longterm battle with illness, Manuella will forever be remembered for the role she played in shaping Prada Groups' redefinition of intellectual femininity, in addition to her own work as a photographer and stylist. "She was my friend for 40 years," Miuccia explained in an emotional statement read out at the funeral. Excuse me, there's something in my eye...
N is for Nylon
In the mid 80s, Miuccia subverted luxury and found her first It bag when she unveiled the pocono nylon backpack. The industrial textile went against everything that was considered luxurious at the time. "I was searching," explained Prada, "because I hated all the bags that were around. They were so formal, so lady, so traditional, so classic." She found her riposte inside a factory making military parachutes and decided to turn the pocono nylon into a backpack. A decade later, she used treated it like cashmere or silk in a seminal autumn/winter 98 ready-to-wear collection. It was another moment in which Prada used nylon to challenge what she describes as "the traditional, conservative idea of luxury."
O is for Olivier Rizzo
"It is more than pure magic to work for Prada, such a company and such a person as Miuccia Prada," the Belgian super stylist and consultant explained in his guest edited issue of Document. Given he's been working with Willy Vanderperre since they met on the first day of school at Antwerp Academy, Olivier understands that there's fashion magic in long-term collaboration and he's been working closely with Miuccia and Fabio Zambernardi, design director at Prada since 2002, for years, across campaigns and collections. Prada is all about family and Olivier Rizzo is Prada family.
P is for Prada
As mentioned above, Prada is all about family. After she completed her PhD in political sciences, Miuccia took over the family business and transformed into a global mega brand and a £2.8 billion global business. The same year she and her siblings Albert and Marina inherited the company, Miuccia met the love of her life, Patrizio Bertelli, who ran a luxury leather company at the time and would later become her husband and Prada Group co-CEO. The marriage of Miuccia's design prowess and Bertelli's acumen with production, logistics, and more is a fruitful one. It was Bertelli who encouraged her to design clothes as well as bags, threatening to hire someone else if she didn't, and thankfully for us she took up the challenge and changed fashion forever. Earlier this year, he declared that the family-owned Italian fashion group had no intention of selling and that his eldest son, 30-year-old Lorenzo, is being groomed to take over. The dynasty continues.
Q is for Quotes
When Miuccia Prada talks, you listen. Here are just 5 Prada-isms to live by:
1) "You have to embrace the world if you want to live in it now."
2) "If I have done anything, it is to make ugly appealing. In fact, most of my work is concerned with destroying — or at least deconstructing — conventional ideas of beauty, of the generic appeal of the beautiful, glamorous, bourgeois woman. Fashion fosters clichés of beauty, but I want to tear them apart."
3) "I don't believe in people who think that clothes are not important."
4) "People often don't want to admit that they like fashion. And yet fashion enthralls everyone, from the taxi driver to the mega-intellectual. I have often asked myself why this is. I don't know the answer."
5) "Every day I'm thinking about change."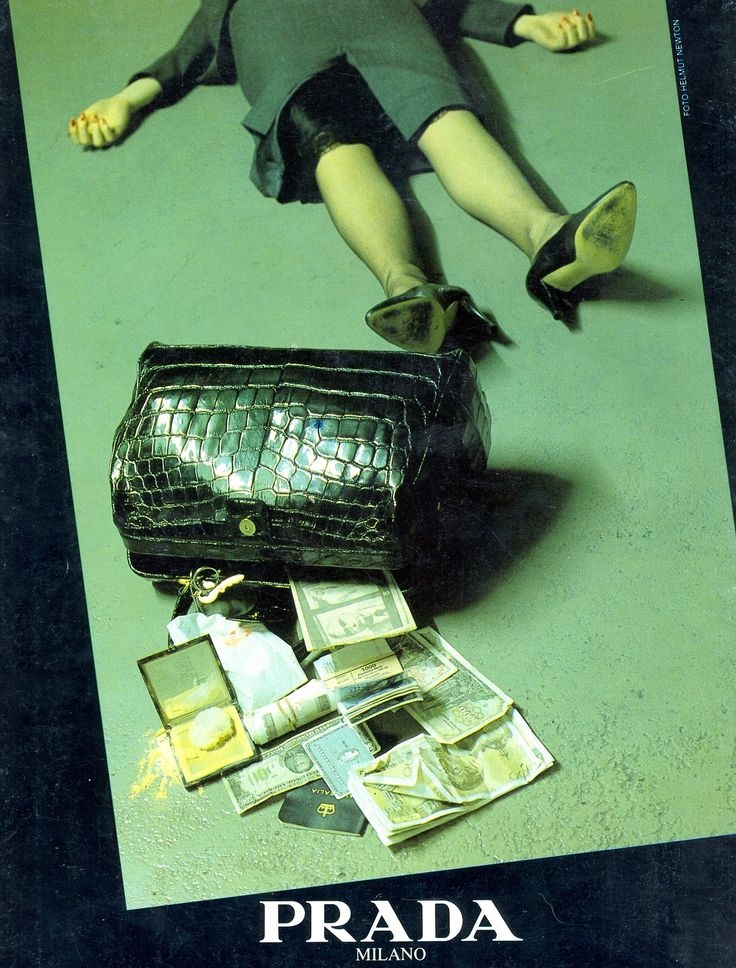 R is for Rem Koolhaas
Designers and architects frequently combine on specific projects, but Miuccia Prada and Rem Koolhaas, architecture Rotterdam-born powerhouse and founder of the OMA practice, have been collaborating for two decades. From stores to catwalk, accessories, and the mammoth Fondazione Prada.
S is for Supers
Ever since the first catwalk show, Prada autumn/winter 1988, Miuccia has cast and created the supermodels of the moment. From Kristen McMenamy opening spring/summer 96 to Anok Yai becoming the second black model to open Prada — following Naomi Campbell in 1997 — and Kaia Gerber walking spring/summer 19, the catwalks of Prada and Miu Miu continually provide FASHION MOMENTS. The highest of highlights include Carla Bruni Amber Valletta, Christy Turlington, Linda Evangelista, and Naomi Campbell.
T is for Texas
Well, 13 years after the Prada store popped up in Marfa, Texas, not an item has been bought, but there have been plenty of selfies shared outside. More sculpture than store, it was created in 2005 by the artist duo Michael Elmgreen and Ingar Dragset. The artists themselves describe the Insta-hit a "pop architectural land art project" and it has become something of a desert-based cultural pilgrimage to art and fashion lovers alike, but also victim to repeated vandalism too.
U is for Ugly Chic
"The good taste of bad taste" was how Miuccia Prada described Prada's pivotal spring/summer 96 collection, Banal Eccentricity. With its hand drawn stripes and 70s curtain patterns in a sludgy color palette, the collection kickstarted Prada's association with the unexpected and season-defining geometric print and came to define Prada as the maestro of "ugly-chic". This oxymoron might be everywhere in fashion today, but in the mid-90s, it stood starkly in a chunky-heeled, librarian skirted corner against a sex-fueled fashion backdrop created by Tom Ford at Gucci and Gianni Versace. "Ugly is in" was how Pulitzer Prize-winning Robin D. Givhan headlined her review for The Washington Post back in May 1996. It was the moment fugly became fashion and fashion hasn't looked back.
V is for very delicious future food
For those in the know, the post-show drinks and finger food are much more important than providing a rare bite of food during fashion month. The conceptual canapés reveal as much about the collections as the garments themselves. Recent highlights include jelly-topped, mystery filled sandwich triangles, and squares of dark chocolate placed on spongy white bread. Delicious. Much like her fashion continually leads us into the future and makes us covet things we never thought we would, her post-show finger feast provides a shake-up of the senses. Come on everyone, eat up, this is the food of the future.
W is for @whatmiuccia
"Women have more facets. We are so much more complex. We are lovers, mothers, workers, we have to be beautiful," Miuccia Prada explained backstage to i-D. "What you wear is how you present yourself to the world, especially today when human contacts go so fast," she explained later. Fashion is instant language." As ever, she's right. Now, there are more intellectual ways to understand the complexity of woman, but a scroll through your new favorite fashion follow @whatmiuccia helps you see just how much Miuccia there is in Prada. Learn the language of Miuccia Prada now.
X is for XXX
Well, it just had to be. Sex and subversion are part of open discussion in Miuccia's narrative. From questioning "the good taste of bad taste" for her iconic spring/summer 96 show through to her hypersexualized, top-heavy take on the catwalk's shortest-ever short shorts for spring/summer 19 men, she persistently probes the relationships between dress, gender and power.
Y is for younger sister, Miu Miu
Launched in 1992, Miu Miu — the sister line to Prada — has always sought to express a younger, more reactive spirit while asking the same thought-provoking questions around gender, beauty, dress, and power. "Prada is very sophisticated and considered; Miu Miu is much more naïve," Miuccia explained when System asked about the difference between her approach to her two lines. "The solution, when I am working on Miu Miu, has to come immediately, instinctively, spontaneously with whatever is available at the moment."
Z is for Zeitgeist
Miuccia Prada has always been more than a designer. She's a thinker, a nonconformist, a challenger of convention and norms. From introducing the notion of fugly chic in the 90s as a rebuttal to Milan's seemingly one-dimensional presentation of luxury beauty, to showing men's and womenswear side-by-side on the catwalk before anyone else, she is always at least a few Prada-heeled steps ahead of everyone else as she systematically shifts aesthetics and the system itself.
This article originally appeared on i-D UK.
Tagged: