giuliano calza unveils gcds beauty, its new and colorful project
"Nowadays, if a man wants to buy concealer he feels as embarrassed as a 14-year-old boy buying condoms at a pharmacy." GCDS' founder explains how his new makeup line altering gender stereotypes.
|
07 November 2018, 5:25pm
Just over a month ago, GCDS wreaked havoc in the world of fashion by parading Pokémon and models with three breasts on its spring/summer 19 catwalk. Today the most popular and easygoing brand on the Milan fashion scene -- which has attracted the likes of Kim Kardashian - is being talked about once again due to the launch of GCDS Beauty. It's a 100% cruelty-free, self-deprecating makeup line. It's produced in Italy and is right in line with this brand's style.

For the official launch event in October, we met Giuliano Calza, founder and Creative Director of GCDS, so that the creator himself could tell us about their new beauty line. Giuliano was interviewed by SAGG Napoli, artist, performer, and part of the i-D Family.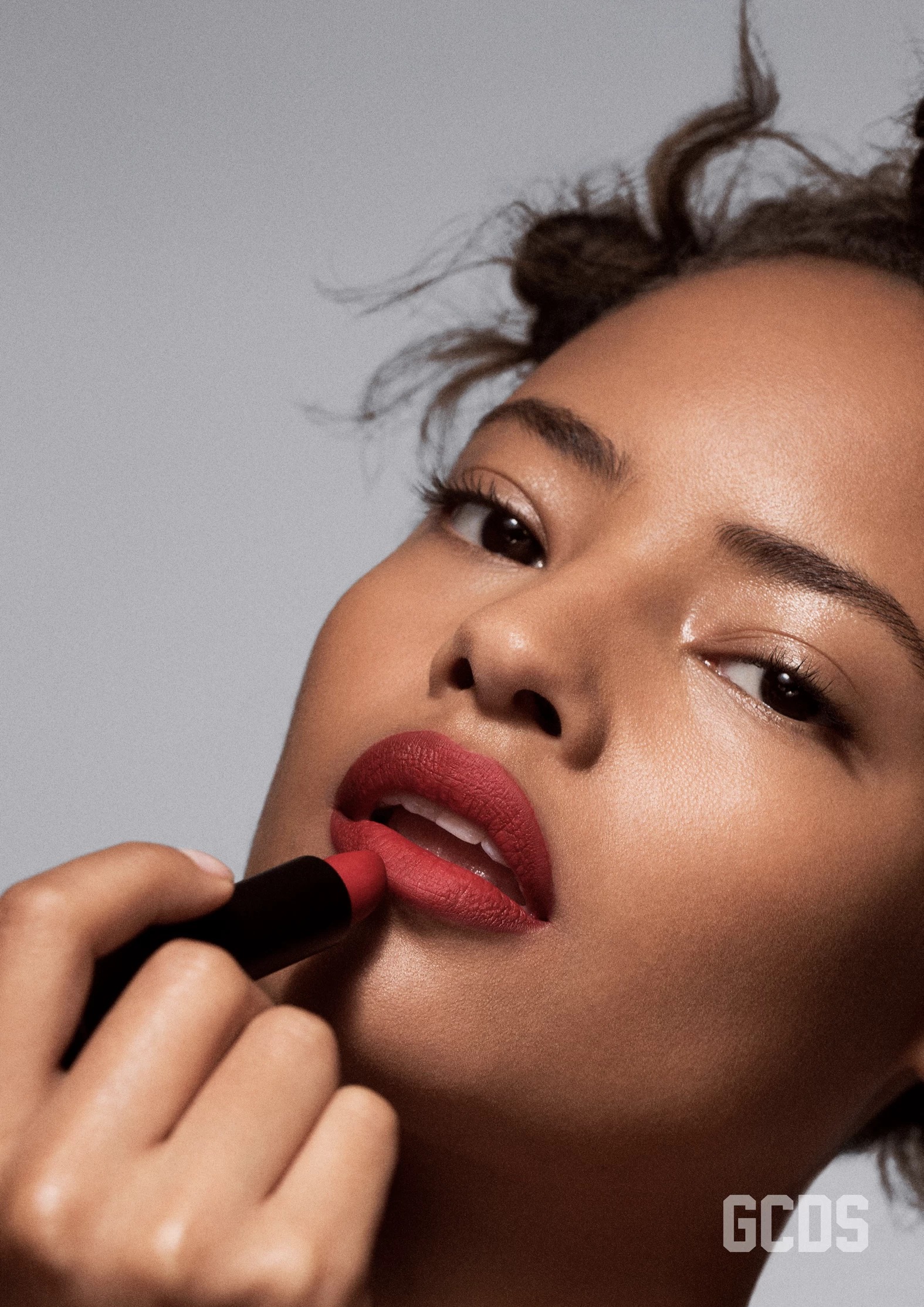 GCDS Beauty: who is it for?
In developing this beauty line I wanted to stay with the same approach that we have followed for clothing: functional, fun and unexpected. The result is lipsticks that become unisex products, a sort of "never go without again" product that you can always carry around in your handbag or backpack.

Beauty, today more than ever, is a way to raise questions and explore gender, culture and ethnicity. What does a lipstick line mean for a streetwear brand?
The goal is to convey an inclusive message through beauty, and Derek, the protagonist of the campaign, expresses this idea at the fullest. He interacted with all the lipsticks in a fun, fluid, and carefree way; exactly how our approach to sexuality and issues related to ethnicity should really be.

Blinghoe is a complicated name for a lipstick: "hoe" is a derogatory term used mostly by men against women, who later re-appropriated themselves with a sense of vindication. Can you tell us about the origin of this idea?
I think it's a very feminist name; in my opinion it is women who play with this, I don't see it in a derogatory way, but rather as an device to attract attention... and take what we want, rejecting not only the idea of the 50s housewife who must make herself beautiful for her man on his return from work, but also that make-up is something that is done for others and not about feeling good about ourselves.

Another shade name is Marijuana 4:20, a lipstick which appears green but which becomes a natural blush when applied to your lips. The description of this product says: "Try to see the reaction." They said "Get me high," I show them how." Can you tell us about the origin of this idea?
The lipstick for me is a symbol of sexuality, as well as just lips. The name looks like a taboo, but for me it was more the magic aspect of a lipstick that when applied turns from green to pink. A bit like marijuana: everyone uses it as they want to and gets the reaction their body offers. If smoking it, it relaxes them and has healing properties... why can't that also apply to kisses?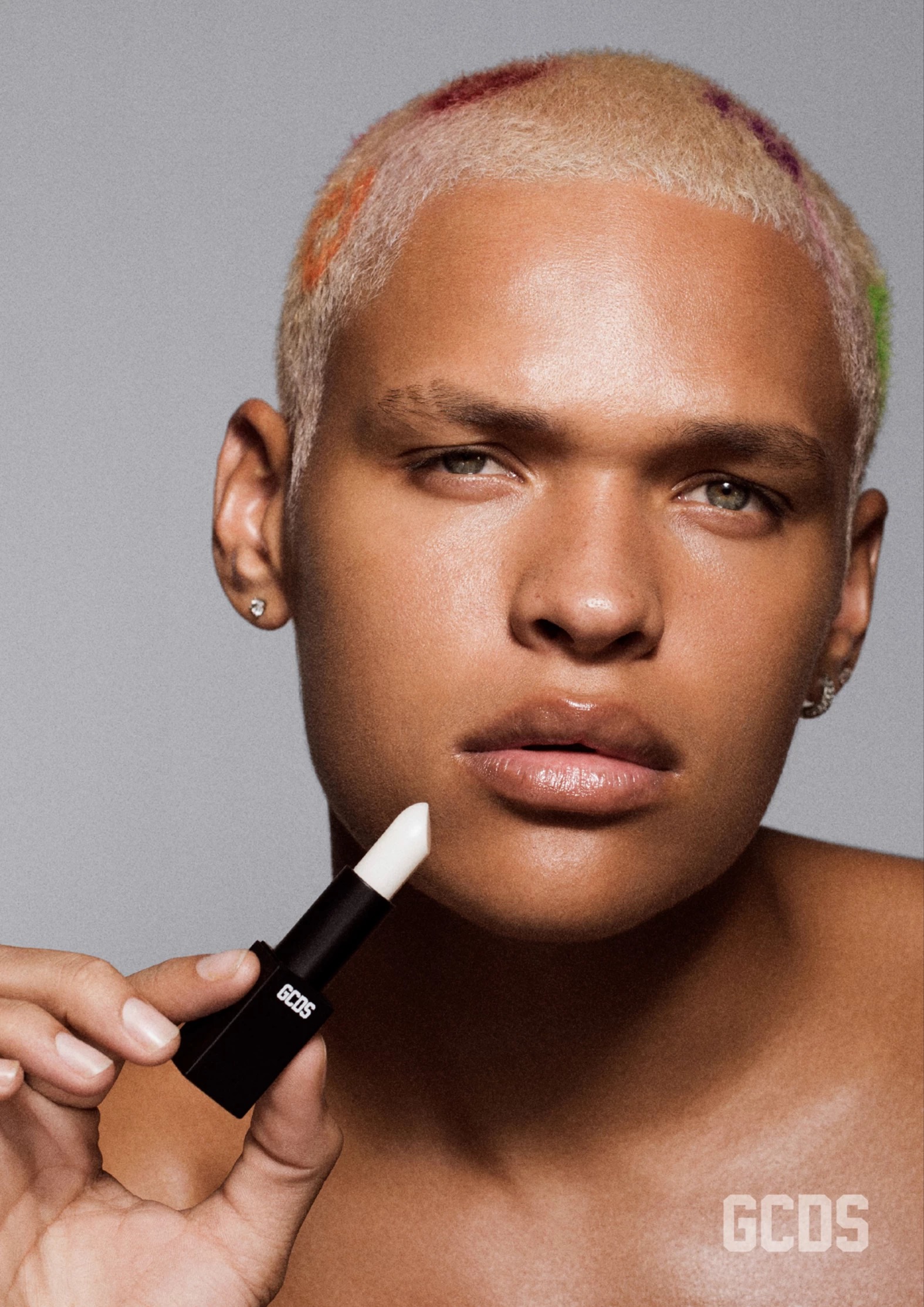 Today on YouTube and on Instagram there are a lot of queer makeup artists, and in your campaign one of the models is a boy -- something that isn't commonly seen. How long do you think you have to wait before seeing a queer beauty billboard in Italy?
I would say that the waiting will end next week: the one with Derek is the most beautiful image for us, and it will be on all the magazines. I reject the idea of a gay boy who can't be masculine wearing nail polish, a handbag, or lipstick. Harry Styles and Frank Ocean for me are an example of how to have a normal approach to 10-year-old taboos. It shows us the right way to go.
Last year Rihanna launched a lip gloss suitable for any skin tone; and your lipsticks also seem to embrace as many shades as possible. How have you been able to make the result inclusive in the development phase of the product?
Rihanna has produced one of the most complete and extensive makeup collections of all time, but she was also helped by cosmetics giant. A hundred colors are difficult to manage for us, but in the future we really want to continue with a line of inclusiveness. Today, if a man goes to buy a concealer he is as embarrassed as a 14-year-old boy buying condoms in the pharmacy...

Once applied, how long do lipsticks last? Are they kiss-proof?
They are long-lasting, but I haven't personally done a trial yet. The only one that never disappears is Marijuana, because it's a PH reagent, and therefore there is no application of colored pigments, but only a chemical reaction.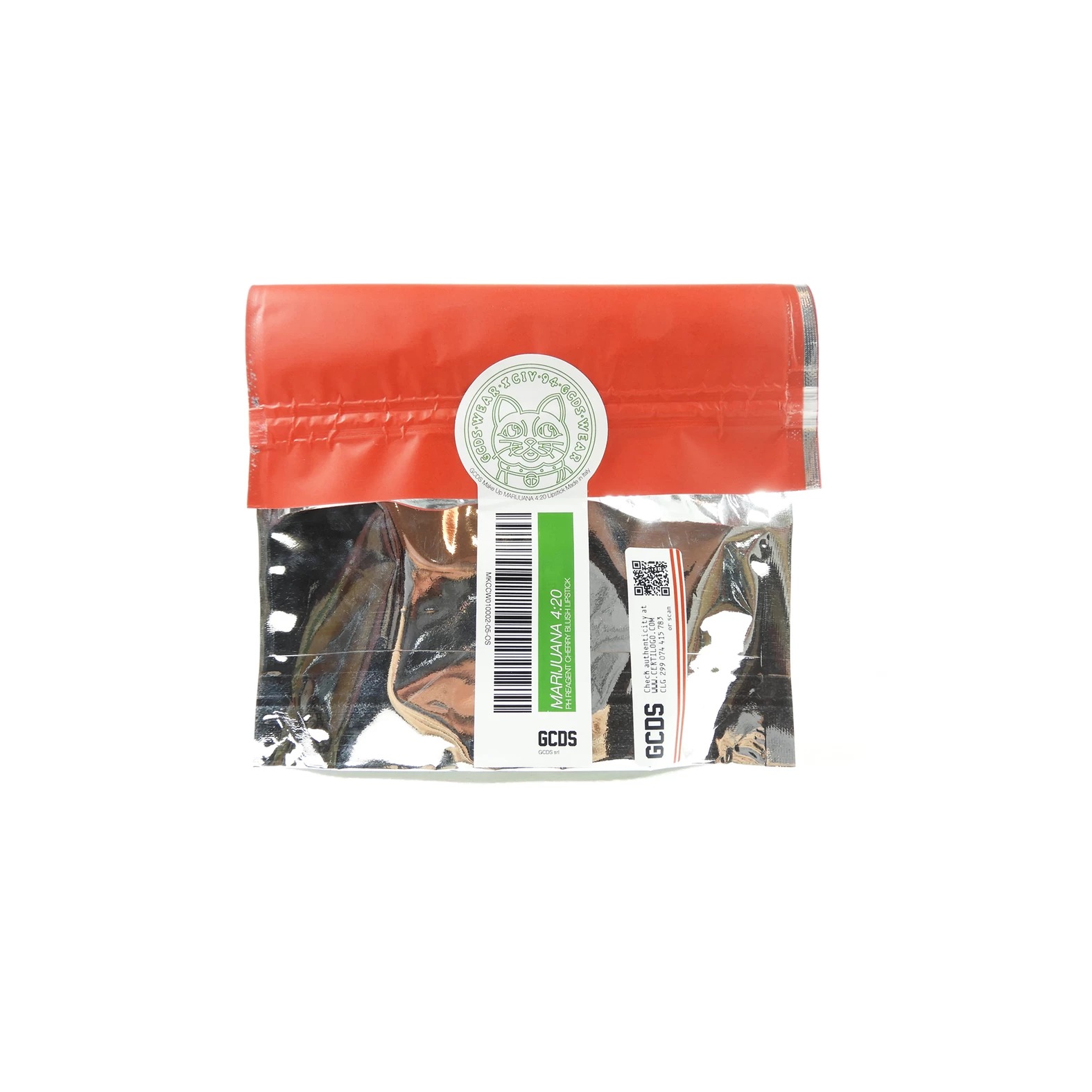 At the moment, it seems that there is a spreading trend in the world of beauty of using packaging that is similar to food packaging, as if they were essential goods rather than luxury items. How much and how do you think the idea of luxury in the field of fashion and beauty is evolving?
I'm really impressed by Korea, where beauty is more popular than bread. For me it is a field to explore for fun, but I think it can be a huge chunk of the luxury business. Just think of perfumes.

Can you tell us a little more about the production process? What is it like producing a beauty line in Italy?
I really wanted the products to be cruelty free and processed in Italy. Our manufacturer is a world leader in this sector, but for a parvenu like me it was necessary to rely on real professionals. The production process is very long compared to the fashion industry. Usually I prepare a collection in two months, to which production times of the samples are added. For beauty it doesn't work like that: when you have a precise idea, it still takes another six months between testing and packaging. We wanted to create those "never go without again" products that I mentioned earlier, products that every boy can always have with him, and so it was.

The official launch of GCDS Beauty will be on November 3 in Los Angeles during the Complexcon, a landmark event for streetwear lovers all over the world. Do you also have a European launch in mind?
We would like this business to remain online, because this would allow us to manage immediate, streamlined and fast deliveries and communication. I would like to launch a beauty bar, but only when the makeup collection will allow it. However, the products have already been available since 1st November!

Are you already working on new products?
Yes, the development of other products is something we have been working on for some time. There will be a special Art Director for the project, which I hope to unveil soon. Lipstick pigments and the quality of mascara fibers are really complex topics!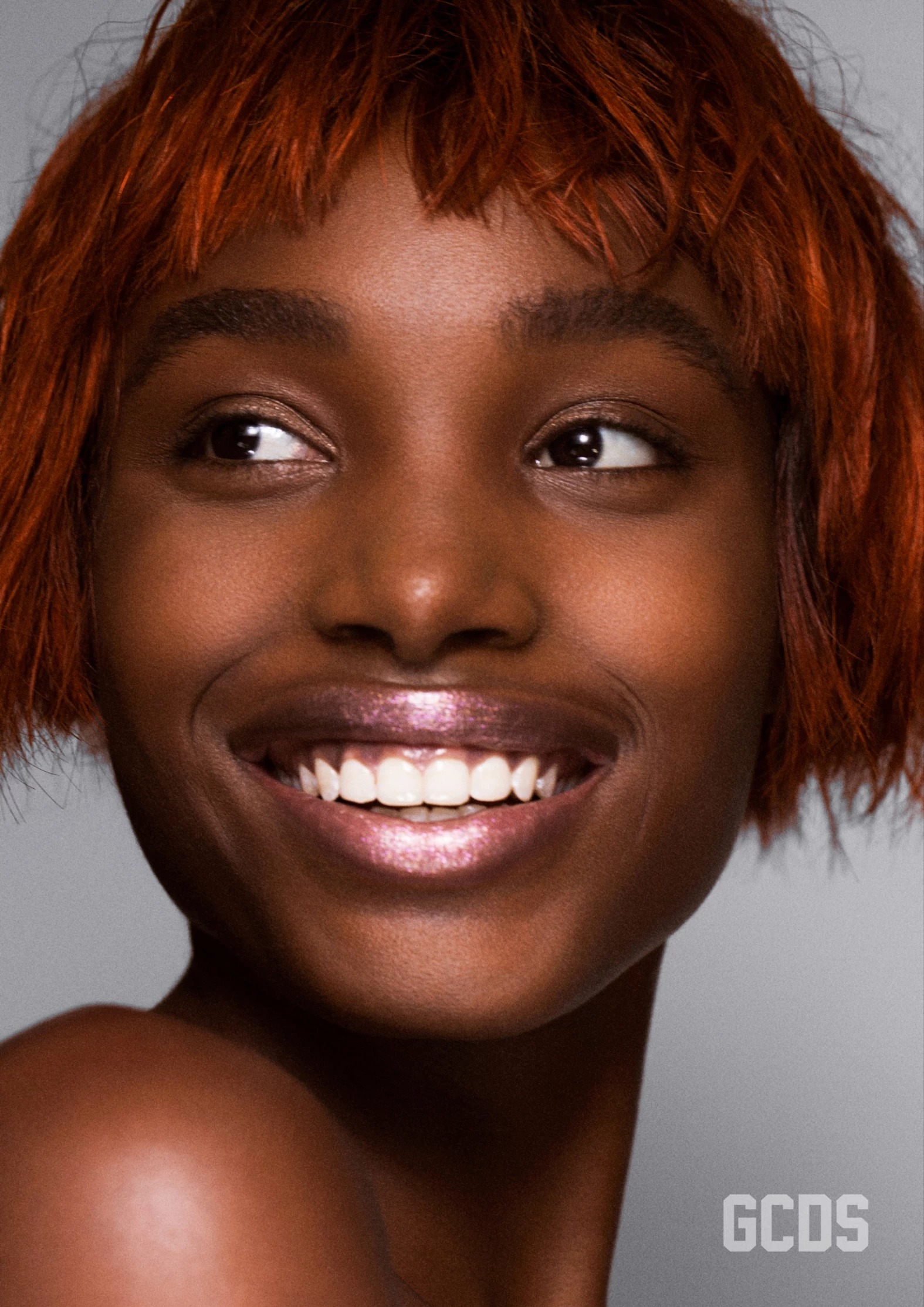 The GCDS Beauty lipsticks line is available online here, and in all the brand's single brand stores.
This article was originally published on i-D Italy.