Photography Ed Glendinning.
unity press and skateboards put on a group art show by and for qtpoc skaters
i-D meets the curator and artists behind 'Pave,' on view now at LA's New Image Art Gallery.
|
06 December 2018, 7:48pm
Photography Ed Glendinning.
Jeffrey Cheung and Gabriel Ramirez of Oakland-based Unity Press & Skateboards continue to surpass barriers physically, culturally and geographically. Two years since its inception, the collective--which functions as a printing press and support network for QTPOC skaters and artists--has witnessed the desire for collective visibility and representation within skating in the States and abroad. "Whether we were an inspiration or not, there are more and more queer skate groups, companies, projects, and collectives all over the world that I am seeing pop up," muses Jeff. "Projects and companies like Oddity Skateboarding in Toronto, Queer Skate Atlanta, Queer Skate Minneapolis, Sibling in London, and No Boarders in Melbourne are just some of the many groups that are around and it's amazing to see."
Skating has always been subversive, it's "a rebellious act of repurposing and using public space," adds Jeff. For Mariel Eplboim, a curator at New Image Art Gallery in West Hollywood, the idea of resisting larger power structures through skating extends to the gallery institution. "My aim is to dismantle the aristocratic gates of the art industrial complex and break down the walls of the hyper-masculine skate industry," she writes. Indeed, curators and galleries in the past have attempted to bridge the gap between the white cube and marginalized communities and countercultures. In 1981, Keith Haring famously organized the exhibition Beyond Words, which showed graffiti artists such as Lee Quiñones and Basquiat at the gallery at the Mudd Club, beguiling New York's art machine. More recently, queer photographer Grace Ahlbom exhibited Dig In Your Heels, Stick To Your Guns in 2016, a show which featured photos of skateboarding's stereotypical hyper-masculinity and Ahlbom's own struggle with sexuality and gender identity.
In early November, Cheung, Ramirez and Eplboim opened Pave, located at New Image Art Gallery, a space that's shown work of skaters like Ed Templeton and queer artist Vaginal Davis. What differentiates this group exhibition from the aforementioned is that it's unequivocally for, by and with its community. Eplboim states the show is a "wake up call to heavily funded art institutions, as well as the multi-million dollar skate industry."
We connected with Jeffrey, Mariel and Pave participants N8 Devivo, Miriam Klein Stahl, and Sam McGuire to discuss LA and Oakland's QTPOC skate scenes, the implications of greater presence of QTPOC skaters and artists in galleries, and why shows like Pave shouldn't be considered radical.
It's coming up on one year since Unity spoke with i-D. How has the collective changed and grown since this past February?
JEFF CHEUNG: We've realized that we want Unity to be more focused around supporting community, instead of a set crew, team, or collective, and focus on a broader scale. One of my goals in starting Unity is to see other queer and trans people to take action to build their own communities, and I am happy to see it happen! It really feels like there is a new movement happening and we are so happy to see skating change for the better.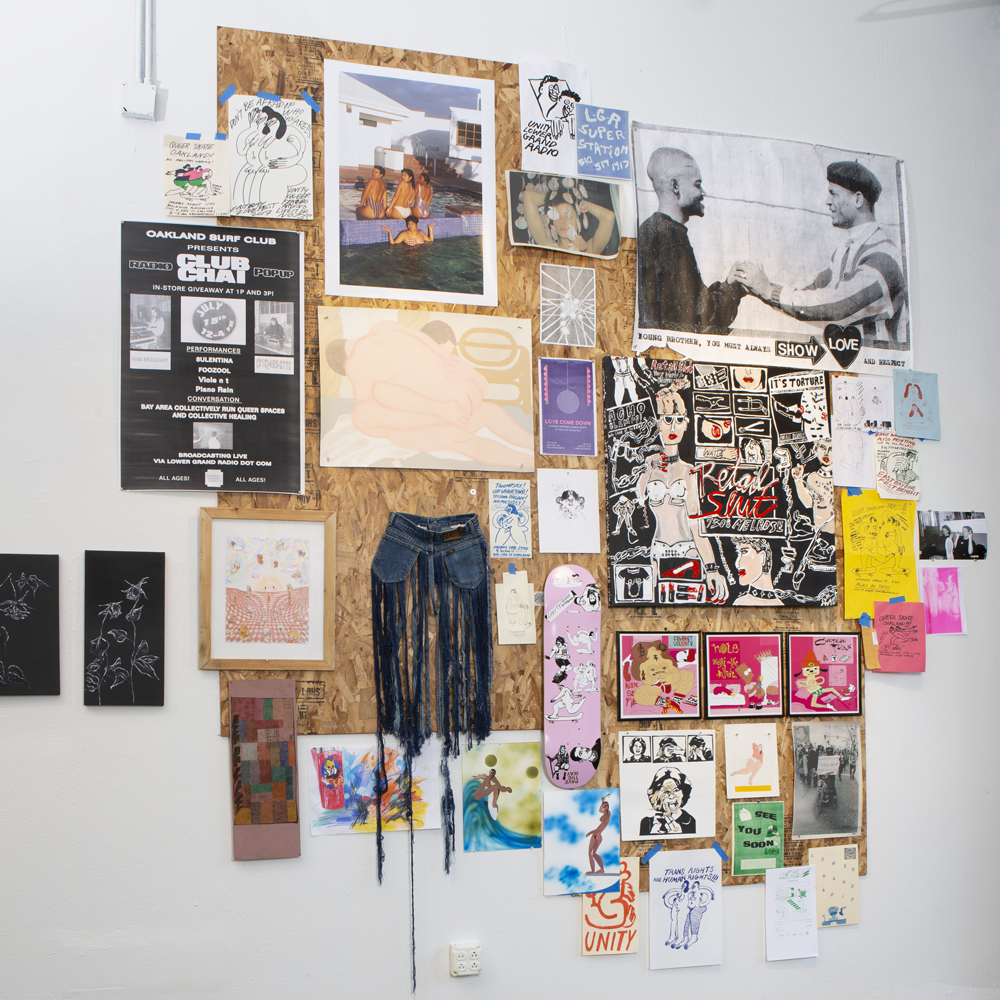 What are the similarities and/or discrepancies between the queer skate worlds in Los Angeles versus Oakland?
JC: In many ways the queer skate scene in LA and Oakland are the same scene, we all know each other and folks often come up to the bay for skate sessions and we go down there for sessions. Pave the Way Skateboards, which is a queer skateboarding company that has been around for almost 2 years, is partly-based in Los Angeles and there are many folks that host their own queer skate meetups and do similar things to build community down there.
What are the similarities and/or discrepancies between the queer skate world's relationship to the art world in Los Angeles versus Oakland? What is your personal relationship between these two spheres?
MARIEL EPLBOIM: The similarities and/or discrepancies of those relationships are rooted in the values of the economy, politics, and cultural state/history of Los Angeles and Oakland. I am from the West Valley in Los Angeles. My experience and understanding of the skate world has always been one of aggro-heteronormativity/macho-mainstream. I learned more about queer and non-masculine skateboarding/art from interning at New Image Art. The Bay Area has a collective sense to it, especially in queer skateboarding and the arts. Historically it has been a place of political activism and grass-roots/ social justice movements. These ideals are still carried out today.
How does the exhibition foster radical inclusivity? Are there some individuals here who are showing work for the first time?
JC: I think maybe about half of the artists are showing their work for the first time in a gallery setting. Some of them we know through the zine or queer community, others we met through our print workshops or queer skate sessions. Ideally, this show shouldn't be seen as radical. This should be something that happens regularly.
ME: Pave encourages people to be themselves, take up space, and get out there and skate. There are some never before exhibited artists like Ryan Austin, Andy Dominguez, N8 Devivo, Lucy Lightfoot, Izzy, Chris Moody, Dharma Moon Hunter, Tyler Poolos, Mae Ross, Alex Shen, and Dongyi Wu.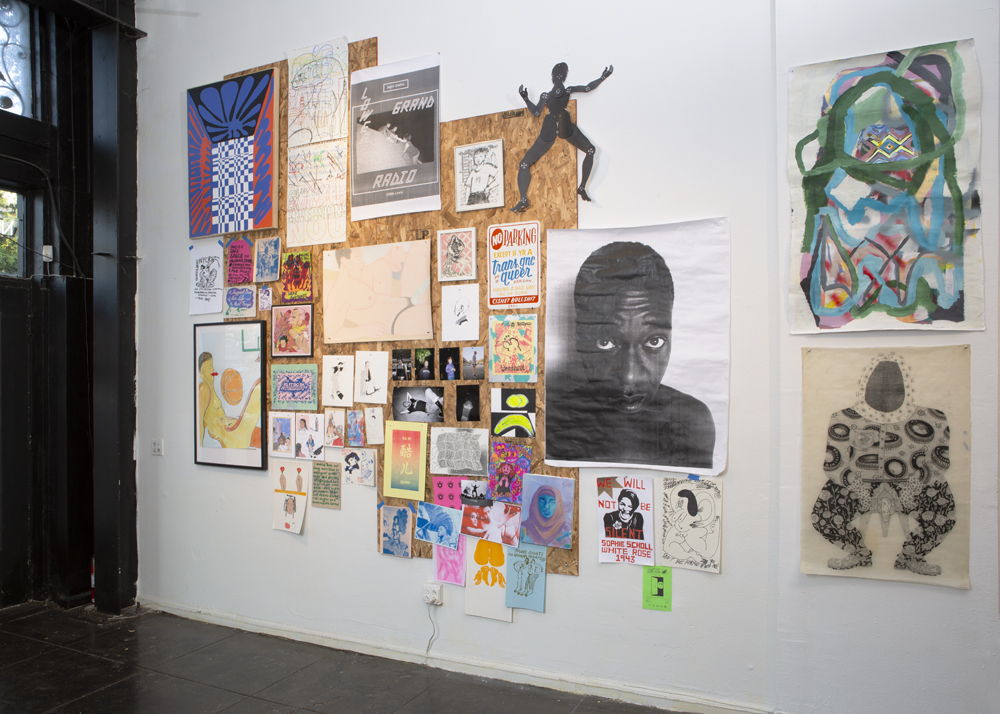 Skate culture has roots in Venice, an area which, like the Bay Area, is experiencing cultural whitewashing and displacement of residents via tech. Has the situation become more dire this past year? Do you find that resistance and self/collective expression through Unity's queer skate meetups have become more challenging?
N8 DEVIVO: Most people are working so much just to get by, that spending extra time for community meetups like Unity can become a luxury. There's a feeling that the ground could come up at anytime which makes resistance harder while also leading to powerful immediate actions fueled by desperation. "Diamonds are created under pressure."
MIRIAM KLEIN STAHL: QTPOC are rising up against displacement and erasure in Oakland and hopefully in Venice as well.
JC: Many DIY, queer, and art spaces have been shut down, so there is a sense of urgency and people are taking initiative to hold and create space for each other. Despite all the changes here in the bay, the queer skateboarding movement is still growing and we continue to try to host monthly meetups.
What was the decision process in piecing the works together as a collage?
ME: Unity's community space/store is decked out and covered completely in old skate day fliers, zines, artist trades and posters creating an interior that feels like a teenager's sanctuary of queer skateboarding paraphernalia & queer art. I wanted to bring that same feeling to the group show exhibition... so we created a visual sense of connectivity and community of all the different artwork.
Unity's foundation is based around traditional DIY practices of zine-making, filmmaking and street photography. How do these artforms translate in the established white walls of the gallery institution? Do the works' meanings/effects change or remain the same?
SAM McGUIRE: They change but I almost think it makes them stronger. I think it removes the art from its safe space and places it in a gallery in front of the people who may or may not have oppressed queer people for years.
ND: At first I was skeptical, I feel uncomfortable in traditional gallery spaces and regularly try to avoid them altogether. Pave was the first time I experienced something different in my own artistic career. The show is what I imagined a decolonized white walled art space to look due to the representation of queer POC bodies interacting with a majority queer POC audience. It felt like an act of reclamation. It was an invitation to display art about Black spirituality, power, and JOY in contrast to gallerists regularly asking for my work on Black trauma. It was a breath of fresh air.
ME: Frankly, putting anything in a gallery changes its context. It is an act of preservation/commodification and a method of exploring both the present and the past. As a genuine alt-space/grass roots gallery, these objects feel like they are at home and understood. The best way to identify how these objects change is to understand the intentions of the institution and the people who are funding those spaces.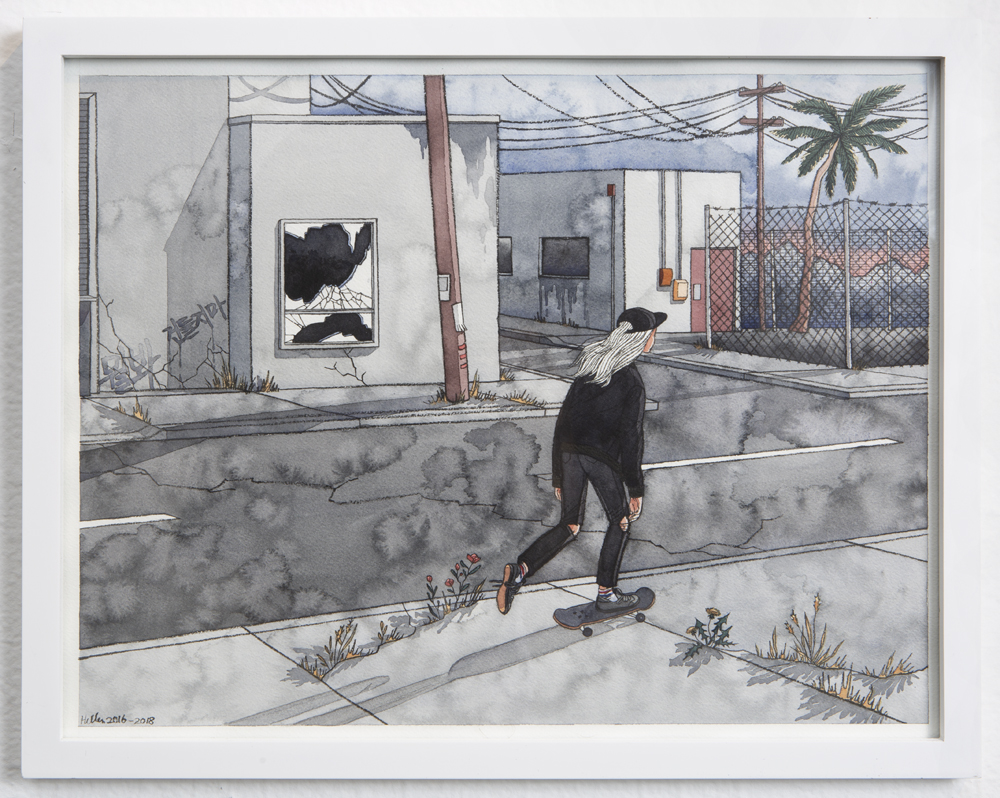 What do you hope this show will convey to future generations of QTPOC skaters/artists and to those future generations of people holding positions of power in the art world?
JC: I hope this show inspires other queer, trans, people of color, womxn, and any marginalized person to know that they are not alone, and to create art, skateboard, take up space on the streets, in whatever platform they choose to express themselves.
SM: I hope it inspires people to live their truths and just follow their dreams/goals and see there's a community out there for you to be involved in.
ND: I see this show as an example that the only way for us to exist in the art world is to make our own space; "for us by us". I see Pave as a future standard for more inclusive and uplifting spaces.
MKS: If our people held those positions maybe we could change what position of power means and bring a more collectively minded approach to institutions that have traditionally locked us out.
ME: Instead of tokenizing QTPOC skater/artists' identities as simply a marketing scheme, the skate and art world need to ask how QTPOC skaters/artists envision their future and actively listen to these individuals. Then they need to restructure the way they financially support these communities in the long term. It is more than just giving QTPOC skaters/artists "exposure." It is about supporting their livelihoods, dreams and long-term survival by providing fair compensation.
'Pave' is located at New Image Art Gallery in West Hollywood. The show is open from 1-6 PM and runs until December 22nd. Additional info here.