Prada fall/winter 18. Photography Mitchell Sams.
the story behind prada's most iconic prints
After Miuccia Prada refreshed her archive of prints at her Milan menswear show, Susie Bubble breaks down their origins.
|
17 January 2018, 11:37am
Prada fall/winter 18. Photography Mitchell Sams.
There are few designers that can reference their own archives deftly and do so without it looking like they've run out of ideas. Once Miuccia Prada honed in on her obsession with the practical yet pliable "pocone" nylon, which revolutionized the luxury goods world back in 1984, it became the central anchor to Prada's latest menswear collection; repurposing, recontextualizing and ultimately, refreshing her well versed design language for a new generation. In particular, a whole host of archive Prada prints were resurrected in new hybrid compositions. We break down the origins of these revived prints that made it into this glorious redux that felt like a soothing tonic for these uncertain times.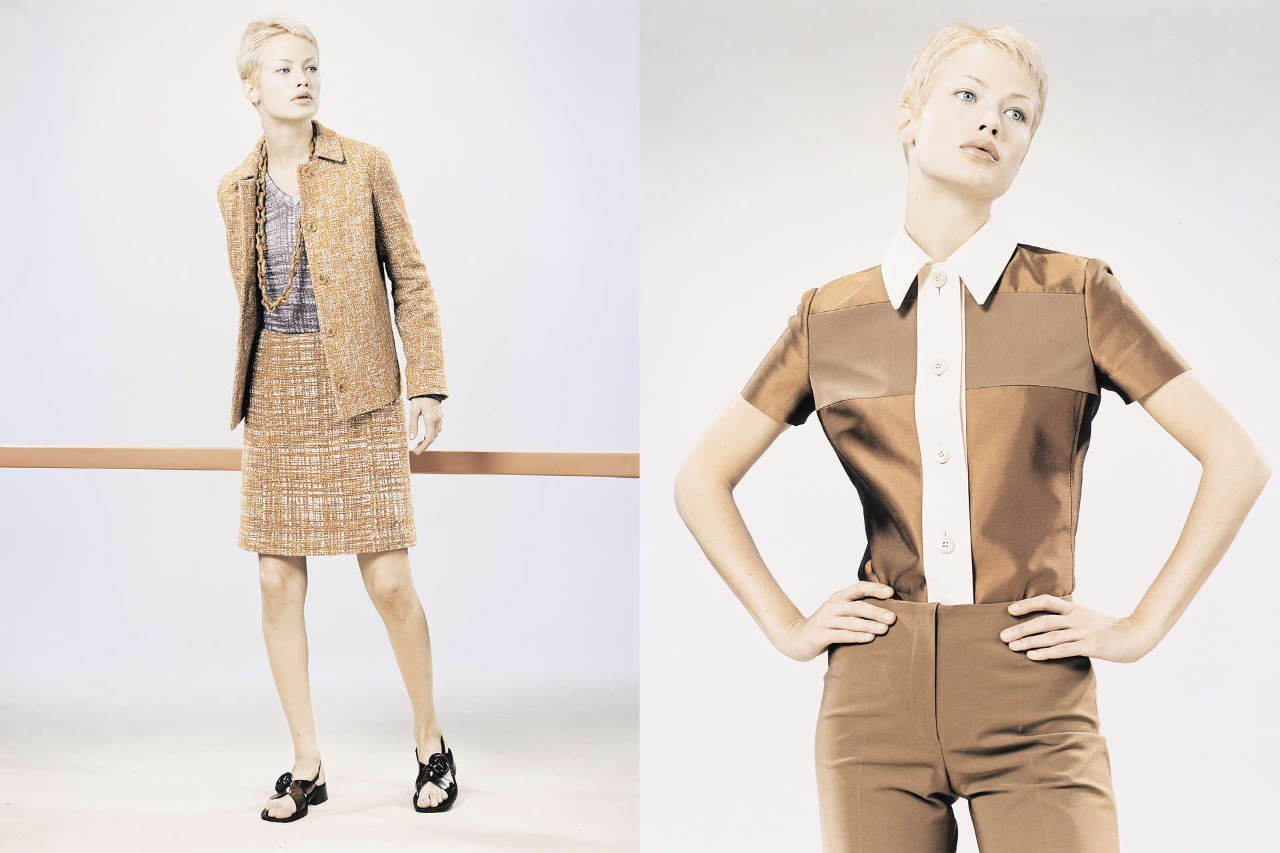 "Ugly Chic" Geometrics from spring/summer 96
Geometric prints have become so ingrained into the visual lexicon of Prada, you almost can't imagine the brand without its arsenal of retro-tinged patterns in sepia hues. But it was Prada's pivotal Banal Eccentricity collection in spring/summer 96 -- with its hand drawn stripes and seventies curtain patterns in a sludgy color palette -- that kick-started Prada's association with the unexpected and season-defining print. It was also the collection that came to define Prada as the maestro of "ugly-chic", an oxymoron that's everywhere in fashion today, but in the mid-90s, stood starkly in a chunky-heeled, librarian skirted corner against a sex-fueled fashion backdrop created Tom Ford at Gucci and Gianni Versace.
Lipsticks as Weaponry from spring/summer 00
Today the Prada lipstick print is considered a modern collectible and surely ranks as one of the most recognizable prints to have emerged in fashion. Inspired by Yves Saint Laurent's lip print, in her spring/summer 00 collection Miuccia arranged lips into polka dot formation and lipsticks into uniform rows on prim skirts and blouses. Rendered like a computer generated painting, these outwardly feminine object looked like bullets (make-up is after all often described as a form of armor). The lipstick print's iconic status was further cemented when featured at the Met Costume Institute's 2012 exhibition Schiaparelli and Prada: Impossible Conversations where their common affinity for surrealism was highlighted.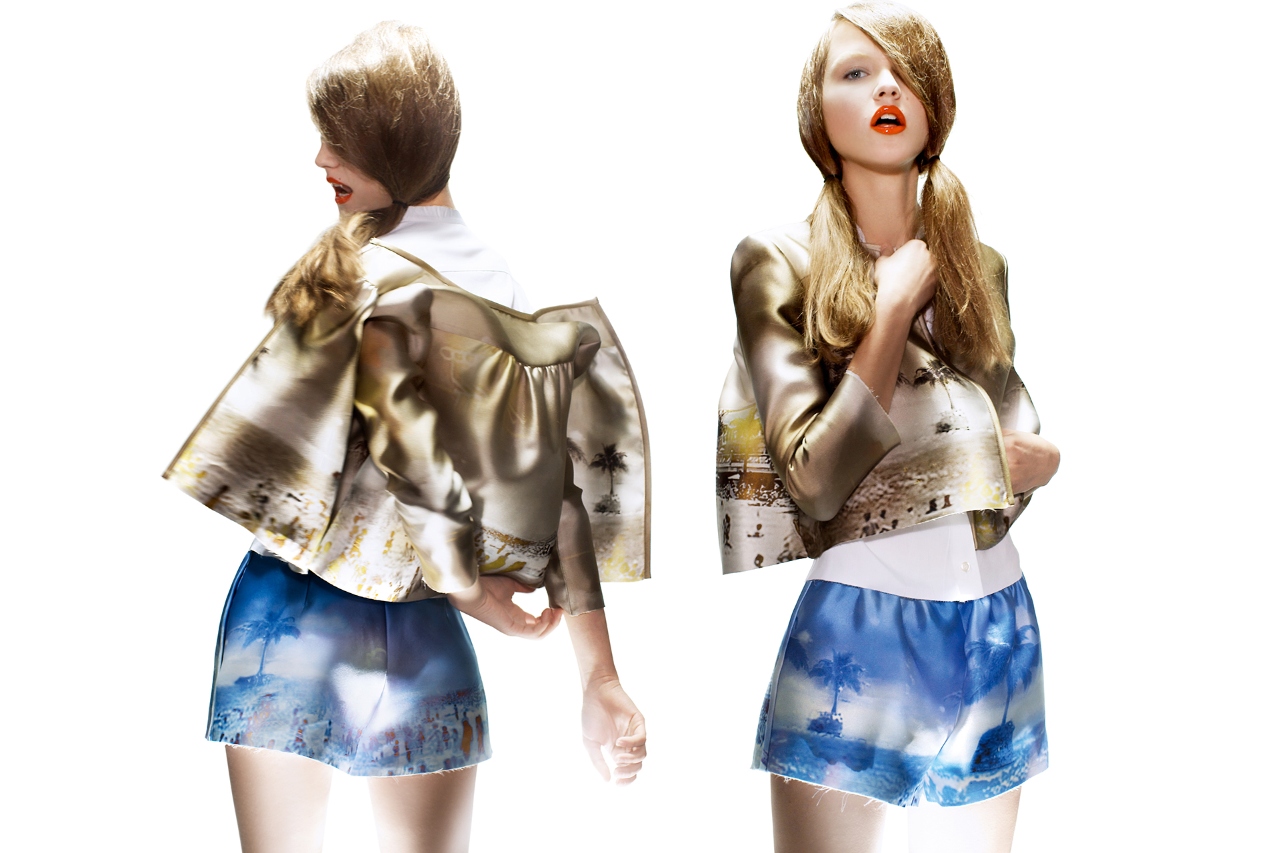 Salarymen on the Beach from spring/summer 10
What if you went from a business meeting to the beach? That's just one of many off-kilter questions that Prada has posed over the years but for spring/summer 10, it gave way to yet another masterstroke print in the form of photographs of a vaguely disconcerting beach scene. It apparently took Miuccia and her team ages to find the right image of a crowded beach at a man-made resort in Japan. This was an image of tension-filled holidaymaking that married well with the steely grey business suits and corporate beach attire.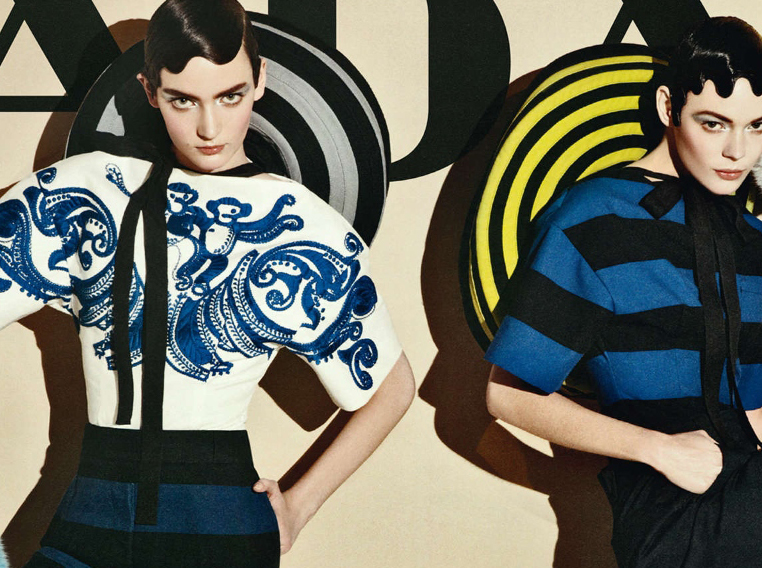 Going Bananas from spring/summer 11
Prada's "minimal baroque" spring/sumner 11 collection drove us bananas and inspired so many knock-offs that its seismic effect can still be seen in the counterfeit market today. The visuals were anything but minimal, though, as Josephine Baker's jazz age spirit coursed through this rambunctious collection. The banana print drawn in a deliberately cartoonish manner, along with swinging monkeys, baroque scrolls and bold stripes, became the number one target for street style snappers to shoot.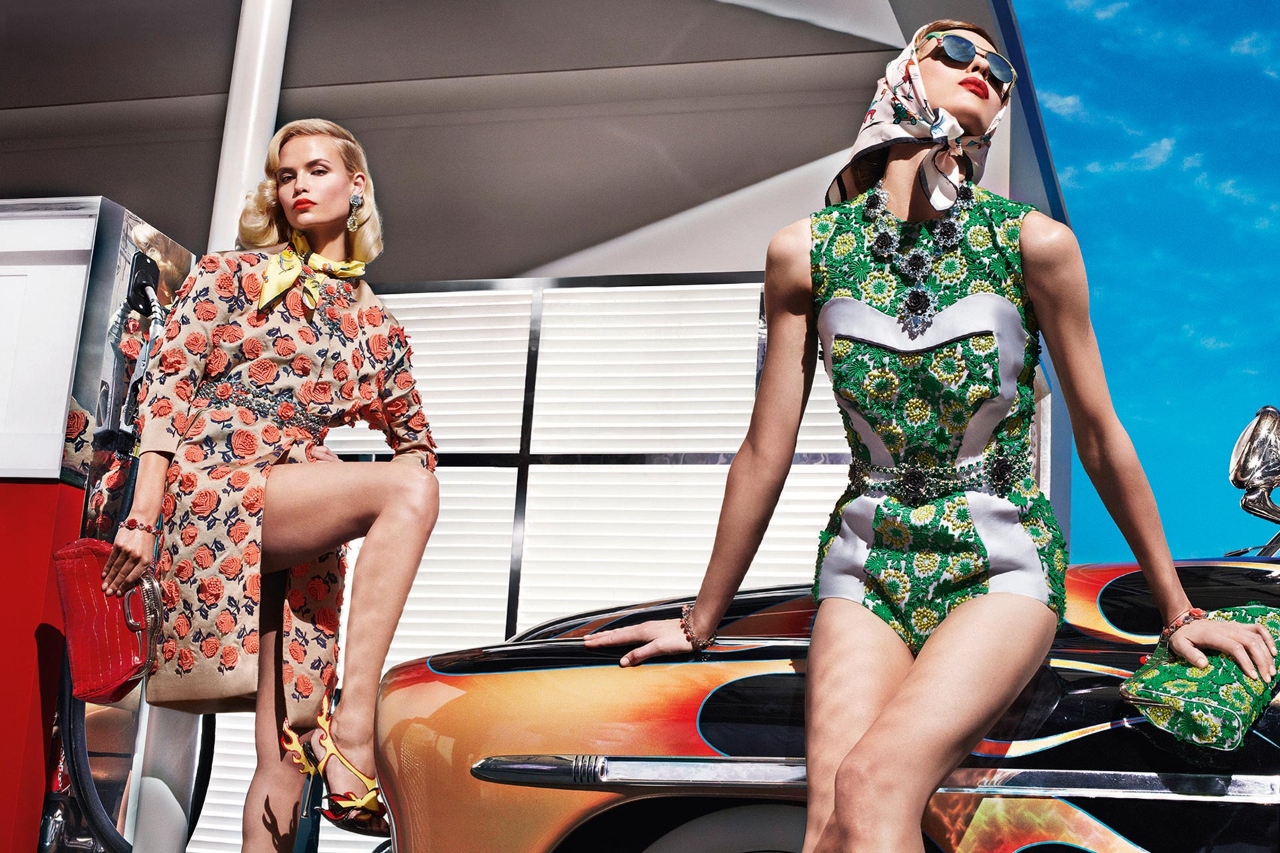 Too Hot to Trot Flames from spring/summer 12
The following spring summer season, Miuccia once again hit another home run with a flurry of flames that fanned their way across a revved up trip down Thunder Road for spring/summer 12. These flames were fired up on the hems of pleated Marilyn Monroe-esque skirts but also as ornamentation on the back of wedges that became the "IT" shoe of the season. Very 50s American diner kitsch.
Apocalyptic Tropics from spring/summer 14
Miuccia is a fan of a holiday destination gone awry. Miuccia headed for the tropics for her spring/summer 14 menswear collection, but they were also destinations that had been turned into war zones in the past. The Hawaiian floral print takes on a different tone when set against deep burgundy or inky black. The archetypal Hollywood hero was given a languid touch as he slinked about in his printed silken blousons. This show also marked the first time Miuccia put women on the catwalk alongside men, which has been widely co-opted by other designers since. The presence of women in Prada's menswear shows serves as a reminder of the way Miuccia has shaped a multi-faceted masculinity through her work.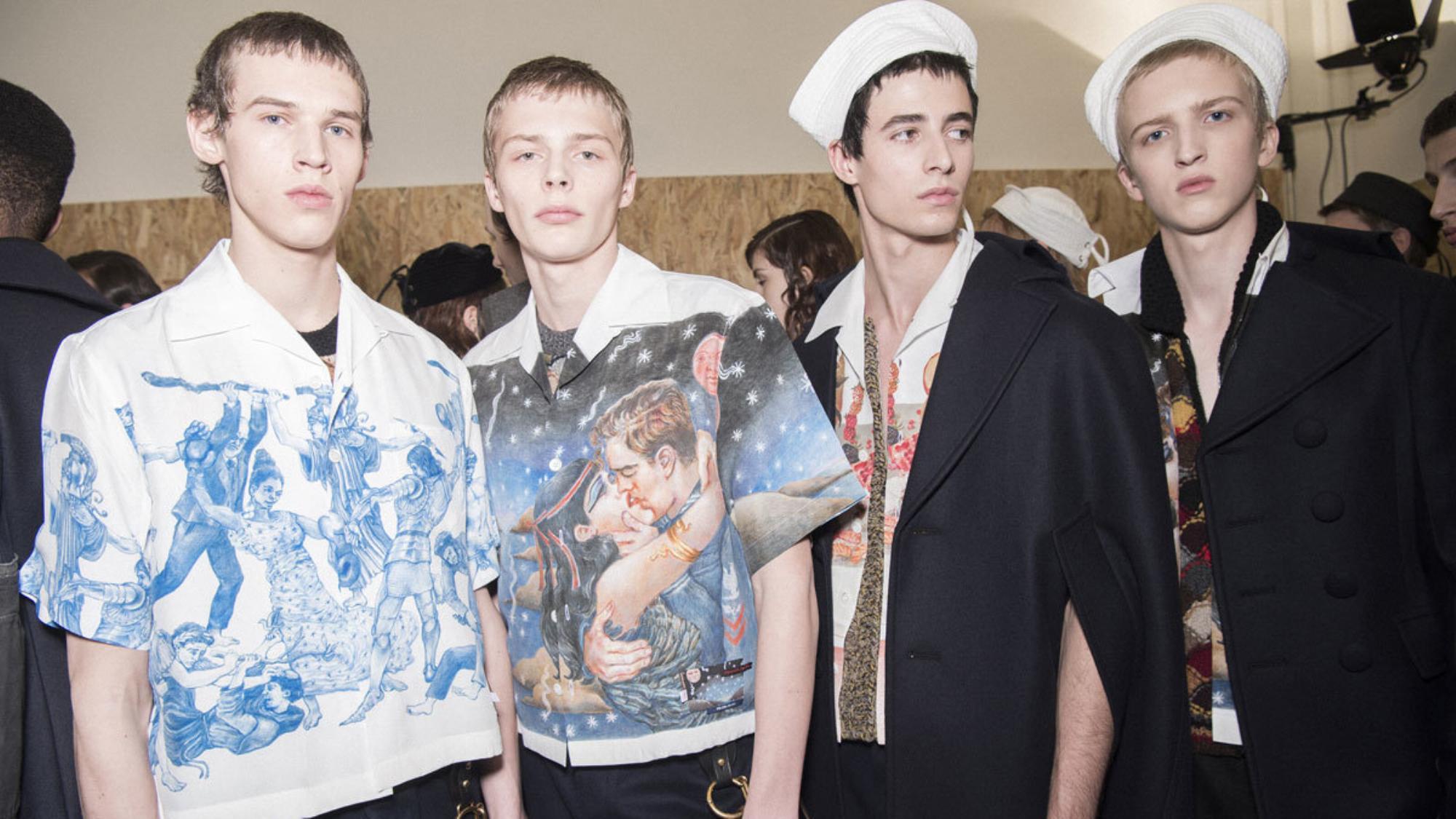 Christophe Chemin's An Impossible Love from fall/winter 16
Artist collaborations are commonplace in fashion, but rather than reproducing existing artwork verbatim, Miuccia chose to start a two-way dialogue between herself and a Berlin-based French artist, Christophe Chemin. Together with in-house designer Fabio Zambernardi, Chemin responded to the Prada universe and combined his own obsessions to create a series of artworks that were used in both the mens and womenswear autumn/winter 16 shows. An Impossible Love depicts a fantastical Hollywood romance between Cleopatra and a sailor. That swell of emotion surged through both collections as sailors out at sea and women by the docks pined and yearned for one another.