sun, sea, ukg: documenting the rise and fall of garage
Ignore Ibiza, bye Berlin. Boiler Room's new documentary proves that if you were into underground dance music between 1999 and 2003, Aiya Napa was the place to be.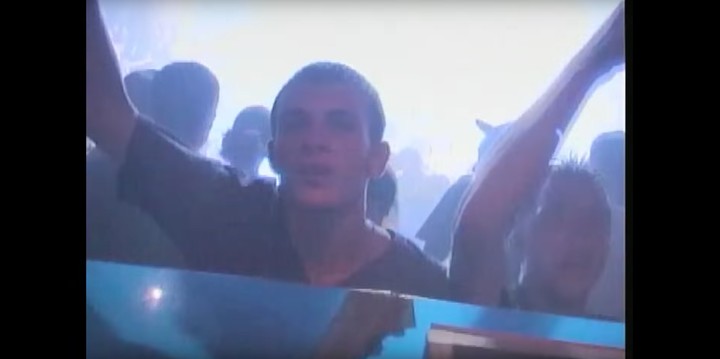 In 1998, UK garage selector DJ S schlepped a box of records along on his honeymoon to Cyprus. "I was loving it, being in another country, DJing. The Mrs didn't mind," he says in Boiler Room's latest documentary, Sand, Sea, UKG. What started as an inevitably hefty excess baggage charge gave way to one of the most formative and influential periods of UK garage -- despite it taking place 3272 kilometres away, in a little beach town called Aiya Napa. Ignore Ibiza, bye Berlin. If you were into underground dance music between 1999 and 2003, this was the place to be.
The film captures this heady four year period in all its pre-grime glory. Every summer over that short, sunny window of time, the Cypriot town would erupt in a cocktail of mopeds, street parties, turf wars, flip phones, UKG's distinctive snares and a who's who of garage Djs and MCs: DJ Spoony, MC Creed, MC DT, Norris 'Da Boss' Windross, Kele Le Roc, MC CKP, and an actual child -- the scene's so-called mascot -- Little Charlie.
Right at the centre of it all was a certain collective hailing from Battersea. "So Solid Crew, as a brand, came to this business when no street youth were in it and being paid in the same way as pop stars -- before the internet and smartphone era," SSC's Megaman tells i-D. "As leaders of the new skool back then, we wanted to be more than club MCs and DJs. We wanted to be stars heading for TV exposure and awards shows." Ayia Napa provided the opportunity to put garage on the map. When Mega and the crew first arrived in 1999, he says, "We felt like we could build our brand very quick on that island." And they did. The distillation of the scene's most avid DJs, promoters and ravers on a stretch of sand that one punter lovingly refered to as "pissy beach," was the perfect sweaty greenhouse for garage to flourish in. As Mega explains, "If you went to Ayia Napa back then you were bound to become five times more popular than you were if you just stayed in UK for the summer."
But as the documentary depicts, it wasn't just a matter of turning up and putting your records on any old deck. "It was competitive with the club owners on the island," Mega explains. The roots of these rifts ran deep -- the clubs were typically owned by the island's influential families, their history predating UKG's arrival. This tension, he says, "kind of drifted down to whoever they had performing that night or paid to come out to Cyprus." But it was a two-way neon-lit street: garage needed these clubs to park up in, and the families wanted a piece of the scene too.
So Solid's A.M. Sniper, for example, is the son of George Melas. In the island's heydey, Melas owned "among other things, four nightclubs, a bar, a radio station (Napa FM), the waterpark just outside town, a go-kart track, and a helicopter business," the Telegraph reported in 2001. "I just felt Sniper wanted in on something special," Mega explains, "and the bonus for me was that we could bring our brand to a club weekly in the town of Ayia Napa. After doing it for a few years, I began to realise what type of respect George Melas had created for his family." Mega continues, "He took a liking to me and my ideas. What came after was both sides taking care of each others' interests on all levels." There was also Trigger, whose family own Melekkis jewellery stores in Cyprus. "I chose wisely," says Mega. Despite the respective back scratching, ultimately they were all there for the same reason: "You had to have talent. You had to be good at music in one way or another."

But as anyone who's had even cursory glance at Sun, Sex and Suspicious Parents knows , oversaturation can have its downsides. As with Ayia Napa, word caught on, hordes descended, and Channel 4 made a reality TV series called Fantasy Island, portraying the place as the drug-fueled sex pit nightmare of your mum's hourly 'just checking in!' Whatsapps. "You get people that aren't really into the scene, or don't really love the scene, but want to come along because they've heard it's the in thing," Kele Le Roc says in Sun, Sea, UKG. "And ultimately their intentions aren't good, and they spoil the vibe."
With more people comes more problems: violence, brawls, damaging implications for the key players. "So Solid was such a big crew -- people who weren't even part of it began using our brand name when getting caught up with the law," Mega tells us. "Hence me having to address a few issues." And as the problems increased, the island's popularity spiralled. "I just think the deals that were being offered weren't good enough and weren't kept by the owners," Mega says of the period. "Promoters had enough of deals changing while out there, plus the people coming to the island started slowing down. So maybe it was time for change."
But the legacy had been created -- garage had catapulted itself into a movement that existed beyond the confines of that hedonistic stretch of snare-pumped clubs. And 3272 miles away, on another genre-defining island (albeit a slightly colder one), the movement was topping charts and making its mark. "Now there's thousands of young people like us with jobs, businesses and careers, from new genres of music to fashion to modelling to artists from all walks of life in the industry, including big companies who had to set up extensions to facilitate the wave of all these fresh, talented youngsters," Mega concludes. "The impact we have made continues daily, yearly and will never end. It's stuck in the genes of the game and they can't wash the dye off."
Sun, Sea, UKG is part of Boiler Room's celebration of 20 years of UK Garage .
This article originally appeared on i-D UK.