Photography SImon Eeles. Styling Anders Sølvsten Thomsen.
the early 00s' hottest designer is making a 2018 comeback
After a 10-year hiatus, Danish-born, London-based design talent Jens Laugesen relaunches his eponymous label for autumn/winter 18.
Photography SImon Eeles. Styling Anders Sølvsten Thomsen.
From the moment Jens Laugesen exhibited his MA collection in the window of Paris boutique Maria Luisa during 2002's couture week, right up until the label's closure in 2008, the Danish-born, London-based designer continually left audiences captivated as he lit up the fashion stage.
Throughout the label's life, Laugesen walked away with numerous awards -- most notably the ANDAM prize in 2006 -- and sponsorship support -- from Fashion Forward to NEWGEN -- and amassed consistent critical recognition and a growing client base. However, the awards and acclaim were not enough to sustain Jens Laugesen throughout the financial crisis of 2008. Ten years later, Laugesen received a grant from the Danish Arts Foundation and he's revived his eponymous label for a new generation.
"Ultimately, the grant has allowed me to restart my creative work as a designer," Laugesen explains over email. After spending the past decade consulting for big corporate brands including Calvin Klein and LG Fashion, Laugesen was desperate to focus his attention on a purely creative fashion art installation project. "When I started the design process, I couldn't stop thinking of the kind of new luxury woman I had in mind and how she differed to the one I dressed 10 years ago." In a world in which luxury is constantly being redefined and repositioned -- in recent years alone, we've journeyed from Phoebe Philo's Céline to Hedi Slimane's Saint Laurent and Jonathan Anderson's Loewe -- Laugesen opted to go back to the future by revisiting is first twelve collections and concentrated on updating the Hybrid Reconstruction design philosophy he developed during his CSM MA studies.
"I still have shoe boxes filled with the pictures we shot over those six years and they document my creative process," he explains. "To me, these images are still a great inspiration today, informing everything and helping me create." Rather than clothes themselves, it was photography that first sparked his interest in fashion -- he was an amateur photographer during his formative years and his first job was assisting the famous Danish photographer Gunnar Larsen -- and the ever-developing relationship between the two crafts have continually pushed Laugesen's fashion forward ever since. "When we started the HYreCON collection, I began by documenting all stages form vintage research, to initial toiles and final garments on Rina, my fit model and now an essential part of the collection I design," he explains. "One night I was flicking through all the images and it felt like a small animation so I recorded my own video manipulation using my phone before asking my film editor friend Maxim Young to work on a creative concept." This collaboration resulted in a process film Lauguesen has named HYreCON 01, which showcases the creative process in a pre-digital, rough VHS pixelated vision and inspired him to use the intense red seen in the new collection.
"When researching the HYreCON 01 collection, I found a book about the iconic film The Man Who Fell to Earth by Nicholas Roeg featuring all-time inspirational gender fluid character David Bowie. I loved seeing the images of both the actor in and out of character, in and off settings in this documenting reality oscillating between past and present. I felt that this kind of in-between metamodern reality could be inspirational for a film collaboration with photographer Simon Eeles documenting character Eden Clark in and out of setting."
The EDEN film revisits the aesthetic of his past video Faith in Chaos -- a collaboration with Nick Knight for SHOWstudio -- that was presented during the second Ground Zero 02 collection at London Fashion Week. "Then, the Ground Zero collection was inspired by the post 9/11 moment of terror and most people left the second show feeling aggressed. But this time around, I really want the HYreCON trilogy to be a much more positive forward-looking proposition for women to look at and just really love. But you will of course see the 'old Jens' glitches in there but in a less aggressive manner. Maybe I have finally grown up and want build a real creative business." This is Jens Laugesen 2.0 and HYreCON is his 2.0 version for the 21st-century luxury customer who evolved from the young, cool east London girls who surrounded him then. "Girls like Camilla Jessen who was my first right hand design collaborator/studio manager/muse and Minna Vauhkonen who was the first muse/fit model and inspiration," he explains. As time has passed, these cool east London girls have grown up into industry insiders and should be just as excited about his designs today. "It's about making conceptual design ideas desirable and wearable for a modern woman, no matter the age or origin," he explains. As past collides with present, Laugesen's future is intriguing. "It's important that for this re-launch to revisit past patterns but also infuse it with my professional industry experience," he explains. "I've just turned 50 and found a serenity having integrated yoga and meditation into my life. All of this is part of my process and life that inspires me to create."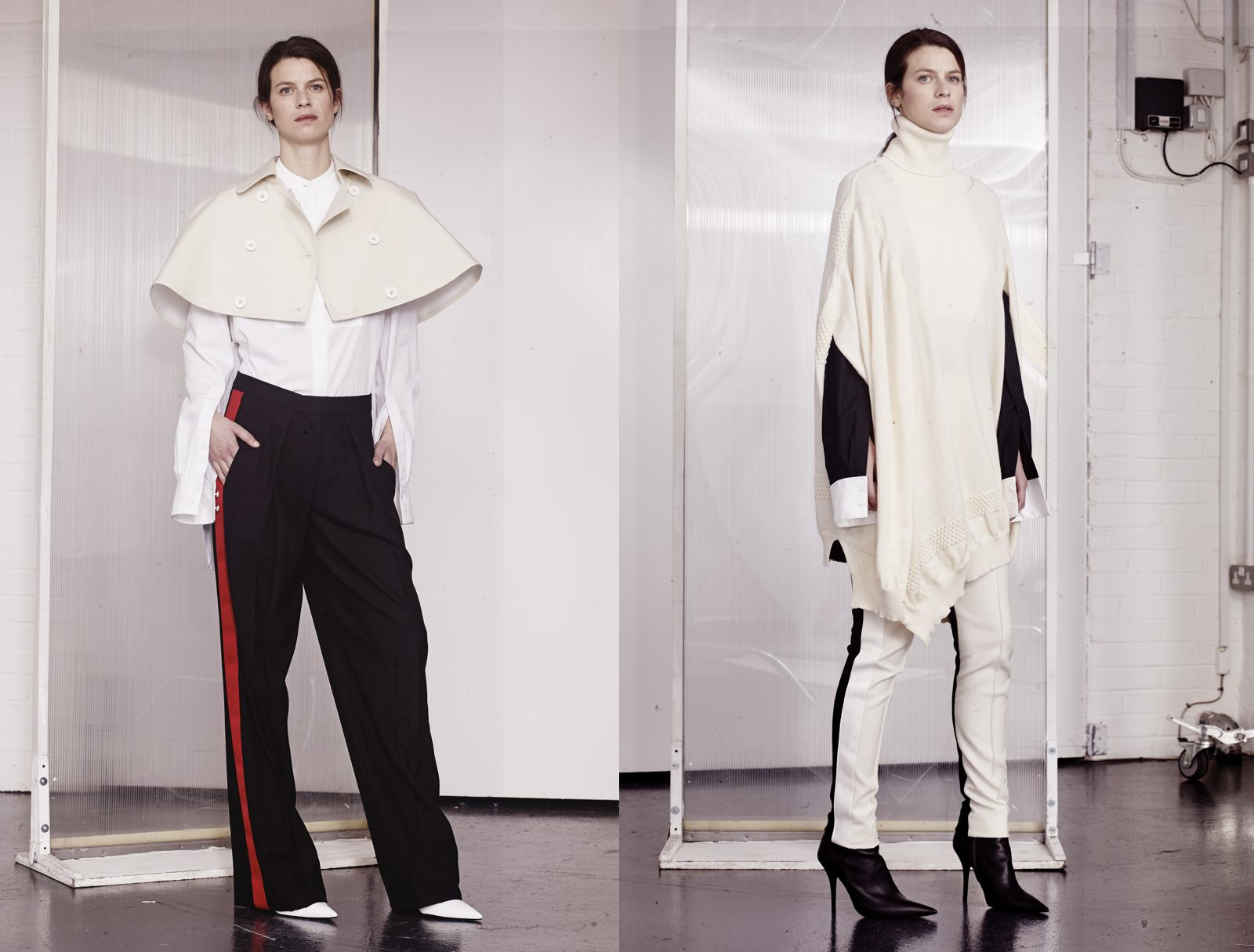 So beyond middle age and mindfulness, how has Jens Laugesen matured? " I am no longer a 'young designer' who is out there to prove everything," he explains. "I did that before and received respect from important people in the industry, both business and media. This time around, I am trying use my acquired business network and experience to put everything in place and create a more holistic business vision of my brand. What I am trying to show to the world is that a niche luxury brand can stay both inspirational on a high content level while becoming relevant and accessible to a wider and much more comprehensive audience." This desire to further open up his world sees Laugesen launch the first collaboration with Danish Heritage brand S.N.S HERNING. "They're based in my native town in Denmark," he explains. "Together with Søren, the owner philosopher and creative nerve of the company, we have come up with a new collection concept S.N.S HER, which is not just a collection about the feminine side of a man but also a metaphor for presence… being physically here in the present in a physical space (= her in Danish)." The collaboration fuses his design dna with the SNS Herning Heritage, "I think with this collaboration I finally re-connected with my Danish roots. A cultural craft heritage of producing something with your hands hoping this would allow us expanding." Say hello to Jens Laugesen 2.0.