studio ghibli's 'grave of the fireflies' poster has a heartbreaking secret
The late SG co-founder Isao Takahata made a very not kid-friendly poster for the film.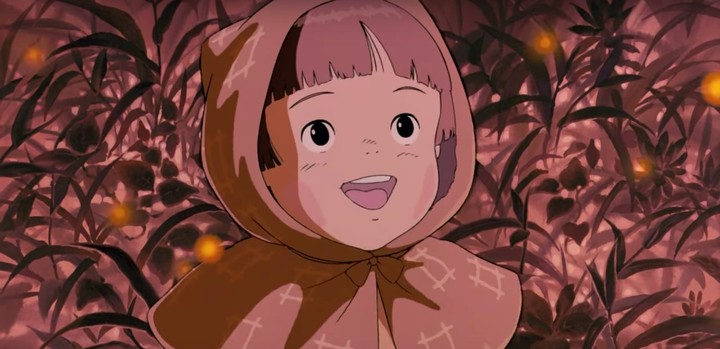 Screenshot via YouTube
Studio Ghibli diehards are always discovering new gems in the studio's creations. In light of Studio Ghibli co-founder Isao Takahata passing away last week, fans have turned their attention to the overlooked 1988 film Grave of the Fireflies, Directed by Takahata, the animation is a grim tale of two impoverished kids growing up during WWII. New, hidden details have been discovered in the poster for the dark film. Details that will break your heart. Are you ready? Okay. Turns out, sibling duo Seita and Setsuko are not playing with just a bunch fireflies like we thought. Some of those orange streaks in the sky are bullets.
This sobering detail was uncovered after a Twitter user played around with the coloring on the poster. Turning the brightness up reveals a giant B51, not a cloud, is flying in the background. And if you look closely you will notice there is a distinct difference in how the fireflies and gunfire is shaped and colored. Even though it absolutely heartbreaking, this creative choice makes sense. Grave of the Fireflies is an animation about the innocence of childhood getting prematurely ruined by the war and Takahata never holds back on the emotional punches.
Powerful tributes to Takahata have been created since his death. This ten-minute fan-made video looks back at the most magical, awe-inspiring moments in the animator's films and tv shows.