grace jones will discuss her 'fierce and fabulous' life at the first timestalks festival
Grace Jones is headlining The New York Times's first 'TimesTalks Festival' this spring.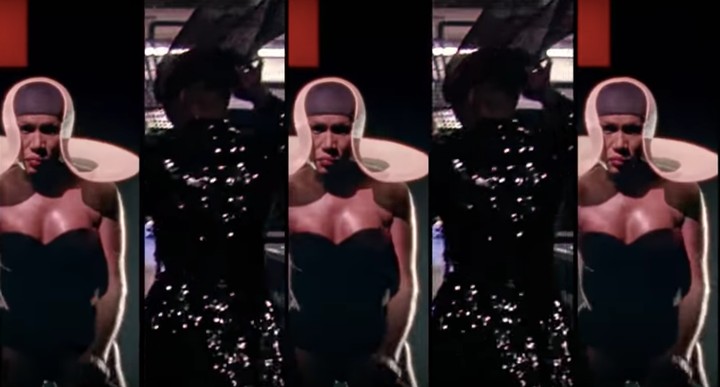 Still via YouTube
Grace Jones's magnetic stage presence extends far beyond her musical performances. At the height of Reaganmania in 1984, Jones gave an iconic interview to Joan Rivers on The Tonight Show, recounting the time she rocked up to a party for French politicians while wearing nothing but an open cape and a bone necklace. Four years earlier, she slapped television presenter Russell Harty on air. And the photos from her riotous 30th birthday party are no less museum-worthy than her collaborations with Jean-Paul Goude.
This April, the ageless Jamaican goddess will headline a panel at The New York Times's inaugural TimesTalks Festival, The Hollywood Reporter announced today. Jones's conversation — titled Grace Jones: Fierce and Fabulous — coincides with the April 13 release of Sophie Fiennes's documentary Grace Jones: Bloodlight and Bami. The film offers an unprecedented look into the creation of Jones's fiercely controlled public persona, plus a bold stripping away of that image.
"This is the first time people will see me in this way," Jones told Screen Daily when Bloodlight and Bami launched at Cannes Film Festival last year. "They will see a very candid portrayal. It is raw. It will be like seeing me almost naked." She continued, "I'm very happy with the film. I didn't feel like it was an invasion. It was a very smooth and comfortable process."
We're living through a resurgence of conservative values similar to those Jones challenged in the 80s. Her work's spirited, sometimes outrageous commentary on notions of gender and race seems just as vital and important now as it did then, giving voice to the oppressed with style and humor. Other well-timed events on the TimesTalk lineup include a special preview screening of the first episode of the second season of Hulu's The Handmaid's Tale (hosted by Margaret Atwood and Elisabeth Moss), and a "Women of the Senate" discussion featuring some of the most badass female senators.
Tickets for Grace Jones: Fierce and Fabulous are $65, and can be purchased here. The event will also be live-streamed on Facebook and available on the TimesTalks YouTube channel.