Images courtesy of Netflix
'dear white people' shows the awkwardness of being queer, black, and young
From toothy blowjobs to dating, the show's queer character has a lot of black gay men saying "it me."
Images courtesy of Netflix
In 2017, Netflix adapted an original series from the 2014 film Dear White People, which follows the lives of a diverse group of black students at the fictional Ivy League school Winchester University. The show's second season premiered May 4, which is especially timely given significant moments in black culture as of late like Beyoncé's ode to black colleges at Coachella, Childish Gambino's bold "This is America" video, and the partisan debate spurred by Kanye West's MAGA declaration on Twitter. For many queer fans of color, Dear White People's most captivating story is that of Lionel. One of the few openly gay characters in the cast, he's somewhat of a geek — although not quite as nerdy as Family Matters's Steve Urkel and not as stiff as Carlton Banks from The Fresh Prince of Bel Air.
I often don't see my experiences represented on screen, but Lionel's story had me thinking "it me." I may be able to identify with the romance of a film like Call Me By Your Name, but it had a cultural blind spot that ignores issues of race. Similarly, I could identify with the protagonist from Moonlight but I couldn't relate to the level of poverty that burdens Chiron, the main character, which exacerbates the challenges of his sexuality. As a black gay journalist who is overeducated, middle class and, at times, socially awkward, seeing Lionel on screen was like looking at a mirror.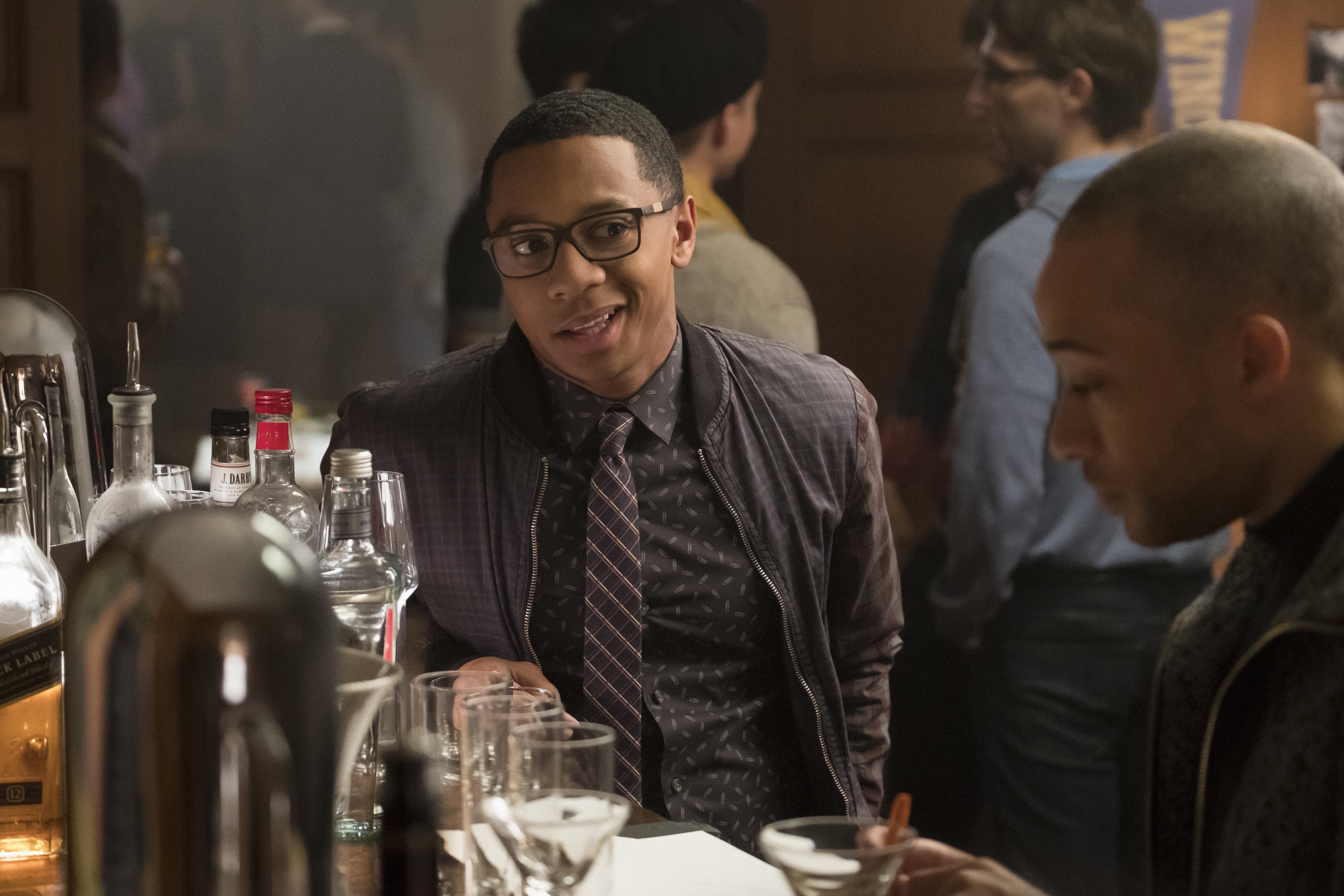 Lionel, played by DeRon Horton, is a journalism nerd who dreams of winning a Pulitzer and has a crush on the editor of the school paper. In the first season, much of Lionel's journey is navigating black spaces while being queer. He struggles to find acceptance from other people of color — mainly straight, cisgender black men — in environments with anti-LGBTQ attitudes. It's not until he writes about the racial unrest on campus that the other black students take him into their fold, not merely tolerating his sexuality but actively celebrating it. In the second season, Lionel now has to navigate queer spaces while being black, which is a whole new can of worms.
Oftentimes gay characters in mostly straight ensemble casts don't get to experience romance on screen, but Dear White People chooses to break that mold. The character has to deal with the harsh reality of modern dating, which is hard for everyone, but especially difficult for marginalized groups such as queer people of color who have to deal with being fetishized or ignored. When Lionel finally does have a sexual encounter it's not a steamy softcore porn scene, but instead a series of bumbling mishaps, several apologies, and an unintentionally toothy blowjob. Sometimes sex is unsexy, especially if you're doing anal for the first time, which is fine — as long as there's consent.
Watching Dear White People, I was reminded of my own experience of coming out at a predominantly white institution (PWI). I somewhat fell out of the closet. There was no grandiose over the top speech delivered to friends, I didn't write a lengthy emotional status on Facebook, nor did I come out via a heartwarming YouTube video (which is in vogue at the moment). When it came to telling my classmates I was gay, I never did. I got caught kissing a guy at one of my fraternity's rush parties by a pledge. I had expected the other brothers to disown me, but they were surprisingly understanding and encouraged me to be myself. From then on, I just lived openly.
The dating pool at my school was limited because not everyone felt as safe being out on campus. I could count the number of out gay students on campus using one hand — maybe two if I speculate. But the number of out gay black male students that I knew of was even smaller. The media I was consuming at the time didn't help either, shows like Queer as Folk and Glee had majority-white casts that made identifying with the characters challenging. One of the few programs that seemed meant for me was the short-lived series on Logo, Noah's Arc.
The lack of visibility both IRL and on-screen made it hard for me to reconcile my blackness and my queerness while I was developing my identity as a queer person of color. Lionel's character doesn't seem to have that same challenge. He instinctively owns both parts of his identity and asserts them when he feels one is being marginalized over the other. His growth in confidence and self-awareness is aspirational, but for me it required some suspension of disbelief since his character is portrayed as more insecure in the first season.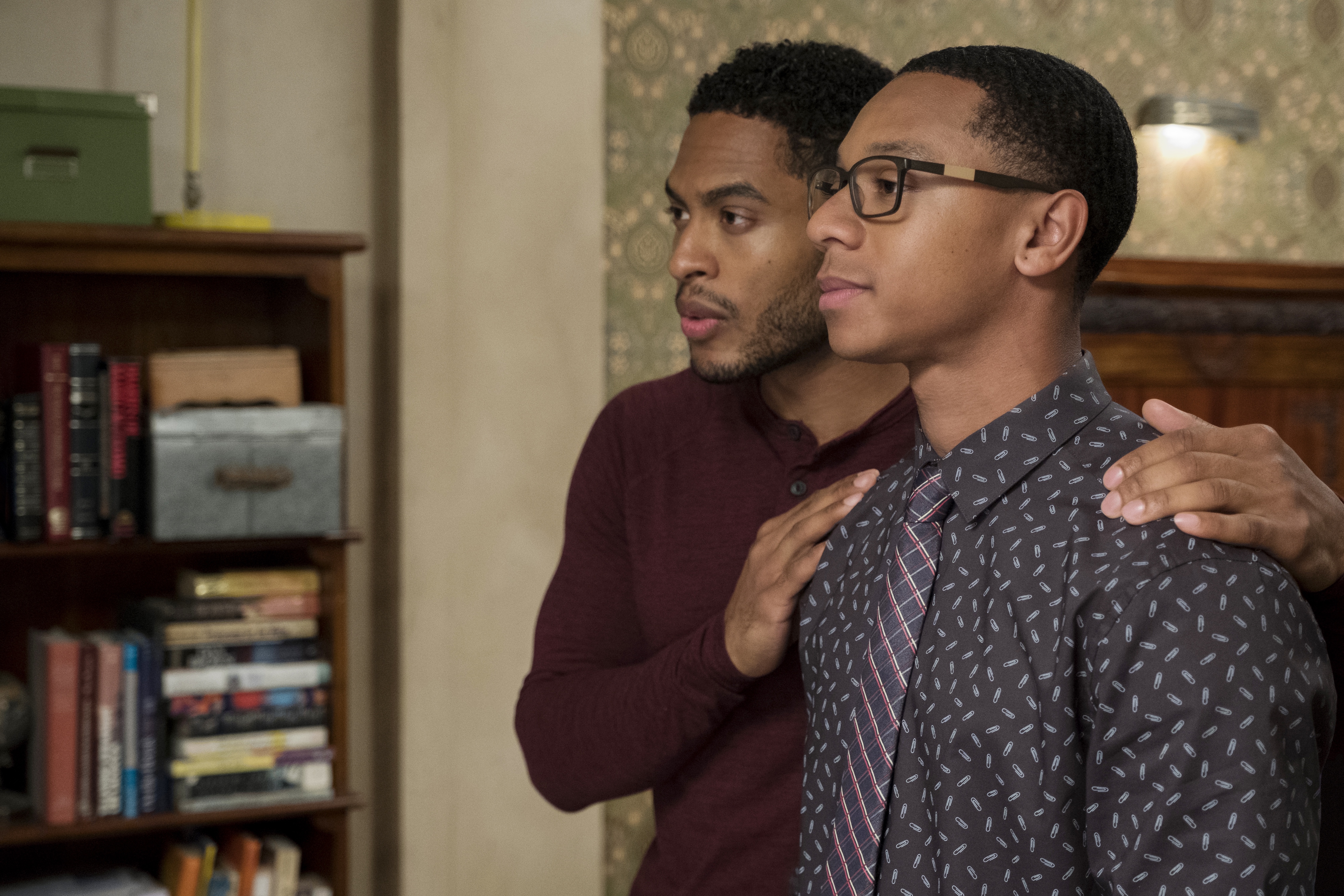 Unlike Lionel, I went to college during the Obama years. It certainly was not a post-racial utopia, but my school wasn't set in a such a hotbed of prejudice or discrimination. I never saw anyone dressed in blackface (though there were black-themed parties and other social events that bordered on cultural appropriation). Even though I attended a fairly left-leaning liberal arts school in Williamsburg, Virginia, our campus is less than an hour away from the University of Virginia (UVA) in Charlottesville — which coincidentally was my safety school when I applied to college.
Last year, Charlottesville gained national attention when white supremacists swarmed UVA's campus in a violent rally that ended with the death of an anti-racist protester. Many of my friends still live in Virginia and some were UVA alums. Across my timeline, people asked each other, "How could this happen?" When really we all should have been asking, "How could it not?" As the horrific events in Charlottesville unfolded, immediately I thought to myself, "I'm sure glad I didn't choose to go school there." However, on further reflection, it wasn't Charlottesville in particular that had something wrong with it — it was America at large.
According to the FBI, the number of racial or culturally motivated hate crimes has increased since 2016. Also, recent incidents in Philadelphia and Syracuse prove Charlottesville isn't the only city with this issue and that what happened on one college campus in Virginia doesn't exist in a vacuum. The FBI's report also noted a spike in anti-LGBTQ hate crimes, which puts those of us who identify as gender, sexual, and racial minorities in a uniquely vulnerable position. It may be 2018, but clearly racism isn't a thing of past. Which brings me to Dear White People.
What makes Lionel's story so refreshing is that it doesn't rehash the queer narratives of the past, he doesn't have a painful coming-out moment to his overly religious family, he doesn't get gay-bashed, and his character doesn't get diagnosed with HIV. That's not to say that one of those themes couldn't be explored in the future or that those issues don't deserve to be treated on screen. However, I can appreciate that the people behind the camera are creating a character with a complexity and nuance that is often only awarded to straight, white, and cisgender protagonists.
Years went by after I finished my time as an undergrad before I would consider myself "woke," a term that now seems to have lost its punch since it first became trendy. But I think that other young queer black boys will be able to see a part of themselves in Lionel. The idea that representation matters isn't such a revolutionary concept, but it can have a revolutionary effect.
You can stream Dear White People now on Netflix.