meet the designer behind jorja smith's favorite bespoke embroidered dresses
London-based Clio Peppiatt interned at Alexander McQueen before turning her hand to creating the beaded pieces.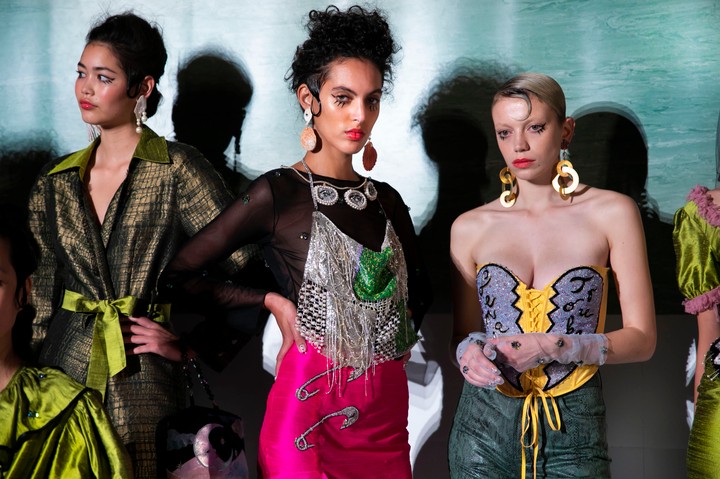 Clio Peppiatt has seemingly been designing since birth. A self-confessed "shy child", she spent her childhood drawing and painting, then moved into fashion. With both parents working in fine art, she describes her home as "creatively stimulating," with artists such as Paula Rego visiting often. "I was born in the early nineties, which was a time of people really having fun with fashion," she explains. "It was very expressive. It was so much about individuality and I really started to fall in love with that more in my teenage years."
Fittingly, the 28-year-old designer approaches her eponymous brand with a focus on the artistic process. She hand-draws the designs, and works in a slow-fashion model of hand-sewed embroidery and, often, hand-stitched garments. Her unique embroidery designs draw inspiration from astrology, tarot imagery, and serpent symbolism as she works to "connect with people's minds." "I think there's something very romantic about that," she says. "I like to approach designing and creating embroideries to tell a story."
Born in Paris and raised in London, Peppiatt describes her decision to study textiles after finishing school as "the obvious route." She can't pinpoint when she decided to be a designer but says she "didn't really ever start" as it was something she'd always done. During her studies, Peppiatt started out as an intern for some major fashion brands, including McQueen. Fascinated by the focus on craftsmanship and detail, her experience there is something that resonated with her deeply. "Growing up, spending hours and hours drawing and painting and sewing, and then being able to see people who've made a career out of that really resounded with me," she explains.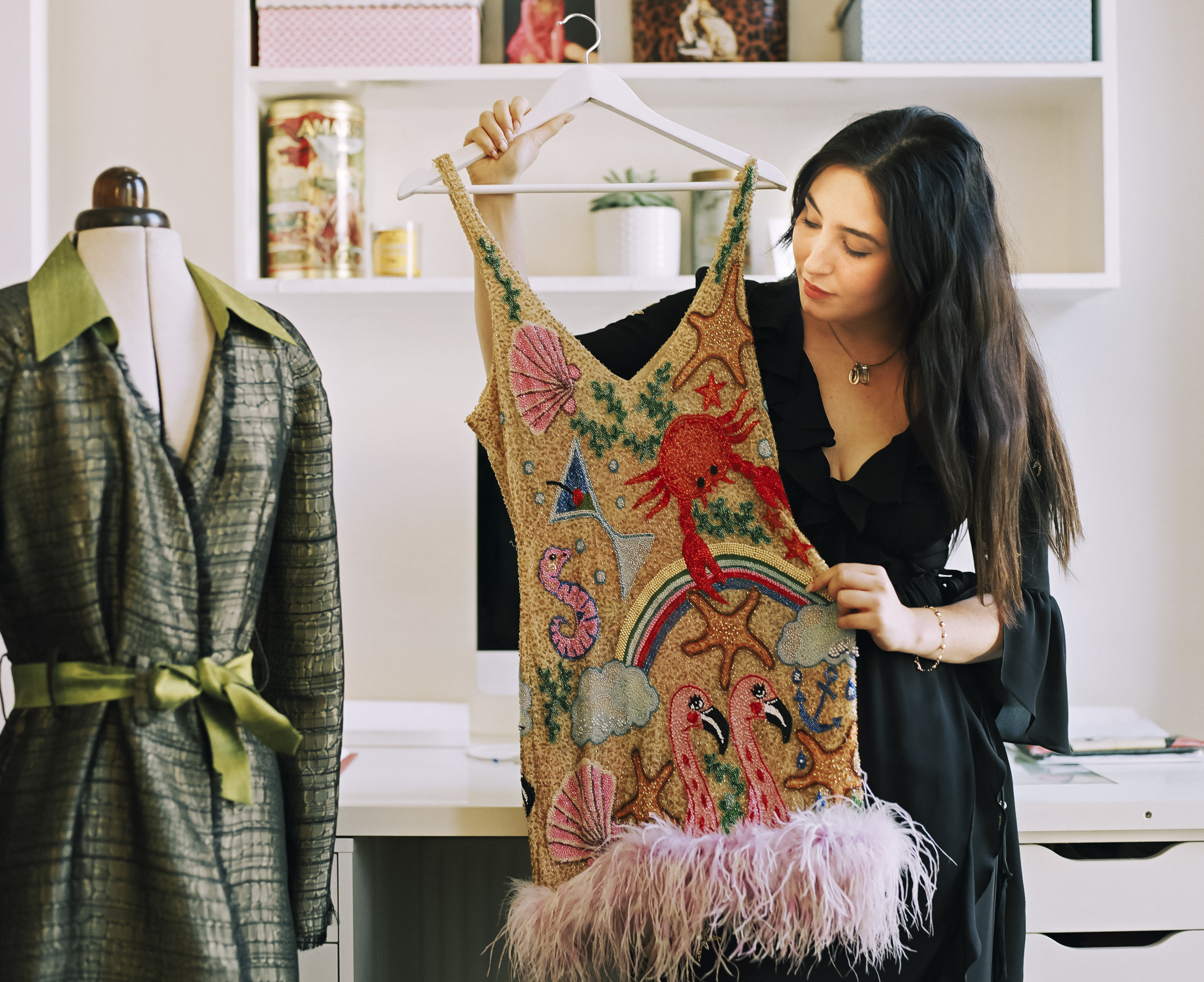 Launching her own brand was something she had always had in the back of her mind, tracing back to when her Mom taught her how to sew and embroider. "I used to make clothes for adults when I was really young," she says. "It's something that felt very like linked to my family and something that I did enjoy doing. So I need that had to be the main part of my business." Her brand formed gradually while working on her own projects after her day-job and on the weekends. What started with a few friends as customers has now become an internationally respected name with fans such as Miley Cyrus and Jorja Smith.
Peppiatt (understandably) loves Smith and had been a big admirer of hers long before she started wearing her custom-made dresses. After working on multiple custom embroidered dresses for the artist, they've formed a close working relationship. "I'm sending her through designs before anyone else is seeing them," she says. "She's a great role model for a lot of people." She's also an apparently great support to up-and-coming businesses, something Peppiatt is grateful for, explaining that she never forgets to tag brands on her social media.
And it's not just Smith that's using Peppiatt's bespoke dress service. A wide range of customers are drawn to the service for differing reasons: it's zero waste process, the handcraft, the individuality of the dresses, and the ability to fit larger size ranges (something she'd like to continue to explore). It takes about five weeks for the bespoke dresses to be made, and is a "collaborative process" of Peppiatt hand-illustrating designs, an in-person fitting, and then often three of four people in the studio hand-embroidering and sewing one dress.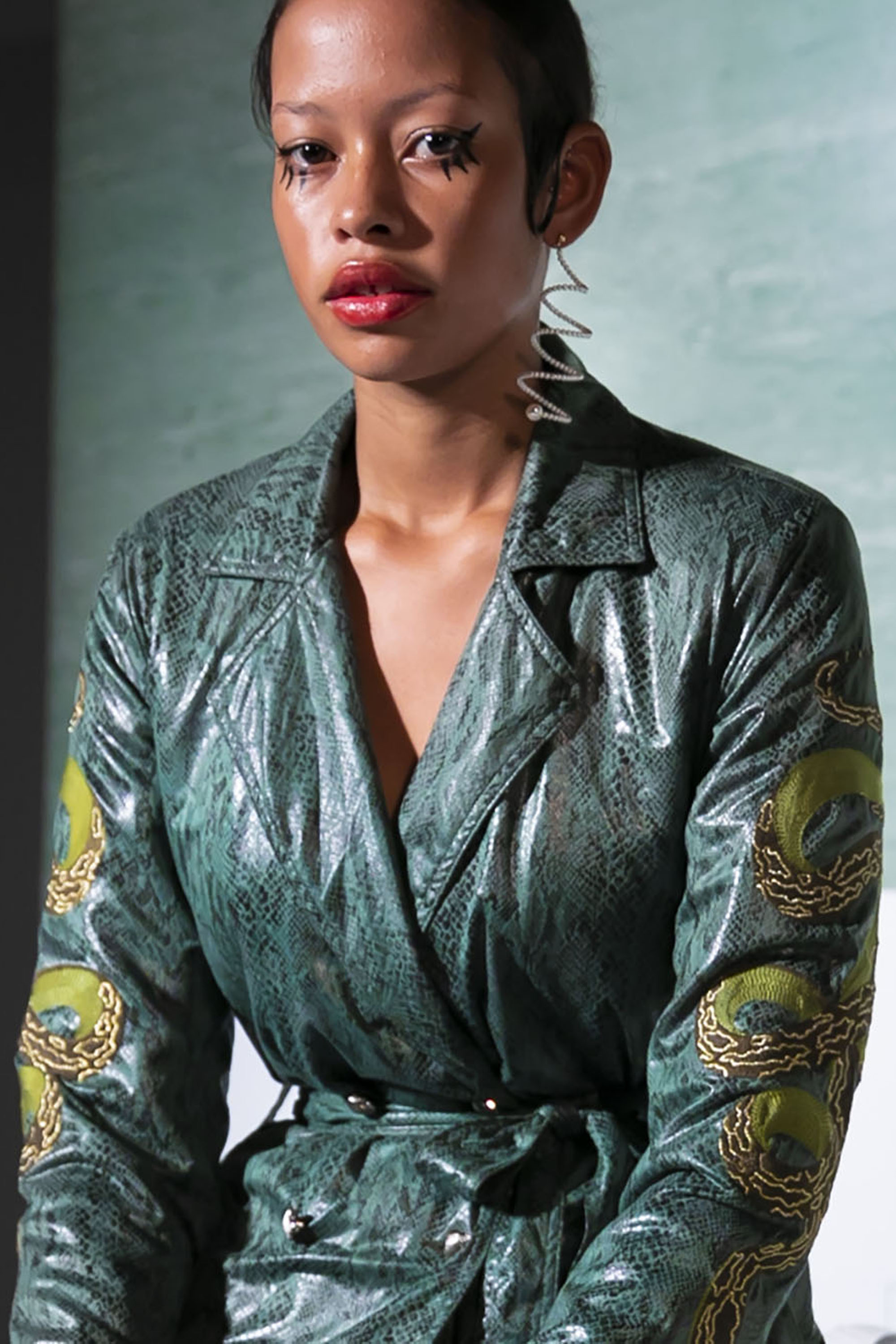 Peppiatt says service has "picked up" in the last six months, and is something she wants to continue to build. "It's very different to designing collections," she explains. "I think it's also knowing that for the people buying these dresses it's something so personal to them because they've really been there every step of the way in the design process." One of her recent clients framed their dress for their wall.
Furthering her slow-fashion model, Peppiatt also came off schedule last season. "From the beginning, I've been doing something on schedule and then I just got sick of it," she says. "There's something about like the, like the bombardment around fashion week that things just feel a little less meaningful." Already, she feels like she can work more freely and have time to look into upcycling and recycling fabric. The designer plans to present a collection "a little bit later" this year and has recently ventured into jewelry making, with her first Clio Peppiatt jewelry capsule.
Part of her brand's global appeal is that it's inclusive. "Our customer base is so diverse. It makes sense for our models and the people wearing it to be too," she says. "We're actively showing diverse imagery but it's from the customer's side too, so it feels quite like a natural full circle." Still a small team of around four people and a house cat, she often works with freelancers and uses her apartment as the studio. Excitedly, she explains that she recently moved into an apartment with a living room, to be used as the studio, as she used to work claustrophobically in her bedroom.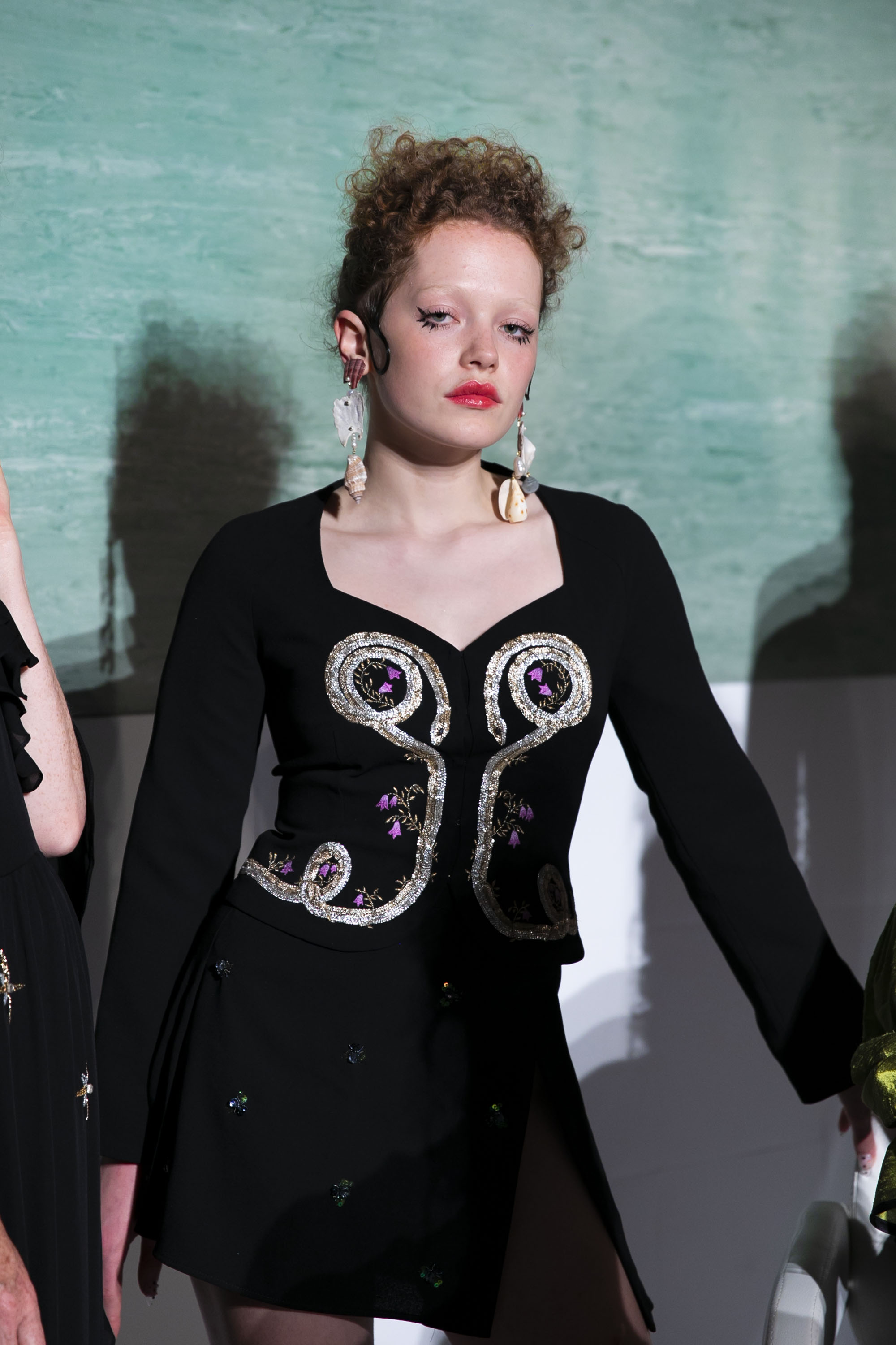 The reality of starting a craft-focused brand is something Peppiatt says she wasn't fully prepared for. "I think, naively, when I started, I thought that I would just be drawing dresses like 70% of the time," she explains. "I enjoy having my hand in all of the different elements but it was very different from what I thought it was going to be at the beginning."
Before launching, she didn't have an Instagram account and had to learn about online marketing along the way. Thankfully, as with her many other talents, this seems to come quite naturally to her and the intricacy of the pieces has already driven a loyal customer fan-base. This steady growth is something she hopes to continue to build as she further explores more sustainable methods, working at her own pace rather than at the mercy of the fashion cycle. Much like in her childhood years, her patient and meticulous approach to craftsmanship will continue to be her defining quality as a designer. It's also why her young brand has already been, and no doubt will continue to be, hung on her customer's walls as a piece of art.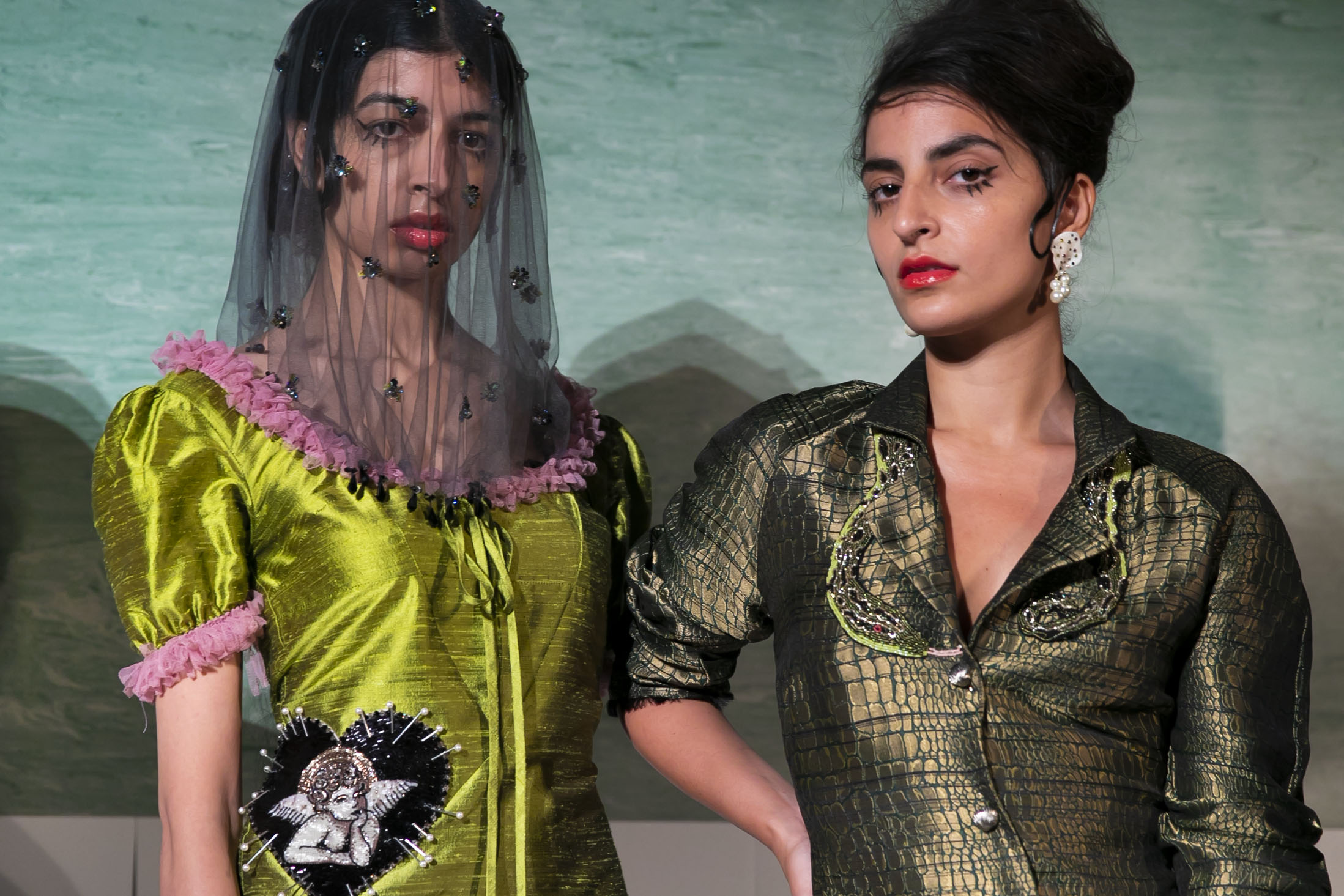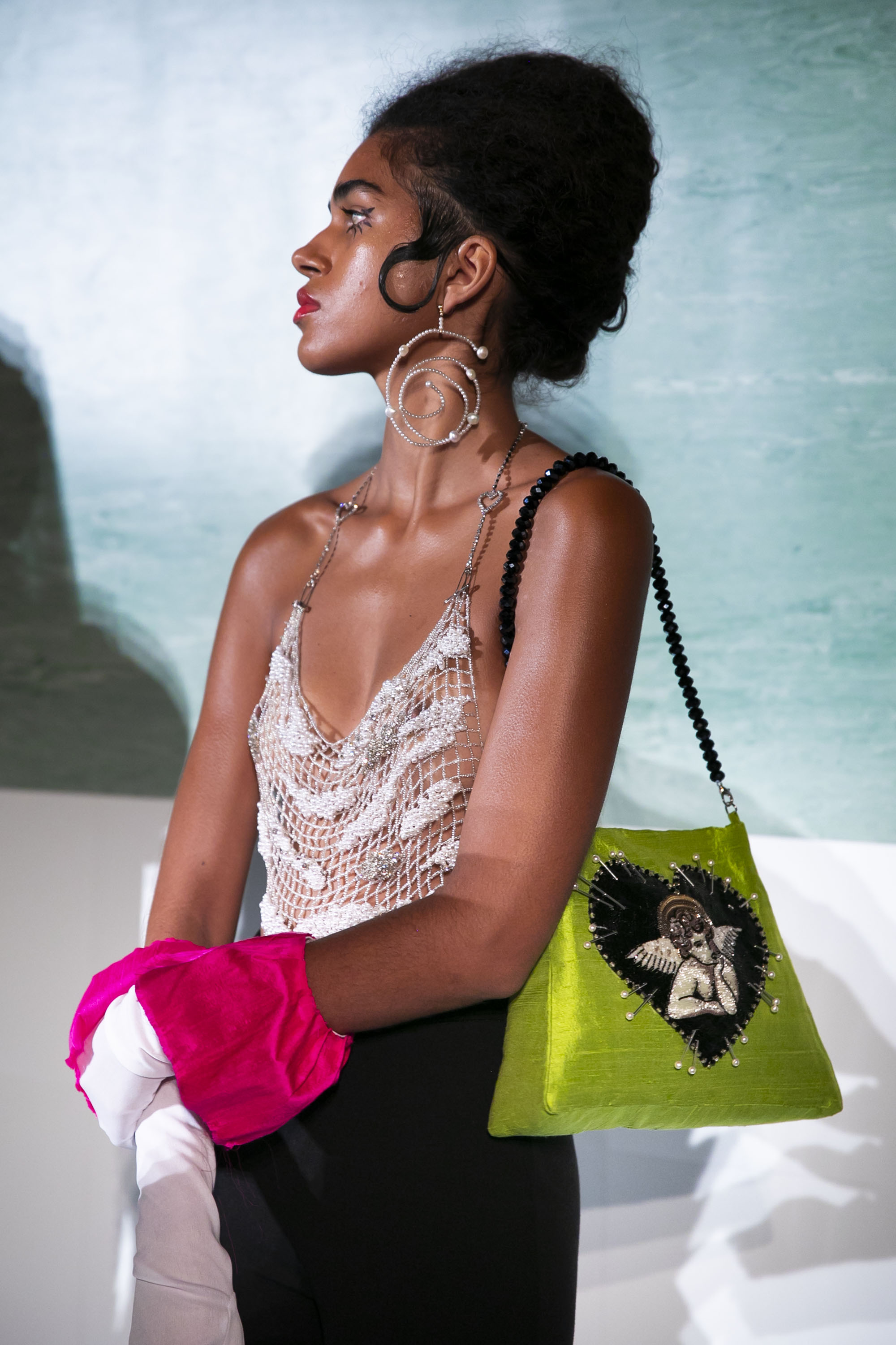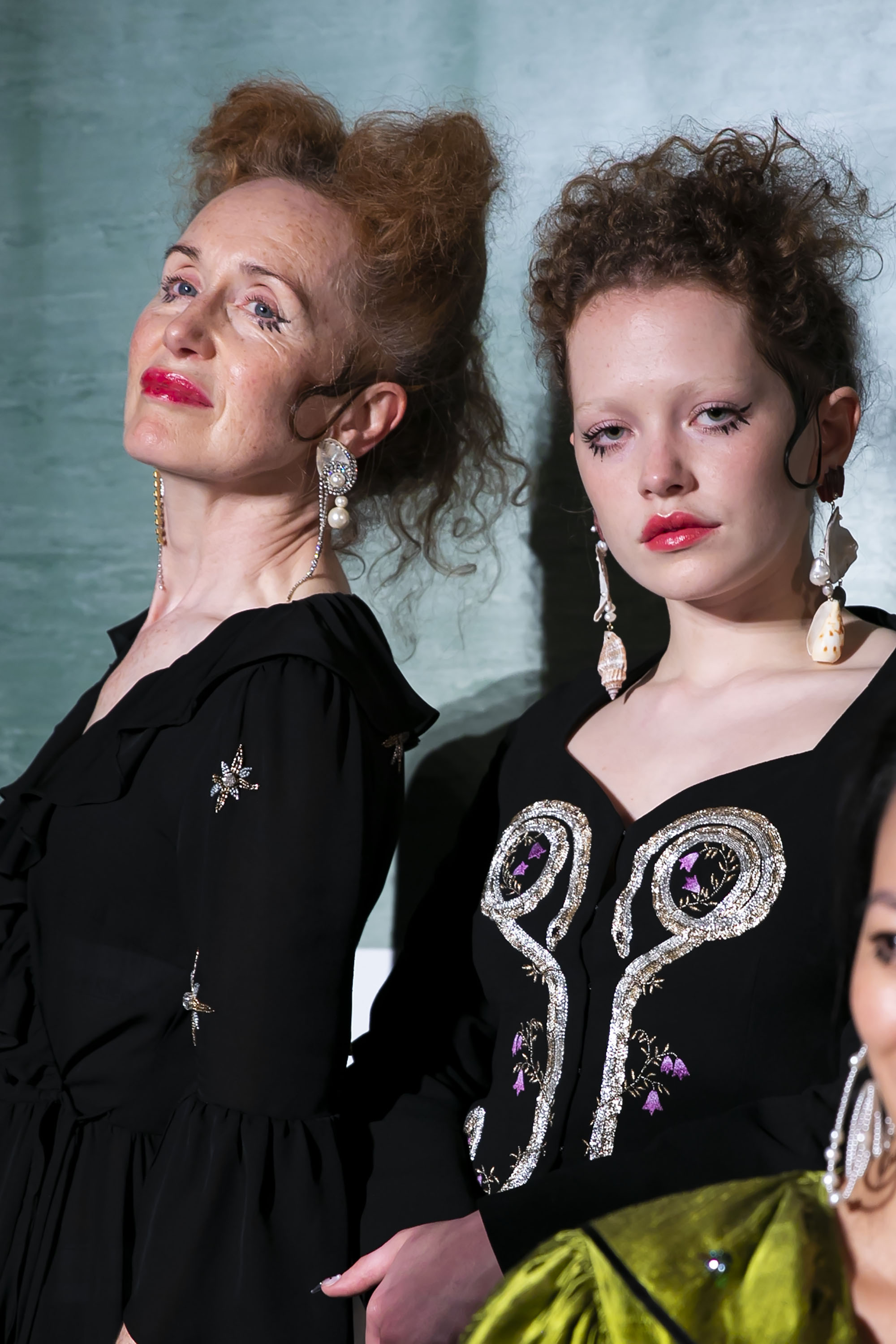 Tagged: