beyoncé wore head-to-toe gucci on the first night of her and jay-z's tour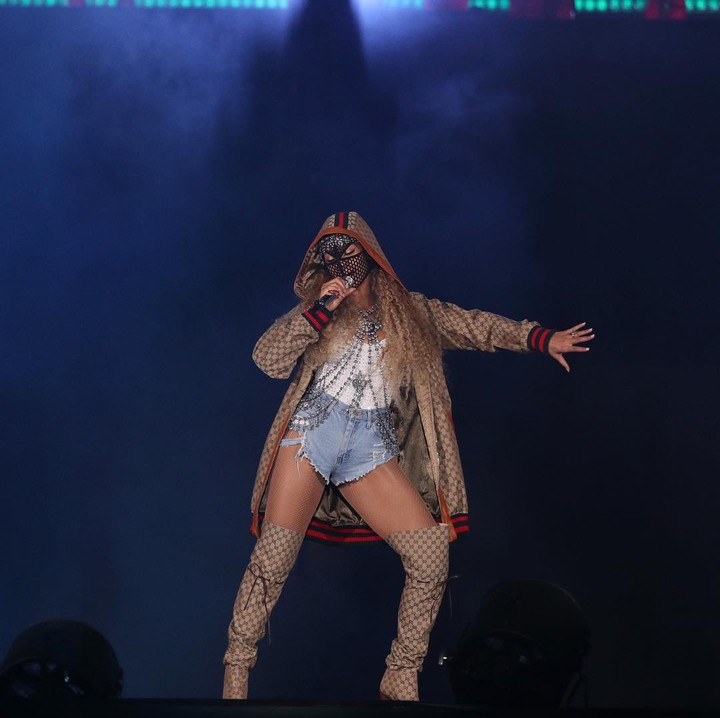 Image via Instagram
It has begun -- the great procession of immaculate Beyoncé looks to fawn over when the Tweets roll in from the On The Run Tour II. Exhibit A: night one, Cardiff, head to toe Gucci. It's a masterclass in marrying high fashion with accessible pieces, Gucci stripes with denim cut offs. She makes diamantes look classy and knee high boots look like art. For the record, you can get them here for a cool US $1,790. If you think that's pricey, the rest of the look is custom so good luck. It's all quite Dapper Dan, the Harlem stylist who rose to fame in the 80s and 80s for dressing the likes of and Salt N Pepa, LL Cool J and -- surprise -- Jay-Z in head-to-toe knock off designer looks. He's now come full circle to collaborate with Gucci on a collection.
Speaking of Jay-Z, he also cut a fine figure in a suit so crisp and white that I'm scared I'll stain just from looking at it. Beyoncé's there too, clasping his hand in a full diamante suit jacket and leotard, no pants, because Beyoncé doesn't need them.
The designer behind this one is New York based
LaQuan Smith
, and it's not the first time he's decked out Queen B in his distinctive shimmery goodness. Here she is presenting an award for Sports Illustrated, looking immaculate, obviously.
Also very here for Bey looking like a high fashion version of this iridescent snake.

But Jay and Bey weren't the only power couple people had their eyes on. The gig started with a full screen picture of Beyoncé holding two beautiful babies, which everyone assumed were the twins Rumi and Sir, because why would Beyoncé be holding two beautiful babies that aren't hers and Jay-Z's, for hers and Jay-Z's tour?
Except that apparently they weren't their babies. They were two random babies. When Buzzfeed reached out for comment on whether it was Rumi and Sir in the pics, a rep said, "It's not." I guess that's what they call in the business, a 'stunt double.' Still, cute kids. Bright future.