Photography Mitchell Sams
rei kawakubo challenges what tailoring can be
If you thought suits were dull, it's time to think again.
Photography Mitchell Sams
Who?
Comme des Garçons's Rei Kawakubo has been bending and breaking the rules of clothing for five decades. She has challenged the status quo through radical references, silhouette shake-ups, and transformative technical mastery. Her visionary acts of fashion rebellion might have been consecrated by the Metropolitan Museum in New York with Comme des Garçons: Art of the In-Between, but the revolution continues. For Comme des Garçons Homme Plus spring/summer 19, she adds her voice to the calls to look beyond streetwear (joining Raf Simons and John Galliano for Margiela to name just two like-minded heavyweights) and embrace a modern take on tailoring.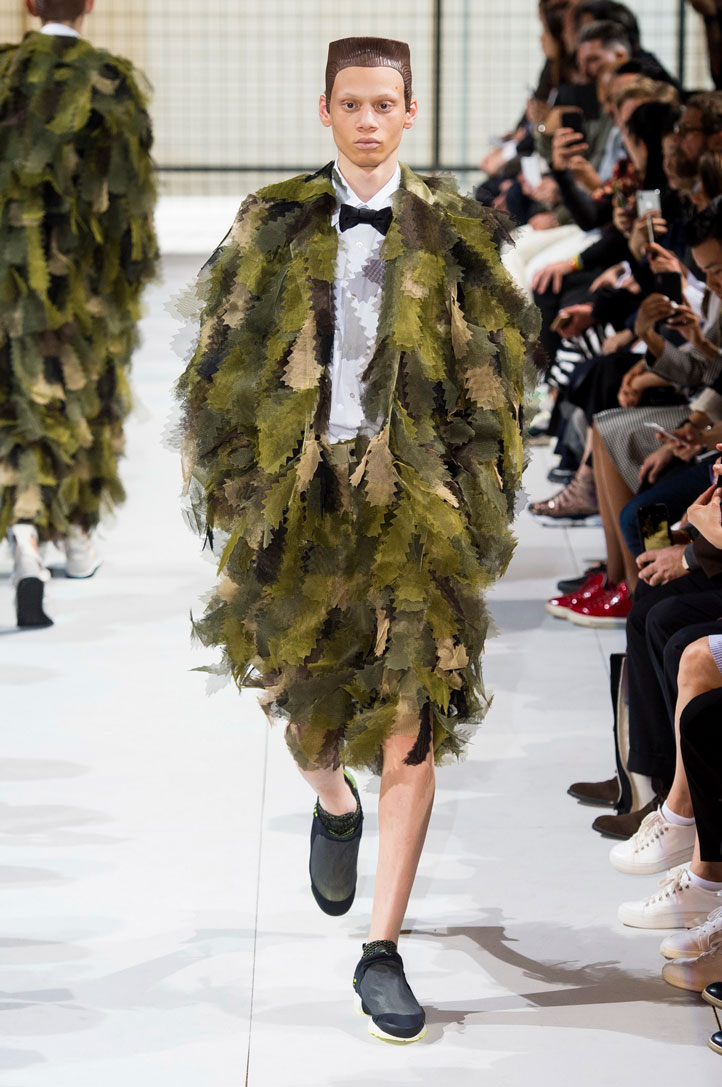 When Rei Kawakubo speaks, we listen. And we heed her words carefully. So often cryptic, poetic and philosophical, her show titles ( Body Meets Dress–Dress Meets Body, Lumps and Bumps, Bad Taste, 2 Dimensions, Infinity of Tailoring and Not Making Clothes are all personal favourites) and rare interview snippets leave us, her devoted followers, scrambling to fill in the blanks. Although just two simple words, "Crazy Suits", the Comme des Garçons Homme Plus spring/summer 19 title said so much. From black tie to tie-dye, there's a crazy suit for everyone. Whether you know it or not, this complex and conceptual mind has shaped your wardrobe. Whether you love all-black or crazy kawaii colour combinations, deconstructed tailoring or otherworldly sculptures, you have her to thank so you might as well embrace her fun-filled suits now.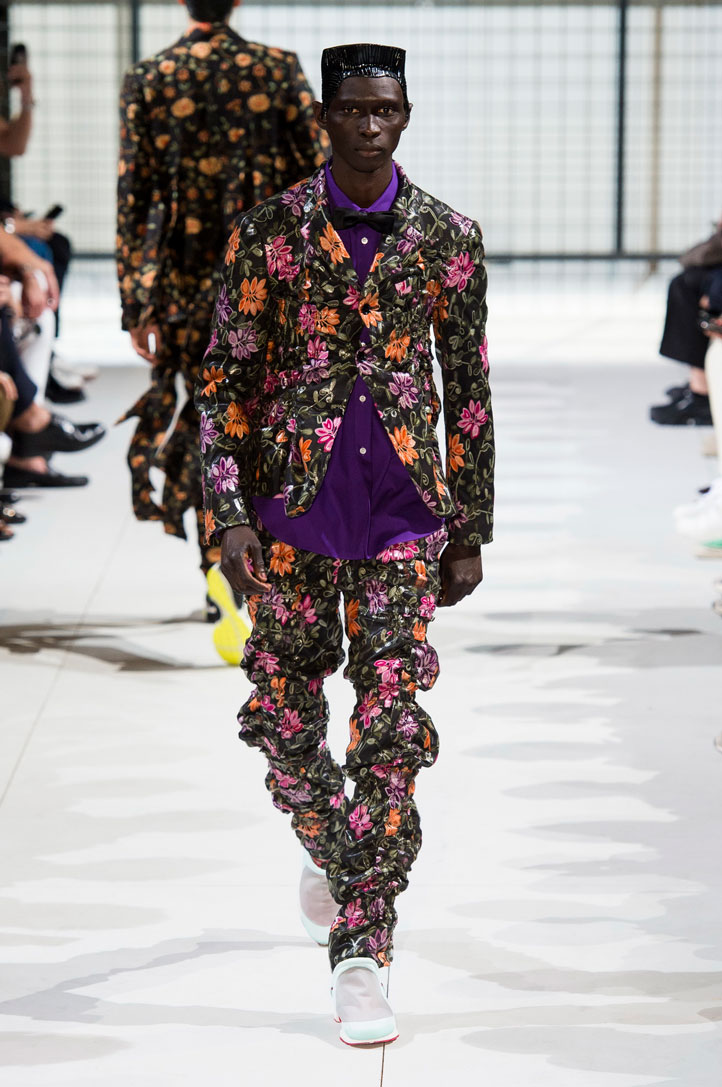 What?
A group of 21st century crows wearing crumpled and cut-up black tie boys opened the show before a procession of chiffon-layered camo, ruched florals, shrunken plaid, cut-and-spliced candy ribbons, windbreaker hybrids, reimagined taffeta curtains and so much more, challenged what a suit could and should be. If you thought suits were dull, it's time to think again. In Kawakubo's hands, they're crazy.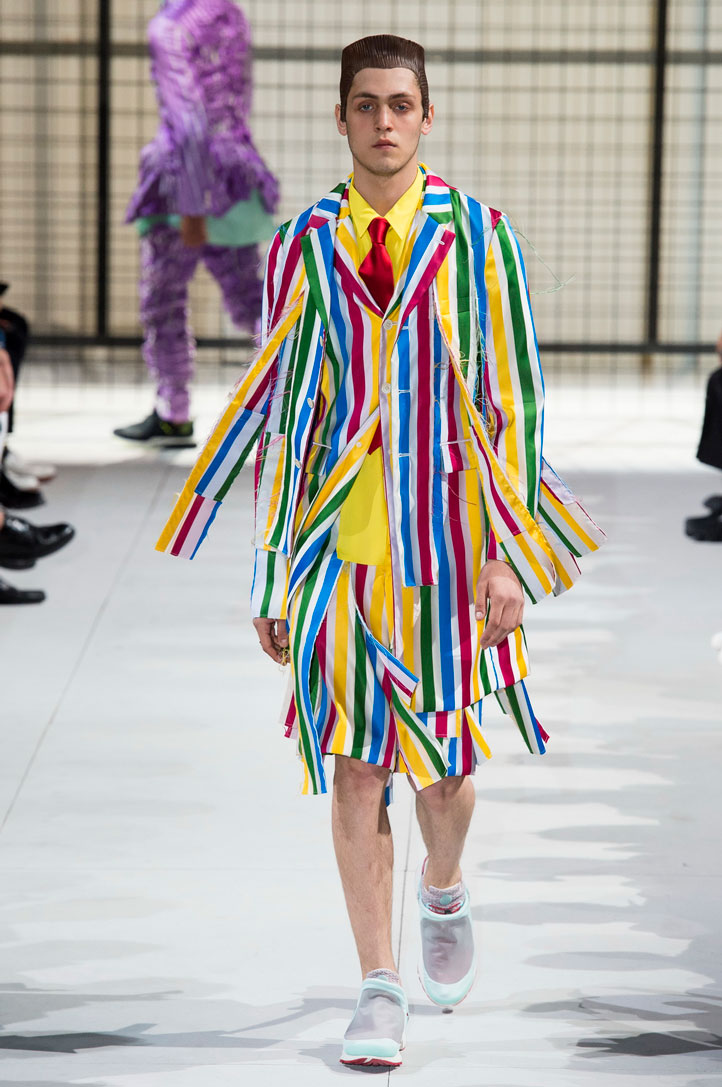 Wow!
The action-figure worthy, latex hairpieces mean you never have to have a bad hair day again. Once again, the Brittany-born hairstylist and longtime Comme-collaborator Julien D'Ys has crafted the beauty moment of the season. Similarly, smile-inducing were the childlike crocodile jaw and eyeball jewellery. Crazy hair and jewellery for crazy suits. The suit is dead, long live the crazy suit.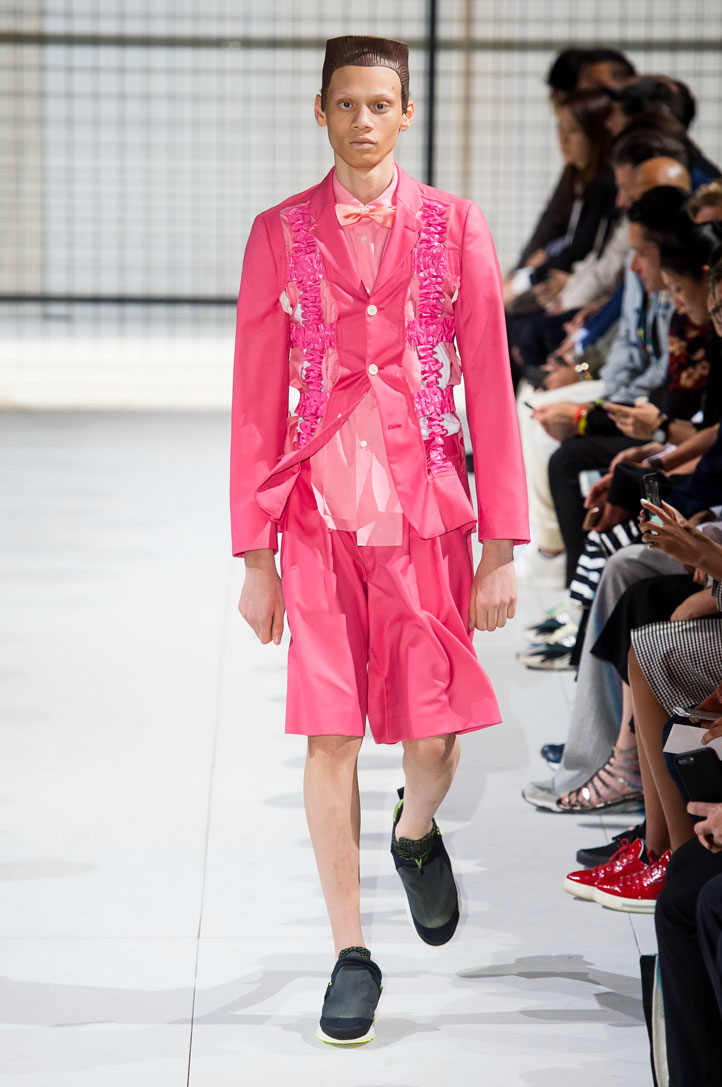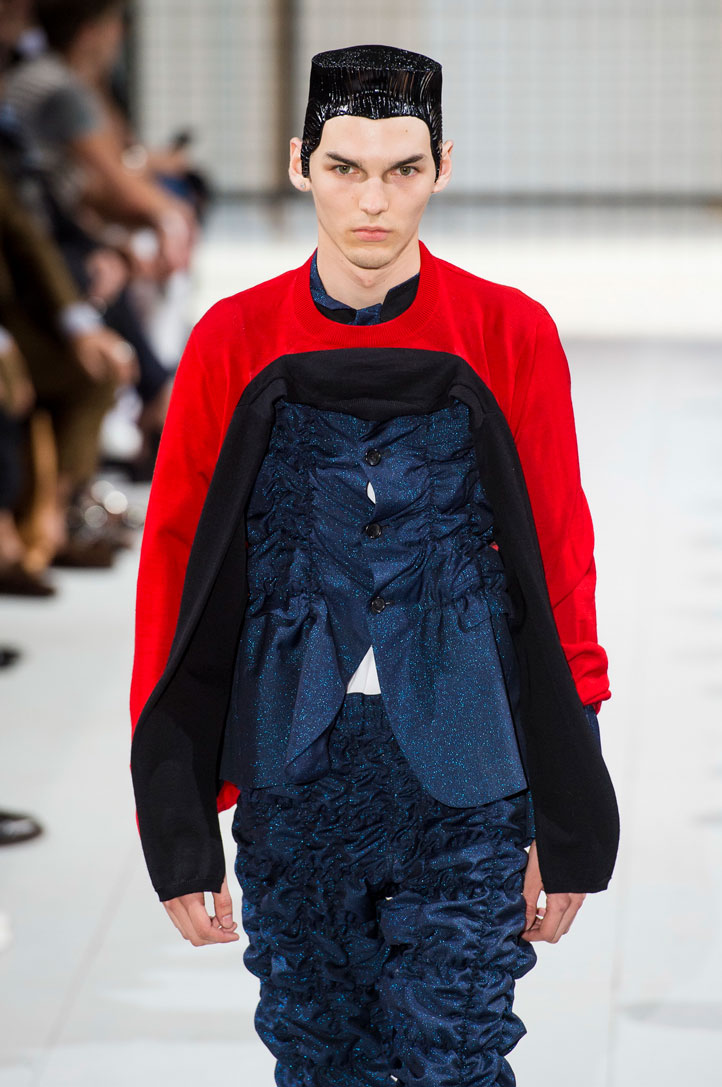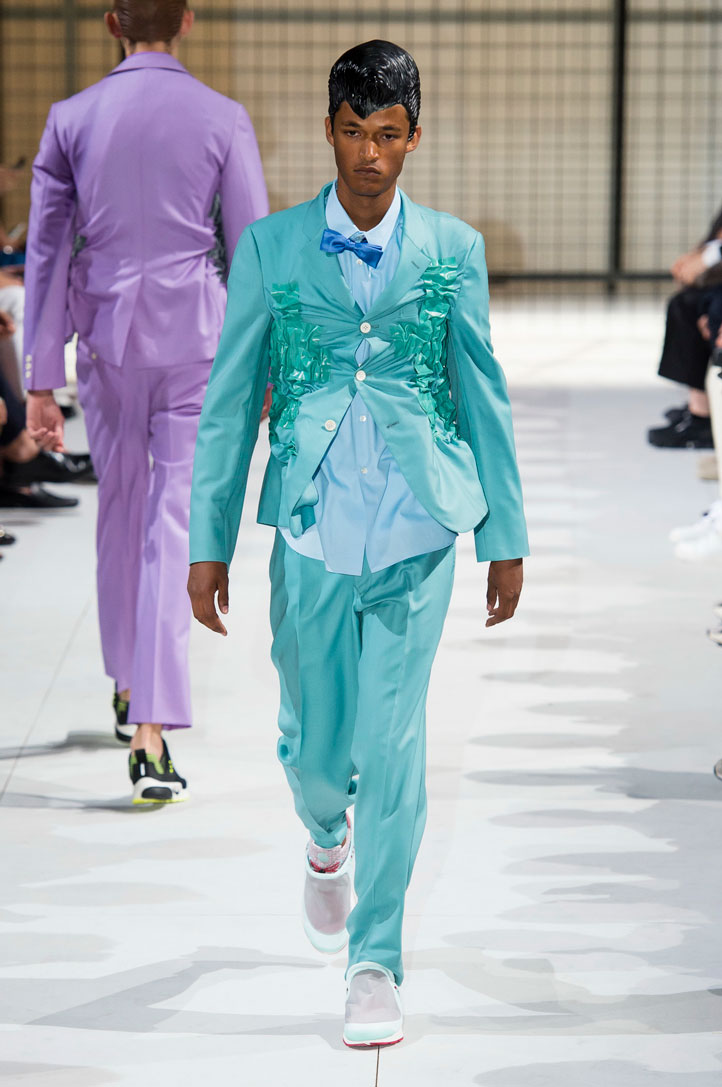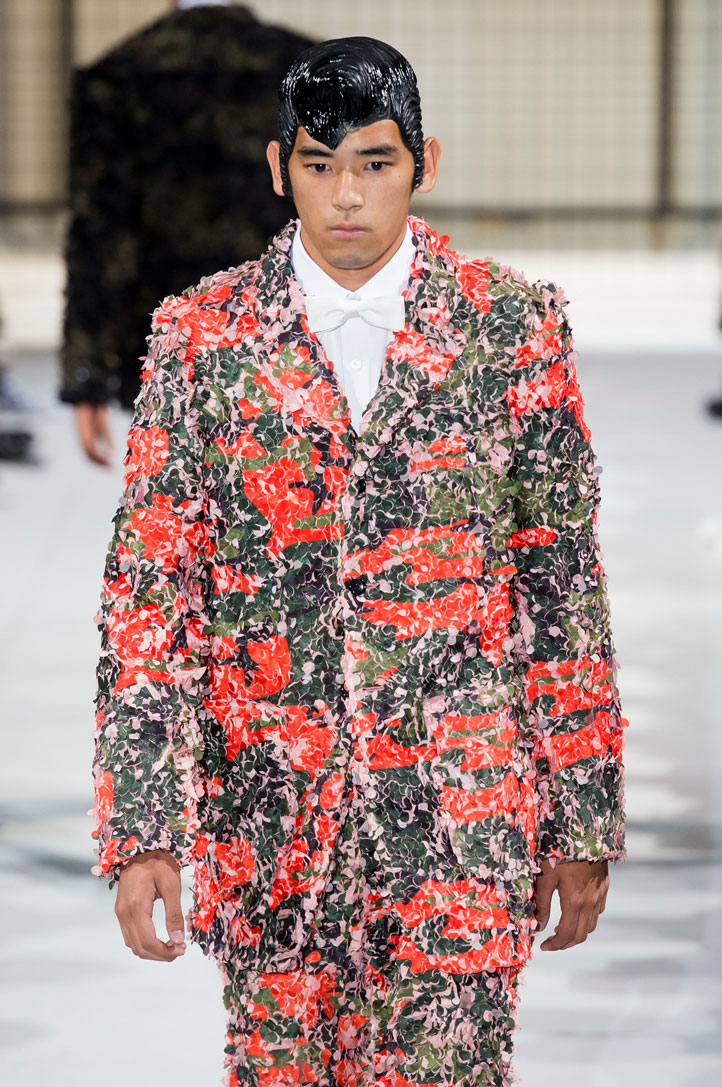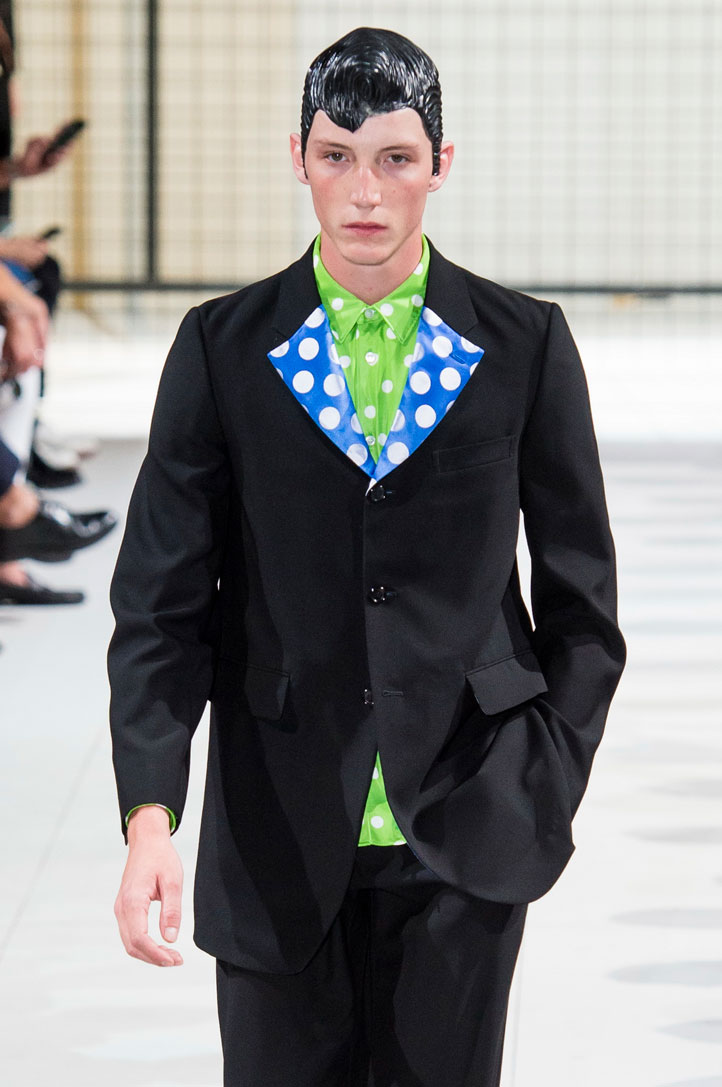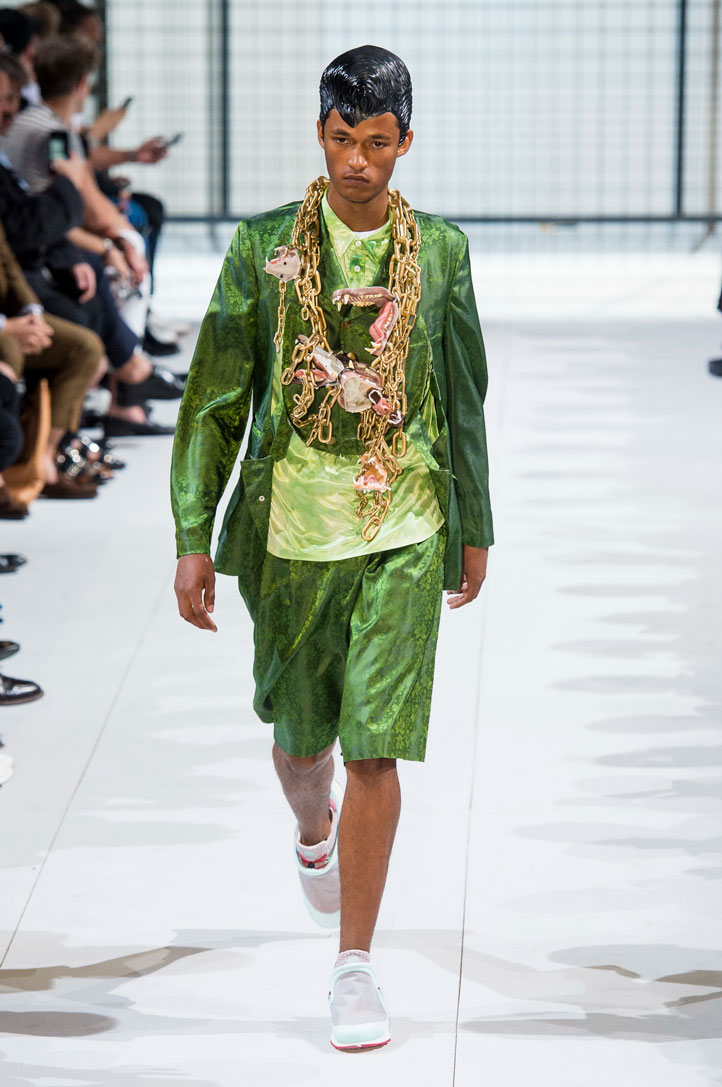 Photography Mitchell Sams
This article originally appeared on i-D UK.