dior stage an epic rodeo cruise show in the rain in chantilly
The house's first female Artistic Director continued to extol the power of femininity with a show dedicated to Mexico's fearless female rodeo riders, the Escaramuzas.
Images courtesy Dior
Strong women have inspired Maria Grazia Churi's collections since she took over the helm of Dior as the first female Artistic Director in 2016. From her sell-out "We should all be feminists" T-shirts, to comments on the role of women in the arts and the women's rights movement ("Women's rights are human rights"), she is unwavering in her quest to marry feminism and high fashion, winning the Swarovski Award for Positive Change at the 2017 Fashion Awards.
For Dior's 2019 Cruise collection, shown last night at France's Château de Chantilly, Chiuri once again used her platform to shine a light on inspiring women around the globe, this time focusing on the fearless female rodeo riders of Mexico, or Escaramuzas.
Competing in a historically male-dominated industry, Escaramuzas perform stunts on horseback at breakneck speed, while wearing traditional Mexican dress and riding side saddle.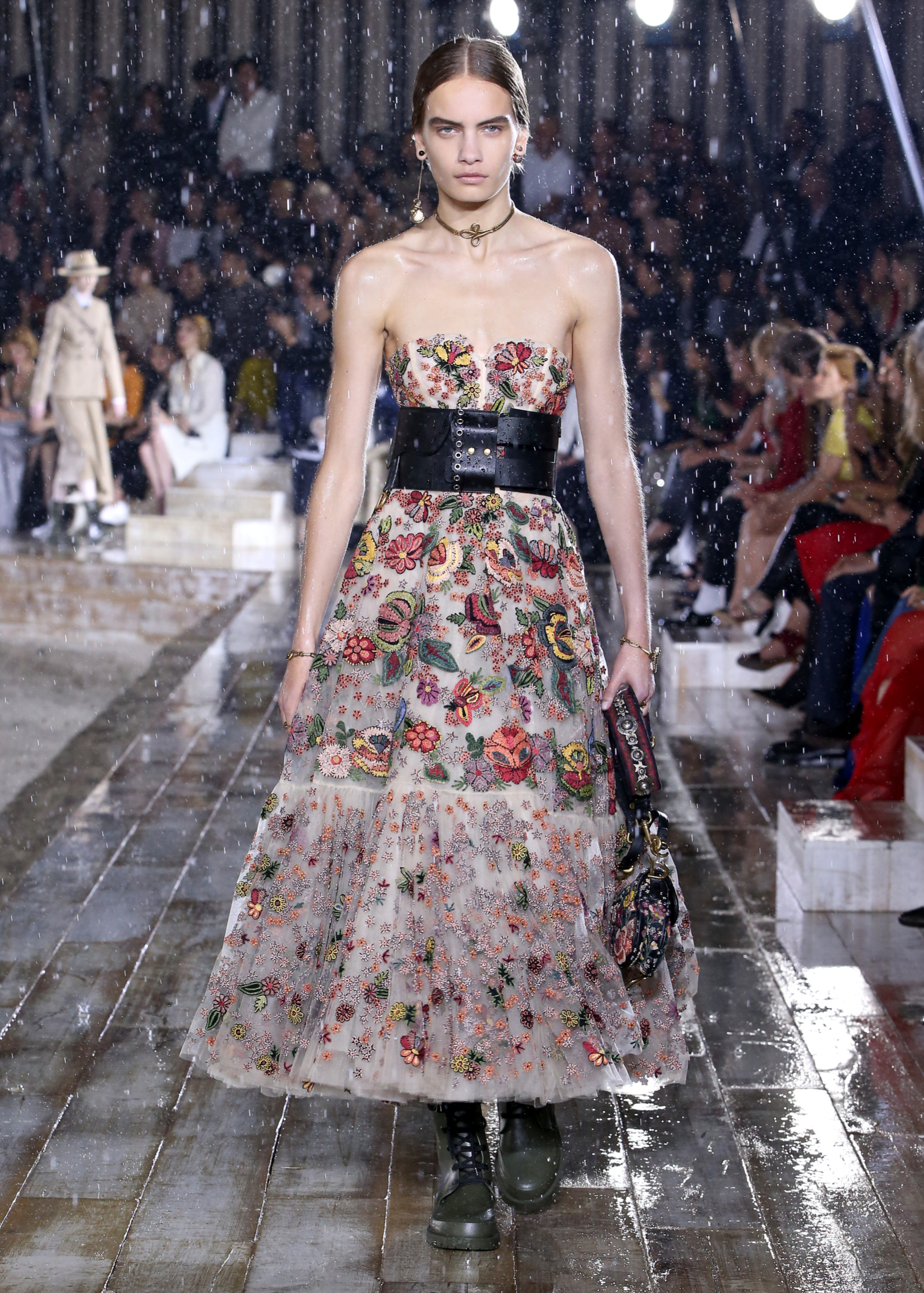 Chiuri's equestrian theme was beautifully set off by her chosen venue. Located 25 miles northeast of Paris, the Château de Chantilly is one of the finest jewels in the crown of France's cultural heritage, and is the largest stables in Europe.
As the heavens opened and the rain beat down, eight Escaramuzas entered the sandy show space astride eight white horses. Dressed in embroidered black and white Dior dresses and emblazoned sombreros, they galloped ferociously around the ring, before forming a circle in the middle of the show space.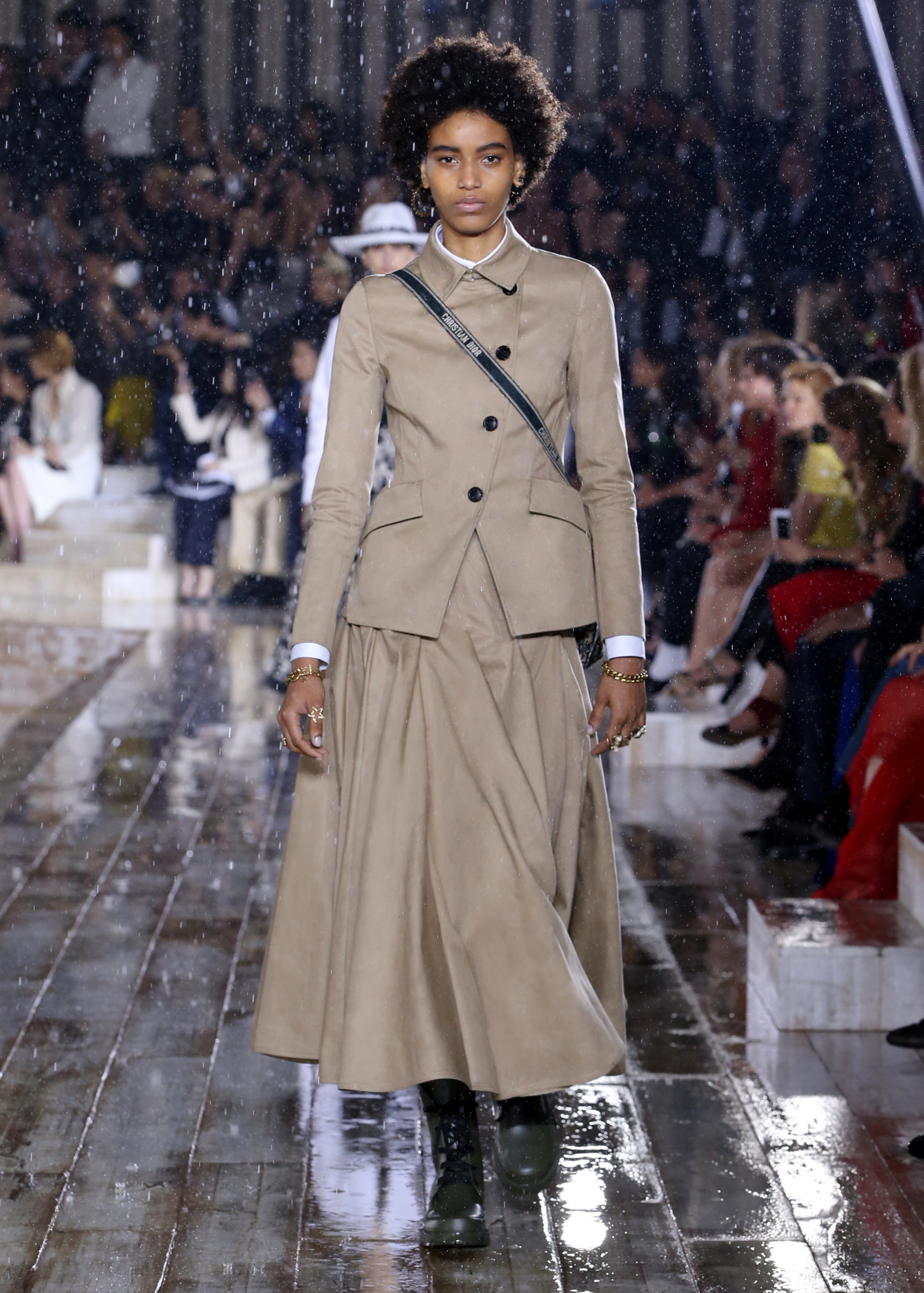 The collection that followed artfully merged this equestrian influence with Dior's heritage. Riding skirts came teamed with crisp white shirts and black ties, jodhpurs with Bar jackets and France's traditional Toile de Jouy print reinterpreted with evocative imagery of tigers and serpents. Chantilly lace — a legacy of the region — delicately adorned slim-fitting shirts and full-bodied skirts, while waists came nipped in with wide black leather belts. The models' waist length ponytails swished beneath black and white rodeo hats as they stomped through the rain in green rubber galoshes and black riding boots.
The weather may have been far from ideal, but there was something undeniably epic about such a biblical downpour. As the models strode determinedly through the storm, followed by Maria Grazia herself, it called to light women's own hope, strength and courage in the face of adversity, and the age old adage that whatever happens, "the show must go on!"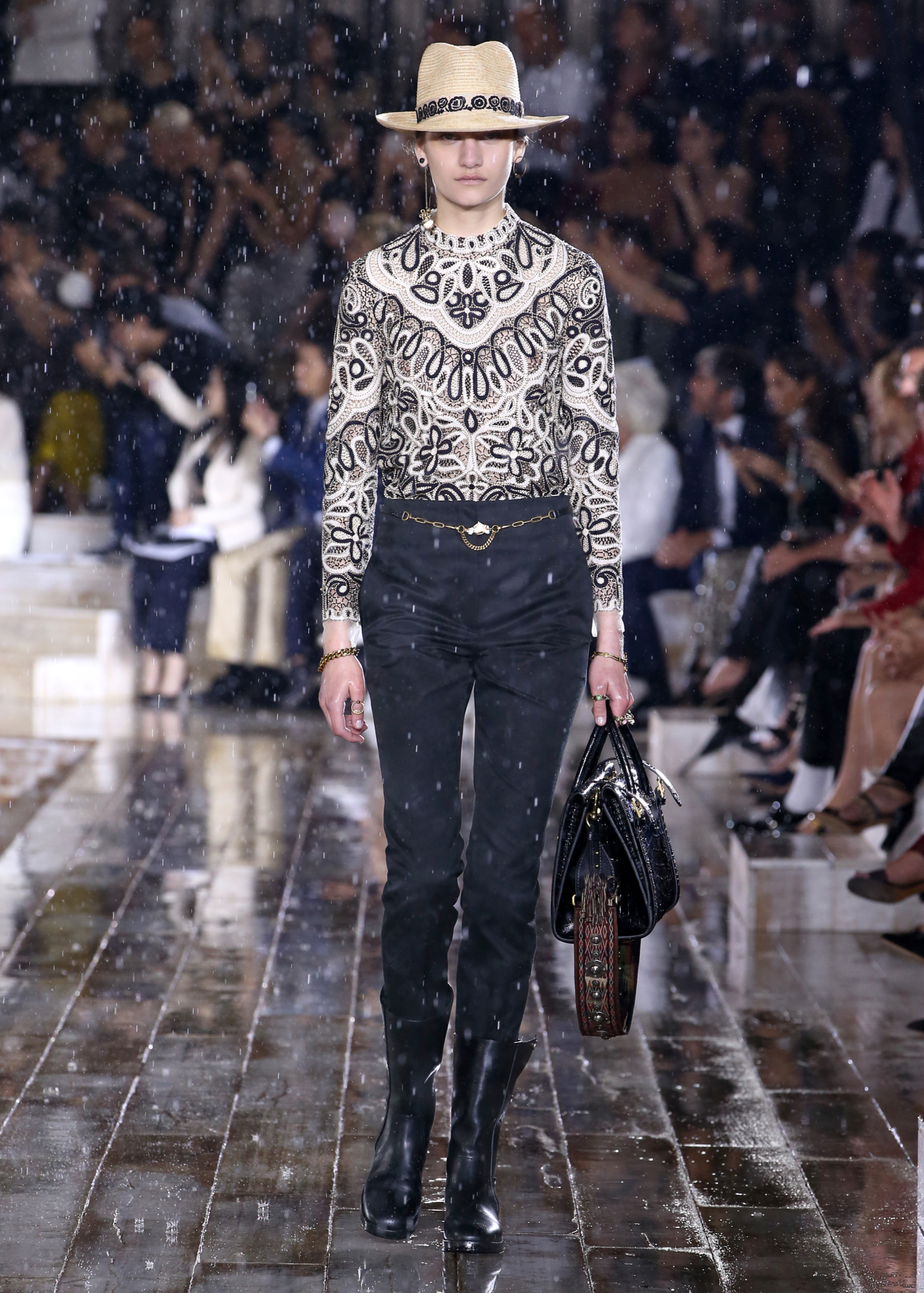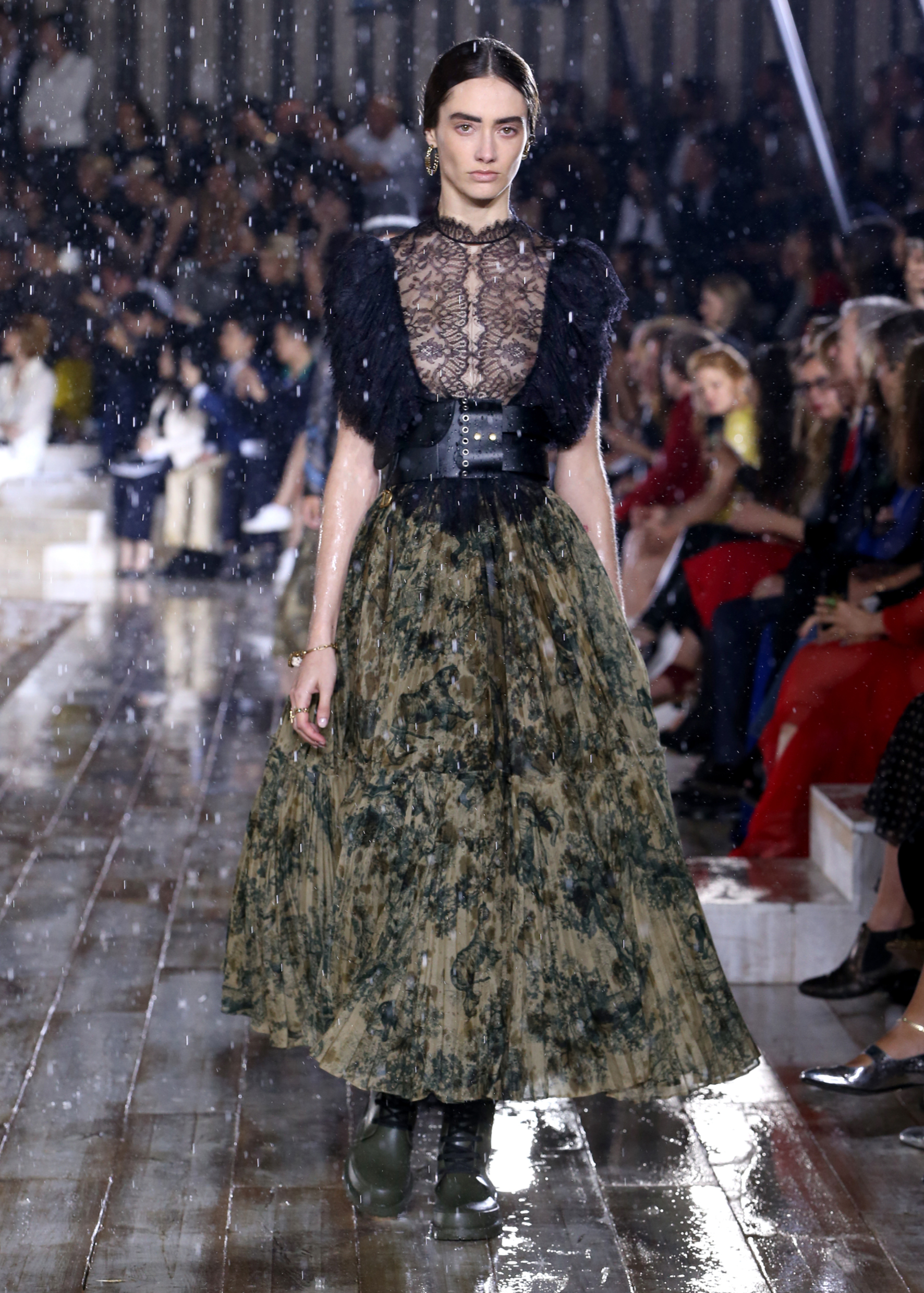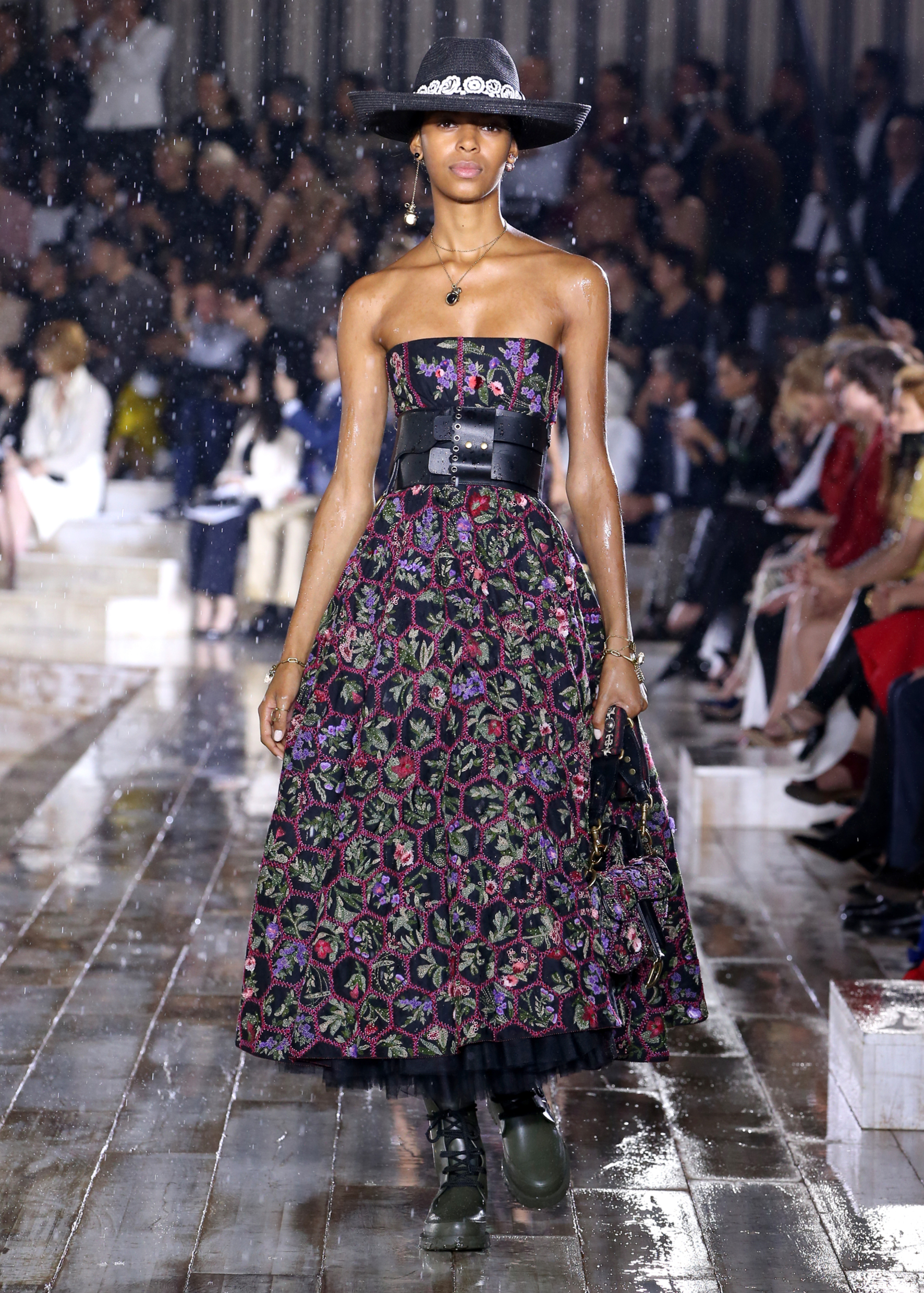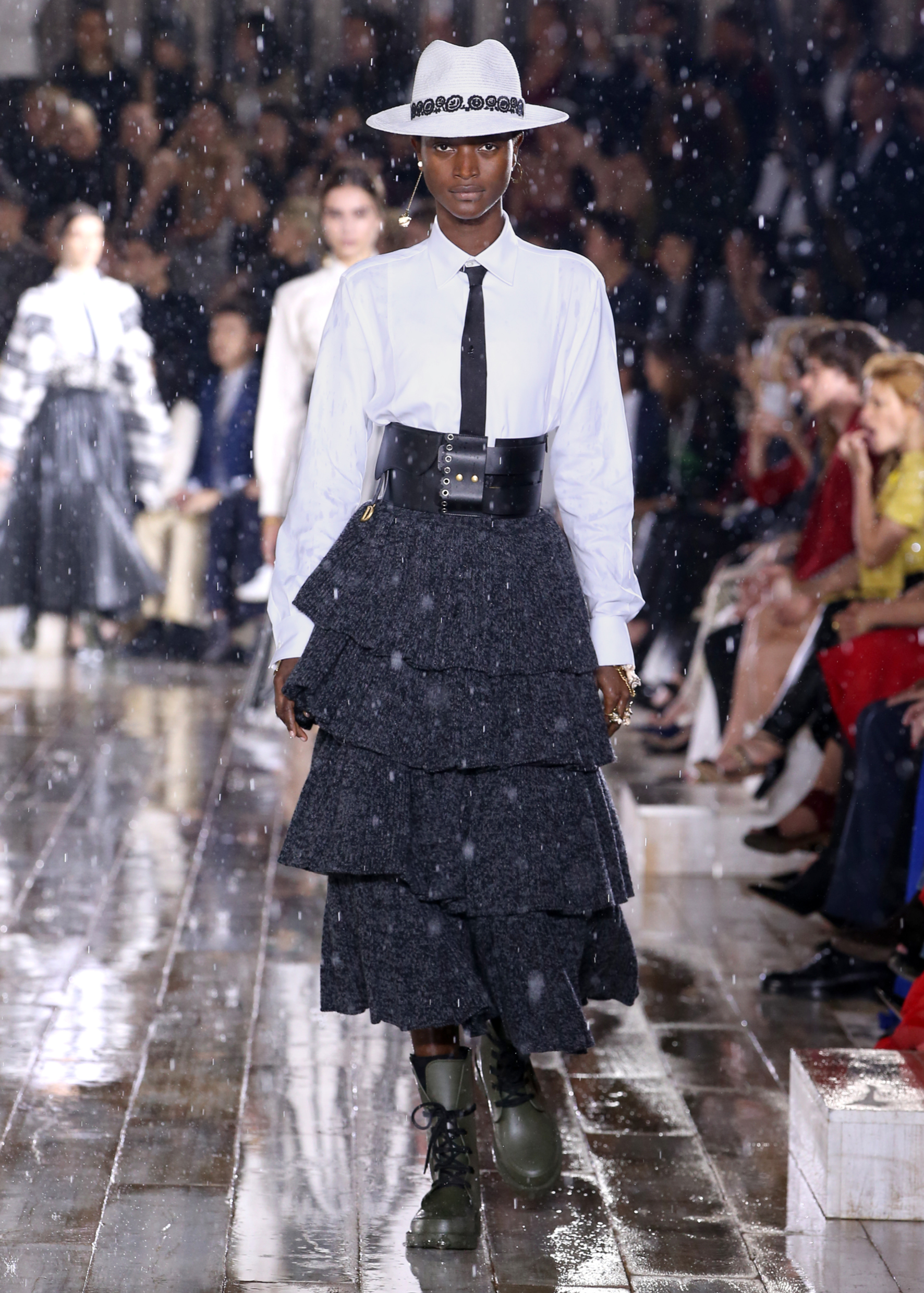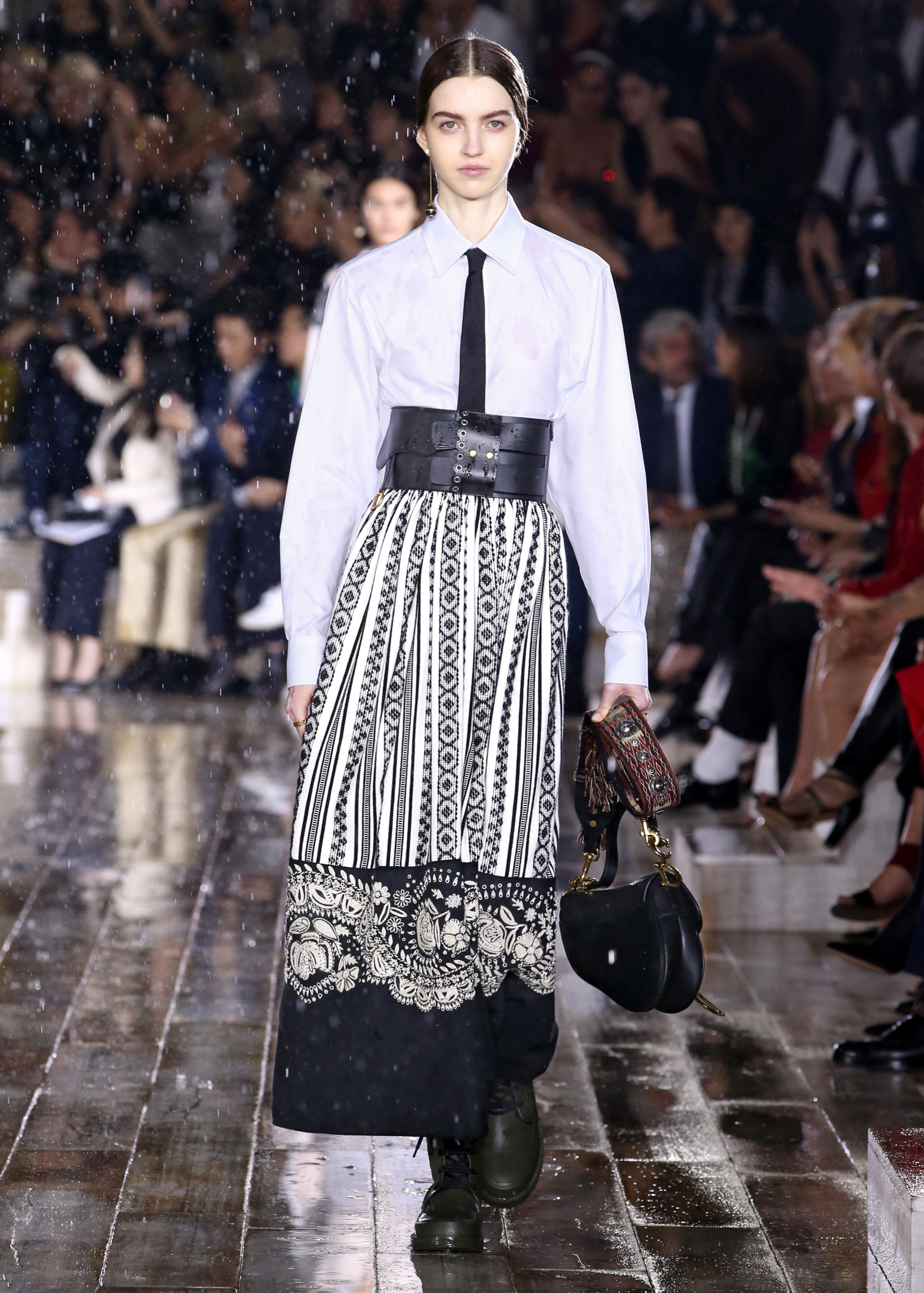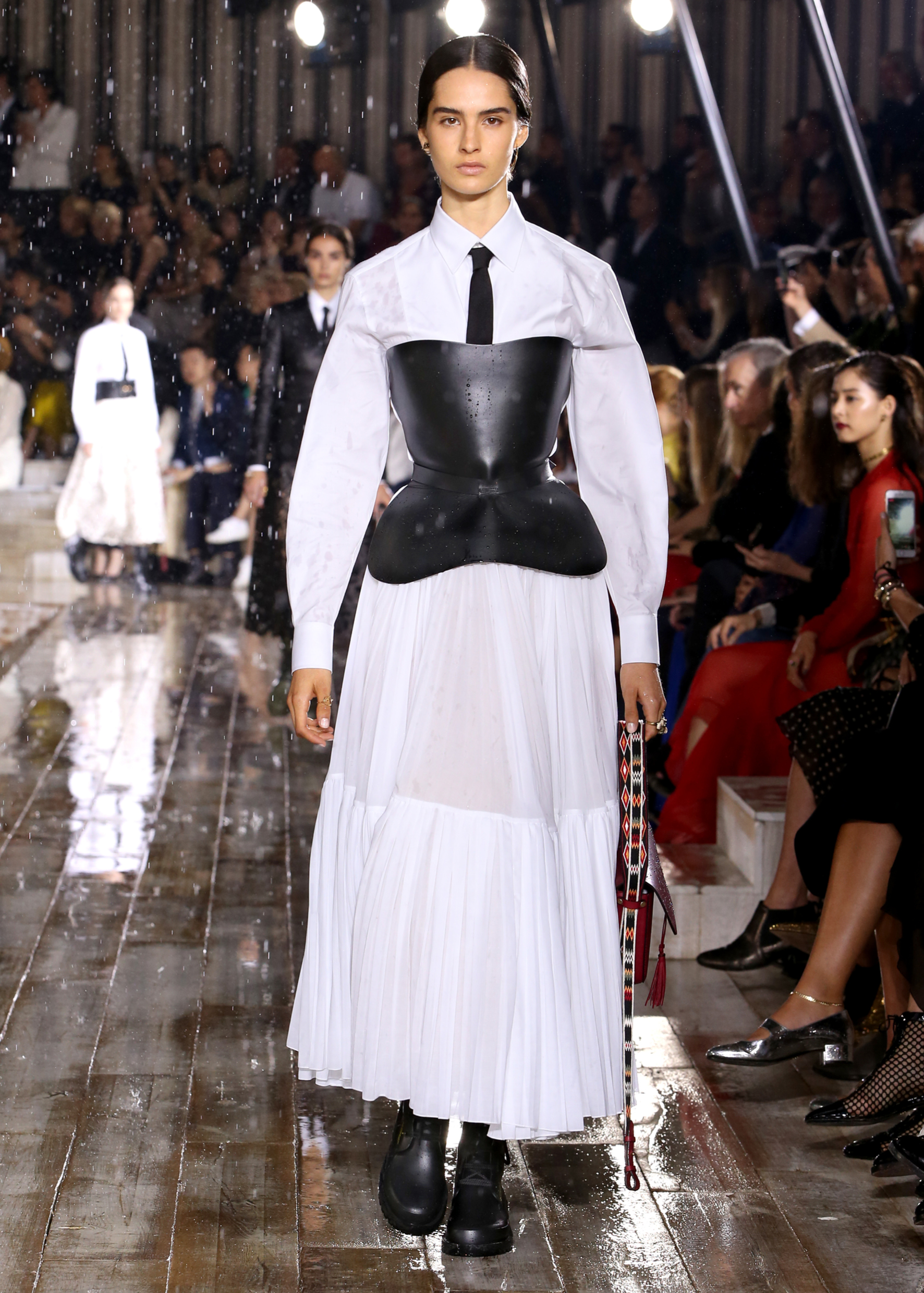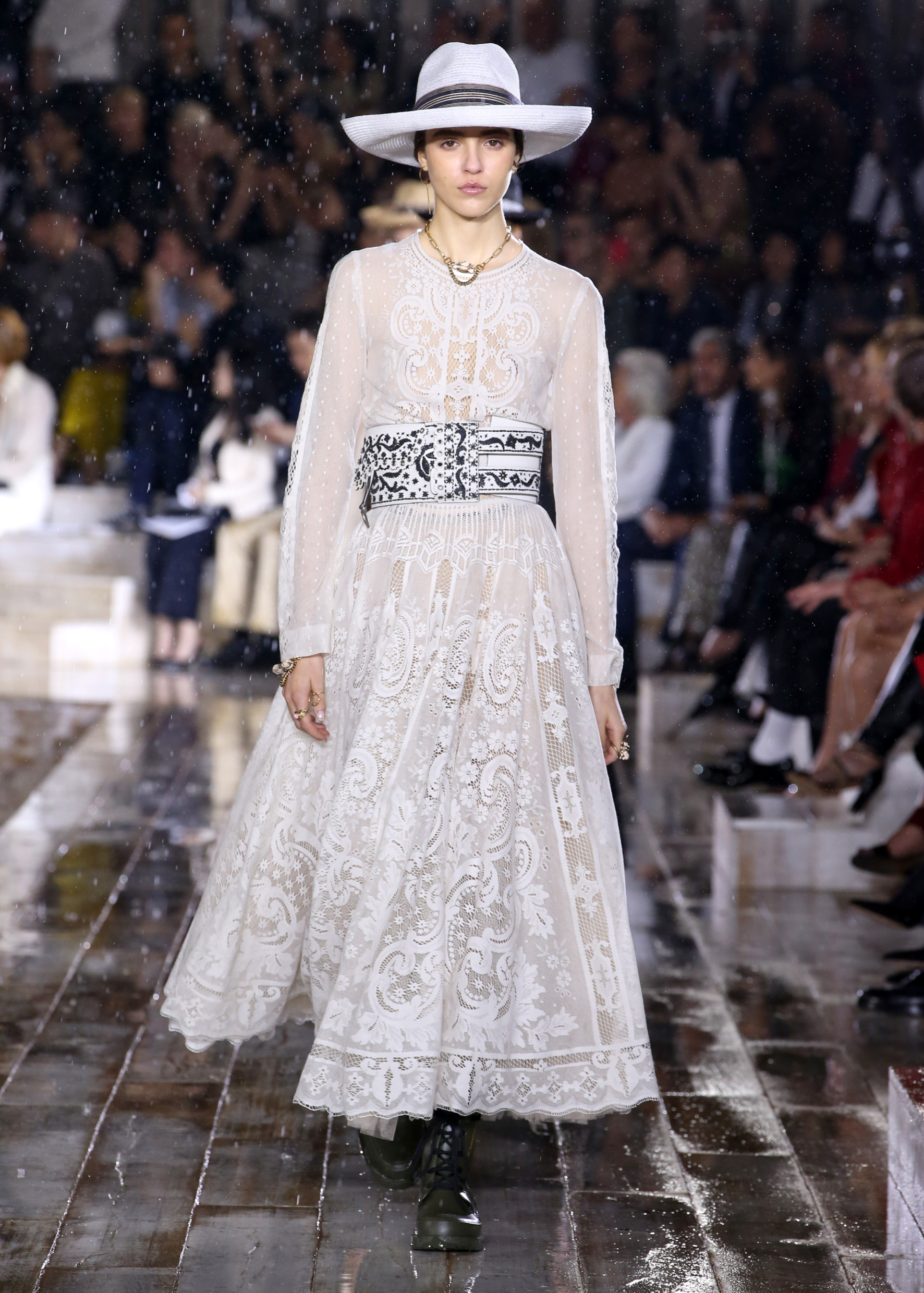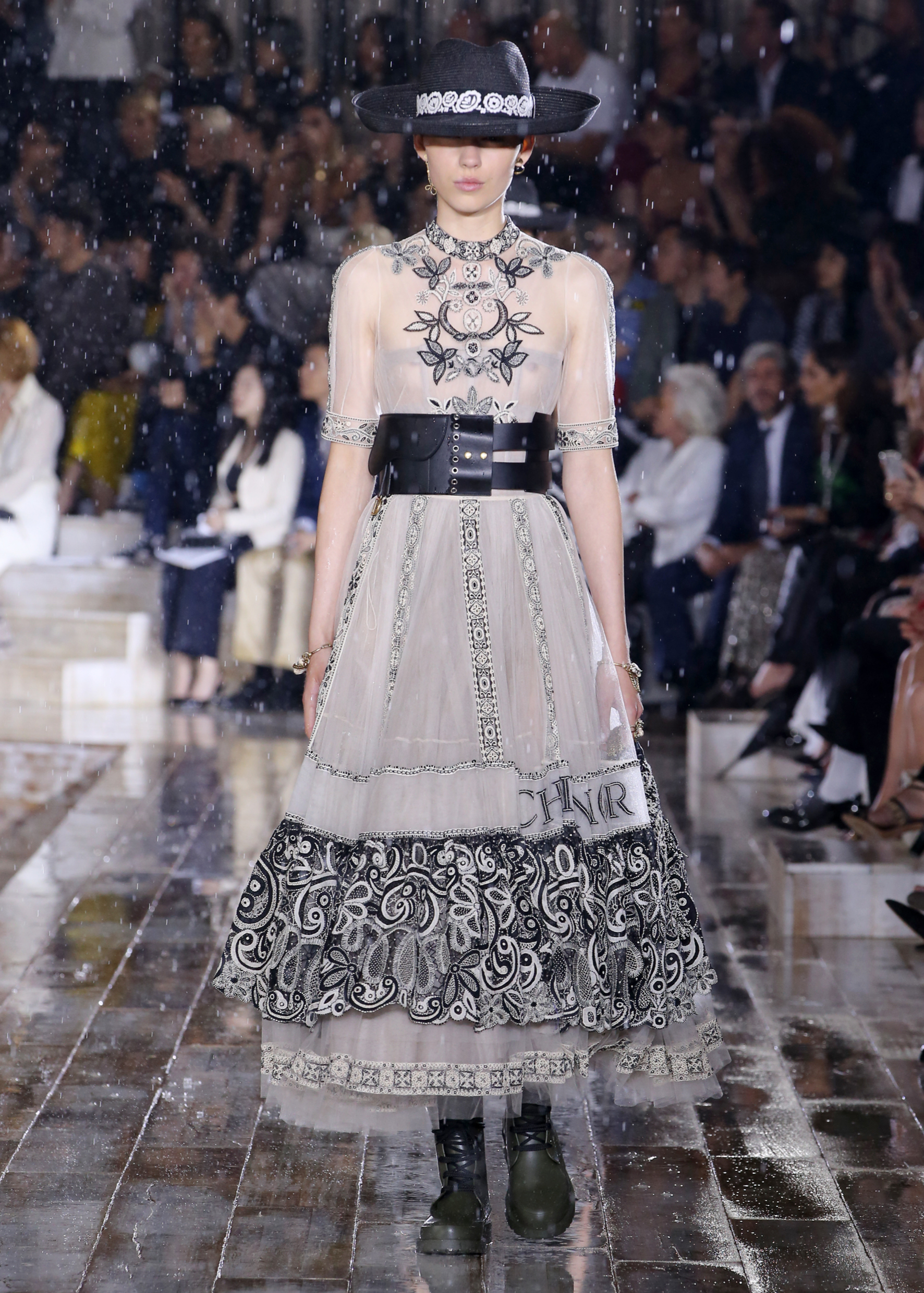 This article originally appeared on i-D UK.