Photography Mitchell Sams
valentino couture leaves us in tears (of joy)
These were clothes so eye-wateringly beautiful that you'd never want to wear a pair of jeans again.
Photography Mitchell Sams
I'll say it: Valentino's couture show was the best show I've ever been to. I've been too a lot of fashion shows over the last decade, but this really was something special. It was a hair-raising fashion moment, so full of joy and boldness that it made everyone in the room stand up and cheer. Those kinds of moments don't come often, but this one was especially pertinent at a time when high fashion is in danger of losing its lustre to never-ending negative commentary, flagrant referencing from designers big and small and, generally speaking, a landscape marked by unemotional and uninspiring narratives.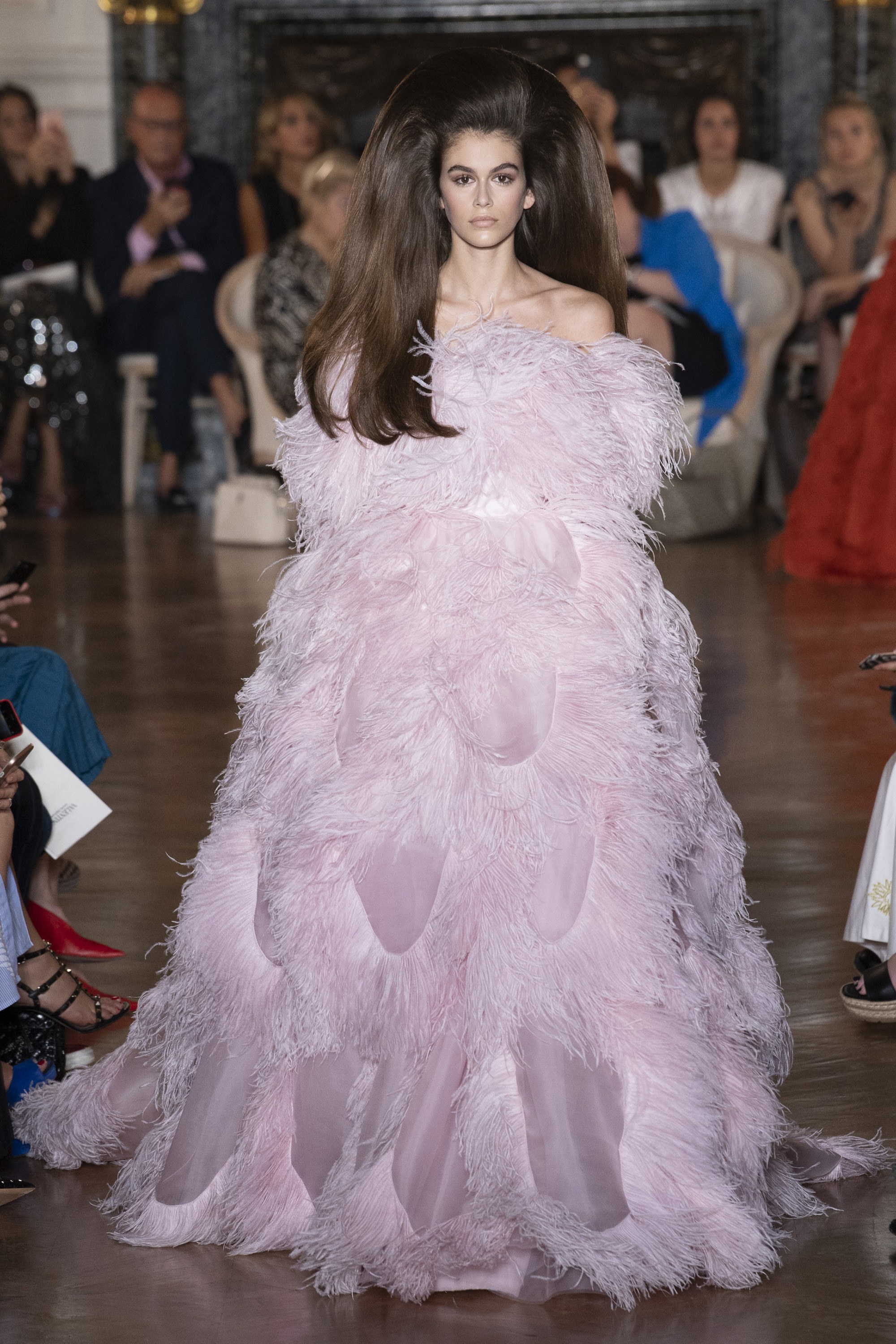 Pierpaolo Piccioli's mood boards were brimming with references to Greek mythology and sculpture, 17th and 18th century frou frou, Pier Paolo Pasolini, the femme-positive photography of Deborah Turbeville and none other than Ziggy Stardust. All of that could have resulted in a jarring magpie mashup, but in his hands it came off as light as a Lemarié feather. He said that he just followed his gut instincts instead. It worked wonders.
Held at the Hôtel Salomon de Rothschild during sunset, Maria Callas' Casta Diva and Madame Butterfly played over the show. There was a glittering cast of young-ish clients on chaise-lounges, from Nicky Rothschild (née Hilton) to Tracee Ellis Ross to a client in a full-length polka dot Winterhalter gown complete with a lace fan. But it wasn't just the society ladies and celebs who were dressed up -- everyone in the room had made a bit more effort than usual following the astounding show last season, which apparently sold out to the Italian houses' couture clientele.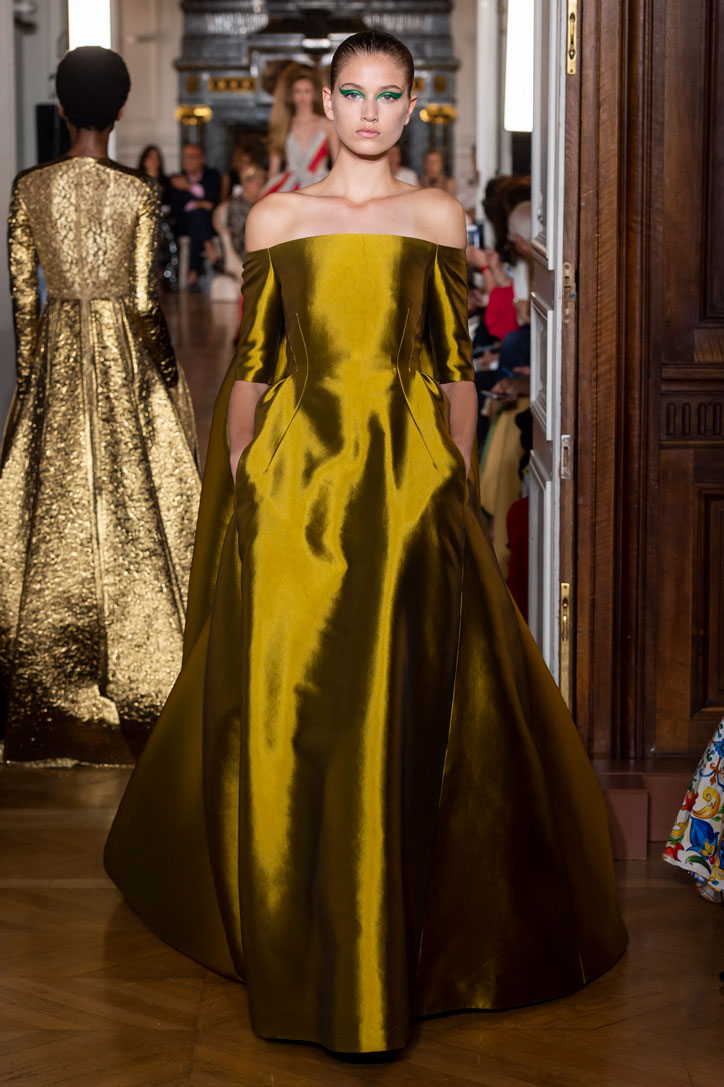 But back to the clothes. They went so beyond the pale of everything that we've seen this week -- outrageously feathered gowns (although, of course there was Kaia Gerber in her bon bon ostrich number) and muted greige hourglass dresses. By contrast, there was a real elegance to it all, which radiated from the electric colour combinations -- emerald sequins and brown wool; cinnamon vicuña, sky blue and gold; fuchsia and tangerine -- but also the floor-sweeping volume and lengths. You could almost feel the ghost of Cristobal Balenciaga smiling down upon us, admiring the opera capes inspired by his own and the embroidery fit for a Medici. What's more, the models walked with such ease, largely because none of it looked too constricting -- in fact, most of those grand silhouettes and draped layering were perfect for diverse body shapes and sizes.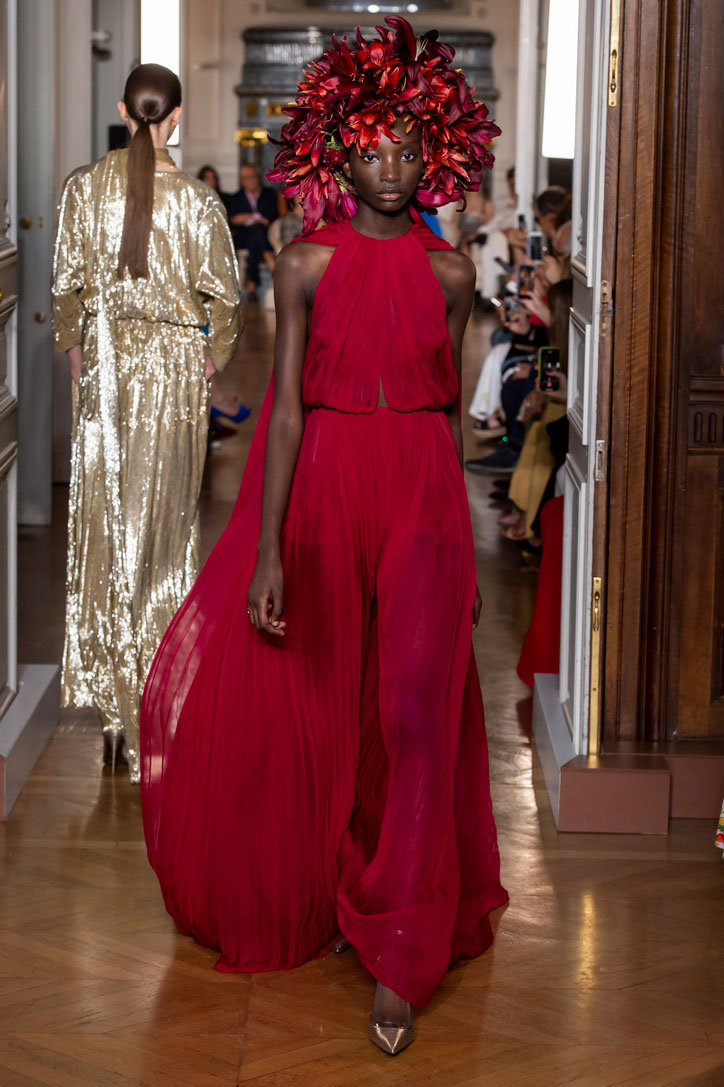 Megastar hairdresser Guido Paulo made Alma Tadema-esque flower orbs for the heads: a development on the Philip Treacy feathered hats from last season, made famous by Frances McDormand at the Met Gala earlier this year. He also created Vreelandian sky-scraping bouffants that looked like Jean Shrimpton's locks on steroids, but they weren't always worn with the most obvious choice of outfit, which added to the unexpected glamour. Backstage, it was emotional. There was a standing ovation, there were tears from friends, family and -- most importantly -- the white-coated craftsmen who made Piccioli's big ideas a reality. Each of the looks were named after those who made them, and as everyone came to congratulate Piccioli a sudden cheer took hold of the room -- "Pierpaulo! Pierpaulo! Pierpaulo!" The only way it could be described was as if Italy just won the World Cup. These were clothes so eye-wateringly beautiful that you'd never want to wear a pair of jeans again. That's what haute couture is all about. And why this was the perfect fairytale ending to the week.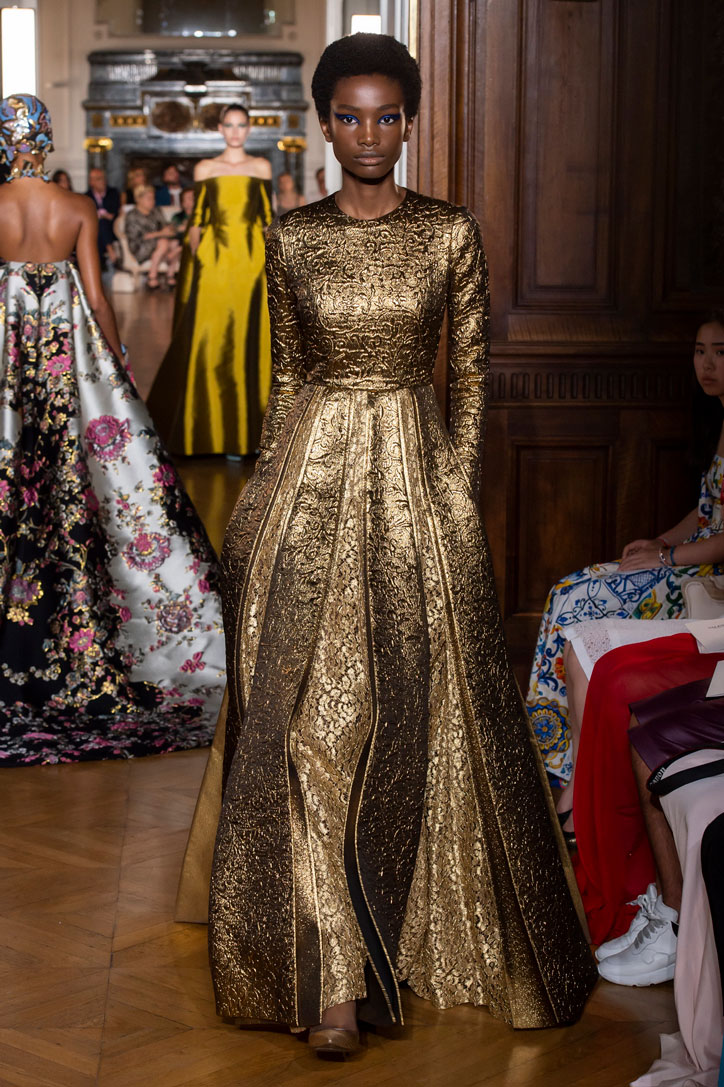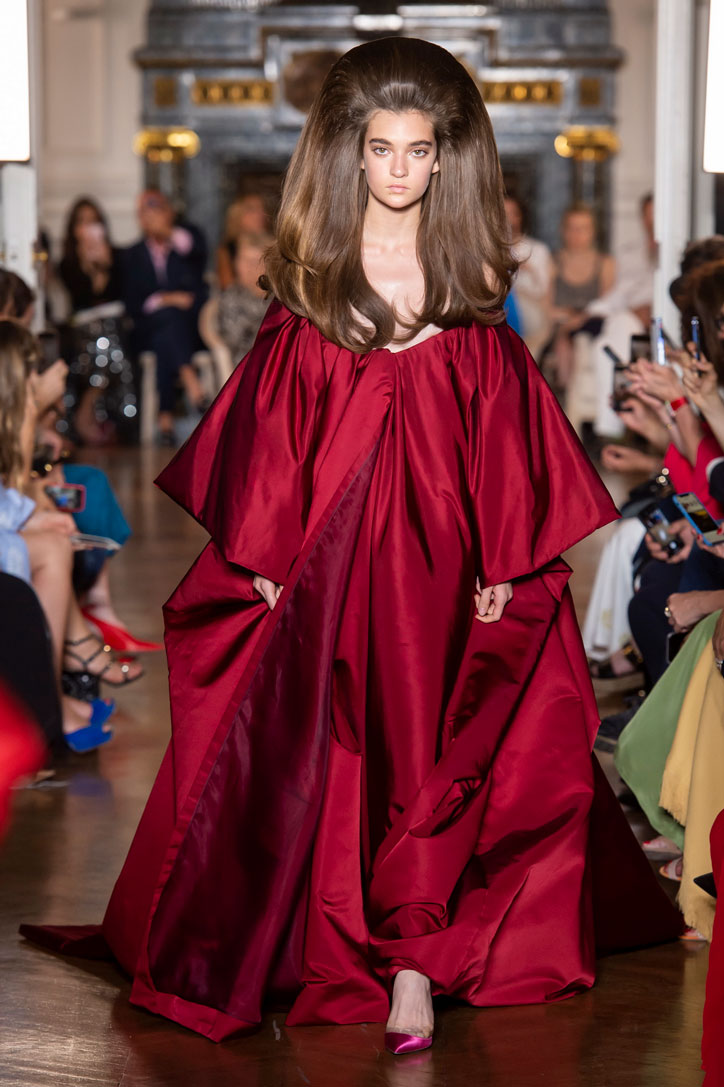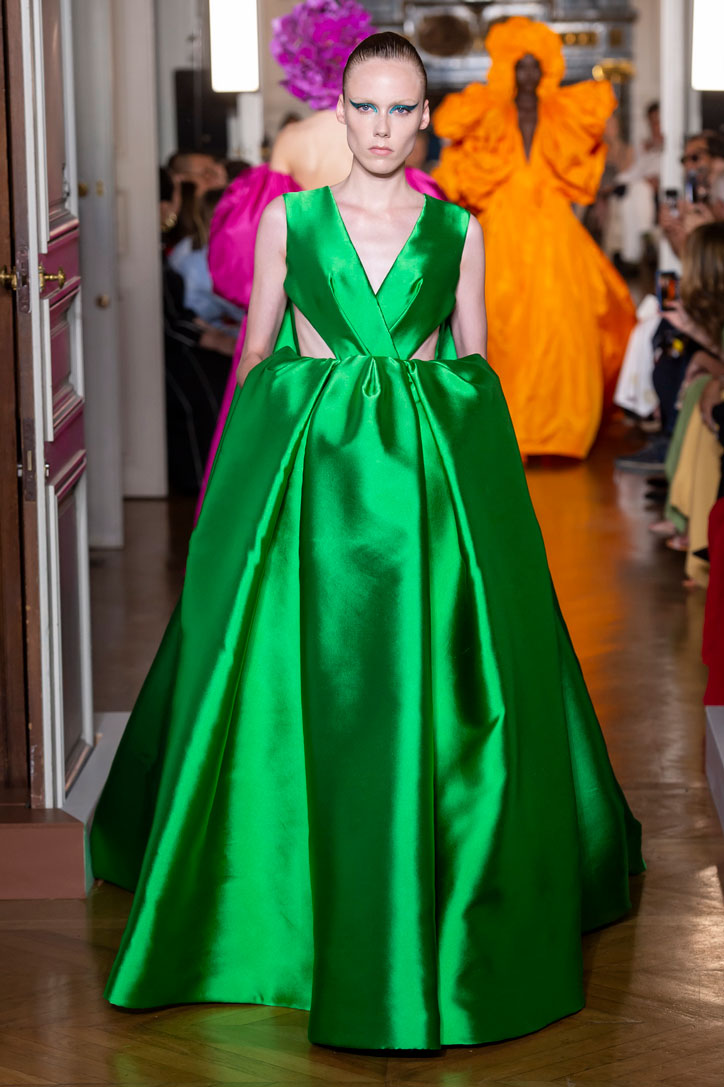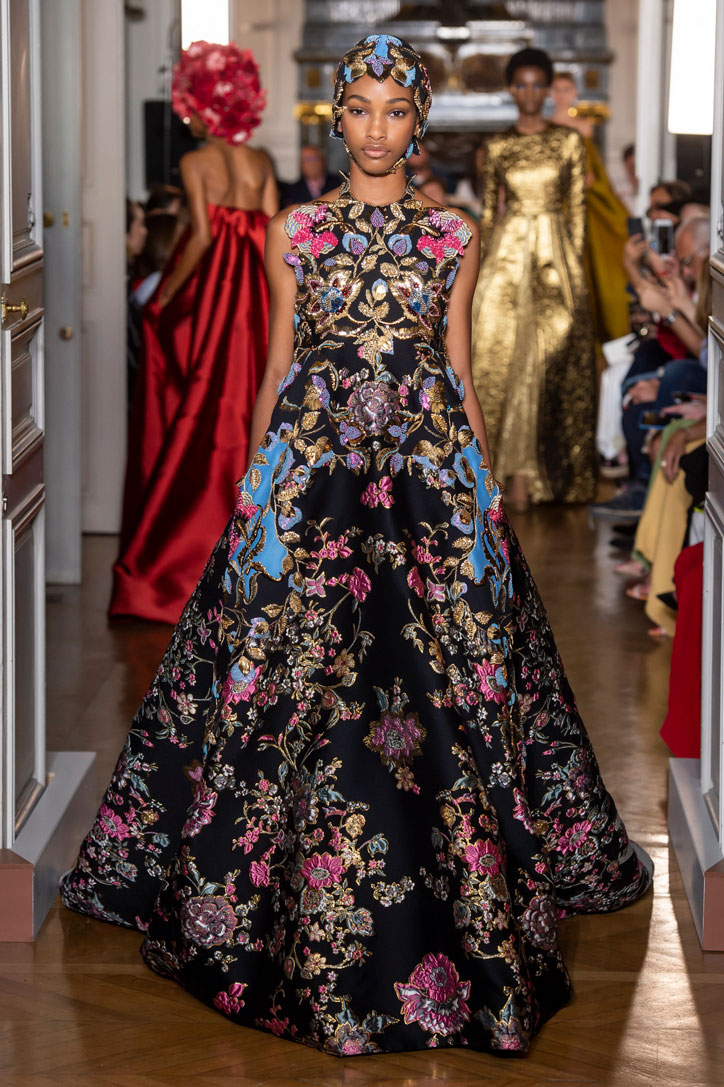 Photography Mitchell Sams
This article originally appeared on i-D UK.