eckhaus latta's new denim campaign features topless clowns
Mike Eckhaus and Zoe Latta are no strangers to unforgettable advertising.
|
05 February 2018, 10:29pm
Photography Hannah Moon
Strangely, "Sexy Pennywise the Clown" is an aesthetic that has been attempted before. But no one has nailed the divisive look better than Eckhaus Latta. Designers Mike Eckhaus and Zoe Latta have just dropped a kooky new campaign for its spring/summer 18 denim, shot by Hanna Moon and starring a few of Eckhaus Latta's model friends as semi-clothed clowns. The brand has always taken an unconventional approach to casting. For last season's viral spring/summer 17 campaign, photographer Heji Shin put an ad up on Craigslist, seeking couples willing to be shot having sex.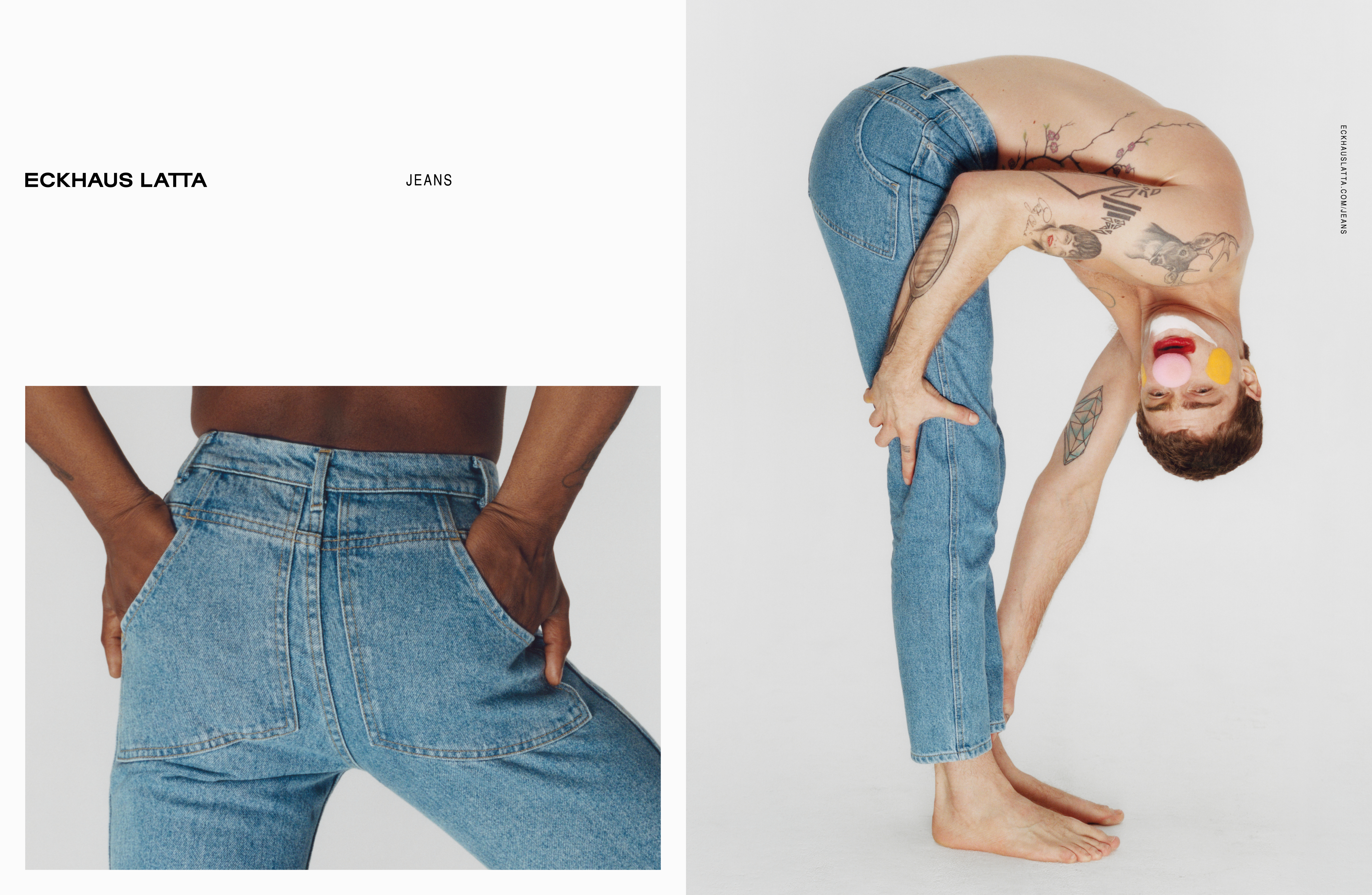 Eckhaus Latta has been making killer denim for a while, but this is the first time the designers have created a full campaign for their signature styles. This one features Eckhaus Latta's core denim style, the high-waist EL Jean. Mike and Zoe's inspiration was the poses featured in iconic denim campaigns throughout fashion history — including a 1995 Versace Jeans Couture ad shot by Richard Avedon and starring Nadja Auermann and Claudia Schiffer. You might never be able to look at it again without imaging sexy clowns, and that's strangely okay.
"To feature our classic denim, we wanted to create a classic denim campaign that showcased the jeans first and foremost, but fused with our signature casting and playfulness," explained Mike and Zoe in a statement. "The self-deprecating nature of clowns became the perfect fit."
This season the EL Jean is available in three classic colors (black, natural, and true blue) and four seasonal colors (depression, marigold, indigo dot, and bleach yellow). Pick up a pair here and don't take things too seriously this season.