slashed by tia is reclaiming renaissance fashion for people of color
Designer Teni Adeola's sultry-sweet brand celebrates the diversity of the female form. As i-D premieres Slashed by Tia's new campaign film exploring modern womanhood, Adeola sounds off on Renaissance ruffles and the New York hustle.
|
14 February 2018, 3:50pm
Im
Spend 20 minutes scrolling through Instagram and there's no doubt you'll find one of the sheer ruffled looks by New York-based Teni Adeola's sexy Renaissance-inspired streetwear label, Slashed By Tia. In just two short years, the Nigerian-born designer has turned the brand she began in a Parsons dorm room into the go-to favorite of Instagram influencers like @aalexisjae and mega-celebrities like Kali Uchis. Mixing the sweet tenderness of her signature pastel ruffles with the sultriness of short skirts and sheer fabrics, Adeola embraces femininity while celebrating the diversity of the female form. "I always say that Slashed By Tia is for every girl," she says.
Growing up in London, the 20-year-old always knew she wanted a career in fashion. "It's just something I always knew I was going to do," she explains. But it wasn't until she started making clothes and posting them on Snapchat, that Slashed By Tia was actually born. "People started messaging me saying, 'Oh my god, I want one!'" she says. "So, I started making more. It just took off from there."
Since then, Adeola has created custom pieces for her thousands of dedicated fans, and presented her latest collection at New York Fashion Week on Tuesday. A "more mature" approach, but still filled with her trademark ruffles, her latest range takes the Slashed By Tia ethos of empowerment to an even deeper level, with a campaign film that explores modern womanhood. "Girls in society are still expected to be polite or coy," says Adeola. "But in my film, and in my clothes, girls can smoke, girls can drink, girls can do whatever they want."
Watch the new Slashed By Tia campaign video, premiering on i-D below, as Adeola sounds off on ruffles, social media, and what it means to survive in New York.
How would you describe the Slashed by Tia aesthetic?
The style was inspired by the Renaissance, but I'd say the aesthetic is actually really personal. So many different girls wear my clothes and it really brings out each of their individual personalities. Even in the new video, you can see how different everything looks on all of the different girls. So, I'd say my pieces are flexible.
What about the most recent collection — what inspired it?
I went on vacation this past winter — every year, it's a tradition in my family for all of us to meet somewhere around the world. This time, I don't know why I decided to be adventurous, but I went scuba diving, and it was honestly one of the most amazing things I've ever done. I was just so inspired by the coral reefs, even though all my senses were completely numb. In this collection, you see a lot of really bold colors that you wouldn't normally experience unless you actually go underwater and witness them yourself. But I still definitely stuck with my signature ruffles. I just think this is a slightly more mature version. I'm turning 21 in May, so I'm thinking a lot about what it means to grow up, and I think you can see that in the collection. There's also a lot more glitz and glam.
You've said the basis for your designs comes from Renaissance fashion. What's been so exciting to you about that time period?
I studied art history in high school and wrote my final paper on garments in the 16th century. It was practically a book, I did so much research. Ruffles, for example, could only be worn by royalty, and the color royal blue was actually made for Queen Charlotte, who was King George III's wife. So, just the history that comes with the Renaissance and being able to put it into something modern that girls actually like and want to wear — that's so exciting for me.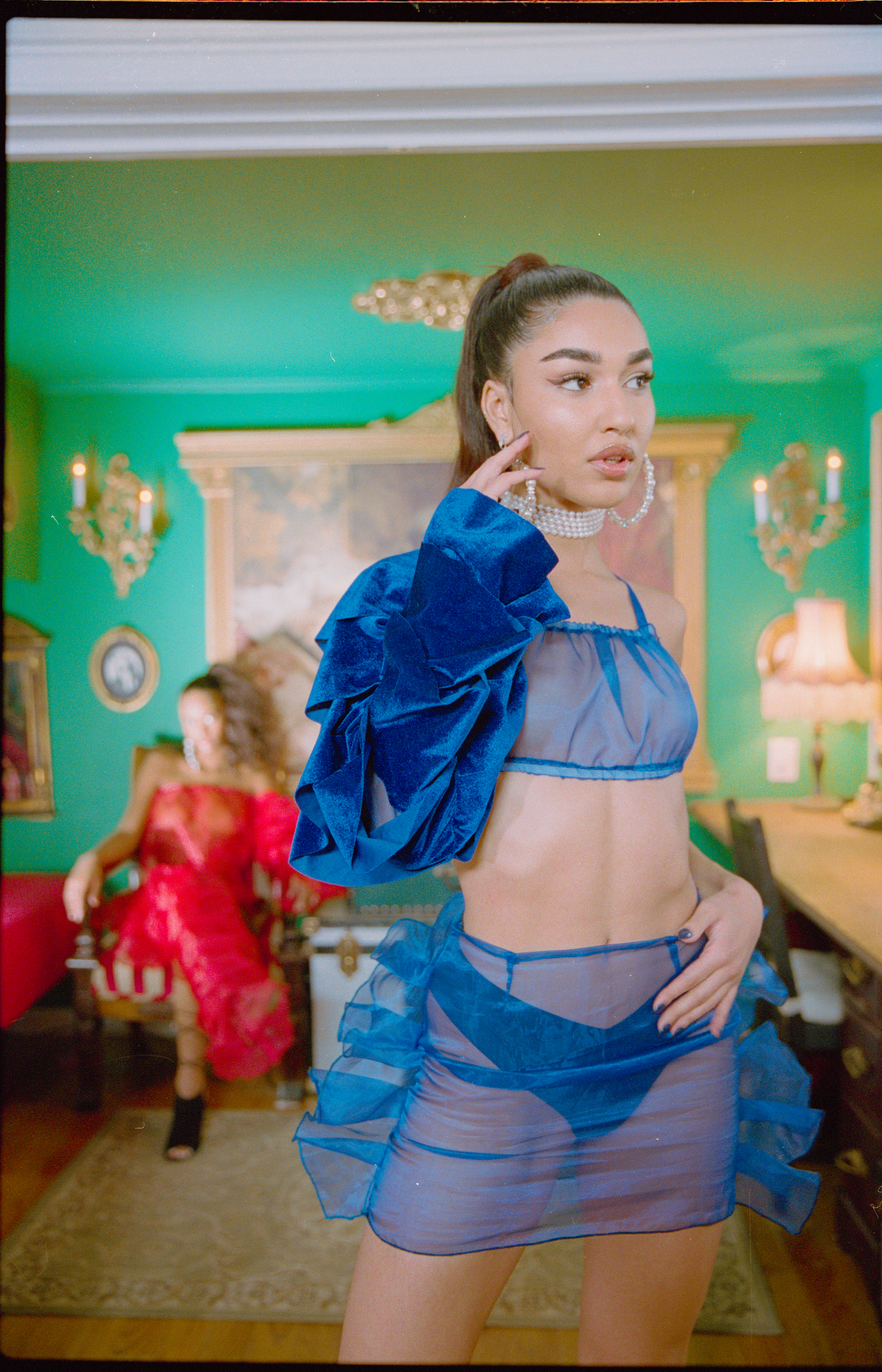 Why ruffles, though?
Personally, my style is very tomboyish. My mom, who is Nigerian, actually complains all the time that I dress like a boy. So, I wanted to make something that people often associate with being super girly, but do something really interesting with it.
Most of your designs are sheer. What's behind your fabric choices?
For me, I think it stems from the fact that every girl is slightly insecure. A lot of us want to wear something sheer, but worry about looking tacky. So, I think the balance with the ruffles really softens it, and makes it less raunchy. But I also like to celebrate the female body.
It's an interesting juxtaposition because even though most of your looks are sheer, they're also pretty covered. You design a lot of long-sleeved tops and trousers.
Actually, the first ruffled piece I ever made was a long-sleeved mini — super mini — red silk dress. I made it for myself because I was going to a wedding and I knew my mom would complain about the length. So, I tried to balance it out with the sleeves. I mean, I'm not saying all sheer clothing is totally decent. But I think the long-sleeves and ruffles do balance it out.
You're originally from Nigeria and currently live in New York. How have both cities influenced your designs?
After I moved to New York, I lived here for about 6 months before I got an internship at VFILES. Being in that surrounding, I started seeing a lot of different things, and was just so inspired by the freedom with which people dressed in New York City. It's like they use dressing as a form of expression, and being here really gave me the opportunity to develop what I knew. But whenever I go back to Nigeria, I also get really inspired. My mom always asks me, "Are you going to make clothes for people back home?" and I say, "Mom, people back home aren't going to wear my clothes. And if they do, they might end up in a lot of trouble." But I've made it a goal for myself to make clothes suitable for women in Nigeria. Hopefully, with this generation, because we're all really creative, we'll be able to break those boundaries and get through to our judgmental parents. But it's going to take a while, so I have to start somewhere.
Social media has played a big part in the success of Slashed By Tia, with people like Kali Uchis finding you on Instagram and wearing your designs. But you've also said that social media can be a curse for a young brand. What do you mean by that?
Social media makes it really easy for people to be unoriginal. When people are on their phones all day constantly scrolling through Instagram, it's inevitable for them to subconsciously start ripping people off. When I first started, I would get pictures from people of a red dress or ruffled top from these big, mass produced brands saying, "Oh these reminded me of you!" and it would really upset me. Waking up to those kind of messages every morning was really frustrating. But as I've gotten older and the brand has grown, it doesn't bother me as much anymore. I also think about all of the amazing models I've found online that have ended up walking in my shows. I've met so many people on Instagram and have had people I really look up to reach out about my stuff. So while it can be infuriating, it can also be really inspiring.
You said this collection is more mature than your previous work. How do you think you've grown as an artist?
When I first started making stuff, I was just messy, sewing whatever came into my head in that moment. Now, I put a lot of research into my work, especially this collection. But I think it's just a reflection of me growing as a person. New York is one of the toughest places to live because everything is so cutthroat. Everyone around you is hustling and bustling and doing things. It really gives you that drive, that kick you need to go even harder. After the last few of years living here, I'm finally at a stage in my life where I'm a much more confident person. I know what I want, I know what I'm doing. The goal for me would be to have girls wear my clothes and feel that confidence, just stomp out whatever obstacles get in their way.