paloma elsesser speaks out about equality for all women
"Sitting here being able to have this conversation is a sign that things are changing, and that people want change."
|
19 February 2018, 12:47pm
This article originally appeared in The Radical Issue, no. 350, Spring 2018.
What does it mean to be a model? i-D has always believed in the power of speaking out. Today, the voices of models are more vital than ever. Here, Cameron Russell, Adwoa Aboah, Dara Allen, Christy Turlington, Anja Rubik, Hanne Gaby Odiele, Teddy Quinlivan, Paloma Elsesser, Liya Kebede, and Doutzen Kroes champion their passions, causes, fights and beliefs.
"I was never skinny. I never thought that I would be a model. My parents nurtured me in ways that had nothing to do with my looks. They always told me that I was intelligent or that I was creative or that I dressed fun. When I started working, I realized how hard it is, how emotional it is, how scary it is. I'm a really emotional person, so I was like, 'How am I going to embrace the fears or insecurities that I have?' I've allowed the support of other women to remind me that what I'm doing is of service. I think that's what the Model Alliance and what publications are doing right now is really incredible, which is holding people accountable and confirming and acknowledging what's happening. I think that's a big step.
The fashion industry is such an expressive, creative space, but it's very devoid of empathy. Why is it that you're not professional if you don't want to work 16 hours a day? That's hard, and that's completely normalized. So I think that within that, it's just creating safety, so that we can all do the job that we want to do, which is to make and create beautiful imagery that people can remember. I think there still has to be a lot more change. But even me sitting here, being able to have this conversation, is a sign of the fact that things are changing, that people want change, and that what we're doing is having an effect.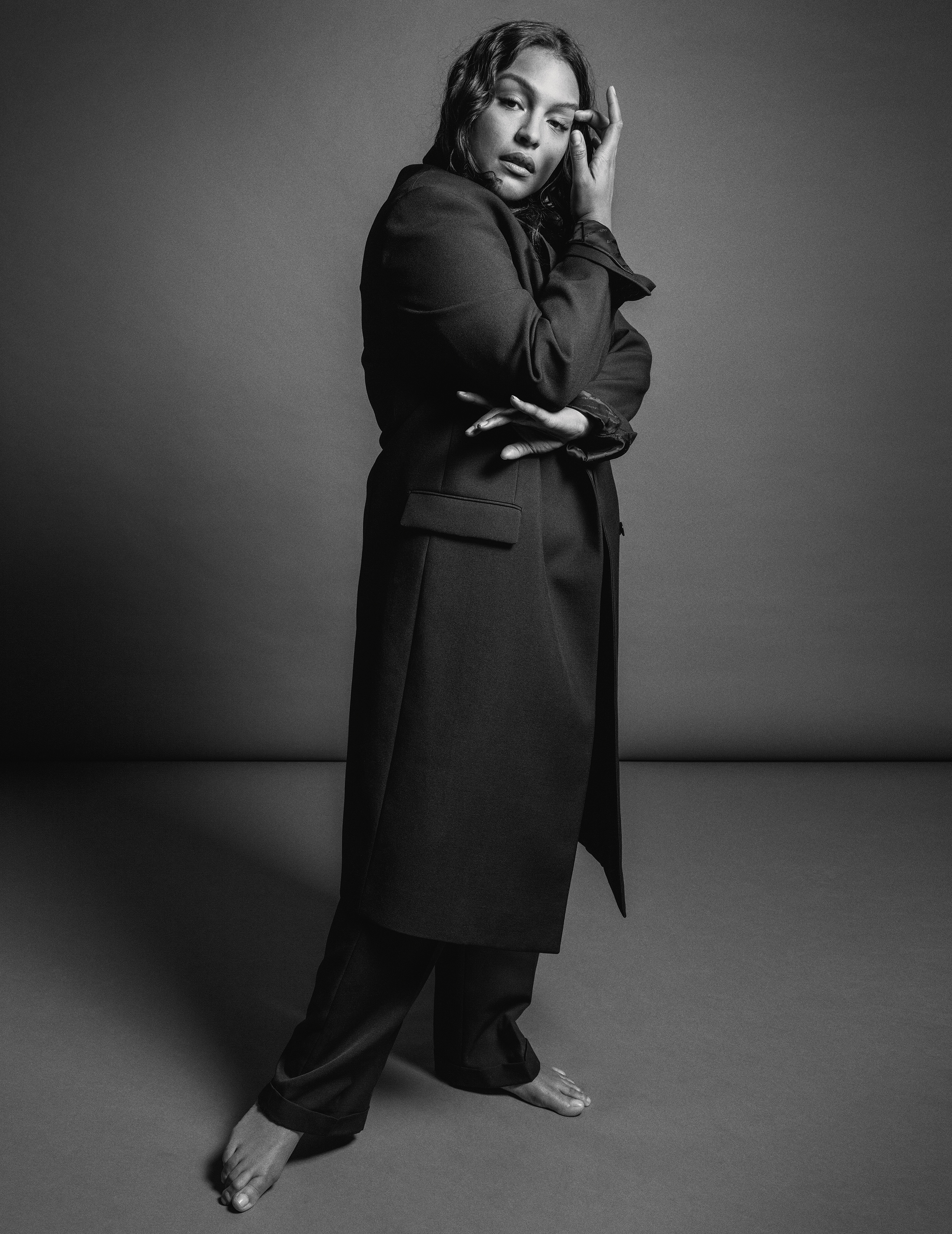 Feminism always comes down to equality. It's not just armpit hair and freeing the nipple. It is wanting to be treated equally. I think all of the things I care about — being a woman, being a curvy woman, and first and foremost being a woman of color — the most important is being treated equally. I want to be paid properly, I want to be treated properly and I don't want to be sexualized. I want to be treated the same.
#MeToo has been so important. It gives a voice to women that we haven't had before. We exist in rape culture and it doesn't look like an SVU episode. It's not blindfolded in an alley, it's being 17 at a party, and being touched the way you don't want to be touched. #MeToo has given life and visibility to the tireless amount of times that women have been in contact with sexual assault and misconduct."
Credits
---
Photography Inez & Vinoodh
Fashion director Alastair McKimm
Hair Christiaan. Makeup Kabuki at Kabuki Magic using M.A.C Cosmetics. Nail technician Daria Hardeman at Starworks using Deborah Lippmann. Lighting director Jodokus Driessen. Digital technician Brian Anderson. Photography assistance Joe Hume. Studio manager Marc Kroop. Styling assistance Maggie Foster, Desiree Adejde and Umi Jiang. Hair assistance Taku. Make-up assistance Yumi Kaizuka, Michael Chua and Satsuki Soma. Nail assistance Gladys Castillo. Production Tucker Bibilis at VLM Productions. Executive production Stephanie Bargas at VLM Productions. Production co-ordination Eva Harte at VLM Productions. Production assistance John Nadnazi and Michelle Murray. Casting director Samuel Ellis Scheinman for DMCASTING. Models Christy Turlington at BMC. Liya Kebede at IMG. Cameron Russell at The Lions. Doutzen Kroes, Anja Rubik and Adwoa Aboah at DNA. Teddy Quinlivan and Hanne Gaby at Women. Paloma Elsesser at Muse. Dara Allen at Heroes. These interviews have been condensed and edited.
This article originally appeared on i-D UK.