Photography Mitchell Sams
tiziano guardini challenges perceptions of sustainable fashion
"Change oneself to change the world." The champion for eco-friendly and sustainable fashion made his catwalk debut at Milan Fashion Week as he presented The Sustainable Kit.
|
22 September 2018, 2:56pm
Photography Mitchell Sams
Rome-born Tiziano Guardini is part of a new generation of fashion talent intent on changing the fashion industry from the inside out by pioneering a sustainable approach to making clothes. After receiving the Franca Sozzani GCC Award for Best Emerging Designer in September 2017 and then walking away with the Peta Couture Award in November 2017, the eco-champion made his Milan Fashion Week catwalk debut as part of the Mercedes-Benz International Designer Exchange Program this season.
His debut was a joyful celebration of nature. Vibrant prints and bold colours combined with unstructured silhouettes to offer a wardrobe for dynamic, conscious and aware women and men. Sustainable doesn't have to mean boring. In the hands of Tiziano, it can be a fun-filled, print kaleidoscope.
"As a designer, I have a responsibility to show that high-end quality and sophisticated design can definitely co-exist with a fully sustainable approach," he added. "I share the same vision with Mercedes-Benz, which is transforming the automotive world with the creation of high-end electric cars promoting a more eco-friendly type of mobility. We all have the responsibility to think about our future in every aspect of our life," he continued. His action was to present The Sustainable Kit -- a collection revolving around the harmony between fashion and the world it inhabits. Inspired by an ancient African tale about a tiny yet fearless hummingbird that attempts to extinguish a forest fire with only the small water drops he can carry. It's a metaphor of how individual acts can help make a difference and save the natural world.
You don't have to be woke to know that fashion has a sustainability problem. Fashion creates more greenhouse pollution than the airline industry, the production of just one T-shirt creates roughly the same carbon footprint as driving a car for ten miles and uses 2,700 litres of water, the amount of plastic micro-fibres released from washed clothing each year is roughly equivalent to more than 50 billion plastic bottles. Roughly half of fast fashion produced items are disposed of within a year. Fashion is the forest on fire. Tiziano is the hummingbird. But thankfully he's part of a new generation using their platform to push for positive change. "My mood in life is not to be influenced by what other people do but to do my best for now and the future," he explained. The collection is about a sustainable future, a future of survival.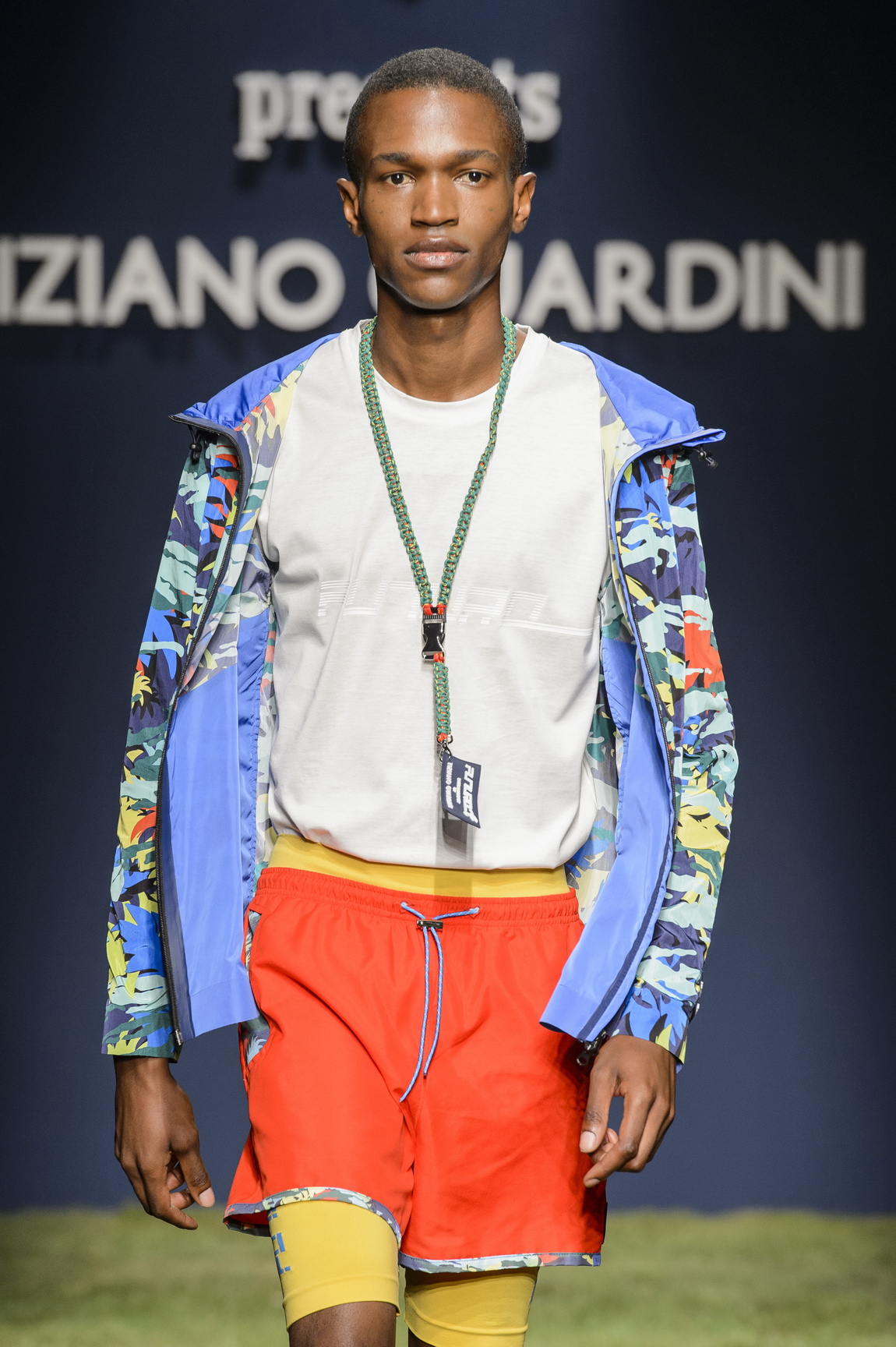 "I only use materials with a sustainable story. I use nylon from fishing nets and ocean waste, yarn made from Castor oil, I use cotton that's Greenpeace-approved and ethical from the seed through to the yarns. The denim is made from organic and recycled cotton, used in its raw form so that it uses less water." The options are out there, designers just have to source them. But it's not enough for Tiziano to offer sustainability alone. "I use colour because I want to show that you can create sustainably with a sense of fun too." It's challenging the perceptions of what sustainable fashion can be. A fun-filled, colour-saturated sustainable wardrobe for every man and woman. There were even spring/summer 19's must-have, cycling shorts. This was a collection that leapt towards a funner, greener future.