fake news! gucci's new publication explores our copy and paste culture
To support its upcoming Shanghai-set exhibition, 'The Artist Is Present', the Gucciverse has published its own newspaper, 'The New Work Times,' where everything is fake and nothing is new.
Image courtesy of Gucci
In a world in which we can buy official bootlegs, our influencers are CGI, our jobs are at risk from robots, and our future is shaped by bots, Gucci's upcoming Shanghai-set exhibition, The Artist Is Present, feels particularly apt for 2018. Even its title is borrowed from Marina Abramović's 2010 passive performance art meet-and-greet, as the provocative art prankster Maurizio Cattelan teams up with the bearded messiah of the Gucciverse Alessandro Michele, to curate an exhibition that promises to dismantle concepts of originality, intention, expression, and authorship.
"This is the story of a dream," Gucci explains. "Imagine a world crowded with old master portraits, ancient Roman marble heads, gold reliquaries filled with zombies' hands and hearts, blooming carpets and colorful tapestry, baby dragons and unknown creatures' skulls." As this could so easily be a Gucci show review, this dream obviously belongs to Michele. Within it, he meets Cattelan, the "tireless artist, affected by a serious image-hoarding disorder".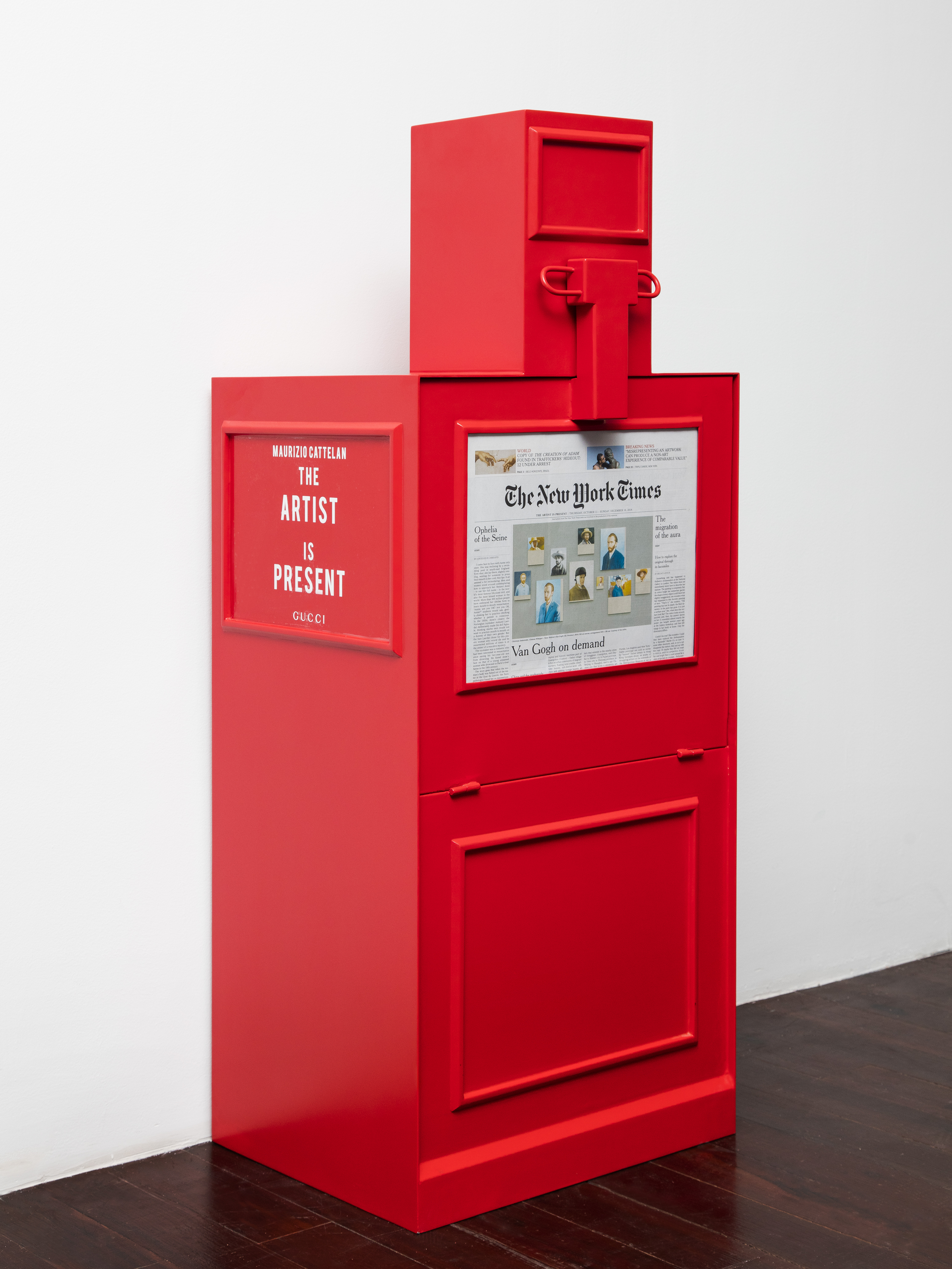 As he has long declared originality an overrated and dated concept, he's the perfect partner to curate the exhibition. Both Michele and Maurizio delight in the duality that exists between image and reality, representation and presentation. With the dream shared, The Artist Is Present is set to open in Shanghai -- homeland to "the copy is the original" idea -- on October 11 at the Yuz Museum Shanghai. Inside, visitors will receive a copy of Gucci's latest publication, The New Work Times.
Now, we have surely all lost count how many times President Trump has torn down the press and described reporting that he doesn't approve of as "fake news" and from "failing newspapers like The New York Times," so it's fitting that Gucci have opted to create their own special-edition newspaper to accompany the exhibition. Inside The New Work Times you'll find an academic paper on the migration of the aura, instructions on how to clone your pet, a haunting story of the lady who gave away her face, and a commercial of the greatest counterfeiter of all time. Throughout, the publication features articles by writers, journalists, scientists, and artists, as well as contributions by doppelgängers, forgers, unoriginal geniuses, and thieves. Just like (some) regular newspapers, right? The politics of admiration takes the shape of a section of "All the News That's Fit to Re-Print."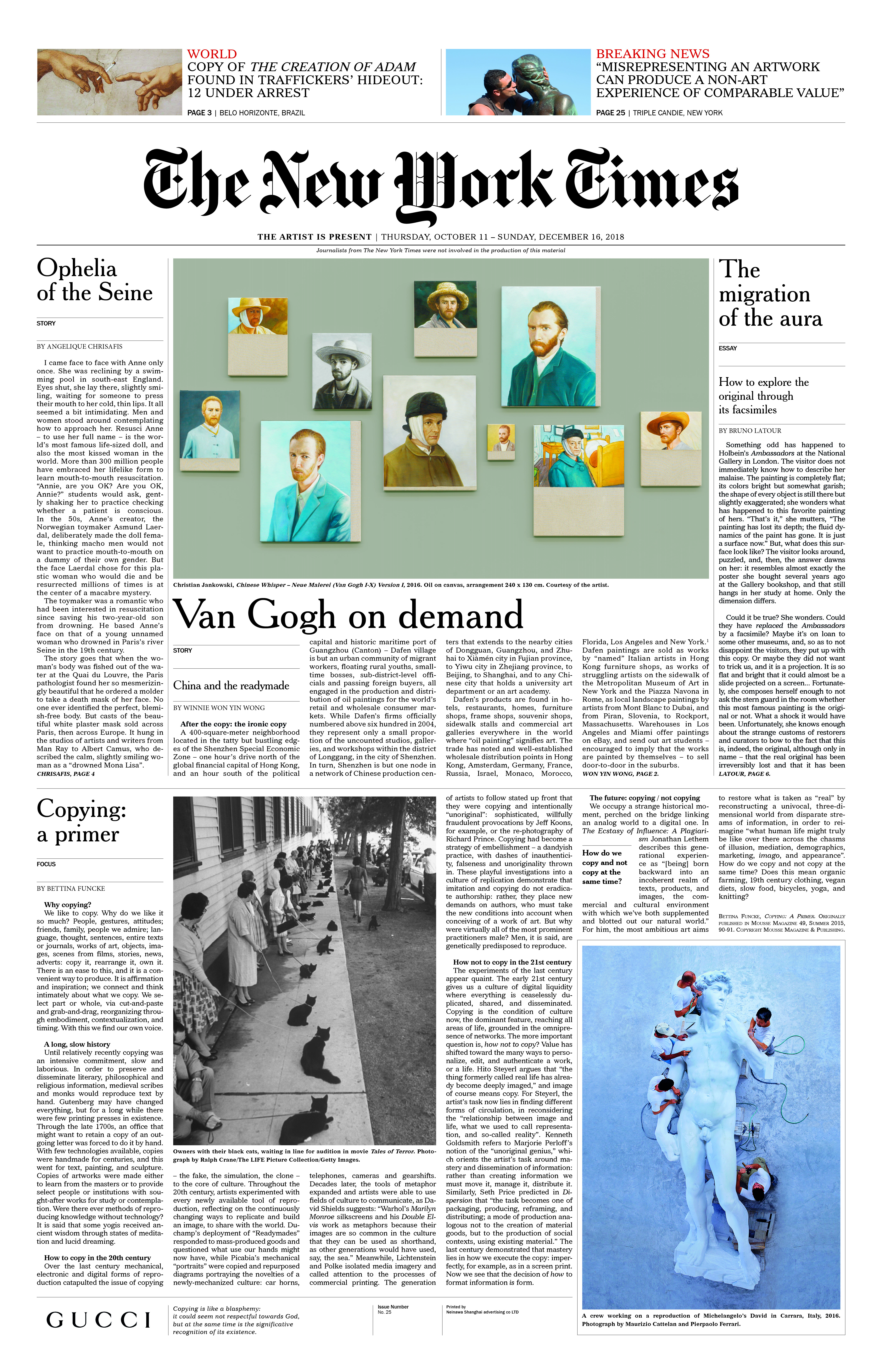 As we exclusively share the front page news, we're giving you a peek inside with the below feature from Aylesbury-born, New York-based conceptual artist Liam Gillick.
Fake...
Exhibition...

20 years ago an endless skeptic about the direction art takes in times of increasing economic polarization called to let me know that he believed someone was attempting to fake his entire collection of conceptual art. The idea seemed ludicrous. Yet notes, statements, simple instructions on scraps of paper – often with short dedications – were being offered for sale for a couple of thousand pounds and sometimes as little as a few hundred pounds. Faking conceptual art is particularly useless. Nearly every work was intended to be carried in your head, to express a universal quality, as something to be shared. Conceptual art's use of systems and structures made the faking process pointless and easy to discover: works were numbered, catalogued, or part of a series. Furthermore, the process of faking conceptual art depends upon the notion of a value that might be accrued from possession of an original. In almost every case the artist had been paid, but often in ways that questioned the notion of ownership. Possession and subsequent transfer of the work were deliberately complicated at the moment of exchange, and in some cases the art structure would cease to exist in a meaningful form if sold. The original, therefore, was not always to be found in the artefact. This does not mean that conceptual art in its purest form has no value, but that its value is not context free. It is an instruction, a potential, a reminder, a system of exchange. It is not an artefact without phantoms, shadows, and obligations. Faking in this case would mean faking systems, exchanges, and people. Attempting to fake conceptual art would require the creation of artists, structures, histories and potentials. The issue here was not the apparent ease of writing a list, statement, or instruction on a piece of paper, but a misunderstanding of the hierarchical position of the 'original' within the schema of the work itself."
The New Work Times will be given away for free at The Artist is Present exhibition in Shanghai and then from the end October will be available in selected bookstores around the world including Maison Assouline (London), Gucci Garden (Florence), Dashwood Books (New York), Tsutaya (Tokyo), Yvonne Lambert (Paris) and Casa Bosques (Mexico City).
This article originally appeared on i-D UK.