how do you really measure the success of a fashion degree?
It is common for fashion students to get external help when creating their collections. But what about those who can't afford to?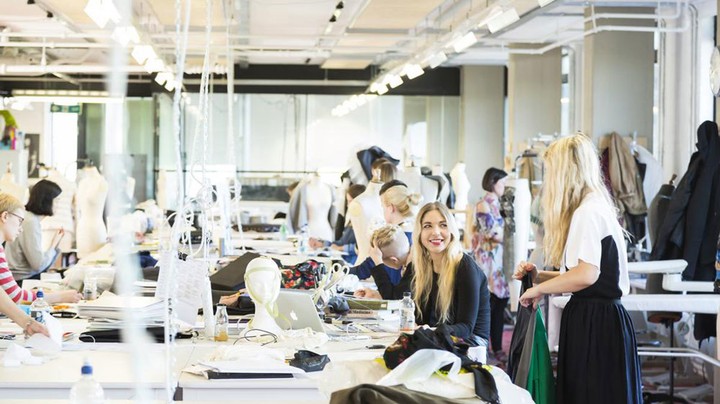 Every year Central Saint Martins opens its doors to the public for its degree show. The historic institution is renowned for having been the platform for trailblazing alumni including Alexander McQueen, John Galliano, Stella McCartney and Christopher Kane. But as with all good things, it comes at a price. "I heard he got his collection made by an Italian tailor for £10,000," says one student under his breath, as he points to a fashion graduate's final collection. "We are encouraged to seek external help in our final year, there is no secret about it amongst students and teachers," a fashion print graduate says. "There isn't enough time during to make it work independently, and many students -- if they have the money -- will go into a project already planning to pay for help elsewhere."
While the faculty considers first and second year students helping construct a final year collection as a vital part of CSM education, "paid help" is inevitable: third year students are given approximately eight weeks to construct their final collections, and given the pressure for garments to be highly creative and beautifully made, time is a huge factor. "There are rumours that there is a well-known pattern cutter in London who has to be booked a year in advance if you want him to make your final collections," a soon-to-be fashion knitwear graduate tells us. "I have heard stories of students paying this man between £5,000 and £10,000 to make their collections for them."
"There isn't enough time during the making of the collection to make it work independently, and many students -- if they have the money -- will go into a project already planning to pay for help elsewhere."
In such a highly competitive industry, it is no wonder that some students are going to extreme lengths (and paying hefty sums) to be at the top. The school's annual press show is notorious for only showcasing a select few of their students' work. "There is no denying that everyone wants to be in the show," Ranura Edirisinghe, a final year knitwear graduate, tells us. As for how much the quality of the garments affects a student's chance of being chosen? "A lot," says Elisa Palomino-Perez, fashion print pathway leader at Central Saint Martins. "A big chunk of the grade is the construction of the garment -- roughly 50/50."
The legitimacy of some students outsourcing their projects to expert pattern cutters and seamstresses is unclear. Although students are required to bring their work to class every week, paid work goes mainly unnoticed. "We see the students every week and we see every garment that they make, so we know what is going on," Perez tells i-D. "There are very few students who had their clothes done. I definitely don't encourage it and I don't think any of the students have done." While the topic receives mixed responses by pathway leaders, there is no set rule against it.
But speaking to the students tells a different story. "I think this issue is hugely relevant," one says. "The divide between the rich and the poor is massive at CSM today." And while some dismiss talks of paid help as an inevitable part of higher education, it seems to be a topic that is left vastly unmonitored by the faculty: "It doesn't feel like it is taken into consideration -- the difference in quality between a piece of work that someone has paid to make, and work that has been made independently," says another student. Some believe this creates a division between rich and poor students: if paying for help means well-constructed garments, then it is conceivable that these students are awarded higher grades.
An exception to this rule, however, is CSM golden goose Harry Freegard. A natural provocateur, the eccentric printwear graduate, who goes by the alias Harry Bradshaw, is somewhat of a campus celebrity. Having already appeared in the pages of Vogue and modelled for Vivienne Westwood, the 22-year-old's final collection should have been -- under all assumptions -- the faculty's nightmare: held together by safety pins, gaffa tape and the occasional profanity sealed in acrylic paint, Harry openly admits to not caring much for the construction of his garments. "I've never been able to make clothes, just look at them!" he exclaims while pointing at his degree show collection. For the young designer, method is everything, "I wanted to see what I could get away with," he confesses.
"There are rumours that there is a well-known pattern cutter in London who has to be booked a year in advance if you want him to make your final collections."
Freegard is at the helm of a new generation of headline-friendly designers whose creations are upheld by ideas and innovation. "Harry has had amazing success with his work," Perez says. "He's more of a stylist and a public figure than he is a fashion designer, but he is a highly creative person." Certainly, fashion schools like the Royal College of Art also seem to be putting ideas over technique. "The students here are encouraged to create something unique and innovative, which means the ideas and concepts will be more valued than the hand-making in this system," says recent RCA fashion graduate Lingxiao Luo. "In the UK, external help never has bad effects on your mark so the students don't have to get it secretly." But what does this say about the future of fashion degrees, if a good idea is enough to secure success? "Ideas are the strength of the new," Zowie Broach, Head of Fashion at RCA, tells us. "Today, more than ever, passion, new thinking, that ability to collaborate with elegance and professionalism seems to be key and essential to the best companies and designers."
While a good concept is the key to creative success, ignoring the influence of money seems like an oversight. "Students with so much potential may not fully realise their collections due to financial restrictions," Edirisinghe tells i-D. "But it shouldn't be about throwing tons of money at your graduate collection. If you're clever and resourceful, you always find a way of doing what you want." Yet many students find themselves tied to the practicalities of designing a collection. "If I went into the project able to pay for everything to be made, I would have designed very differently from the beginning -- I would have been more fearless and experimental," a recent graduate tells us.
The path to fashion success is manifold, and while an innovative idea can be one person's golden ticket, for others, the road is more complex. As for its effects on the industry, students outsourcing their projects puts those with lower income backgrounds at a disadvantage. In the words of one soon-to-be graduate, "the creative industries are already suffering from a lack of diversity. We could be in danger of losing out on a lot of future creativity and potential."
This article originally appeared on i-D UK.