remembering aretha franklin, a true icon
See some of her most glorious performances, from teaching us RESPECT to making Obama cry.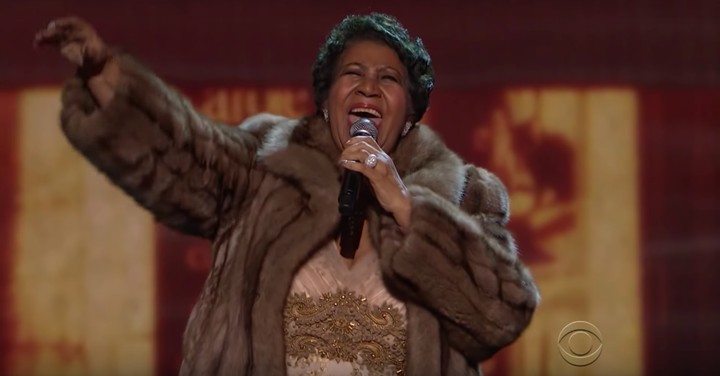 Image via Youtube
Aretha Franklin, the first woman to be inducted into the Rock & Roll Hall of Fame, has died at home in Detroit at the age of 76. The words "icon" and "diva" are liberally applied to all sorts of performers in today's internet lingua franca, but Franklin truly was both. From her divine voice; to her bespangled and furred outfits; to her performance-punctuating hand movements, she truly was the "Queen of Soul" (perhaps, with her passing, it is time to retire calling everyone a "Queen" as well). In honour of her rich and beautiful life, here are some of her actually "iconic" moments that have been preserved in the amber of the internet.

When she made Obama cry.
At the 2015 Kennedy Center Honors for Carole King, Franklin came out and stole the entire show by performing (You Make Me Feel Like) a Natural Woman, the song King co-wrote for her. King can be seen losing absolutely all of her mind throughout, and then comes the moment when a tear trickles down the then-President's face. The pinnacle, however, is when Franklin walks to the front of the stage, and shrugs off her fur coat, letting it fall to the ground. That in itself is enough to make anyone weep.
When she taught us about Respect.
Franklin took a song by Otis Redding and made it an anthem of female liberation. Franklin demands respect in a way that hadn't been heard before in a song, and it's not even a lot of respect! It's "just a little bit," still more than most men could give. When the song came out, it shot Franklin to fame, with fans declaring 1967 the summer of "'Retha, Rap, and Revolt." "R-E-S-P-E-C-T" — we're still learning what it might mean.
When she subbed for Pavarotti.
When the opera singer unexpectedly dropped out of the 1998 Grammys, there was only one woman for the job. The telecaster had heard her perform Nessun Dorma, from the Puccini opera Turandot, several nights before, and ran to her dressing room to ask if she'd reprise her performance in Pavarotti's absence. "I just ran up to her dressing room, and asked her if she would do it," producer Ken Ehrlich has said. "And she said she wanted to hear the dress rehearsal. In those days we had a boombox with a cassette. And I brought it to her and played it for her. When she heard it, she said, 'Yeah, I can do this.'" Franklin then floated out and gave a note perfect rendition for an audience of one billion.
When she stole the show in Blues Brothers.
Lest we forget, 1980's Blues Brothers is a masterpiece, with Dan Akroyd, Jon Belushi, and Carrie Fisher on top comedic form. One of the film's most spectacular moments, however, comes with the entrance of Franklin as a disgruntled waitress singing Think. Franklin was in a mid-career slump, struggling to transition to disco. Dressing as a frumpy waitress didn't seem like a career saving move (even though she asked for her outfit to be better tailored to fit her). And the studio had wanted Rose Royce anyway. With her finger-wagging performance of her 1968 hit however, she snatched the show, leading to a fabulous career revival.
When she gave Lauryn Hill life advice.
Franklin had a late career hit with A Rose Is Still a Rose, written by Hill, which saw her embrace neo-soul. Franklin assumed the role of mentor, passing down wisdom about identity and self-worth to her younger charge. The song also saw Franklin adopt the signature husky voice that developed as she got older. The masterpiece, however, has to be the video, which features Hill and Faith Evans alongside a host of other young faces who'd been influenced by Franklin.
When she performed at the first inauguration of President Obama in 2009.
Makes you think, doesn't it.
This article originally appeared on i-D US.
Tagged: