levi's has pledged over $1 million to help end gun violence
9,879 people have died as a result of gun violence in the US this year alone.
|
05 September 2018, 1:23pm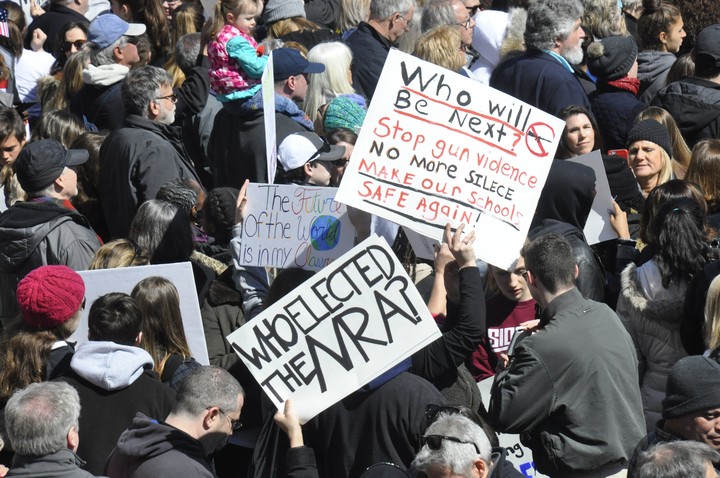 Image via Wikipedia
With still over a quarter of the year left, it's staggering that there have already been 245 mass shootings in the US in 2018. In fact, according to the organization Gun Violence Archive, gun violence has claimed the lives of 9,879 people this year alone, with nearly 40,000 gun related incidents reported. The problem is so widespread that at last, huge corporations and brands are finally taking notice and working to support gun violence prevention.

Levi Strauss & Co. is the latest company to enter the public debate over gun violence, pledging over $1 million to nonprofits and youth activists to prevent gun violence. In an op-ed for Fortune, Levi's CEO and President Chip Bergh announced the Safer Tomorrow Fund. Created in collaboration with groups like Everytown for Gun Safety, Levi's has also created Everytown Business Leaders for Gun Safety.
"We can't take on every issue", Chip writes in Fortune. "But as business leaders with power in the public and political arenas, we simply cannot stand by silently when it comes to issues that threaten the very fabric of the community where we live and work. While taking a stand can be unpopular with some, doing nothing is no longer an option."
The effect on Levi's sales figures from taking such a divisive stand is yet to be seen, but it's not the only company to place their politics in their marketing. Earlier this week, Nike's decision to use Colin Kaepernick as the face of the brand led to some Americans burning and ripping off their swooshes in protest. Trump called the branding a "terrible idea" and it was reported that the boycott has forced Nike shares prices down.
But for Levi's, more than Nike, the decision to position itself so prominently as a supporter of gun control seems particularly revolutionary. After all, Levi's aesthetic is one firmly rooted in the idea of the working class, blue-collar worker, and deeply connected to the American ideal of the frontier, of cowboys and gun-toting rebels. In a Vogue ad for the company all the way back in 1935, the magazine encouraged readers to embrace "Western-chic" with Levi's and a stetson hat. "Deep down in every American's breast," the ad read, "is a longing for the frontier." Later, during World War II, Levi's were issued to veterans, cementing the idea of the denim-wearing American hero. Just as blue jeans became synonymous with middle-class Americana, so Levi's became synonymous with blue jeans. And if there's anything seen as more iconic and American as a pair of blue jeans, it's the 2nd Amendment.
Throughout the company's history though, despite its aesthetic alignment with the stereotypical gun-toting American male, Levi's has often championed initiatives which were considered controversially "liberal" at the time. In the 40s the company desegregated its factories to allow white and black employees to work together, while during the 80s HIV/AIDS crisis it began donating towards sexual health education, donating over $60 million in the past three decades. While its appearance might be associated with the American middle class, and indeed many Trump supporters have adopted Levi's as part of their uniform, Levi's itself has continually tried to put a distance between its denim and Trump-voting, gun-toting, conservatives.
This isn't the first time the brand has waded into the often controversial gun debate either. In 2016, following an incident where a customer was injured when a gun went off in a Levi's store, Chip published an open letter requesting that gun owners do not carry firearms onto any Levi's property, even in states where open carry is permitted by law. In his Fortune piece, Chip reveals that decision led to threats from firearm enthusiasts, which, while unsettling, paled in comparison to events like the Sandy Hook and Parkland school shootings, which ultimately inspired his pledge of $1 million.
"You may wonder why a company that doesn't manufacture or sell guns is wading into this issue", Chip writes. "But for us, it's simple. American schools shouldn't have to live in fear of gun violence. It's an issue that affects all of us -- all generations and all walks of life."
This article originally appeared on i-D UK.