vetements fall/winter 17 was all about the power of identity and diversity
On Wednesday in Paris, Vetements showed its most political collection to date.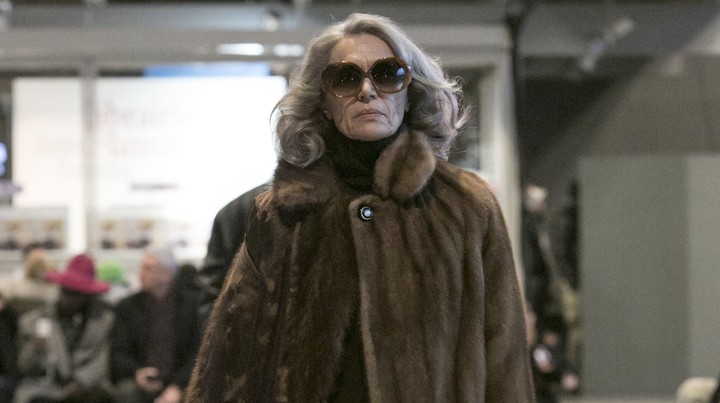 Who was she, the granny, whose picture appeared on the identity card that admitted one guest to the Vetements show on Tuesday in Paris? Who were the social worker and the secretary and the punk and the policewoman, whose passport photos graced other invitations? God knows how the Gvasalia brothers got hold of those pictures — all real people, as in: not models/actors — and it was a guessing game that proved their point. The Vetements runway set up inside the rather bleak interiors of the Centre George Pompidou was just another normal day on the street: the Parisienne in her trench coat and smart trouser walking past the pensioner in his utility vest and cords, the broker in his motorbike jacket and tailored suit oblivious to the 'chav' in his tracksuit and baseball cap. "When I started university my most favorite subject was sociology, so I think this season was a bit of an outburst of that fascination with social uniforms and how people dress," Demna Gvasalia elaborated backstage. "It's something I've always worked with more or less, but we decided to emphasize it and study each look as a character. We actually have names for them and their stories, which we created during the season."
Demna, his business mogul brother Guram, and their team of designers and general cool kids had been casting the shows until the early hours the night before, coercing friends and their parents to walk their hallowed cult-status catwalk. "Because of the casting, we had really different body shapes, which was interesting to work with: shorter people, taller people. We had to adapt a lot of clothes, so this collection was very haute couture. Since my school years I have never had this kind of experience," Demna reflected. Vetements started showing on the haute couture schedule last season, a move that allows him to divide his time better between the label and Balenciaga where he also serves as Creative Director, but it also signified the ongoing shift in the fashion system and seasonal schedule. Vetements isn't haute couture — even if a bride closed its show on Tuesday — but its streetwear and increasing focus on tailoring are so elevated, it's pretty damned close. More than any concept in fashion, haute couture is about diversity and identity — a real couture look at Chanel or Dior can only ever be sold to one client, and it will be tailored entirely to her wishes by the couturier and première.
Read: We reflect on the triumphant year the charismatic Gvasalia brothers had in 2016.
That's not the case at Vetements, but it didn't make the label's positioning on the fashion schedule any less brilliant for this collection's concept. "It was really turning those archetypes into Vetements and what we do conceptually. Sometimes it looks really normal but there are always tricks. That was the exercise. I always work with appropriation so this season was kind of an epilogue of what we've done in the last few years, in one collection," Demna explained. "Identity is something that's very present in reality and around, and whatever happens — good or bad — in society affects us, and it kind of gets tilted through the work we do, in this case in fashion. We have the luxury of being able to transport it through clothes. Fashion is still powerful." Alongside his Balenciaga collection last week, which turned the Bernie Sanders campaign graphics into a new logo for the house, the Vetements collection marked Demna's first spelled-out foray into political fashion — a big step for a designer, who's insisted all along that his collections weren't designed with specific political intentions but remained open to interpretation.
On Tuesday, there was no denying the message: "One of the looks represents a homeless person, who was wearing a knitted pullover with a jacquard of the European flag," Demna noted. He said the soldier character, who walked the show in a camo outfit, "actually doesn't want to be in uniform — he's bursting out of it." A punk wore a leather jacket with the words 'Queers Still Here' splashed across the back, and the bourgeois lady, who opened the show in a mink coat, didn't seem to mind. This was an image of the urban streets of liberal cities like London and New York — and, perhaps, increasingly Paris — where a vast diversity of people live in relative perfect harmony. It was a middle finger to the provincial attitude of the populist movements currently taking over the political scene, and an appropriate wake-up call in the middle of the haute couture schedule's escapist break from the monumental affairs that fill the outside world right now. In their spotlight on identity, with those priceless invitations and their runway, this was the Gvasalia brothers' way of highlighting the lives behind the statistics.
Read: Demna Gvasalia's Vetements team steps into the spotlight, joined by the studio's models and the finest youth in Paris.
Credits
---
Text Anders Christian Madsen