Photography Petr Davydtchenko
drill artists give blood in a provocative exhibition at london's saatchi gallery
Skengdo x AM and Drillminister have collaborated with Russian artist Andrei Molodkin on a visceral project about censorship.
Photography Petr Davydtchenko
The last time I met Skengdo we were stood in the dark car park of his redbrick housing estate in Brixton, south London, in November 2017. We both had our hoods up and jackets zipped to protect us from the freezing cold and rain. Skengdo was wearing sunglasses, and his baritone rhyming partner AM had a full balaclava covering his eyes and mouth. It was a week before the drop of their debut mixtape, 2 Bunny, which on release soared to the top of the iTunes hip-hop/rap UK chart and was thus the first drill record to achieve formal industry success, away from the YouTube algorithms and Snapchat activity of grassroots teenage fan hype.
Until then, the energetic, controversial genre had been firmly underground, largely invisible to digitally foreign adults and arms-length authorities. It has since flourished -- exploding in popularity amongst young people, entering the charts habitually and progressing in both dancefloor-friendly and socially-conscious directions -- whilst being placed at the centre of a moral panic about the intersection of violence and social media. In January 2019, after a year of creeping censorship over all things drill by the criminal justice system, including the prevention of certain rappers from making music without police permission, Skengdo and AM were the first artists in history to be served a prison sentence for performing one of their songs to a live audience, after it was unjustifiably deemed to be inciting violence.
"It shows that we're levelling up. Before they never would have had us in a place like this, no chance!" Skengdo tells me, chuckling, when I comment on how surreal it is that we are now stood in the entrance of the prestigious Saatchi Gallery in Sloane Square. Clean white walls and glistening glass panelling stretch high above us. In just 18 months, it seems, drill has evolved from being an oppressed expression of hidden adolescent powerlessness to taking centre-stage in a traditional institution of high culture.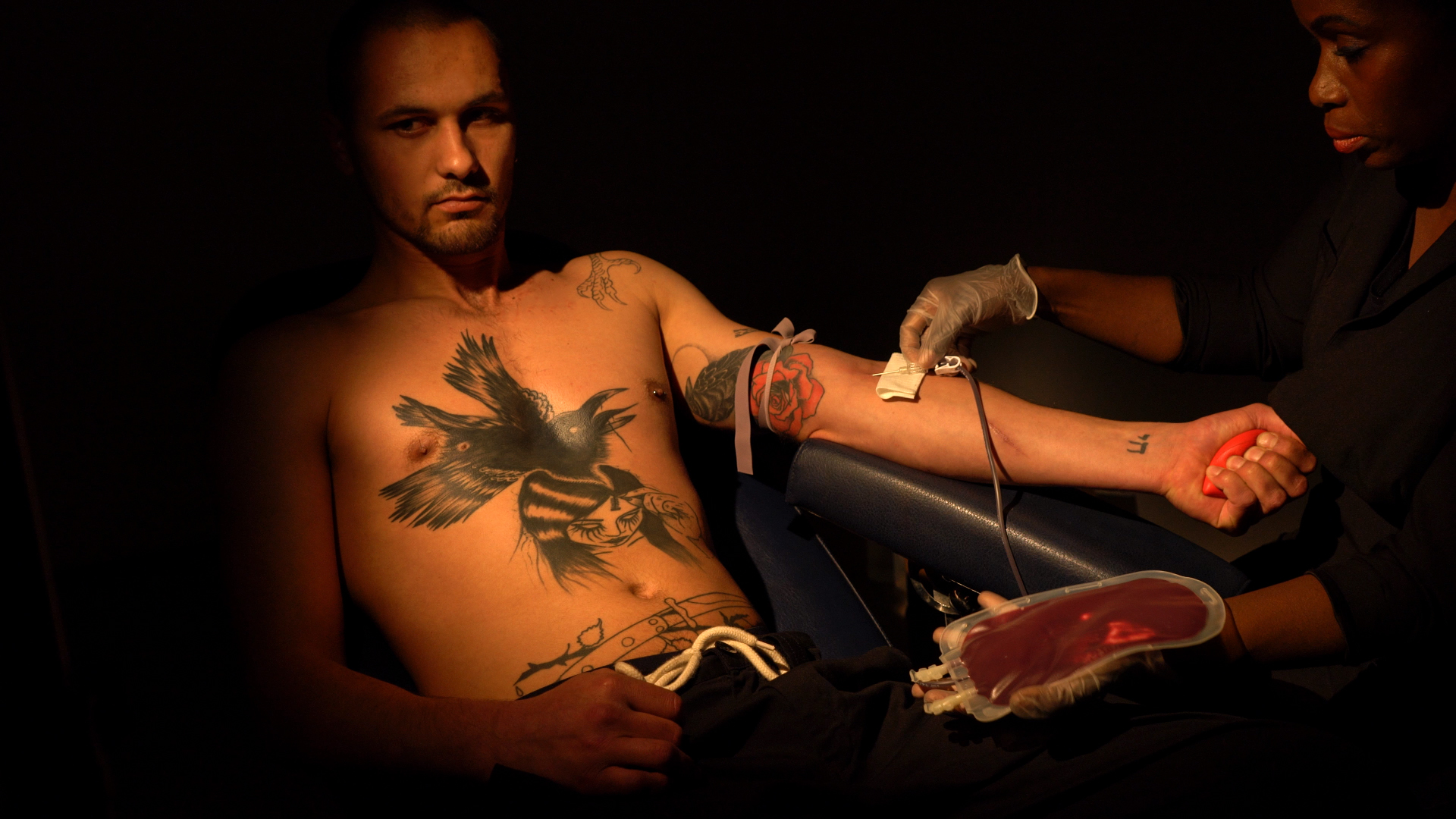 I'm here because, alongside Drillminister -- who has become known for his politically-charged verses about topics ranging from the hypocritical language used by politicians to the stalemate of Brexit, has appeared numerous times as a debate panellist on national television, and is even running for London mayor in 2020 -- and the Russian conceptual artist Andrei Molodkin, Skengdo and AM have been busy pushing the frontiers of drill's reach and message. Their collaborative force has produced an exhibition called Young Blood.
"When I first saw the art I was like, oh shit! No one has ever done this before. We've literally put our own blood into our lyrics," Skengdo continues, explaining the significance of the piece about to be unveiled. "We are willing to shed our own blood for our freedom. People won't expect it. We're attracting a whole different audience. It's better than just making a music video. It has more impact this way."
We walk upstairs, past drinks tables supporting bottles of Hennessy and jugs of orange juice, and enter the exhibition space. A grand, shadowy room is lit-up by two screens which each take up a wall. Both show live video feeds of three-dimensional glass squares gradually filling up with deep red blood being pumped through tubes, connected to a fridge, from a seat where visitors can donate blood for the co-creation of the work. One square reads "SAVE YOUR SOUL MOTHER FUCKER," and the other, "OFFICER I'VE DONE NOTHING," both of which are lyrics from Political Drills (The Media) made by Skengdo, AM, Drillminister, and producer MK The Plug specifically for the project. Over the course of the evening, the room becomes populated with a bizarre blend of young drill fans, music industry professionals and Chelsea art types frowning and nodding in intrigue at the new work on offer.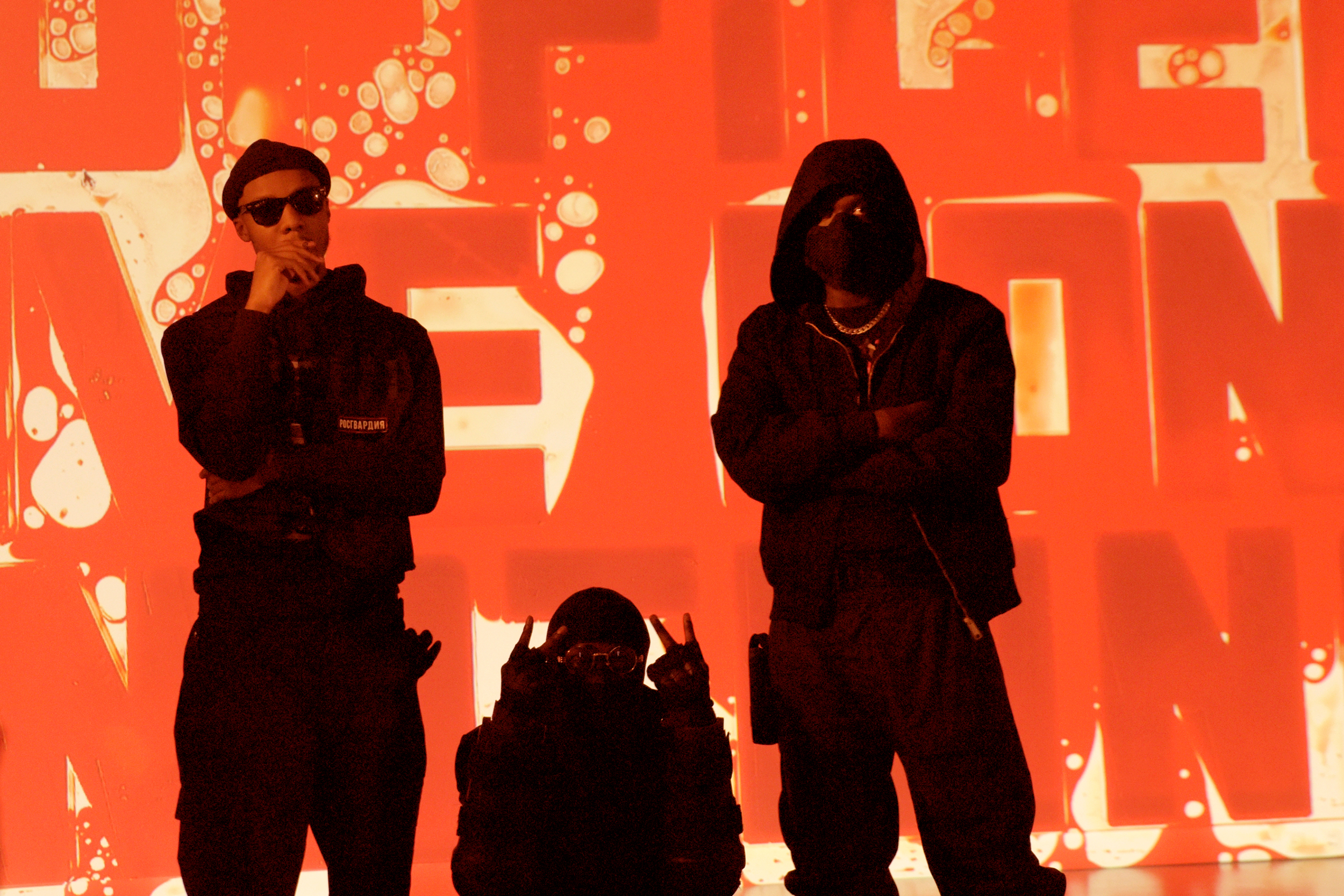 "I believe that in all democracies, people use freedom of speech and freedom of information as a truth against an unacceptable regime," Molodkin explains, when I ask what drove him to collaborate with drill artists to make this project. As a young man he used to work in the Russian military delivering oil in Siberia: an experience that has inspired much of his work since, which seeks to "activate negative sculptures through politicised materials to create extreme antagonisms." He makes mixed-media sculptures to combine punchy passages of text with crude oil or blood.
For the last four years, Molodkin has been rehabilitating a 4500 square metre foundry in the south of France, which he and others have used as an experimental space to explore their artistic ideas. Later, I would speak to Petr Davydtchenko, a chef who lives in the foundry and has survived off only eating roadkill for three years (including a donkey -- a "biblical symbol" which fed him for a year -- as well as cats and foxes). He and Molodkin are both affiliated with the London-based arts organisation A/political, who organised today's collaboration.
Smiling, his hands at his waist in proud accomplishment, Molodkin is wearing a black hoodie with one of the red glass squares printed on its front (merchandise, including the first ever drill vinyl, is on sale at the entrance). "I am interested in censorship and things the government don't want you to say," he continues, speaking with the conviction of someone who has been censored multiple times in the past. "In Russia, we believe that to be contemporary with your art, an artist must be prepared to go to prison. The moment when censorship happens, this is the moment that really matters," he continues, drawing parallels between the lack of freedom in his home country and what is happening with drill in the UK. "Drill music is the most censored movement in Britain. It has incredible lyrics. I always work with letters, and every time with blood and crude oil, but here I have found that it is much more precise to do it with actual musicians; to take their sentences and put them with their blood to say something about democracy. Blood and drill is the perfect combination here."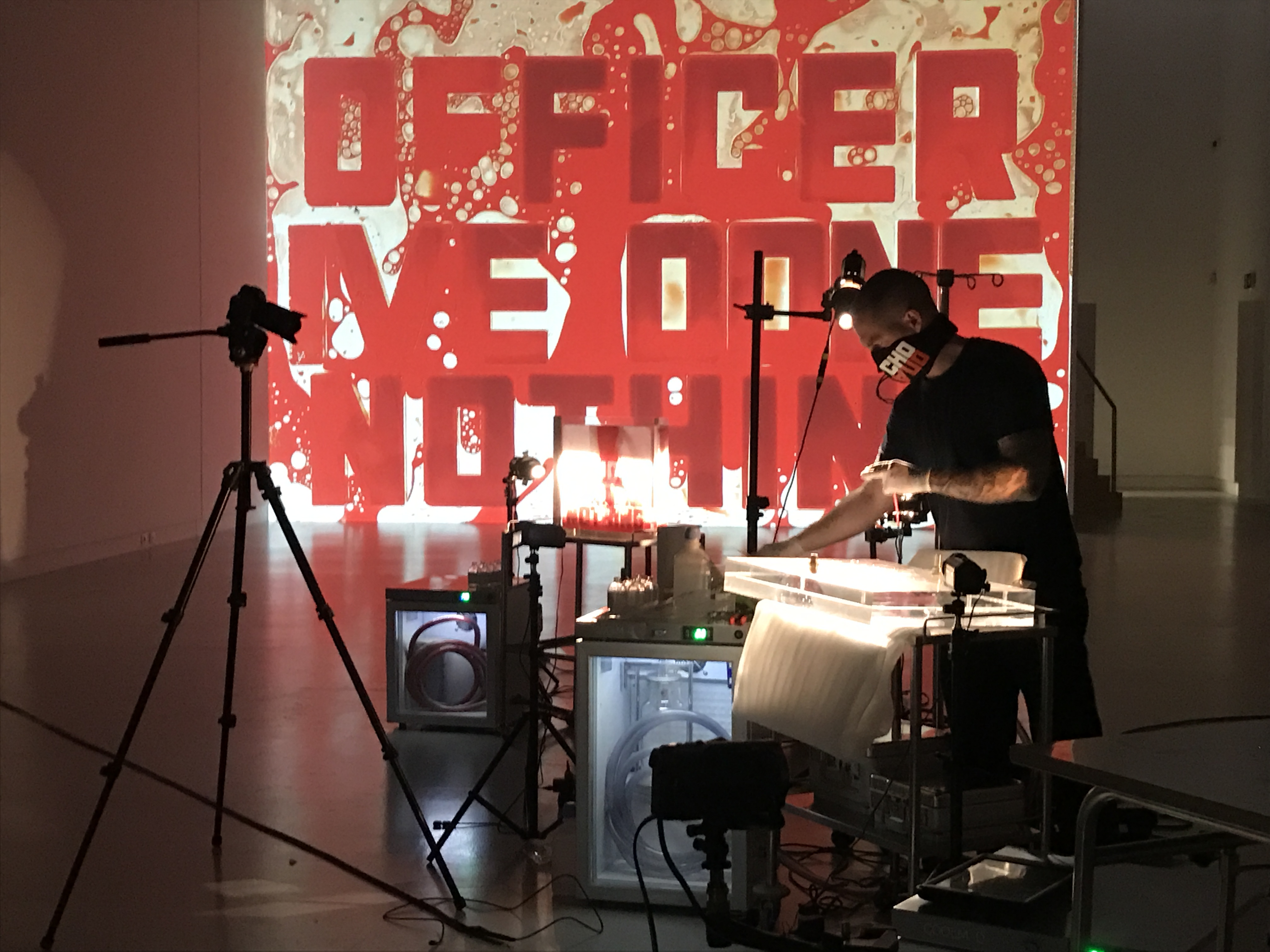 "I feel privileged to be here and be a part of history," says AM, who now wears a personalised mask covering just his mouth and nose. He leans forward and speaks, as when we first met, with considered eloquence about his involvement in the project. What was most significant about the process of creating the work? "Going over to Belgium and seeing people physically give blood to the sculpture, it felt real," he replies. Earlier this year, in the build-up to AM's university exams, he travelled to Belgium to donate his blood with other visitors to Andrei's sculptures. It was there that they filmed the video for Political Drills.
"Drill is heavily misunderstood," AM continues, speaking on the direction that the musical genre is headed. "This shows people actively taking a step to try and understand it a bit more. I feel like that's one of the best things we could do for the genre: collaborate with other art forms and put things in a more positive light. Give people the chance to come, see, experience it first hand, and know that it is not all about violence. People can appreciate it for the artform it is."
After we speak, everyone is told to gather in front of the two-wall screens where we watch a refixed version of the music video, created by Molodkin. Shortly after that the project is introduced, and Skengdo, AM and Drillminister step on stage to perform the song.
"The aim is to raise awareness about how we feel like our freedom of speech is being taken away from us," Skengdo says. "Like I say in the song: they hate when they see a black man win. Us young black people have found a way out, a way to do something positive, and they try to take that away from us, silence us, and tell us we've got to find something else to do. And we feel like we're being targeted. This is to show that our freedom of speech is being taken away from us. And it's not right."