meet shannon lay, a 'simpsons' super-fan crafting beautifully tender folk tunes
The guitarist of garage-rocking L.A. foursome Feels steps out on her own as a singer-songwriter. We discuss her new album, and premiere its sweet new single "Recording 15."
|
20 September 2017, 2:45pm
Photography Eric Chakeen
I meet Shannon Lay two hours before her soundcheck at Williamsburg Hall of Music. She's already wearing her performance ensemble, a three-piece suit. It's Western style, but sleek. All black, except for a pair of sunbursts on the flared pant legs. Their orangey glow matches Lay's hair color — an unmissable shade of electric tangerine. (Her tourmate, Kevin Morby, is trekking across the country in a Nudie Cohn-esque suit of his own. Both are custom creations by Lay's pal Judith, who runs Rusty Cuts).
Lay has a pretty enviable wardrobe offstage, too. She credits this mostly to the seven years she spent working at Squaresville, one of L.A.'s best vintage shops. It's where she picked up many a flooded pant ("my weakness," she laughs), and where she first met Laena Geronimo, her Feels bandmate. The scuzzy garage-punk foursome — rounded out by Michael Perry Rudes and Amy Allen — is beloved in L.A. for its frenzied live shows. These raucous performances often find Lay shredding the shit out of her guitar while trading puckish vocals with Geronimo.
Earlier this year, Lay quit Squaresville to pursue music full time. Feels has kept her busy. The band's self-titled debut, released in February 2016, was produced by slack rock songwriter Ty Segall. (They recorded the entire album in a single day, and mixed it in another). Lay says a sophomore Feels record is on the way. "It's very different, really unique, really exciting," she tells me. "And we're honing in on a deeper, focused live set that's really gonna blow some minds."
In the interim, Lay has been releasing her own work. She uses the same instrument — a "cheap-as-hell Jazzmaster knockoff" by Xavier — to craft melodies for both efforts. But that's about where the sonic similarities end. Alone, Lay makes tender, transfixing alt-folk. "I describe it as two different explosions," she explains. "Feels is an extroverted explosion; my stuff is an introverted explosion. I can't live without either."
Her debut solo album, All This Life Going Down, arrived in February, and I have been unable to turn it off since. The record's cover looks at first to feature bold, sweeping brush strokes; closer inspection reveals the painterly design to be locks of Lay's own hair. The 10 tracks the album contains are just as intriguing, shape-shifting, and deeply personal.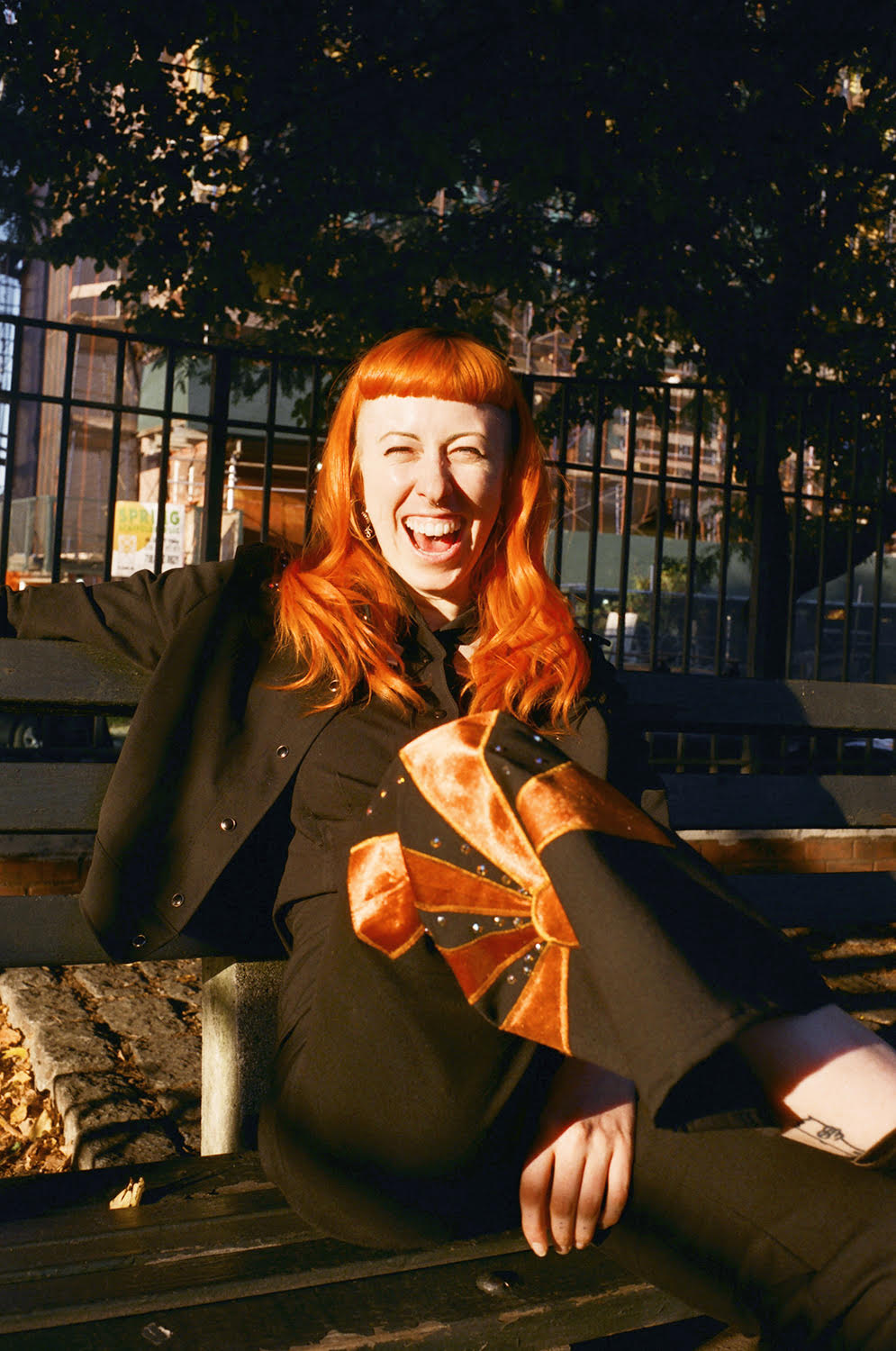 On Friday (September 22), Lay will reveal Living Water, her sophomore project as a singer-songwriter, and her second full-length release of 2017. Thank Kevin Morby for the quick turn-around. The City Music architect incepted Mare Records, a newly launched imprint of Woodsist, specifically to release Lay's next album after seeing her perform an intimate set in L.A. "My heart stopped the moment her voice leaped into the air," Morby wrote in a statement announcing Living Water's release. "Shannon has a voice that transcends time and space."
She's already shared two songs from the 14-track project: "The Moons Detriment" and "Coast." Today, we're thrilled to premiere Living Water's third release, "Recording 15." Each of these songs are shaped by Lay's ear for gorgeous melody, and her honeyed yet piercing vocal delivery. These sensibilities are what make All This Life Going Down such an outstanding effort. Yet Lay sees Living Water as a new chapter.
"I really loved recording All This Life Going Down, but it was a very timid experience for me," she explains. "I was new [to working alone], and I feel like on that record, I'm almost whispering." On Living Water, "I'm really projecting in a different way, and saying a lot more. I wanted to make a statement with this record and affect people in a different way." She hopes the project "is the kind of thing that's sort of a timeless catalyst for people to come." She offers Nick Drake's seminal 1972 album Pink Moon as an example, and mentions the work of cult Brit-folk figure Vashti Bunyan. "Something that 50 years from now, people will be like, 'Shit's pretty good. I can get into this,'" she laughs.
Lay grew up in Redondo Beach, California. She mostly skated, or hung out by the pier. At 13, she started playing guitar. "It was a nice way for me to expend myself and have a good time." She'd bring in songs ("some Neil Young, 'Blackbird,' the classics") and her instructor at a local music shop would teach her how to play them. "For the longest time," Lay says, "I just kind of listened to what everyone else was into." Then she heard The Velvet Underground. "That was the door that I walked through like, 'Oh my god, everything's gonna be okay.' I started listening to X, Animal Collective, Bob Dylan. Björk changed my fucking world! You find that one thing, and it becomes a gateway."
A decade ago, Lay left Redondo Beach at 17. Although she considered decamping to San Francisco or Chicago, she landed in nearby L.A. "I moved in with this girl I didn't know, and we were sharing a studio apartment. I was working at a weed store; it was a whirlwind," Lay laughs. She wanted to join a band, so she went on Craigslist and found one. "They were called Facts on File. It was these two older people, Joe and Molly. They were so awesome; they really built my confidence in a way I didn't have before."
Discovering The Simpsons later in life was another impactful experience. (Lay has four Simpsons tattoos, her Instagram is full of screenshots, and she often performs with projections of Bart in the background). It's unsurprising to learn — given Lay's ability to lyrically transform the mundane into the magical — she's a fan of the show's humanistic early episodes. "In the very first season, Homer contemplates suicide because he can't provide for his family. It's so heavy, but real. I love the show so much because there is a little of every character in all of us."
On her nationwide tour with Morby, Lay has been watching Seasons 3, 6, and 7. After trekking across the country all September, she's now in the home stretch, literally. Her final three shows are this week in California. It's been an inspiring trip for the prolific songwriter ("I do a lot of writing when I'm traveling," she says, noting the next record is already in progress) and an emotional one for her audiences. Brian Hill — who recently shared a bill with Lay — told me that during her set, the woman sitting next to him began bawling her eyes out. It's not an uncommon reaction.
"My favorite thing people say when they come up to me after a show is, 'I needed that.' I think when you cry in those moments, you probably needed to do that. It probably needed to come out," she says. "I love that I can facilitate that for people."
'Living Water' is available on September 22 via Mare Records and Woodsist.