led by gucci, day one of milan spring/summer 18 was a rally of creative resistance
Following Alessandro Michele's lead, Milan's designers each presented collections that read as manifestos for creative consistency and industry change.
|
21 September 2017, 10:27am
Gucci
This article was originally published by i-D UK.
"Creation is a poetic act," explained the opening line in Gucci's show notes. "It's an eruptive process emerging from a magnetic core inhabited by urgencies, ghosts, and desires. A whirl in which vital strengths; once trapped, are finally revealed." These words were not just offered as an explanation of spring/summer 18, they were a reminder of how Alessandro Michele has crafted and curated his Gucci galaxy while declaring that he will not change for anyone. With its seemingly incessant cries of "more, more, more", fashion is an industry that has an insatiable appetite for newness, and while some designers serve up radical seasonal revisions, Michele does not. He is concerned with evolution, not revolution. And what an evolution. Season after season his enthralling, far-reaching encyclopedia of references and inspirations take us that bit deeper in his carefully cultivated world.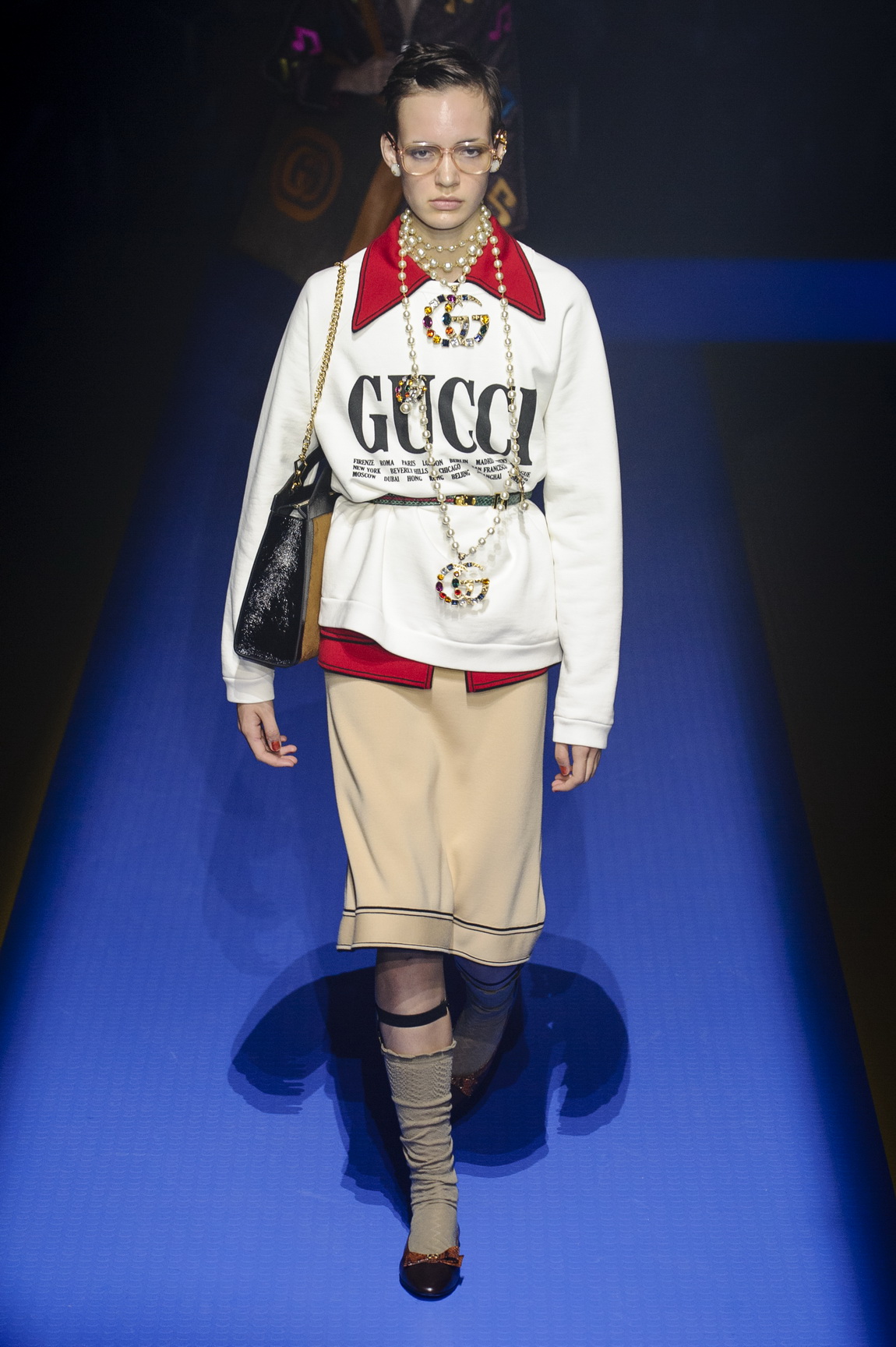 "Resist acceleration and its obsessive panting that risks shattering life," the notes continued. "Resist the mantra of speed that violently leads to loosing oneself. Resist the illusion of something new at any cost. There's no simple strategy to adopt; it requires the courage to slowly linger; to stay with care; to give oneself up to a story to dig deep, with a wide graceful breath." After raising a bejeweled hand to press pause on the ever-quickening conveyor belt of change, his 108-look spring/summer 18 collection invited us to linger in his imagination and give in to his vision.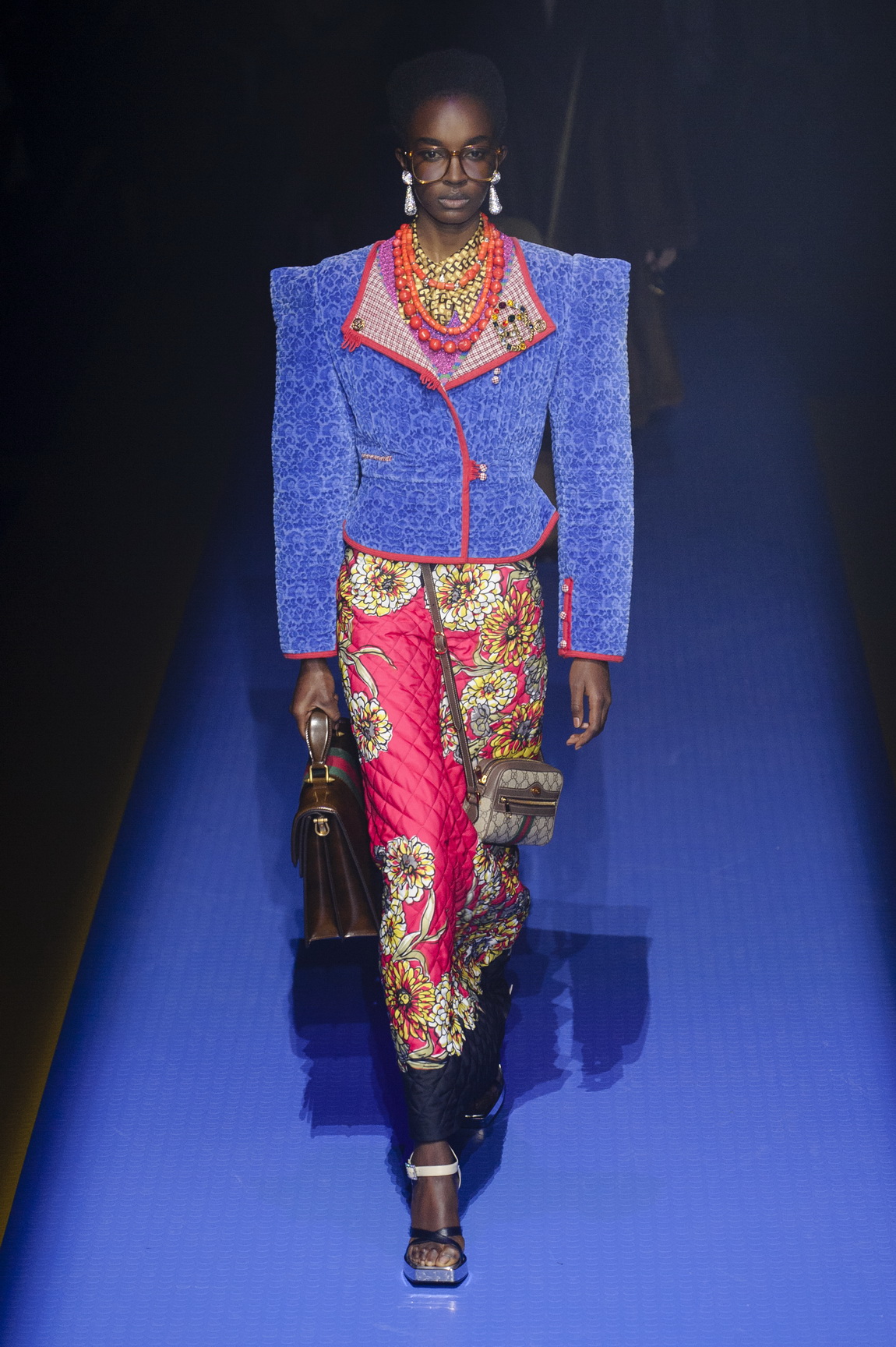 Held inside the hall of the Piuarch-designed Gucci Hub, located on the outskirts of Milan, the vast venue was transformed into a museum-worthy curation of the dissenting spirit. Presenting an ancient map centred around the Roman site of Horace's Villa, the set was signposted with intellectual markings from throughout history — Heidegger on authenticity, Deleuze and Camus on the nature of rebellion — and the audience was invited on a trip through time. Classical motifs were taken from different periods and cultures — from Aztec arches to Roman deities, Chinese Buddhas to Egyptian Pharaohs — and were scattered throughout the winding Tiber river-inspired catwalk.
With Michele as our tour guide, everything was on his terms. Under the twinkling UV strobes of this rave of resistance, it was hard to absorb the dizzying details as the models strode past. Whether it was to delay the inevitability of the high street copycats, or force the front row to look that bit closer, we were all on the edge of our seats to see Alessandro Michele for Gucci with added elements of 80s glam rock and Dynasty flash by. It was more of the same but far, far from boring or expected. When are sequinned bow dresses, slogan adorned tracksuits or bejeweled racing jackets ever dull?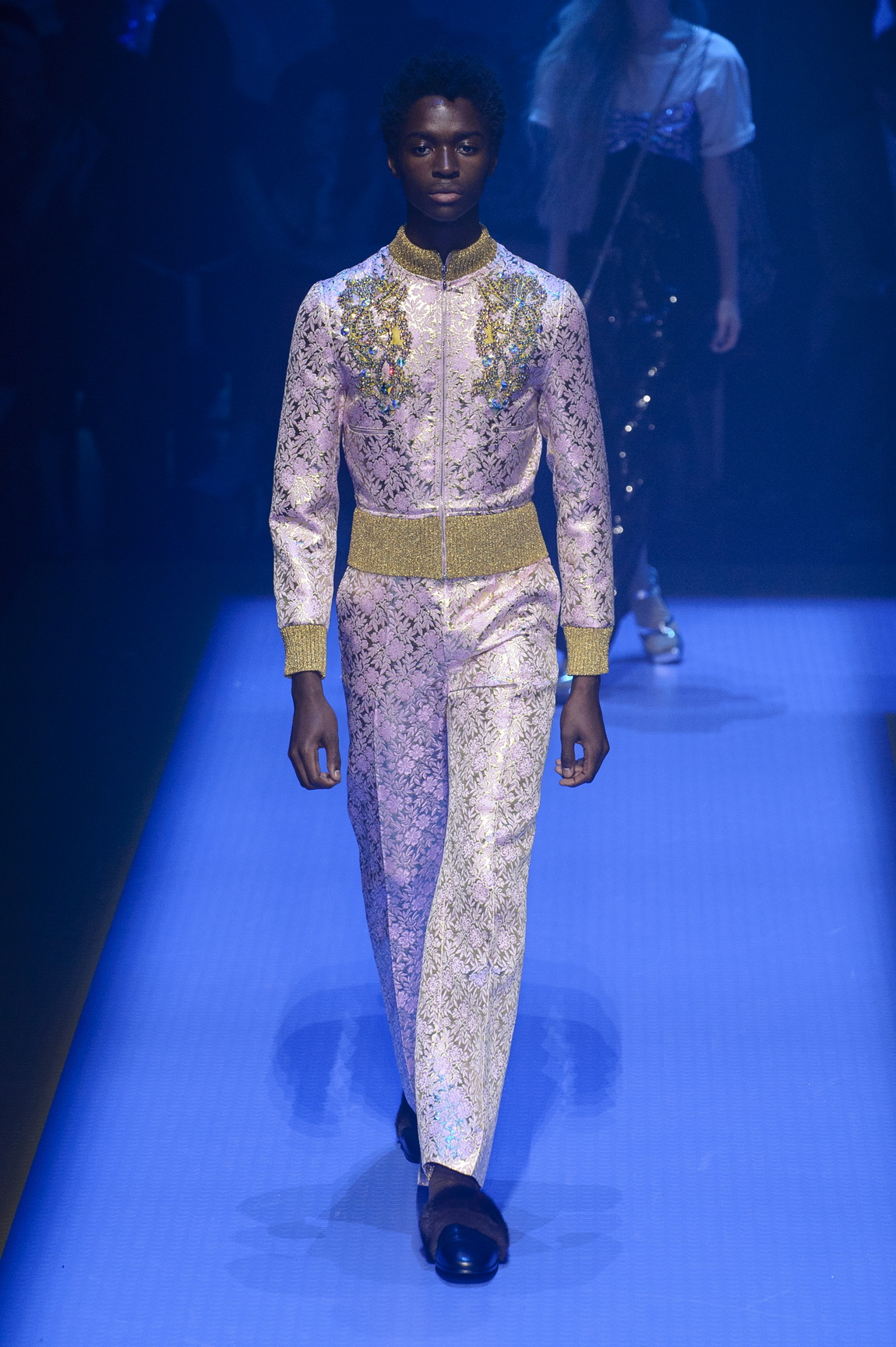 And why should Michele change? Earlier this summer the Italian house released its financial results, showing a massive 43.4% sales growth. When consumers walk into a Gucci store, they might not see seasons, but they do see a world. There's a hypnotism to it and we are all falling under the spell of this modern Renaissance man.
While Michele was seducing us all with his signatures, Alessandro Dell'Acqua was wresting back his own at No. 21. After recovering from the loss of creative control of his eponymous label five years ago, Dell'Acqua reminded us of previous highs as he reclaimed his codes. Specifically referencing looks from his spring/summer 97 collection, No.21 spring/summer 18 danced in the past, present, and future. So why did he reference himself so obviously? "For me, in this moment, fashion is very confused." This was his attempt to find order in the chaos.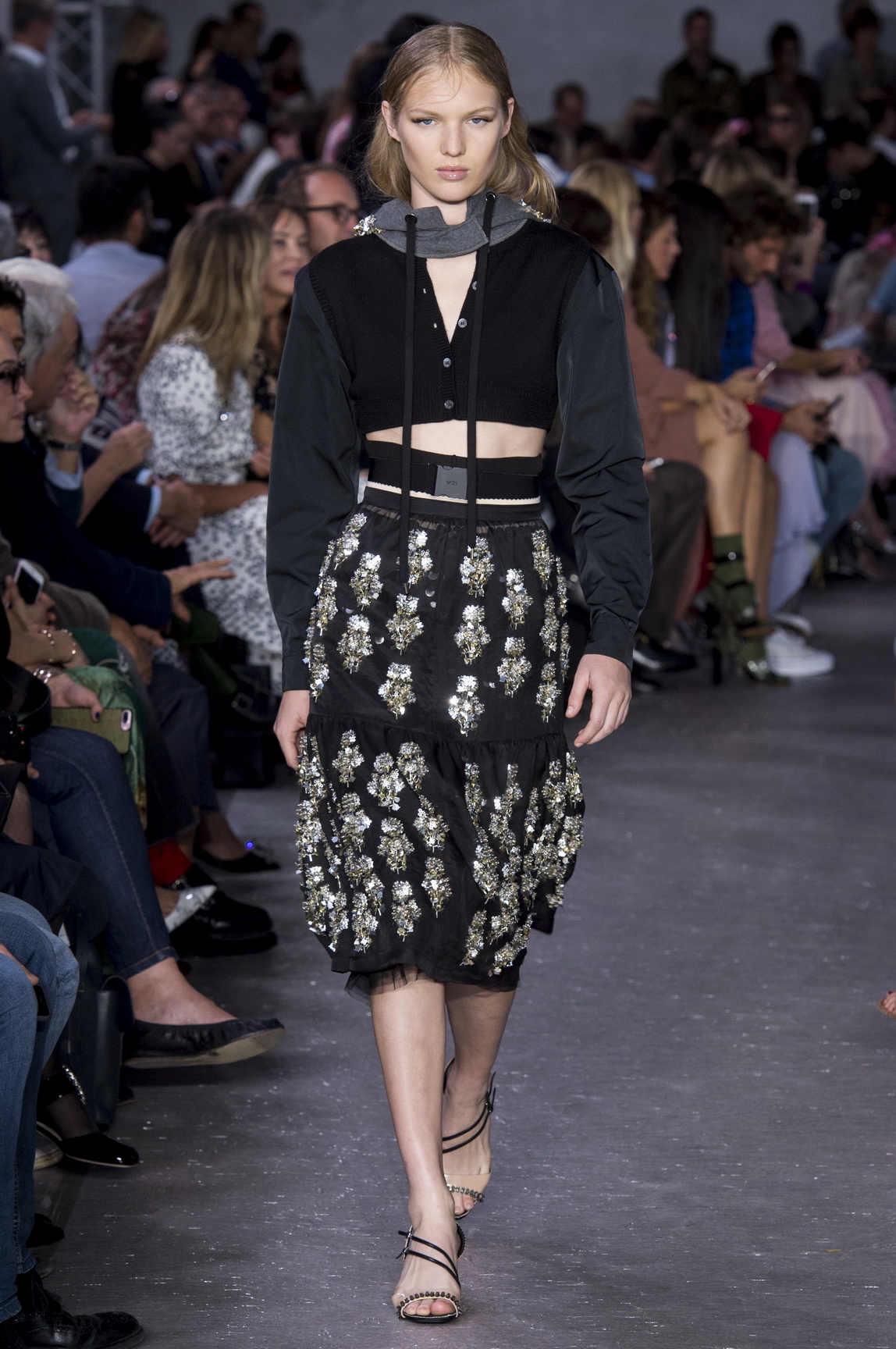 "I'm mixing up the sport and femininity of No. 21 with Alessandro Dell'Acqua," he explained. As sheer evening dresses walked alongside leather parkas with crystal-lined hoods, the marriage was clear. In a highly personal, emotionally charged show, we were reminded of the true value of creativity in fashion and the hope it can ultimately bring.
Another designer glancing back to see the way forward was Alberta Ferretti. "I felt this was an important moment to look back at the past and to think about what I want for the present," she explained behind the scenes of the baroque cloisters of Rotonda della Besana. "I don't want too many things." So, she stripped back the feathers, ruffles, and embellishments of seasons past. After a lifetime in fashion, she can still surprise us. Joan Smalls wearing sleek black maillots ushered in the new era, closely followed by Gigi and Bella Hadid, Hailey Baldwin, and Karlie Kloss. Then came the familiar Feretti signature of chiffon dresses, but far simpler than we're used to seeing. Throughout, the stripped-back 90s feel of the collection teamed with the models-of-the-moment felt ideal for now. Here's to designers taking stock and bringing to life just what they want to see, because as Gucci stated, creation is a poetic act.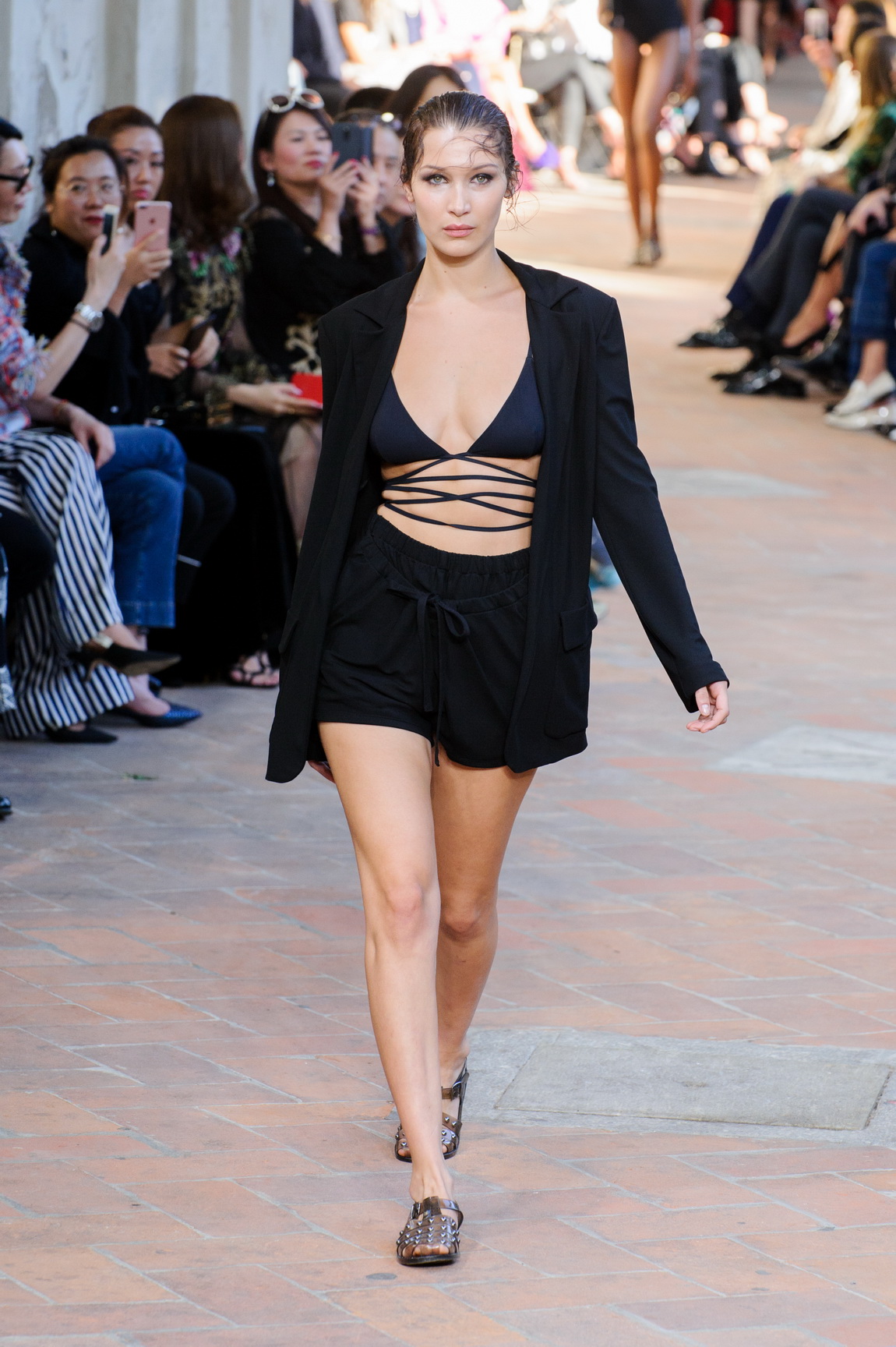 ---
Images courtesy of brands