watch miley cyrus turn "party in the u.s.a." into a resistance anthem
The unpredictable pop star performed her 2009 karaoke favorite as a call for non-violence, healthcare, and compassion. Miley has previously said she's toning down her look and sound in an effort to reach across the aisle.
|
25 September 2017, 6:41pm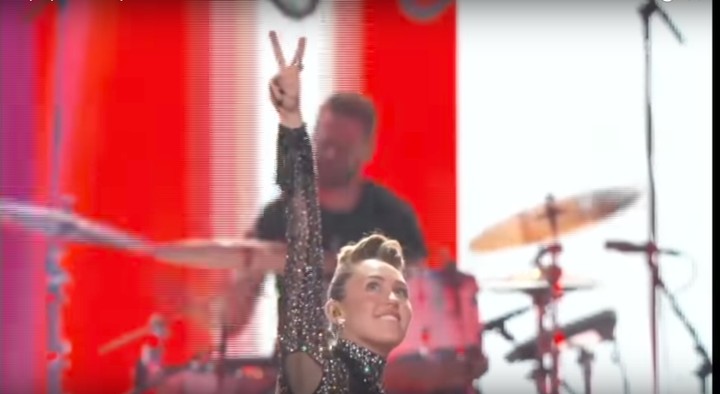 Miley Cyrus stanned hard for Bernie Sanders and then Hillary Clinton in the leadup to last year's election. But Younger Now, her musical follow-up to last year's rollicking psilocybin-fueled experiment Miley Cyrus and Her Dead Petz, isn't the outspoken political opus many had expected. In an expansive interview with Billboard last year, the unpredictable pop star explained that her Younger Now country homecoming was partly an attempt to engage with Donald Trump supporters.
"I have to ask myself, 'How am I going to create real change?'" Miley deliberated, "and not just ­fucking preach to the choir anymore. This record is a reflection of the fact that yes, I don't give a fuck, but right now is not a time to not give a fuck about people. I'm ­giving the world a hug and saying, 'Hey, look. We're good — I love you.' And I hope you can say you love me back."
Unlike certain pop stars who have avoided political debate for the sake of selling records, though, Miley isn't pretending the election never happened. Last night she laid out her policies during an otherwise temperate performance at the iHeartRadio Festival in Las Vegas. Miley's resistance anthem of choice? Her iconic 2009 karaoke jam "Party in the U.S.A." Don't lie, it's still on your iTunes "Top 25 Most Played" list.
"I thought it would be perfect for tonight, especially right after 'We Can't Stop,'" she told the crowd. "Because, you know what I won't stop doing? I won't stop fighting for justice for every single person in this entire fucking place… We shouldn't be scared of walking down the street. We shouldn't be scared of this violence. We shouldn't be scared of humans against humans." As she performed, words like "compassion," "opportunity," "heath care," "education," and "non-violence" flashed on a giant screen, and the audience was showered in red, white, and blue confetti. Miley has previously been spoken out against Trump's Muslim ban and white supremacist violence in Charlottesville.
Miley's performance followed a day of powerful peaceful resistance. From London to Lambeau Field, NFL players took a knee and/or locked arms during the National Anthem in a unprecedented display of unity amid criticism from the president. While the NFL protests were specifically aimed at drawing attention to racial injustice and police brutality, the overarching message of the day was that being political and being patriotic aren't mutually exclusive.