a riot of colour at comme des garçons
From searing colours and wild embellishment, to the inkiest of black and monastic simplicity.
|
29 September 2019, 10:26am
The Stravinsky soundtrack and white columns at the Comme des Garçons show put one in mind of a grand occasion, a ball or gala. The looks, too, were grand in the extreme, as if the opulent furnishings had come alive and tried to assemble themselves in grotesque human form. The first look was comprised of pink, knee-less trousers and a beautiful green brocade coat replete with great swathes of fabric and 3D flowers. From there, it only got weirder, as Rei Kawakubo took us from searing colours and wild embellishment, to the inkiest of black and monastic simplicity. Set to the sound of soaring strings, it was quite the journey.
Rei resists interpretation, so it seems like the best thing to do is describe the clothing. After last season's black show, it was wildly colourful, the opening florals giving way to deep red tassels reminiscent of the curtain at the opera, worn as great cape-like jackets over shorts. Then, the designer explored shining blue checks and florals worn as great bulbous skirts, and a vivid pink brocade skirt accented with what looked like squares of leopard. It was a joyful riot of colour, encompassing strange cylindrical dresses and stuffed leggings in pink and camo that looked distinctly alien, and then huge upside down flowers (tops, sort of) worn over more of the 3D flower leggings. The hothouse garden was overtaken by another parade of metallic blood red and black... the balloon-like shapes reinterpreted in monochrome pleats, accompanied by moulded bodices.
Slowly, the looks became ever more pared back (if not exactly simple to understand). After two outfits that looked something like school girls' uniforms (with emphasis on "something like"), Kawakubo sent out four black looks, two rounded, two straight, that were more shapes than garments -- beautiful in their simplicity, the runway lights going down on each one as they exited. The party was over.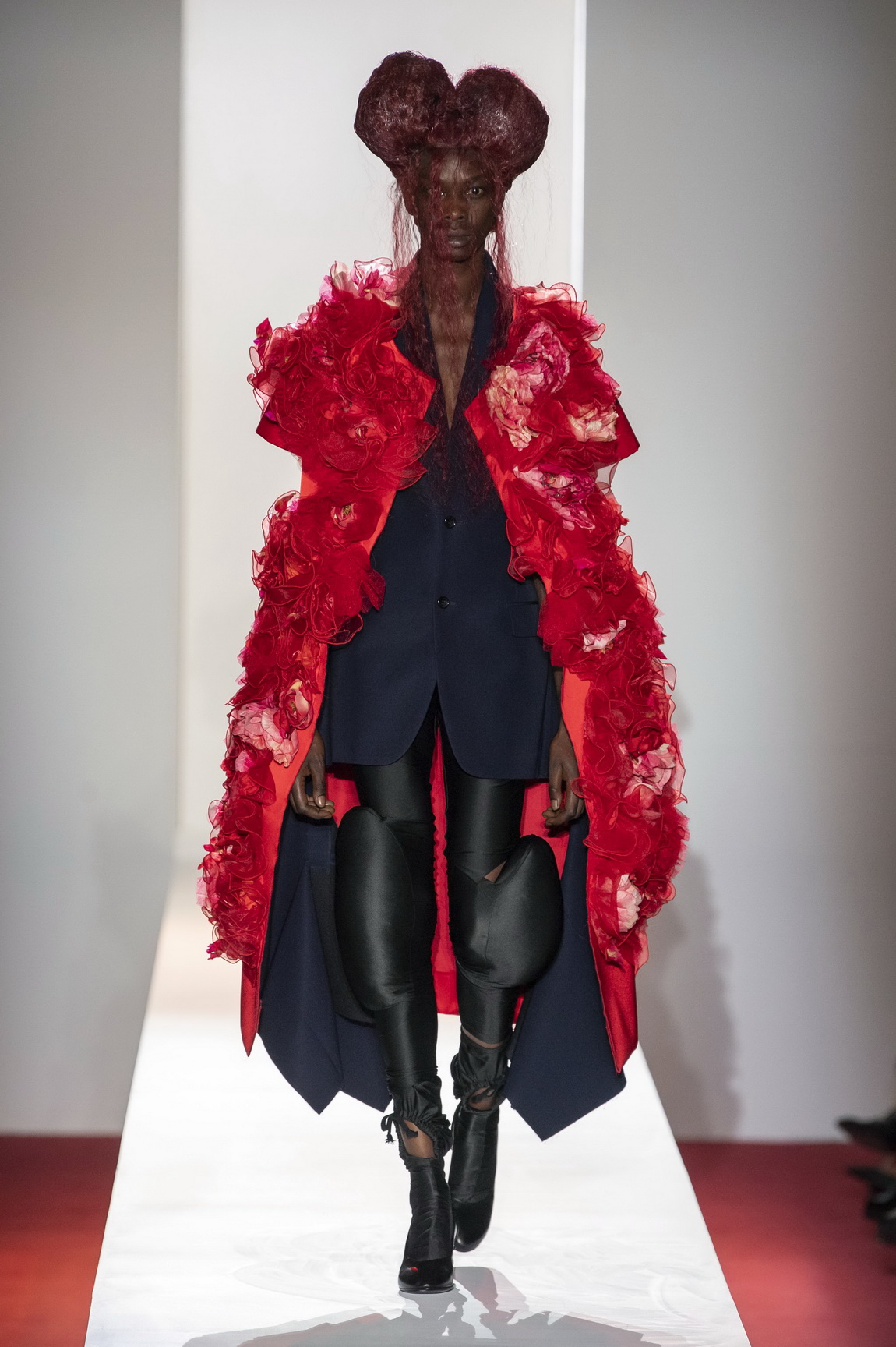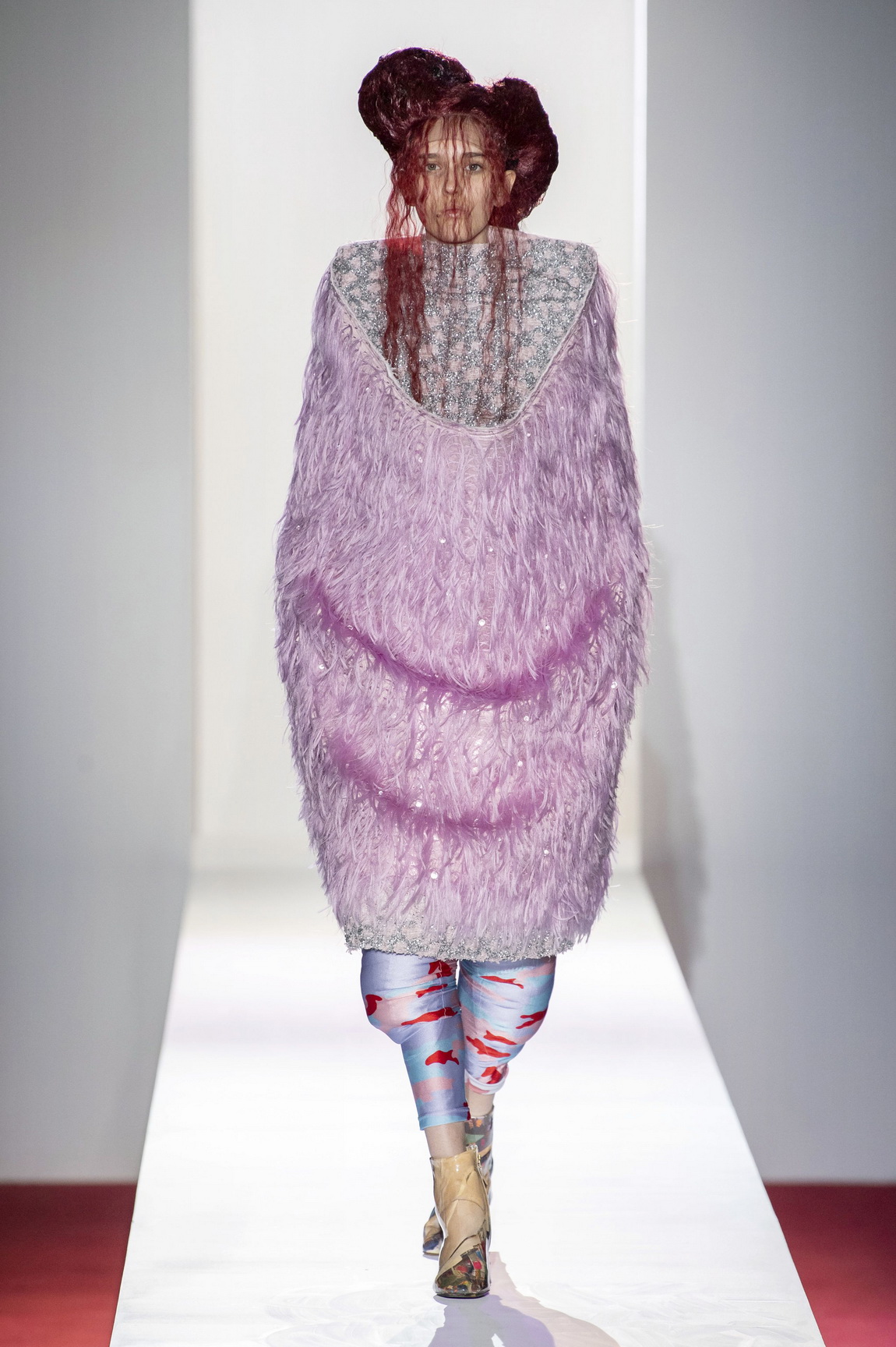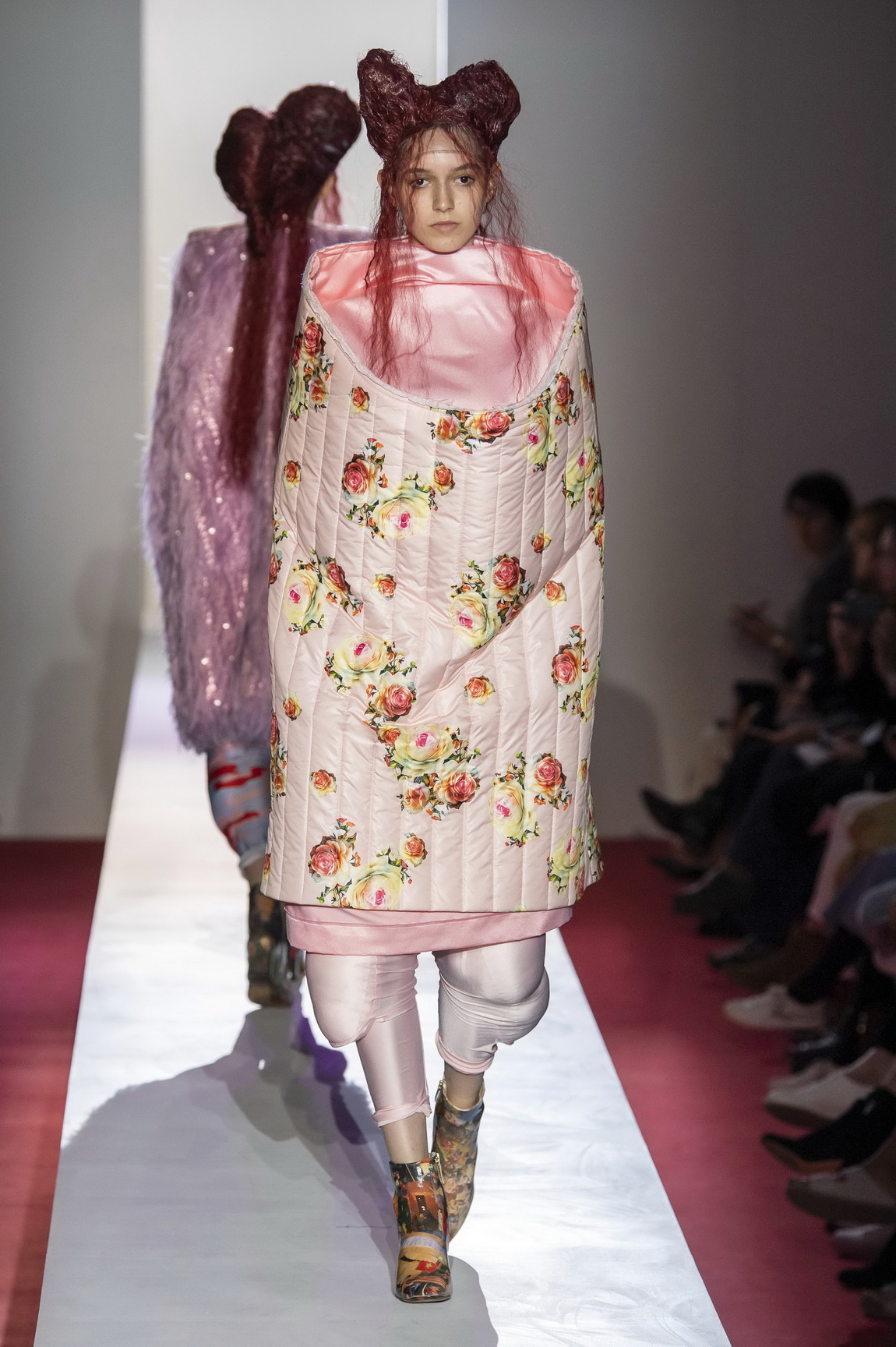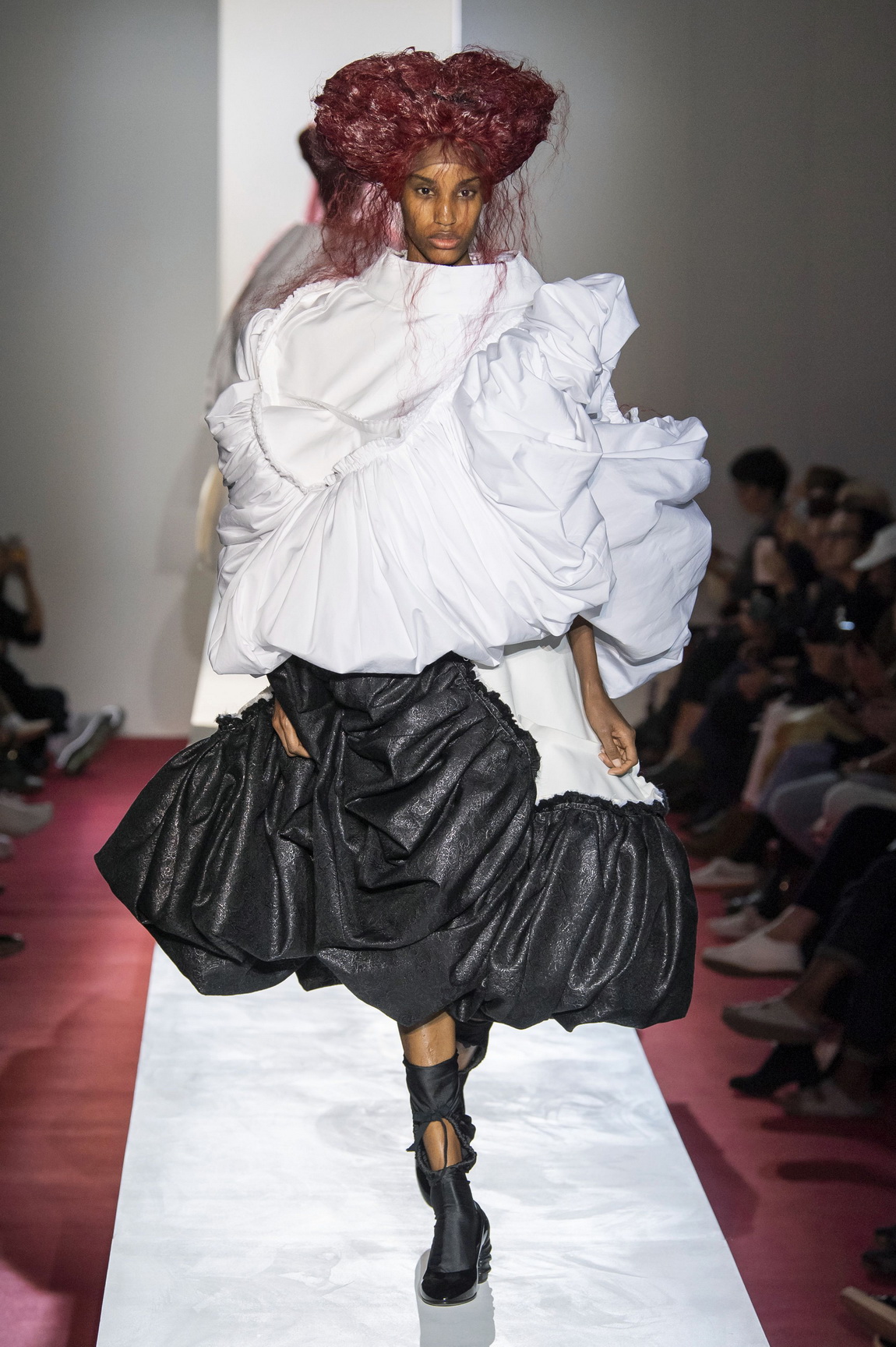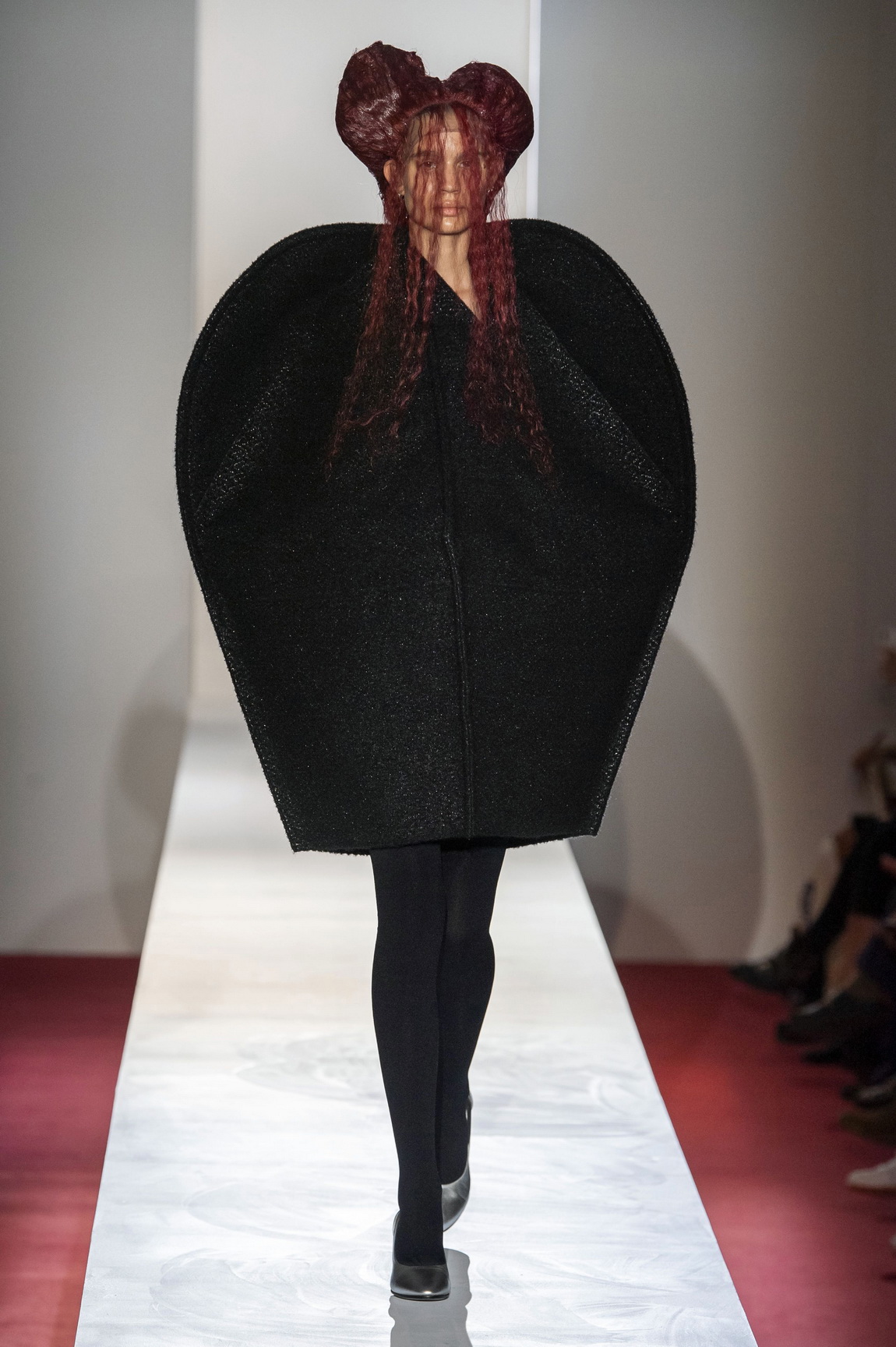 Credits
---
Photography Mitchell Sams
This article originally appeared on i-D UK.