These photos reveal the intimate space of a queer creative relationship
Porridge XXX, an immersive exhibition from photographers and couple Heather Glazzard and Nora Nord, uses self-portraits to explore power and agency in the representation of queer relationships.
|
29 November 2019, 10:30am
Part mundane, part X-rated, a bit Norwegian and a bit English: that's how photographer couple Heather Glazzard and Nora Nord describe Porridge XXX, their immersive, one-night-only East London exhibition staged in a makeshift living room full of dildos in sinks, blow-up dolls hanging from the ceiling and tousled bed sheets.
While the props play on the spectacle of sex that is so often associated with representations of same-sex relationships in the media, a closer look at the exhibition (hint: look under the sheets) reveals an honest, vulnerable portrayal of a queer, female-bodied relationship through photography.
The camera has always been a part of Nora and Heather's relationship. The two met in January during the first week of the Central Saint Martins MA Fashion Communication course. While Nora's work is grounded in documentary practice, focusing on identity and sexuality in the context of power and equality, Heather's photography provides a platform for queer individuals to define and express their relationships with their own identities through Queer Letters, asking her subjects to pen letters to their younger selves.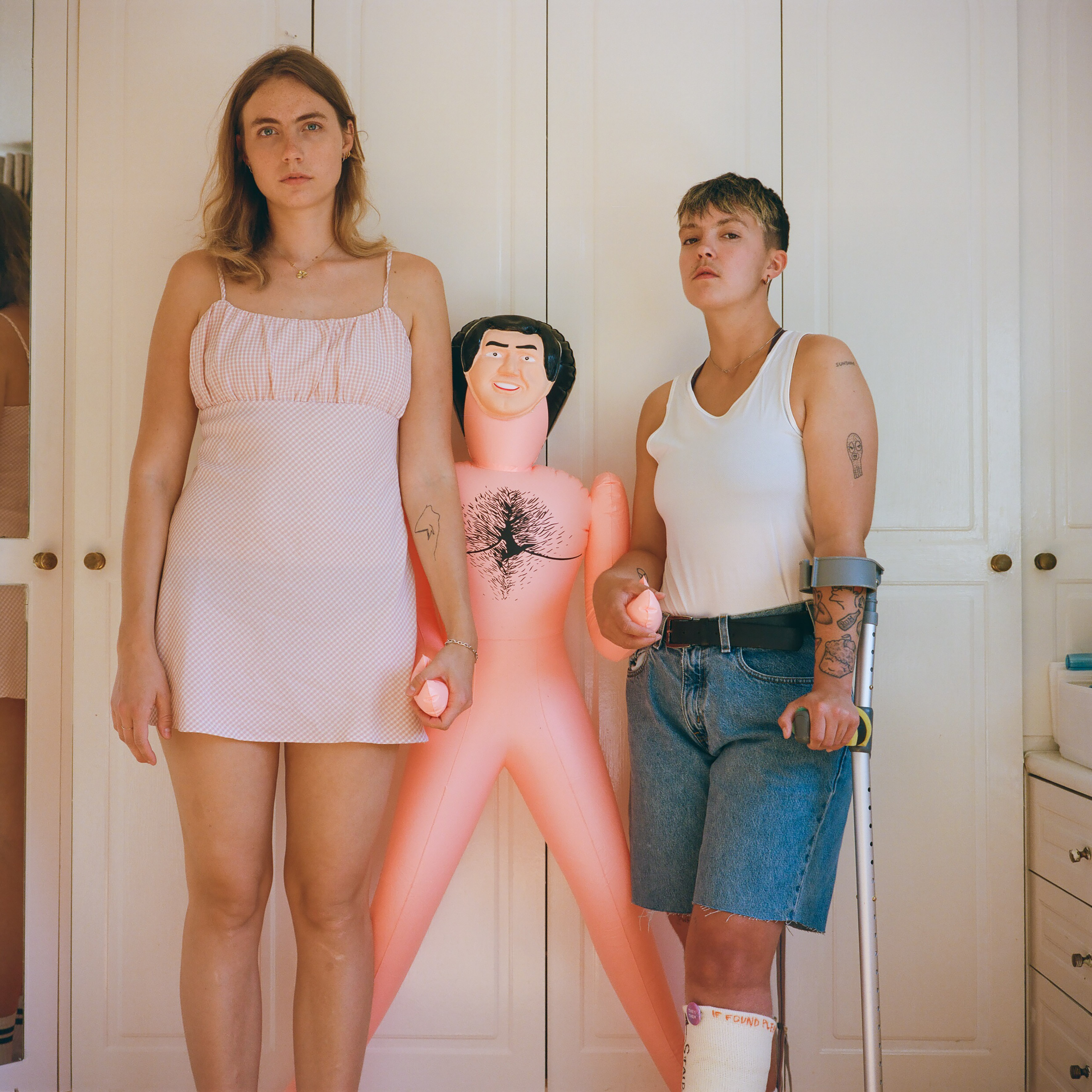 Once together, they turned the camera onto themselves. Self-portraits became a way for the two to learn more about themselves and each other as creatives and as partners. They documented themselves over the next few months in their domestic spaces that were important to them: their London flat and their childhood homes in Oslo and West Yorkshire. The collection of 60 over close-ups and portraits reveal intimate moments through play and dress as the couple took on different personas and scenarios to experiment and explore a variety of ways to express the dynamics of their relationship.
While LGBTQ representation is improving in the media, there's still a lack of truly authentic queer representation that remains a significant issue today. It's still rare for the tokenised queer community to be the ones to represent themselves. This exhibition seeks to change that.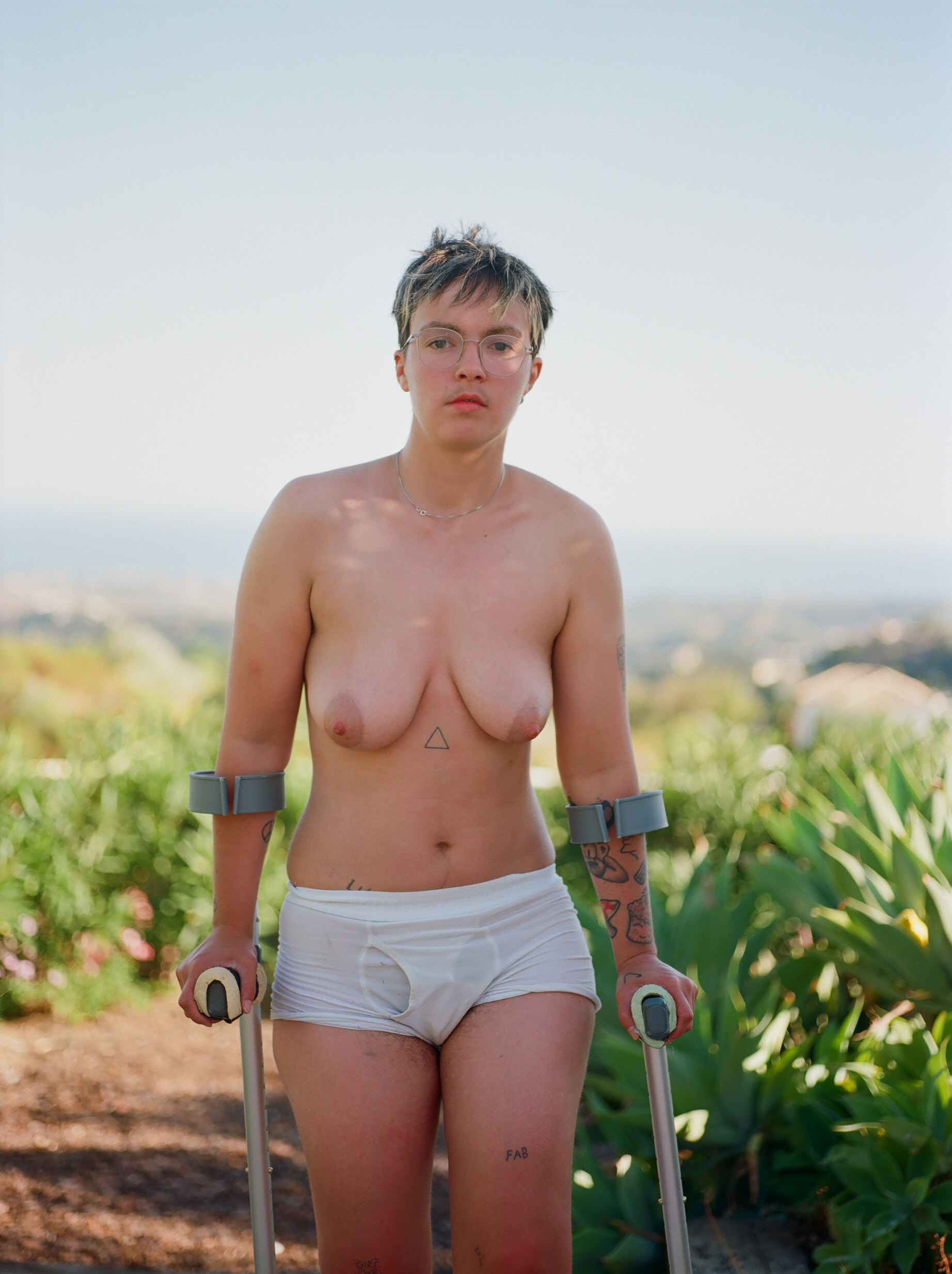 Why is the show called Porridge XXX?
Heather: Porridge can be thought of as universally mundane, both in my northern English upbringing and in Nora's Norwegian culture. XXX is there because some of the shots are explicit. The title porridge brings back the humour – our relationship really isn't typical or mundane so the paradox of the project against the title is intentionally satirical. This sort of imagery is often linked with shame, so, for us, showing it in an exhibition gives us back the power.
There's a sense of play and performance in your images, which inject humour into your portraits. Could you talk about the significance of it?
Nora: Since meeting Heather, I feel I've gone back to a childhood version of myself. I've released a lot of the anxiety about how I'm perceived, and worked through things that were drilled into me as a teenager. The self-portraits are performative and playful because comedy is the best antidote.
Heather: Projects that focus on gender and sexuality can sometimes have a feel of victimisation structured around them. Of course that's valid, but with this project we wanted to move away from it. Humour challenges that dynamic. I think it is so easy to be serious when it comes to these important issues. But humour can also be political. I'm trying to change the narrative for myself and for people who have experienced trauma. Humour is part of the recovery.
How has your relationship informed your creative work?
Nora: This relationship has given me the space to become myself, and given me the capacity to both give and receive more. I think that's what I love most about it. I feel much more free to be creative, to play. I think creativity is a bit like playing. I'm playing much more, so I'm more creative.
Heather: I love the ability to be my truest self with someone. I think the relationship has challenged my thoughts on photography. When you're a photographer you're often looking capturing moments external to yourself. But this has been a process of us shifting our gaze to the introspective and to each other.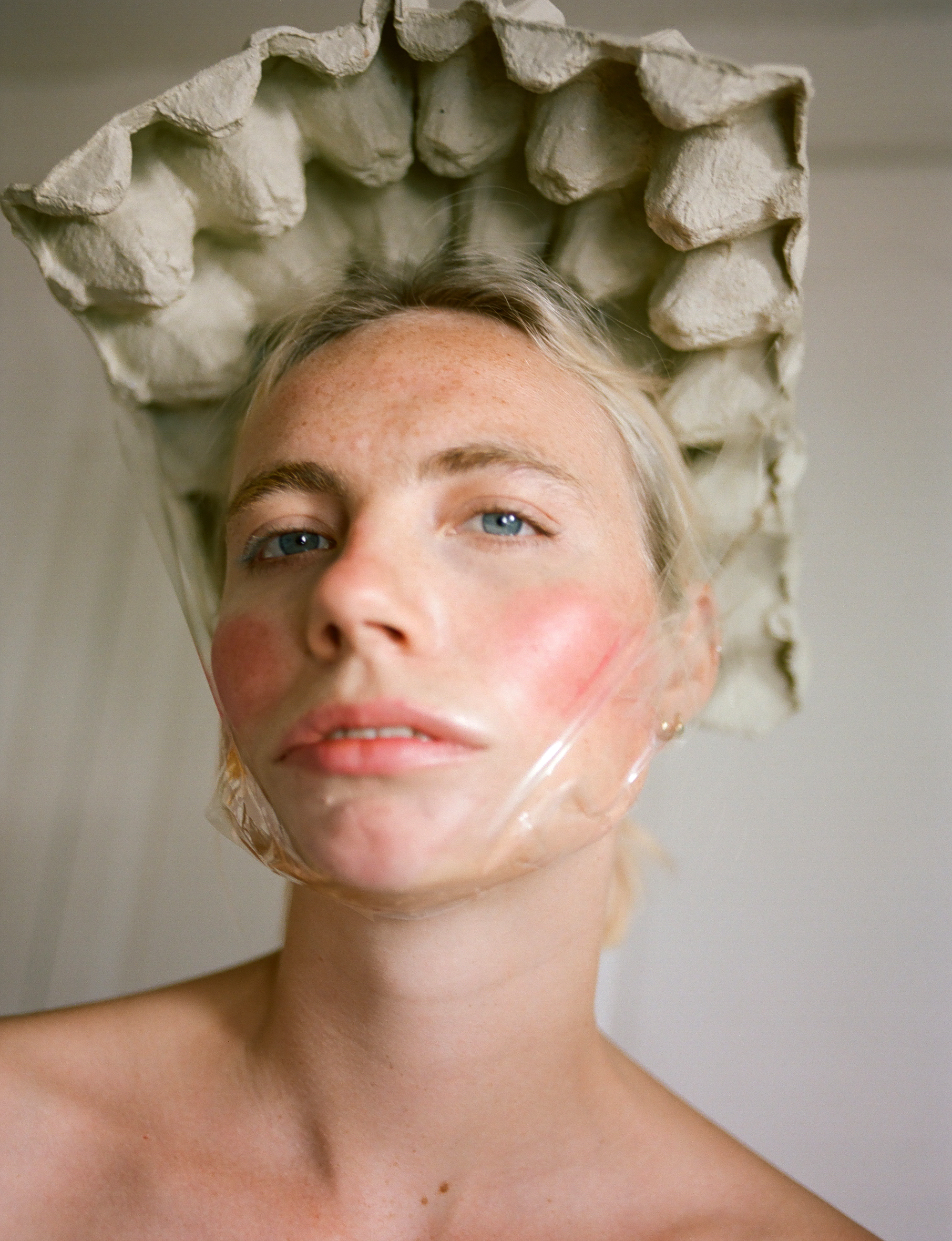 Why was it important to recreate your own living space and invite people into it?
Nora: We decided to invite people into a queer domestic space to demystify it, make it visible, and also because this is where most of our relationship has taken place. The work feels too personal for clinically white gallery walls. Similarly, we're taking control of how the work is shown and how our images are seen — this seems a natural continuation to the work.
Heather: I've always felt 'outside' of the home setting. Nora instantly gave me a sense of home so it felt only natural that the work was shown in a space that felt intimate and part of this new experience of home for us. Choosing to invite people in is about erasing the voyeuristic shame that can be attached to this sort of imagery. It's also about giving us the power to tell our own experience rather than an outsider doing it.
What do you want people to consider about queer relationships? What's missing from mainstream media in terms of storytelling and representation?
Nora: We're privileged to be here in the UK and I'm privileged to come from Norway, where LGBTQ+ rights have been established. At the same time, abuse is widespread and homophobia is on the rise. I want people to consider queer relationships in the same way they would straight relationships. People fall in love and that's beautiful, no matter what.
Heather: We should begin considering who's creating the stories about queer relationships. We need to initiate our own stories because the problem that comes with an outsider telling a story is that it's often full of stereotypes, making LGBTQ+ narratives censored or glamourised for a hetero-normative society. This can be incredibly damaging. The representation should start with our own stories. We should be welcomed in society, rather than accommodated for.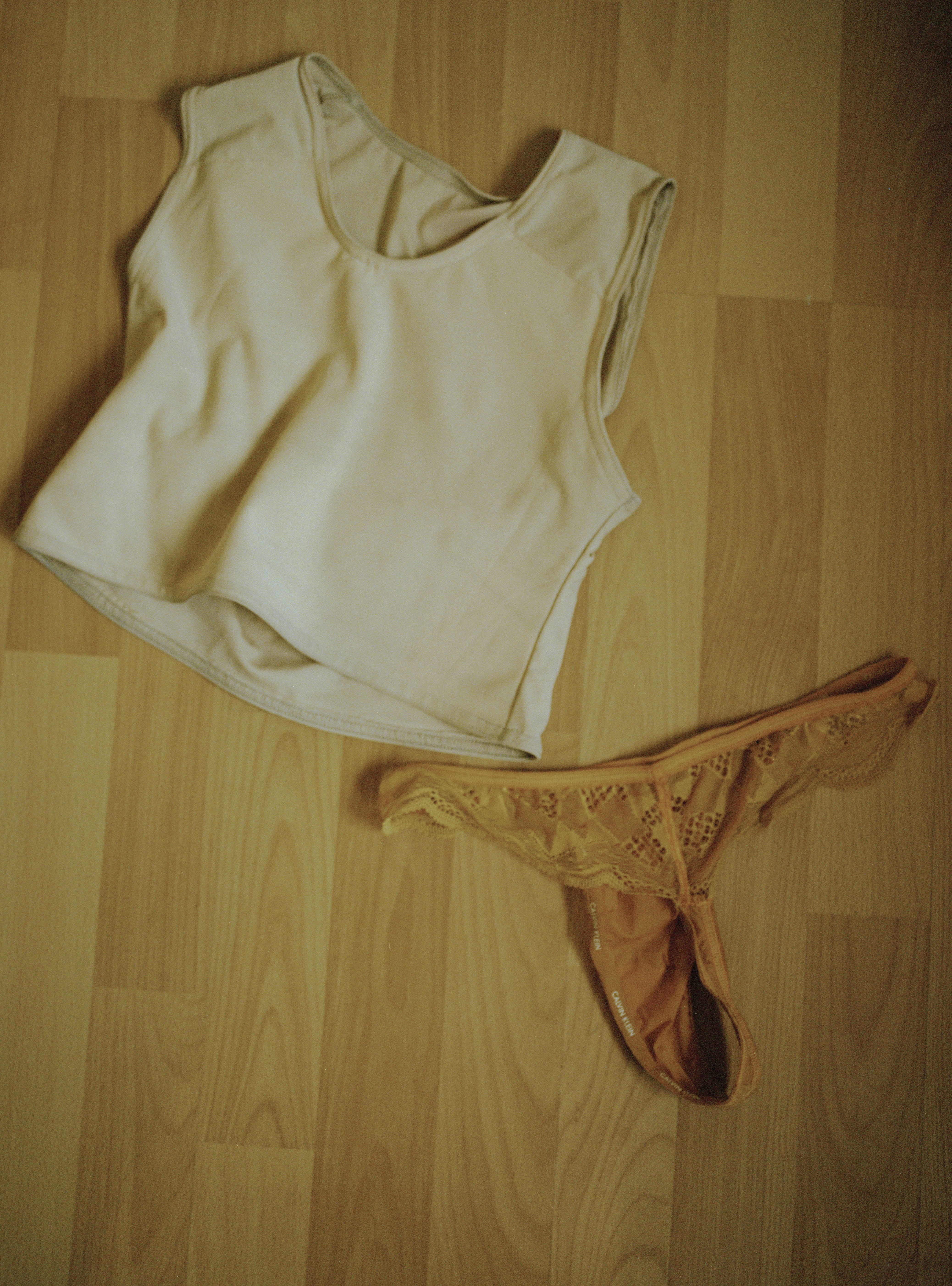 What do you want the audience to take away from this exhibition?
Nora: I want you to be in our shoes for a few hours. I'm looking everywhere, all the time, and I want the audience to experience this as well. Make sure to look around, not just right in front of you. I have a tattoo on my arm and I like to ask people what they think it is. I get answers that vary from piano to shark. I hope this exhibition is similar to that, and that it will be different for everyone. You'll see what you need to see.
Heather: We're asking that photos be prohibited, so stickers for your cameras will be provided. I'd like the audience to take away a feeling of relatability but also people will take away what they want from it. This project is quite simply an honest representation of a queer relationship.
Porridge XXX takes place at an East London venue on 2nd December 2019, 6:30pm - 9pm. Email to RSVP.