Everything you need to know about Kanye West's opera
The Yeezy star just revealed exciting details about 'Nebuchadnezzar'.
|
18 November 2019, 1:51pm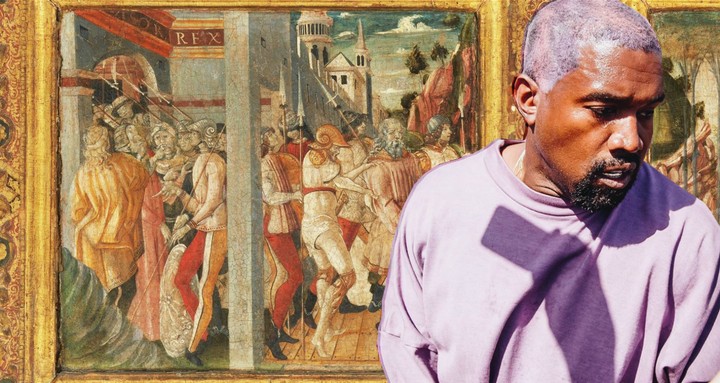 You'll know by now that Kanye West -- the famed rapper-slash-honorary member of the Kardashian clan -- has found God. He's been dabbling in those holy waters for a while now, with religious allegory weaving through his work since the days of "Jesus Walks". But now, a narrative once considered blasphemous has been reworked into one of undying respect for Christianity. His divisive new album Jesus is King is a Gospel record, was made in abstinence, and doesn't contain a single swear word.
Next step? The opera. Yep, Yeezy has just announced his plans to stage a large-scale musical work indebted to some dude called Nebuchadnezzar. But who the f- is that? And who's involved in making this ambitious project fill every seat in Los Angeles' Hollywood Bowl? Well, here's everything you need to know to get fully clued up on Kanye West's brand new biblical undertaking.
He was inspired by the life of the Babylonian king
We know from the interviews that preceded Jesus is King that Kanye has had a lengthy fascination with Nebuchadnezzar, the Babylonian king who reigned over his kingdom for 43 years. He pops up intermittently throughout the bible, mainly in the first four chapters of the Book of Daniel.
He's essentially painted as a bit of an arsehole for the first few chapters, demanding sorcerers and astrologists tell him the meaning of his dreams but expecting them to use telepathy to tell him what said dream entailed in the first place. He also goes off on one, demanding that three of Daniel's friends worship a false idol, before throwing them in a furnace when they refuse to submit to his directions. (They survive, so all is good).
"Nebuchadnezzar was the king…" Kanye told Zane Lowe in his Beats 1 interview last month, adding the fact that, like Yeezy, the Babylonian figure, he too had bi-polar. "He looked at his entire kingdom and said, 'I did this.' And God said, 'Oh, for real? You did this?' Sounds kind of similar, right? I'm standing on the tip of the mountain talking about Yeezus saying, 'I did this!' All in all, the story of Nebuchadnezzar is one of redemption, as he slowly comes to realise that God is actually responsible for all the good in the world, which seems to be pretty much in line with Kanye West's own trajectory.
Nick Knight designed the poster
As with the aesthetic for the royal blue Jesus is King album cover, and the poster for the accompanying documentary, the gold-plated design of Nebuchadnezzar's teaser invite was designed by British fashion photographer Nick Knight. It is embossed with a side-profile image of the Babylonian king, and paired with details of location, performers and set times in the same, if not a very similar, font used in the duo's previous collaborations.
It's likely that Nick will also be in attendance at the Hollywood Bowl show, perhaps to shoot another film that documents the event's creation.
The Sunday Service choir will perform
In a continuation of one of Kanye's most fruitful collaborations, the Sunday Service choir will lead up the music in Nebuchadnezzar. The group, who feature on the album and were given their name by the sermons held by Kanye across America's west coast, are one of a few musical groups involved in the production.
The musician Peter Collins -- who has performed at Kanye's Sunday Service in the past -- is also set to make an appearance, alongside a group called 'Infinities Song'. It's thought that the latter might actually be a typo (lol), something that's hard to fix when you've cast the line-up in metal. Instead, we reckon the Roc Nation-signed collective Infinity's Song are more likely to taking to the Hollywood Bowl stage.
It's directed by Vanessa Beecroft
You know a successful rebranding has occurred when a hip-hop figure staging a religious opera causes no batted eyelids. Of course, considering his ballsy moves in the past (the large scale Yeezy Season 3 fashion show in Madison Square Garden; religious gatherings at Coachella), a musical event like this is a surprisingly minor note in Kanye's career. That being said, there's one figure in this equation that always has people talking: the inclusion of his long-time collaborator, the Italian artist Vanessa Beecroft. The pair have worked together since Kanye's 808s and Heartbreaks days, and she's been behind the concept for many of his fashion presentations and concert tours to date.
Naturally, she's been enlisted to do the staging for Nebuchadnezzar. But considering Kanye's repositioning as a man of God with a new interpretation of morality, it's interesting to consider whether or not he was conflicted by the idea of working with Vanessa, an artist who has courted plenty of controversy in the past. She has a contentious history of using black bodies in her art: "adopting" Sudanese babies to pose with them for a photo titled "Madonna with Twins" and then, a year later, staging "VB61 Still Death! Darfur Still Deaf?" at the Venice Biennale. The work featured 30 naked black women lying face down in red paint that was meant to resemble blood.
So, will this be a new leaf in the collaborations between Vanessa and Kanye? Guess we'll have to wait and see when the one-off special hits the Hollywood Bowl on 24 November.