"This world isn't everything": A first look at Telfar's provocative SS20 collection
As Koffee wears head to toe Telfar SS20 on the cover of The Get Up Stand Up Issue, we catch up with the designer about his vision, practice and plan to take over the world.
|
22 November 2019, 2:30pm
Telfar's story originally appeared in i-D's The Get Up Stand Up Issue, no. 358, Winter 2019. Order your copy here.
You can think of Telfar as a sort of a barefaced paradox. While the compositional elements of his work are, on the face of it, quotidian — a track pant leg here or a cargo pocket there — the designer's knack for combining them with a deceptive complexity is hard to match.
For SS20, the idea of travel, and an accompanying sense of placelessness, took centre stage. Airport lounge-ready denims met fishnets, ribbed knitwear referenced Jamaican string vests. It was as if he'd taken snippets of looks seen in any airport security line, at any moment, anywhere in the world, and crafted a new look from he'd discovered in this melting pot.
Fitting, given the brand's freshly earned global remit. SS20 marked the designer's move from New York to the Paris schedule. Here, he gave a screening of The World Isn't Everything, a film produced with a cast of collaborators that reads like a who's who of Downtown NYC: Petra Collins, Kelsey Lu, Steve Lacy, Juliana Huxtable… the list goes on. As it screened on the back wall of La Cigale, the celebrated Parisian music hall, the faces on the screen simultaneously appeared in the flesh on stage. This continuation of the brand's counter-traditional approach to fashion-making and catwalk presentation made you think: if the world indeed isn't everything, Telfar Global is better placed than most to give us an idea of what it could potentially be.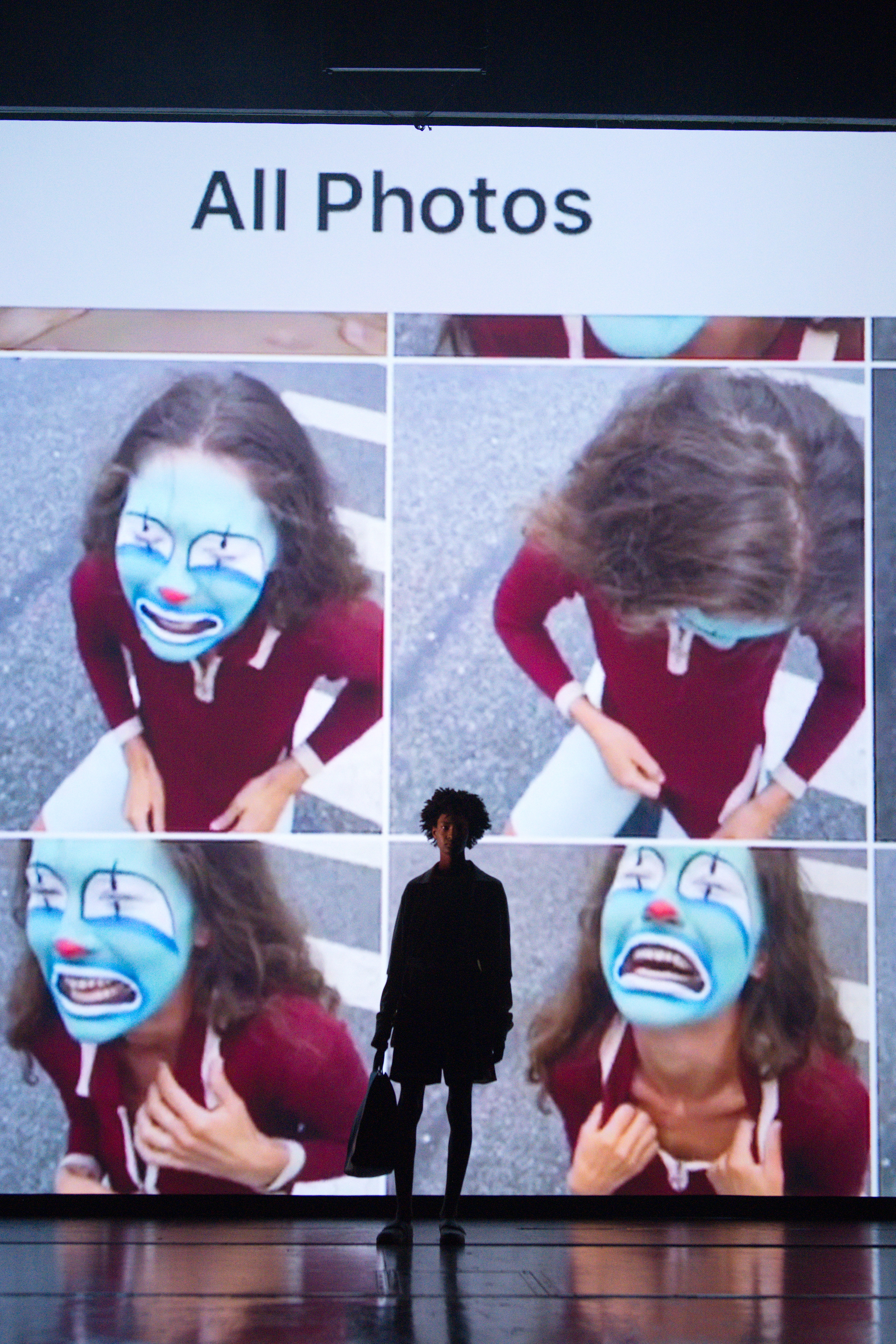 Hi Telfar! So, what was the starting point for SS20? I've heard that you often begin by writing things down straight after the end of the previous season. What was on your list?
[Laughs] That's actually more how Babak [Radboy, Telfar's business partner] works with me, but I start with the clothes. This season, it was really about communicating this sense of travelling to Paris, and thinking about different clothing categories we could accelerate — like "cargo", or "utility" — and then making things that we haven't done before in our particular style. I wanted to mix denim with cargo, for example. So it was about looking at how people dress all over the world, reorganising how these clothes are put together and developing our version of what that can look like.
You've really expanded the cross-section of garment archetypes that you're looking at, but it still maintains your particular design signature. Like with the diagonal thigh cut on the denim pieces that graduate into a track pant or fishnet tight.
Yeah! We were also looking at how certain things are characteristic of where you buy them. Like the ribbed string vests in Jamaican colours; you usually find them at street markets in places with significant Black populations. We wanted to have our version of that, twisting it, mixing it with track, mixing it with cargo. It was also a matter of looking at how people dress when they first come to America. How one person appears to another, being able to tell that they're not from there.
You were building on this idea of "Telfar Global", in that respect. That also came through in the fact that you held presentations in both New York and Paris this season.
I really like this idea of not being on a traditional fashion schedule, and not acting traditionally. I almost don't believe it, but we're the first brand to ever show in two cities in the same season. No one had ever done that before, so I thought why don't we just do it?
Well, the reception of it has been pretty universally positive. This season was also the first that you produced in Italy. Has spending time there influenced your approach?
Yeah, I'm constantly looking at what people are wearing and how that fits into my world. Showing in Florence next season at Pitti has influenced how it is looking quite significantly.
There's a real sense of craftsmanship in Florence when it comes to things like suiting. I've been playing with that, you know, making suits out of T-shirts. I've also been comparing New York-New Jersey Italian with Italian Italian, and thinking about how what I've made relates to all of that. How does streetwear tie into formalwear, for example? And how do they not relate at all? I've been thinking about what's considered traditional dressing now, and what that was a thousand years ago.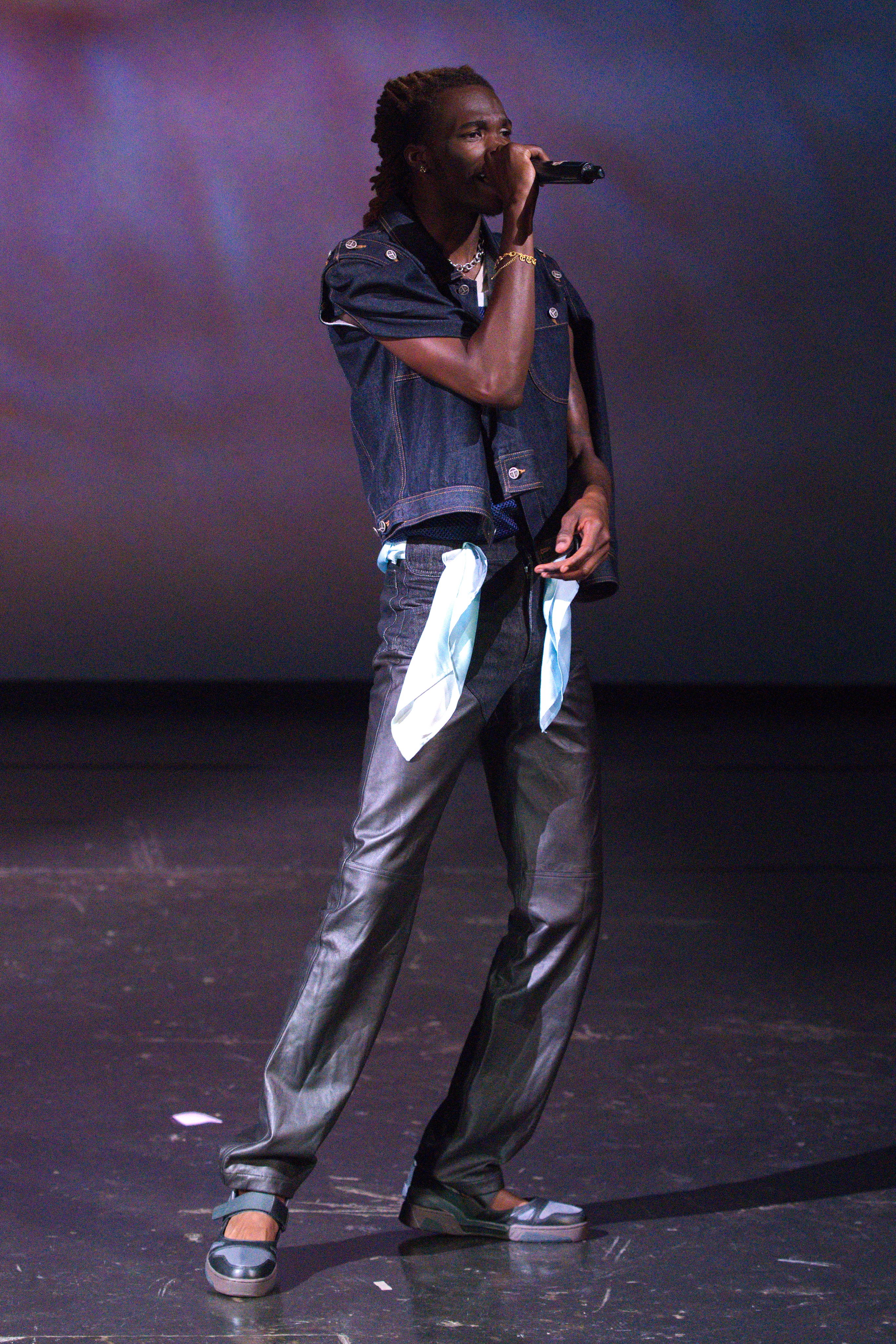 In the film you made this season, travel and placelessness are central themes. That's shown in the footage that shows people going through airport security, immigration and customs. What was that inspired by?
It was quite literal, really. In fashion, there's currently this circulating theme of migration, this idea of people "belonging". I personally find it really annoying, so we wanted to focus on what we were literally doing, travelling from New York to Paris. What's gonna happen on that trip? So we then started working on the film, with lots of different directors involved, like Petra Collins, Clayton Vomero and Finn MacTaggart. It was shot all over the world — one part in LA, another in London, another on Staten Island in New York. There was almost this sense of the clothes themselves migrating.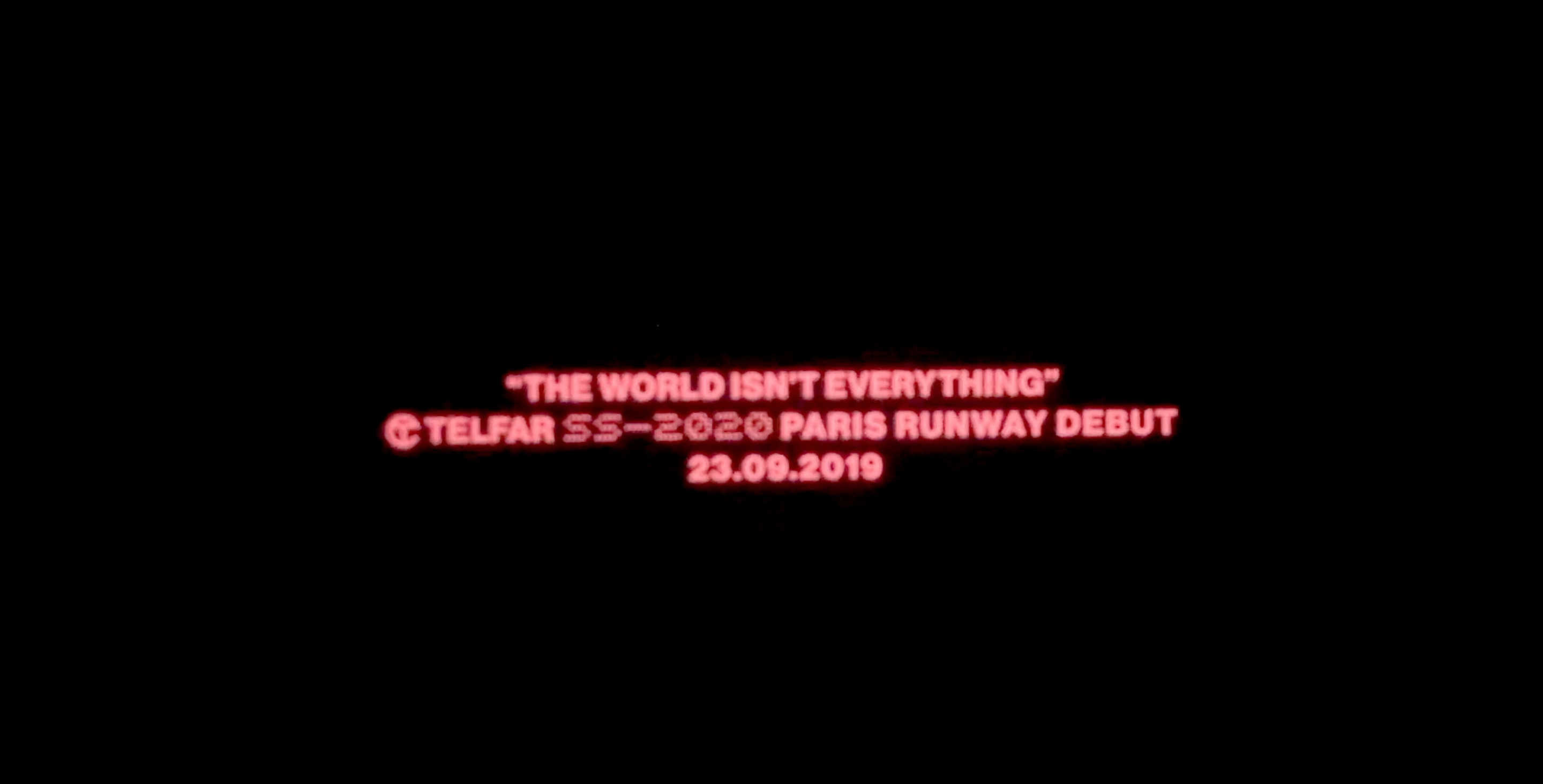 Why did you want to work with film this season?
I've documented every collection I've made with video, as it just feels really long-lasting. The format of the show, with the models appearing on the screen at the same time they appear on the runway, was something we actually explored in 2014. We just expanded on it; we were able to introduce dialogue thanks to Jeremy O. Harris and Juliana Huxtable, and put visuals to it that weren't traditional studio shots — they were literally shot everywhere thanks to our collaborators. They really helped us to expand our world.
But as the title of the film and collection says, "The world isn't everything". Could you elaborate on that?
Well, it's obvious that the world is shifting in a certain way, certain things are ending, which will only create space for new things to begin. It was about communicating the idea that this world's over, and there's a new world now. This world isn't everything.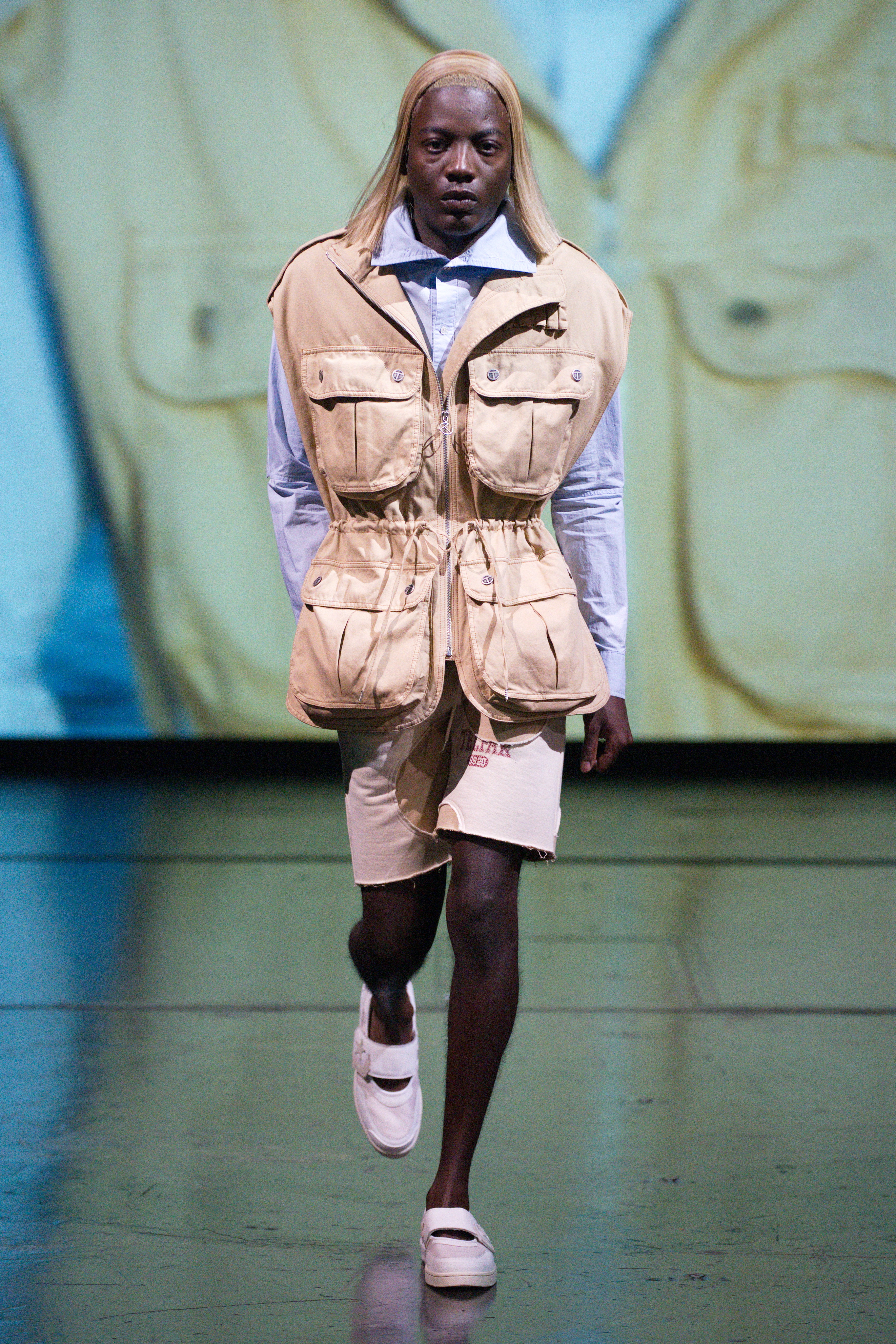 One of the worlds you're pretty closely associated with is music, and a pretty wide spread of genres at that. You have collaborative relationships with Steve Lacy, Kelsey Lu and Klein. And Koffee, who stars in this shoot.
Yeah, it's awesome! Especially the fact that people that I haven't met want to collaborate with us. And then, with a lot of the people that we do know, it's amazing that we get to work on special projects together. Like Butch Dawson, who opens the video, or Kelsey Lu, or Steve Lacy, or Bbymutha.
It certainly adds to the "Telfar on tour" effect. Speaking of which, your next stop is Pitti Uomo for AW20. What can we expect? A Telfar twist on Italian dressing?
Yeah, for sure [laughs]! There are so many things that I'm inspired by in terms of Italian dress and I want to bring that to the clothes. But we're curating a really cool experience — no spoilers though, you'll have to wait and see!
Credits
---
Header image: Photography Mario Sorrenti
Styling Alastair McKimm
Hair Duffy at Streeters.
Make-up Nadia Braz using Anastasia Beverly Hills.
Nail technician Honey at Exposure using Marc Jacobs Beauty Enamored Hi-Shine Nail Lacquer in Blacquer.
Lighting technician Lars Beaulieu.
Photography assistance Kotaro Kawashima and Javier Villegas.
Styling assistance Madison Matusich and Milton Dixon III.
Hair assistance Lukas Tralmer.
Production Katie Fash.
Casting director Samuel Ellis Scheinmann for DMCASTING.

Telfar runway images Mitchell Sams