visible thongs are back and as controversial as ever
The G-string's reception says a lot about our expectations of female sexuality.
|
06 November 2017, 9:02pm
First things first: I love thongs! I think the straps of a thong showing under a dress or above a waistband shouldn't be a taboo thing. Make no mistake, the rest of this story will be written by a Thong Lover. I am, it turns out, very much in the minority. Thibaut, a young fashion label from Tokyo designed by Meiko Ban, stirred up controversy this past Tokyo Fashion Week when Ban sent "thong jeans" — jeans so distressed that the shredded fabric created a thong, revealing the wearer's entire bare ass — down the runway.
The thong jeans became one of those rare fashion week novelty pieces that cross over from the runways to the headlines of, say, Mashable or The New York Post or Local 10, a South Florida news station which reported on the thong jeans as "weird news." Thong jeans are easily held up as an example of "I would never!" and "Fashion is ridiculous!" that people can laugh at, secure in the knowledge of their good taste. This is also one of the rare occasions on which your grandmother and a New York fashion writer might agree on a shared conservatism. "Perhaps fashion has become so obsessed with deconstruction that designers have slashed their way to barely there, purposefully unfunctional clothing," Vogue wrote of the pants.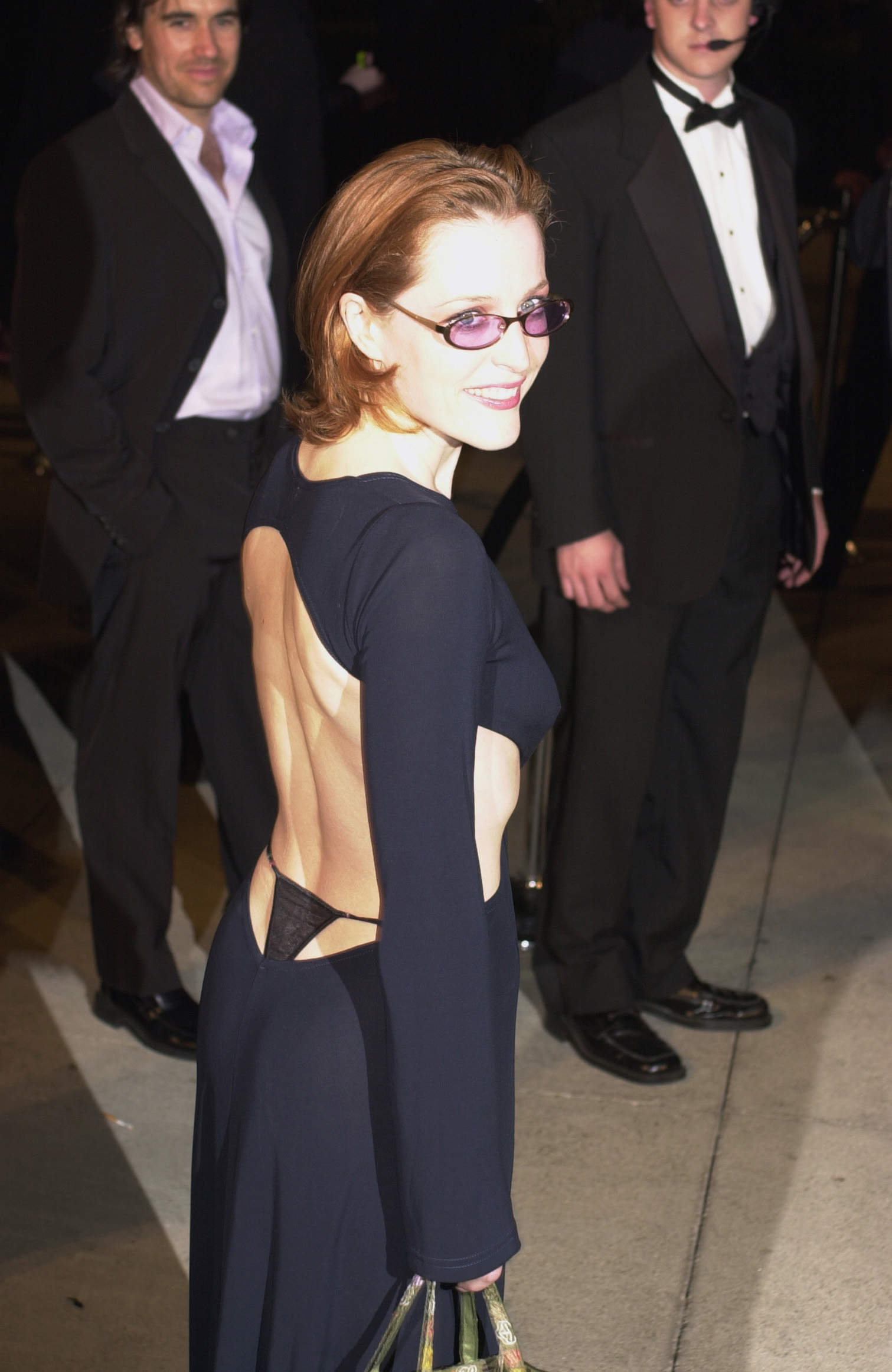 Headlines about Thibaut's thong jeans ranged from Teen Vogue's "Thong Jeans Exist Because Everything Is Awful" to Harper's Bazaar's "Thong Jeans Exist So Let's Get the Apocalypse Rolling." Reactions were much more impassioned to thong jeans than to, say, Linder's cut-out black thong rising above jeans from the same season or Tom Ford's ultra high-cut maillots paired with low-slung pants. Another Vogue article concluded that a "plain black thong, like the OG version at Tom Ford's Spring 1998 Gucci show" is chic and permissible, but the "hot-pink pairs fishtailing up the lower backs of Paris Hilton and her hiked-up-string-thing-loving cronies circa 2004 is not." Gillian Anderson at the 2001 Vanity Fair Oscar Party = yes; Manny from Degrassi's blue thong moment = no.
There's no difference in amount of skin shown in these examples. Public opinion, when it comes to thong wearing, seems simply to be swayed by neon colors and distressed denim. Would I wear these thong jeans out in public? Nighttime, absolutely. Daytime, no. And the only reason I wouldn't wear them in daytime is because it would elicit an onslaught of commentary on the streets of New York that would completely derail my day. And listen, I'll play devil's advocate. Thibaut's thong jeans are not jeans as nature intended them perhaps. But if Rihanna wearing a denim thong is wrong, who wants to be right?
There's something about a thong showing that feels so deliciously taboo, sort of like breaking the fourth wall between sexuality and desire and our outerwear. A thong showing evokes raw sexuality but verges on repulsive. I love it. Monica Lewinsky once raised her jacket and showed then-President Clinton her thong straps, according to the 1998 Starr Report. As Racked's history of the thong reported, Slate, trying at the time to understand the physics of the thong, "called a local Seattle lingerie boutique and was assured that thong bikini straps — unlike traditional bikini straps — often continue above the waistband of a woman's trousers." The publication confirmed that, in fact, she was not stripping out of her clothing to show her body to Clinton.
Recent fashion journalism seems to have concluded that if anyone can make wearing thong jeans OK, it's Bella Hadid. (Resume: Wore lots of thong swimsuits last summer.) It's the Bella Hadids and Kylie Jenners, and, years earlier, the Rose McGowans and Gillian Andersons, who are tasked with making risqué looks wearable — maybe — for the rest of us. To all of this I say: Why should the rest of us have to wait for permission? We have a complicated, hypocritical relationship with what we deem OK for women to wear; there are ambiguous, arbitrary boundaries informing how we allow ourselves to be sexy or, dare I say, trashy. These are contradictory thoughts I think about a lot in an era when we can appreciate maximalist Pamela Anderson and Dollz Mania-inspired Instagram accounts while living a muted-color-palette and subtle streetwear life IRL. Nothing wrong with simply appreciating, obviously, but it makes me wonder why we're afraid to get tacky.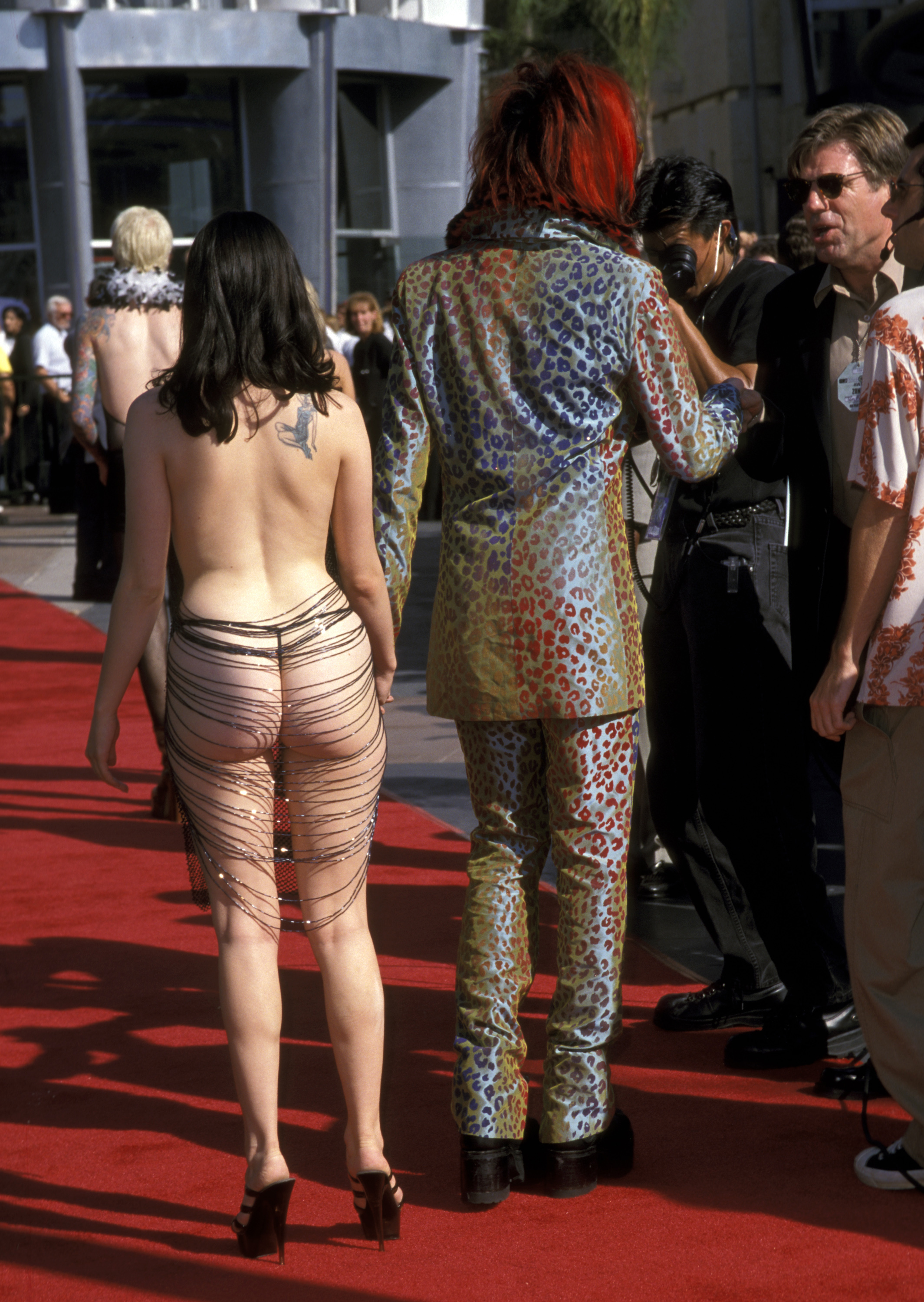 I'm not saying wearing thong jeans (or something similar) is the way to do this, but I'm not saying they're not. Meiko Ban, the designer of the aforementioned Thibaut jeans, however, doesn't feel compelled to psychoanalyze it. When asked how the idea for the jeans came about, Ban replied to i-D simply, "When I cut off [the] denim, I couldn't stop cutting them."
Thong jeans, bless them, are a beautiful symbol for female sexuality — too much makes us uncomfortable; it's supposed to only be just enough. Taking things to the point of excess, or, in this case, taking a classic piece of clothing and making it unapologetically revealing, is a cutting and brilliant parody. And if maximalism is in, there's no better time to embrace it.
Show too much skin, wear cheap lingerie-store thongs above your low-cut jeans, buy the pink cowboy hat. Get tacky.