Photography Adrián Catalán. Styling Eus Cantó. Makeup and hairdressing Susanna Schmetterling of Kasteel Artist Management
5 young barcelona couples talk true love
Because, at the end of the day, it's really all you need.
|
29 November 2017, 8:54pm
Photography Adrián Catalán. Styling Eus Cantó. Makeup and hairdressing Susanna Schmetterling of Kasteel Artist Management
This article was originally published by i-D Spain.

Is there anything more pure than being in love? From the most unattainable illusions to the most unbearable pain, love submerges you in an irrational fantasy — but only some are lucky enough to experience it in its most authentic form. That's why i-D Spain reached out to photographer Adrián Catalán and asked him to capture the true spirit of these five lovely couples in the streets of Barcelona.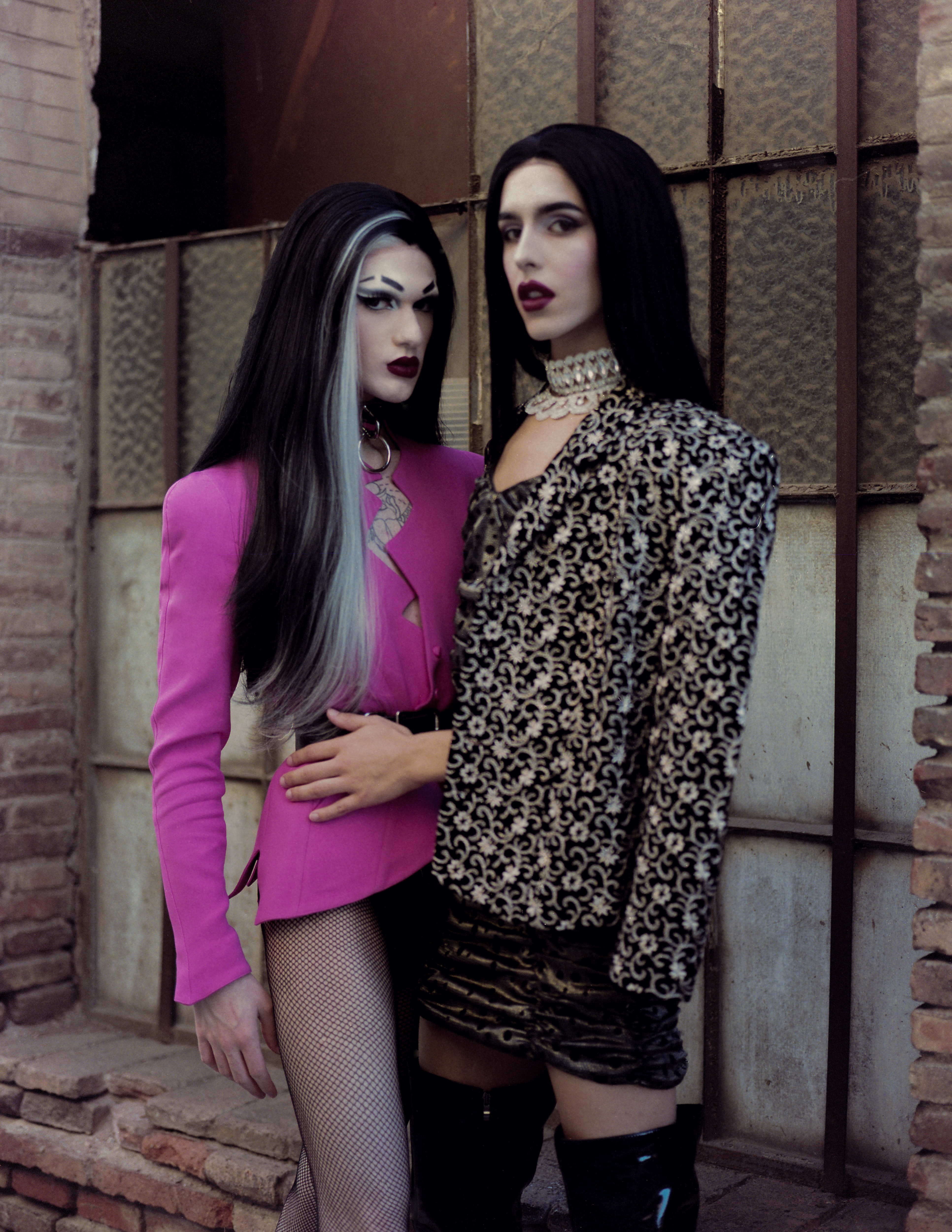 Dovima and Naomi, 21 and 20 years old
What do you do?
We're not currently working. We're Fashion Design students, though we do work on small projects.
How did you meet?
We were studying at the same school. We would always cross paths in the hallways or during breaks, but we never had spoken, until one day we looked at each other and both smiled at the same time; after that we started talking online.
What were your first impressions of one another?
Dovima: They say that when you see the love of your life for the first time, you see them in slow motion, and though it sounds like bullshit, that's how it was.
Naomi: I thought: "What a handsome boy!" although I got the impression that he was stupid and haughty.
What was your first date like?
It was at Christmastime, the day of the Three Kings parade. Barcelona was beautiful and illuminated. We bought a bag of sweets and strawberry spaghetti straws, and sat down on a bench to talk and ended up eating them à la Lady and the Tramp.
What is the most romantic thing that you've done for one another?
Dovima: For us, romanticism is based on actions, not material things. He's been there with me through my worst moments. Every time that I've needed help, he's been there. Now he's more than my boyfriend; he is my soulmate, my best friend. To me, that's romanticism.
Naomi: The most romantic thing he did was defend me from a homophobic attack. In that moment, the only one who reacted was my boyfriend. No one, not even my friends, did anything to help me, just him. Not to say that this is a romantic situation, but in that moment I felt truly loved.
What do you like most about your partner?
Dovima: What I like most is his smile; that was the thing that made me fall in love with him. I like his way of being when we're together, his way of seeing things and the power he has of changing the way that I see them.
Naomi: I love how affectionate and protective he is with me, the way that we complement one another when it comes to our work, to our tastes, our dreams and sentimentality. Together we're capable of anything we set our minds to.
What are your dreams for the future?
We share the same dreams and goals. We'd love to one day own our own fashion firm together and be creative brand directors. We are dying to travel the world and buy an apartment together and decorate it in the style of A Clockwork Orange.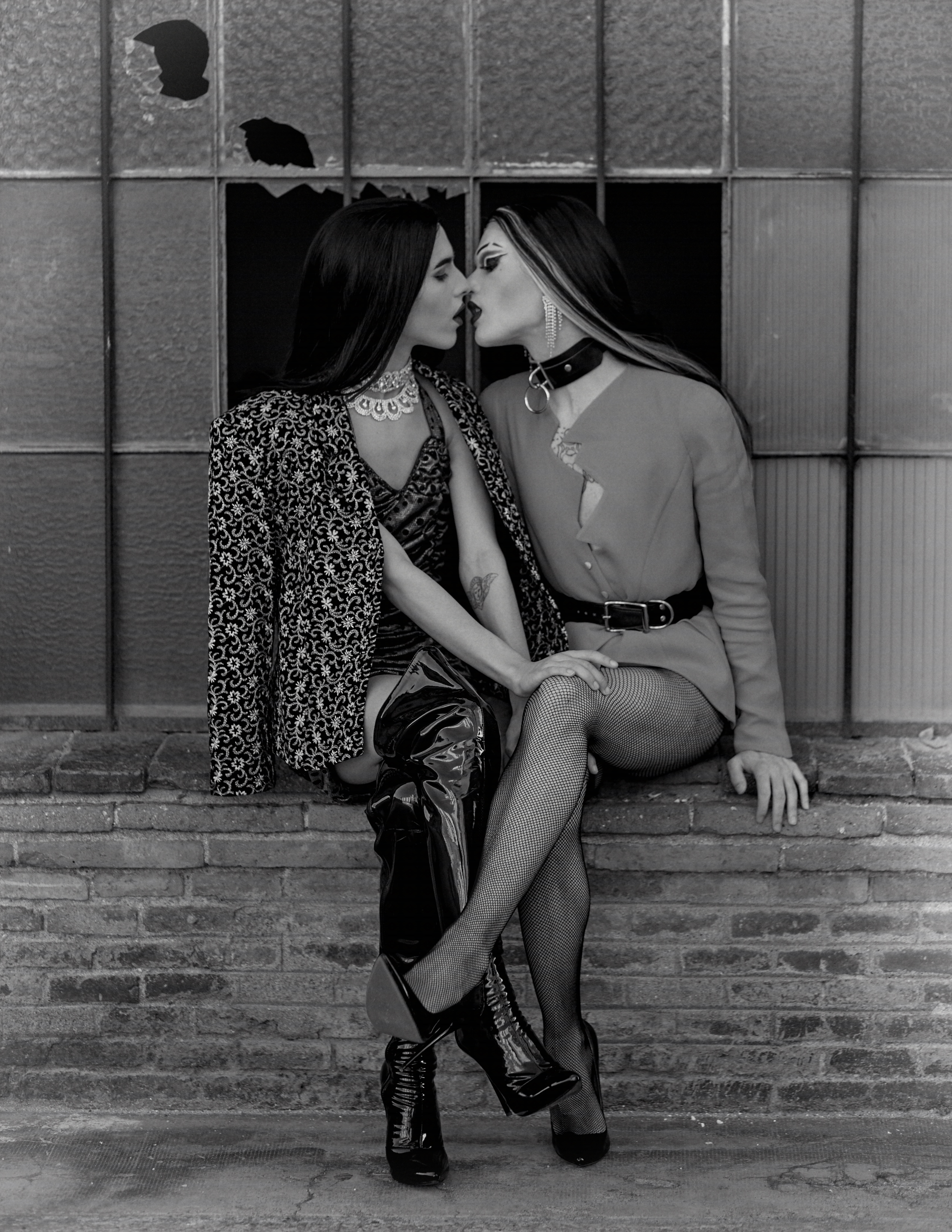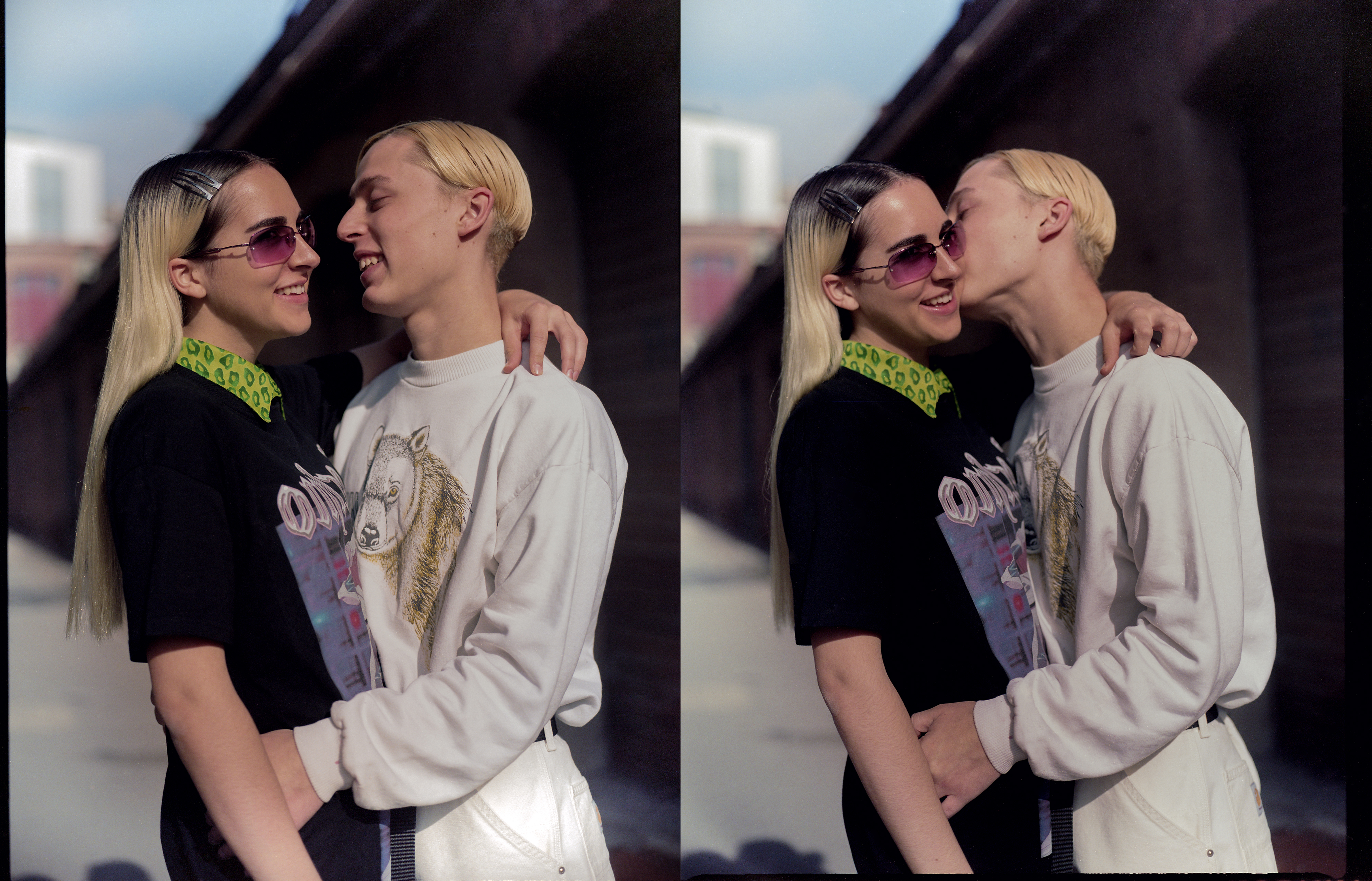 Laura and Jordi, 21 and 22 years old
What do you do?
Laura: I'm studying film. I like directing, styling, and taking photos.
Jordi: I just finished my degree in film. I specialized in screenwriting. Soon I'll be a professor at my university and I have some directorial projects in the works. I also do some modeling work.
How did you meet?
We went to the same university. We had noticed one another, but we didn't know each other. Luckily, a mutual friend introduced us.
What were your first impressions of one another?
Laura: I was curious.
Jordi: [I thought] "What a cool girl. She seems like a character, she probably won't ever notice me."
What was your first date like?
It was during the Gràcia Festival in Barcelona and the plan was for each of us to go out with our friends and for the two groups to meet up at some point. The night got away from us and everyone left. The two of us ended up alone, sitting there in an empty scene as the sun rose.

How do you describe your partner?
Laura: Jordi is intelligent, sincere, sweet, and melancholy. He pushes me creatively to do a thousand things each day, even though he thinks he doesn't have the strength to do anything.
Jordi: Laura is a person with a gift, but many complexes. She's someone very sensible and without meanness; the victim of a ruthless world.

What do you most like about each other?
Laura: Jordi knows what I'm feeling without me having to tell him.
Jordi: Laura is a transparent and profoundly good person.
What are your dreams for the future?
Laura: Jordi wants to write a book and I want to direct a film. Also, we want to form a musical duo and collab with Tommy Cash.

@lauravifer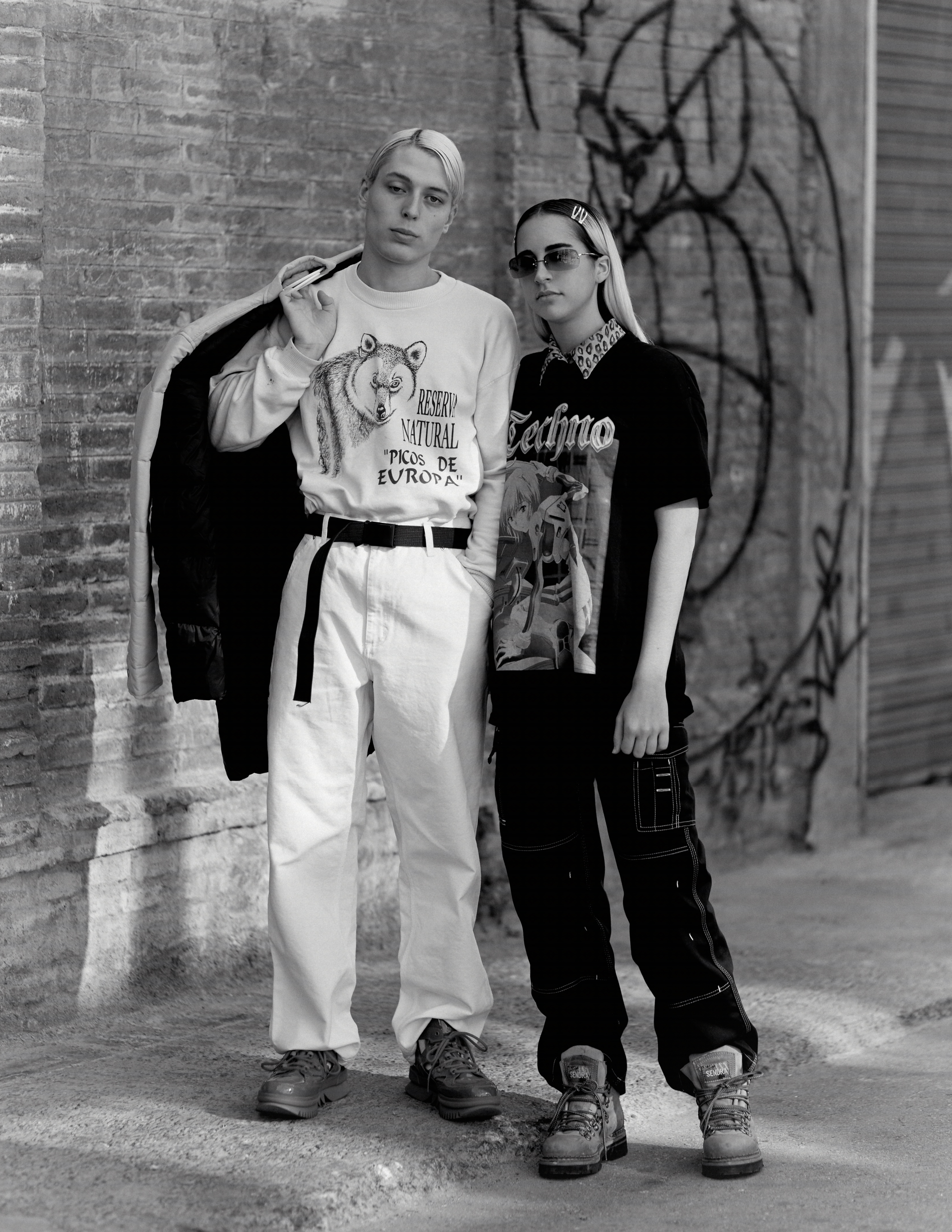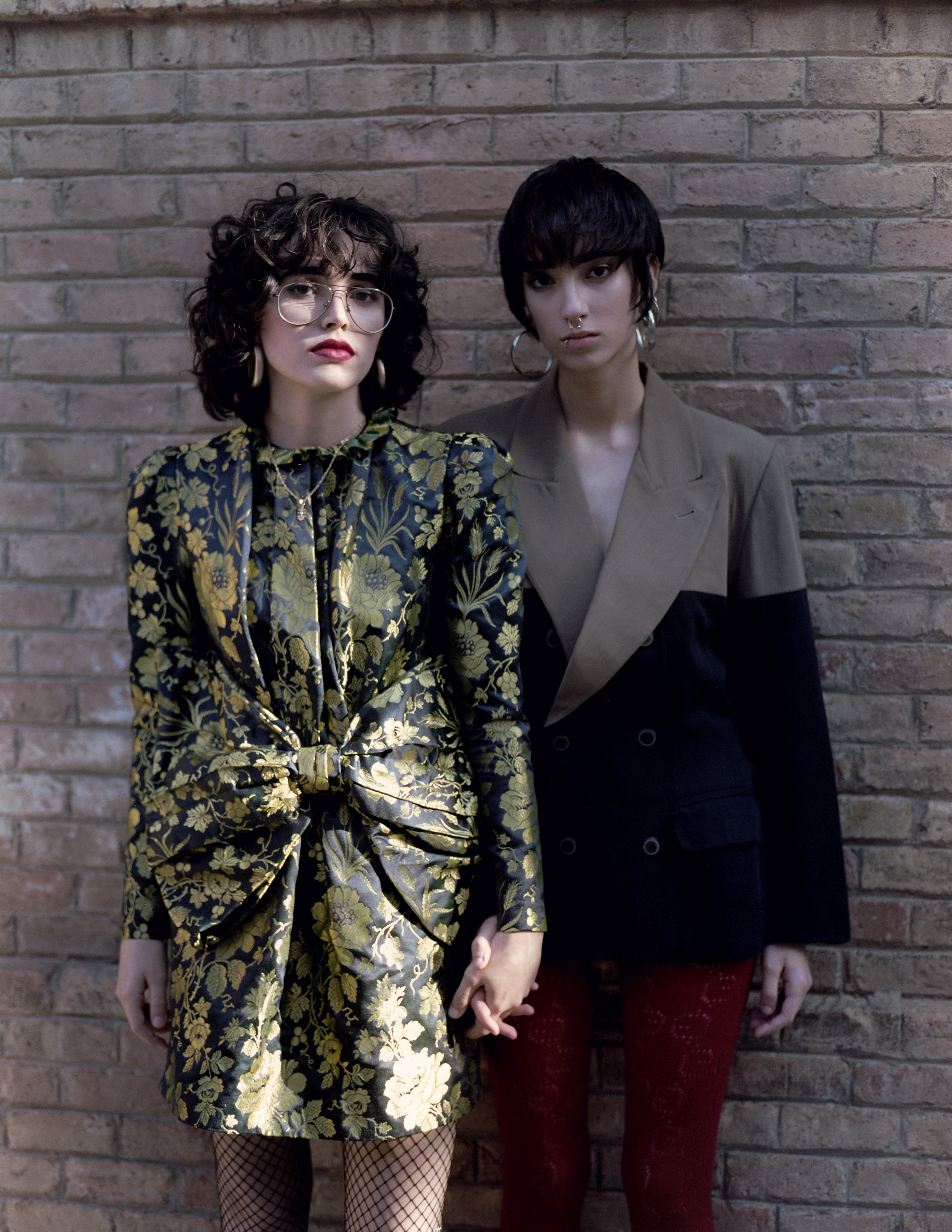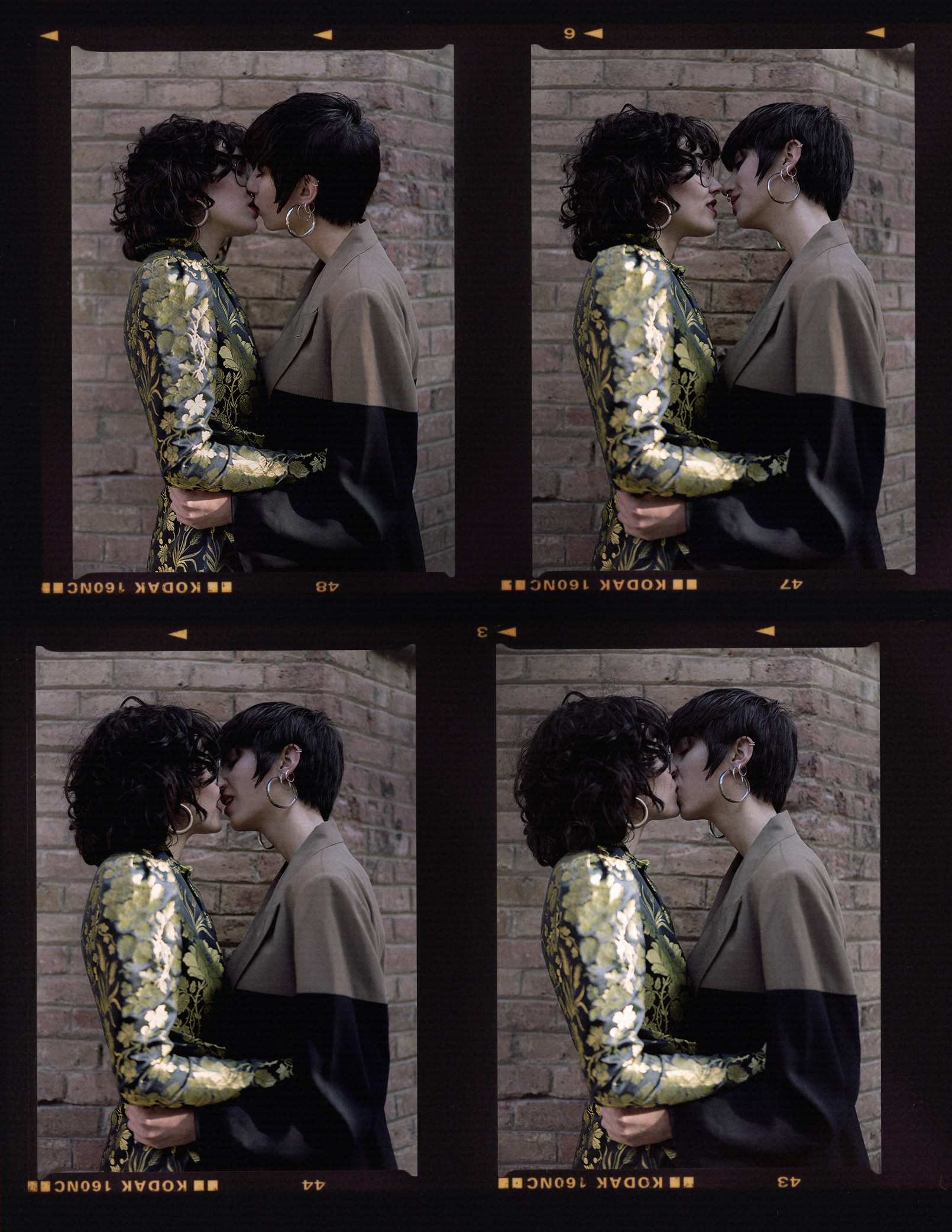 Inés and Claudia, 20 and 18 years old
What do you do?
Inés: In the mornings, I go to school for an advanced degree in Illustration at the School of Art and in the afternoons I work as a salesperson. In the free time I have left, I like to go back to my town to visit my family and friends — if Claudia comes with me, even better.
Claudia: I study single subjects left over from art school, and in my free time I think of ideas for future audiovisual projects.
How did you meet?
We met in Seville. We had friends in common and we would always go out in the same area — we called it Embarca — even though we'd never met. We knew of each other through social media, until one day we decided to meet and see how it went. And, well, it went well [Laughs].
What were your first impressions of one another?
Inés: She got there and was super shy. She made me super curious. Also, she was giving off really good energy, so I couldn't stay focused on just the superficial — which I loved.
Claudia: When I first saw her I was intimidated, but afterwards I felt a super strong connection with her and I was very comfortable. The only thing I was thinking about was to get to know her more and more because everything that I saw I liked.
What was your first date like?
It was more like our first encounter. On a crazy whim, Claudia came to my town one weekend — which is 300 kilometers from where she lived — like I said before, without having met each other before in person. Everything was very fluid and comfortable; both of us felt very at ease and we noticed a small connection that ended up not being so small.

What is the most romantic thing you've done for one another?
Inés: It might be this small poem I wrote her, but I'm not sure...
Claudia: I don't think it's anything concrete; it's everything that we do for each other in our day-to-day. Sometimes, we buy each other flowers just because. I'd say the most romantic thing she's done is move from her hometown to a completely new city, with absolutely nothing promised, just to be with me.

What do you most like about your partner?
Inés: She is one of the few people with whom I don't take even ten minutes to decide what movie to watch; that at the movies asks for salted popcorn so I can have more candy for me and that lets me sleep in whatever position I want — most of the time.
Claudia: I love when she dances: You see her so free and happy that you don't have any other choice but to join. I also really like talking with her; I could spend hours and hours listening to everything that's in her head.
What are your dreams for the future?
Inés: If we could create art and live off of it, that would be unreal. Oh, and to have a vacation house in the center of Seville.
Claudia: Create art constantly, and that Inés could be for me what Penélope was for Almodóvar [Laughs].

@inestasis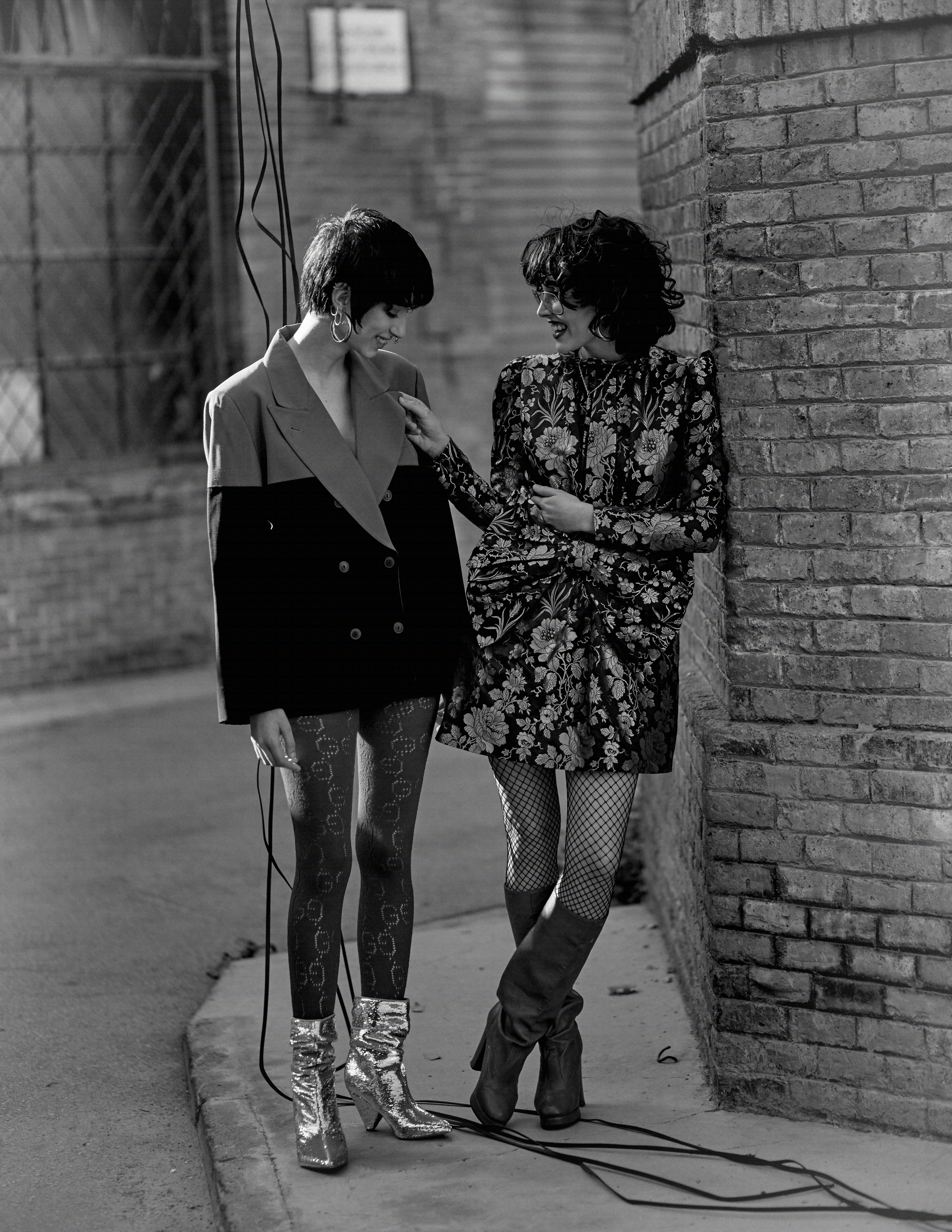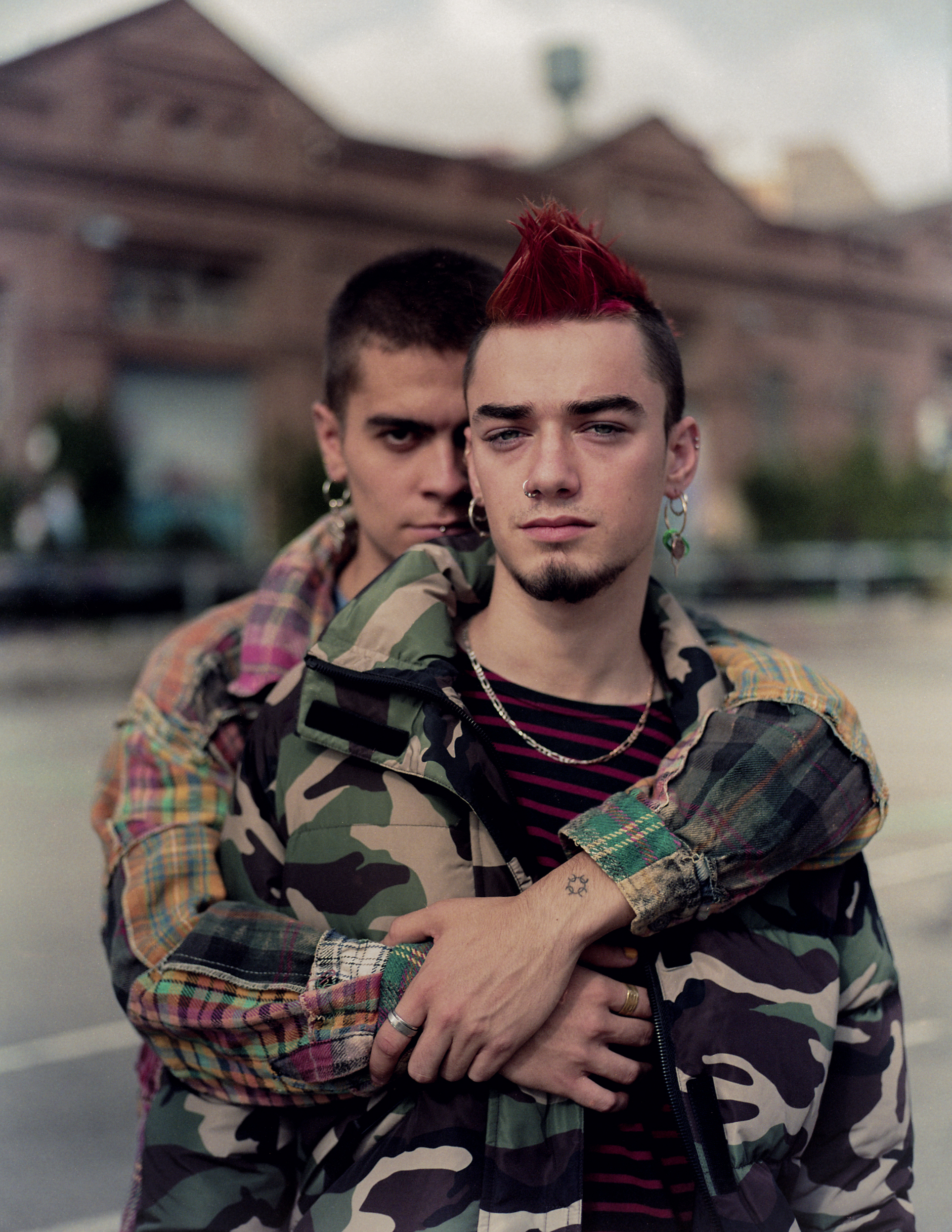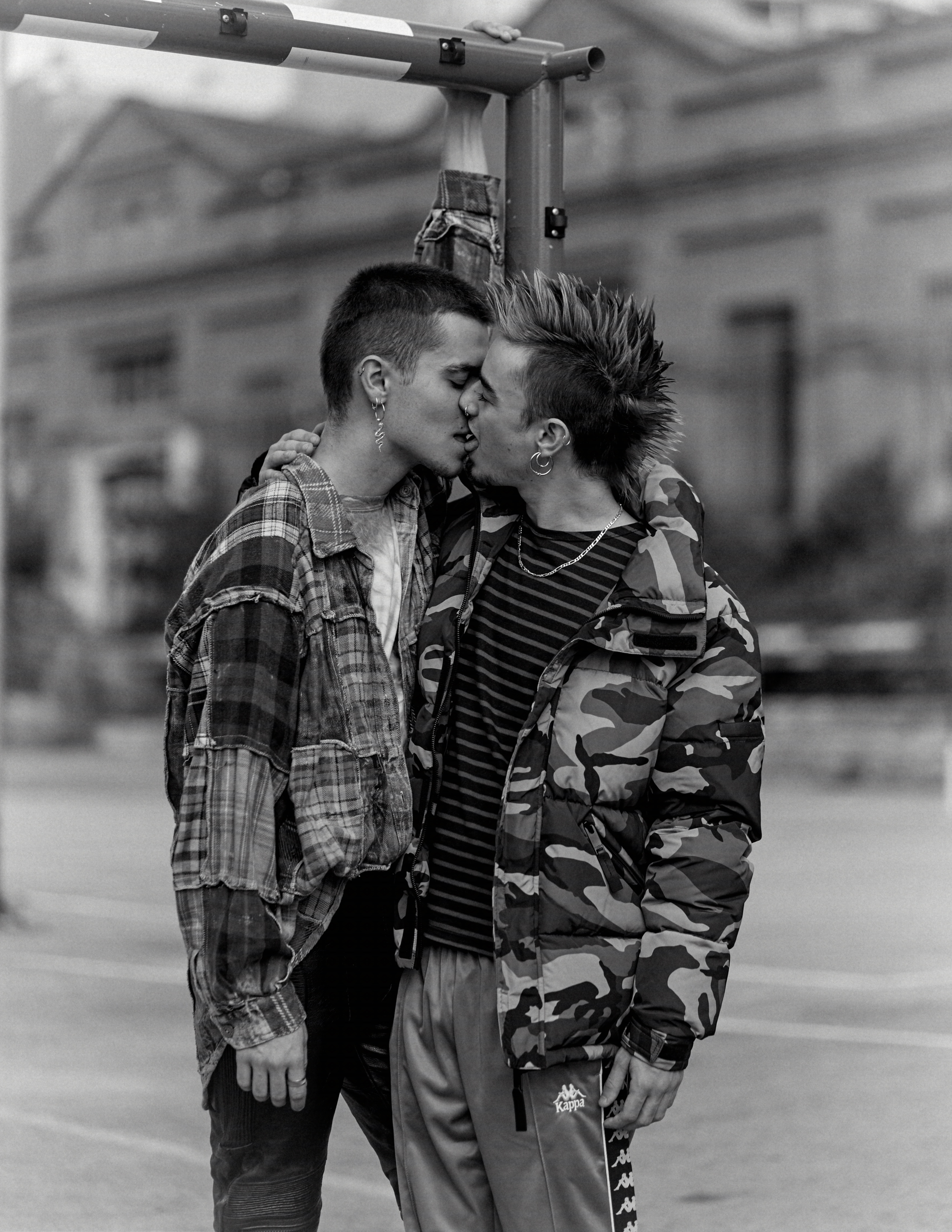 Eric and Elies, 20 and 18 years old
What do you do?
Right now we're both on a year sabbatical to work, travel, see the world, and do some volunteering, kind of like putting a parenthesis in our education that allows us to dedicate some time to the things we love, beyond the classroom as well as between ourselves. To learn on our own, practice our hobbies…
How did you meet?
Eric: We met online. We had mutually followed each other on Instagram and I privately messaged him but he didn't answer. It wasn't until I messaged him months later on Facebook that we started to talk a lot, and three days later we met in person.
What were your first impressions of one another?
Eric: Well, when I first saw him on Instagram I was in shock. From the very beginning I really liked his physical appearance, and later on I found out that I liked his personality, too. You could say that he became my crush from the very first moment.
Elies: Eric was a very attractive guy and pretty cultivated, though back then a little too "alternative" to attract me objectively. Even so, from the very beginning I knew that something was going to happen between us.
What is the most romantic thing you've done for each other?
Eric: Once, Elies came to Tarragona without telling me and conspired with my friends to surprise me at a bar, but romantic in the sense of giving me chocolates or something, nothing. We do give each other gifts, but they're usually books, tickets to festivals we like… the most romantic thing that I've done is dedicate some of the poems I write to him.
Elies: The most romantic thing he does is write me poems; he is the artist and I'm his muse.

What do you like most about your partner?
Eric: What I like most about Elies is how much he makes me laugh and that he's my friend before anything else.
Elies: What I like most about Eric is that he likes me, accepts my love with enthusiasm, and returns it a thousand fold.
What are your dreams for the future?
In terms of our relationship — of friendship or whatever else — I think that neither of us have lofty dreams. Neither of us thinks of each other as something that's eternal and ours. I guess our "dream" or "hope," rather, is that everything will go well enough to be able to have a lasting relationship of friendship where we can have adventures, share moments and, above all, continue to learn from each other. And, if it doesn't turn out to be like that, to make good memories.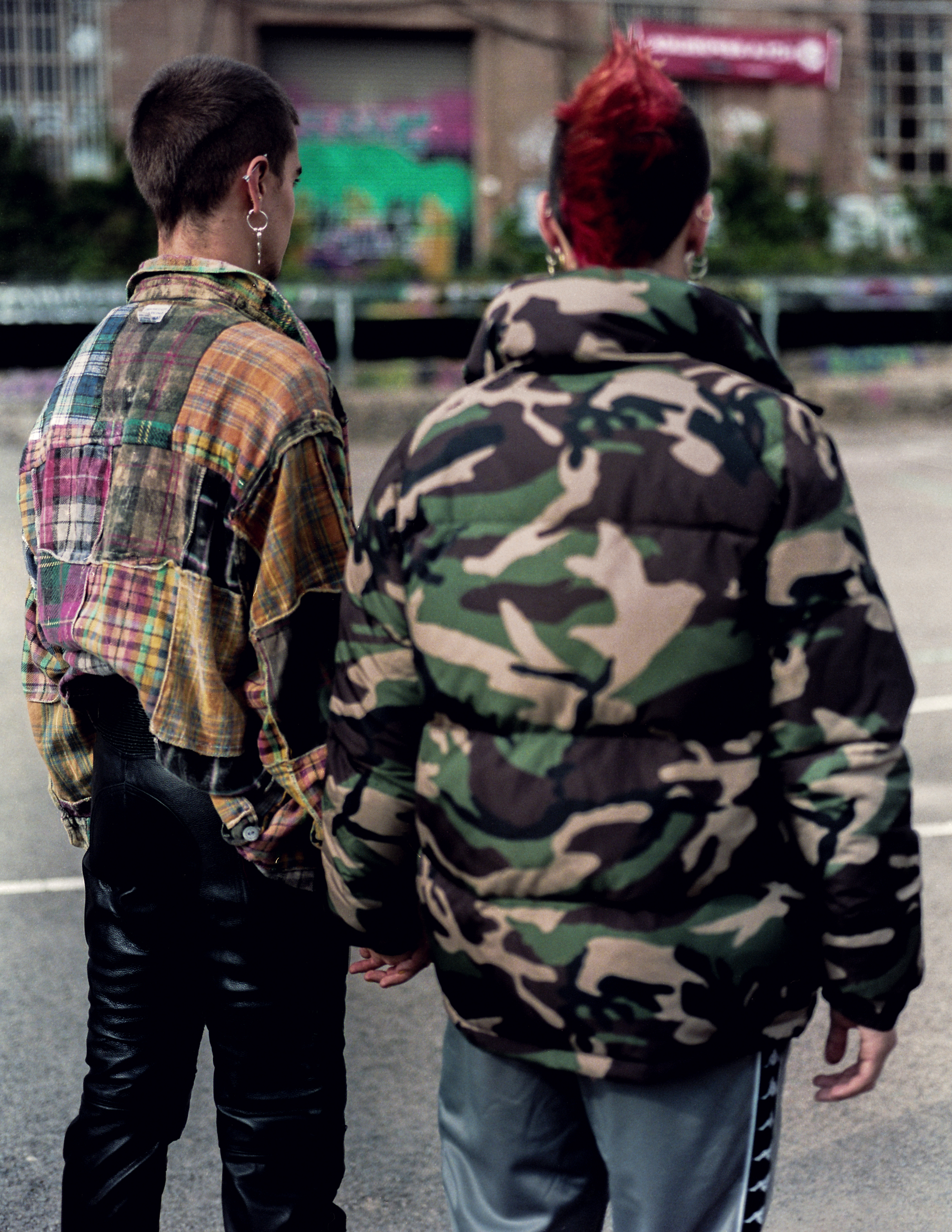 Eduard and Amalia, 22 and 20 years old
What do you do?
Eduard: I'm developing this year's final project on the future of visual communication and I'm a fellow at a web design company.
Amalia: I study fine arts and I intend to specialize in theory and criticism.
How did you meet?
We met on Tinder: We had interests in common including Cecilio G.
What were your first impressions of one another?
Amalia: I was a bit nervous because it was the first time I'd invited someone I didn't know over to my house, but when I opened the door those nerves went away. His look, his mannerisms, and his smile gave me so much trust; it gave me the sensation that we'd known each other for a long time.
Eduard: Amalia seemed very special and peculiar. I was restless because I didn't know what to expect from her, but after a while I felt very comfortable. In part, thanks to the fact that we're both very affectionate.
What was your first date like?
Amalia: We hadn't spoken much, but I invited him over to my house. We watched an episode of Keeping Up With The Kardashians and I told Eduard all about the characters. Afterwards, we were up until four in the morning; among other things, having endless conversations, laughing, listening to music, exchanging stories. I felt like I had never connected with someone so quickly. Obviously, he slept over, and after that night we haven't spent a day apart.

What is the most romantic thing you've done for each other?
Amalia: We're both very romantic. I think that we demonstrate that more in small, daily gestures than in grand, baroque declarations of love. We now live together, and for me, being able to live together with someone is the most romantic thing I can think of.
Eduard: I agree with Amalia: That we're able to surprise one another every day with little acts like a hug when we need it, preparing each other's favorite foods, or putting on a song that we like.
How do you describe your partner?
Eduard: Amalia is a kitten.
Amalia: Eduard is good, handsome, affectionate, sweet, patient, intelligent, restless, brilliant… he also has an incredible sense of style and I ask his opinion for almost everything.
What are your dreams for the future?
Eduard: To be the happiest we can be, surrounded by people we love.
Amalia: I hope we can continue living and making projects together, wherever that may be, and that we continue liking one another as much as we did the first day we met.

@eduardtab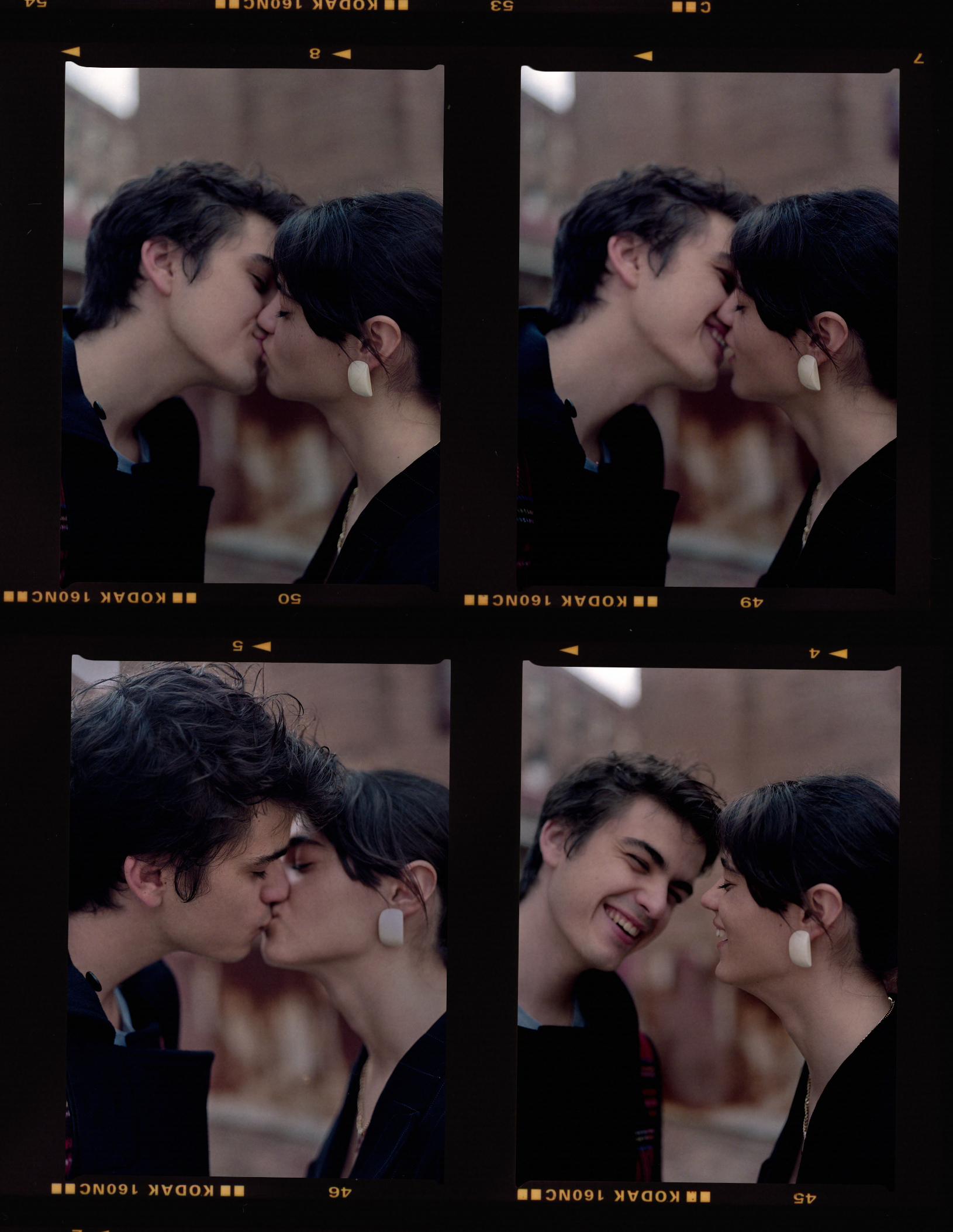 Credits
---
Text and production Álvaro Piñero
Photography Adrián Catalán
Styling Eus Cantó
Make-up and hairdressing Susanna Schmetterling of Kasteel Artist Management
Acknowledgments Can Batlló and Ajuntament de Barcelona