Pixerama, San Francisco, copyright eBoy
discover eboy, the 90s net art collective that inspired comme des garçons
Rei Kawakubo's most recent collection pulled from the group's archives of pixelated cities.
Pixerama, San Francisco, copyright eBoy
For her spring/summer 18 Comme des Garçons collection, Rei Kawakubo re-appropriated ten works of art, from Old Masters and contemporary artists, to create modern mosaic prints. She called the collaborations "multidimensional graffiti" and imposed the designs on her avant-garde dresses. Look twelve, a coat dress with enormous sculptural sleeves, featured a black-and-white digital drawing by the illustrator Stefan Marx that formed a sky-like cartoonish dome over a simulated London. The city, as seen on the dress, was drawn digitally, over the last decade, in engrossing and colorful detail using more than a million pixels by the German Internet art collective eBoy.
"We were very touched to work with one of the most fascinating brands out today," says Kai Vermehr, a member of the collective. "They seemed to appreciate what we do," adds Steffen Sauerteig, another member. It was eBoy's second collaboration with the Japanese fashion house. In 2012 eBoy, which also includes Svend Smital, collaborated with Comme des Garçons to create a huge scarf featuring a 2D pixel cityscape rendering -- what eBoy calls "pixoramas" -- of Paris. "From a distance, our work almost has an organic living quality, similar to a pattern, but [is] still unique and non-repetitive," says Vermehr of why it works well with the brand. "But it really is how Comme des Garçons worked with the art, and how they combined it with Stefan Marx's work, and the cut, that makes the garment so beautiful."
The collective, that has also collaborated with fashion brands including Paul Smith and DKNY, formed in 1997 when the artists were living in Berlin. "At the time we were listening to a lot of Beastie Boys and were really into electronics so we thought of the name "eBoy" and the domain was available so we bought it," explains the 49-year-old Sauerteig. The group also says they created eBoy as a DIY reaction to the 90s art world. At the time it was difficult to become an artist outside of a gallerist, curator, or collector taking a chance on your art.
"You needed a middleman and it was depressing because it depended on people, money and budgets," recalls Vermehr. "Then we were given the magical gift of the Internet and suddenly you could do your art shows online and everyone could access it," adds Sauerteig, who says the group created and distributed art and early eBooks on floppy discs in the pre-WWW dark ages.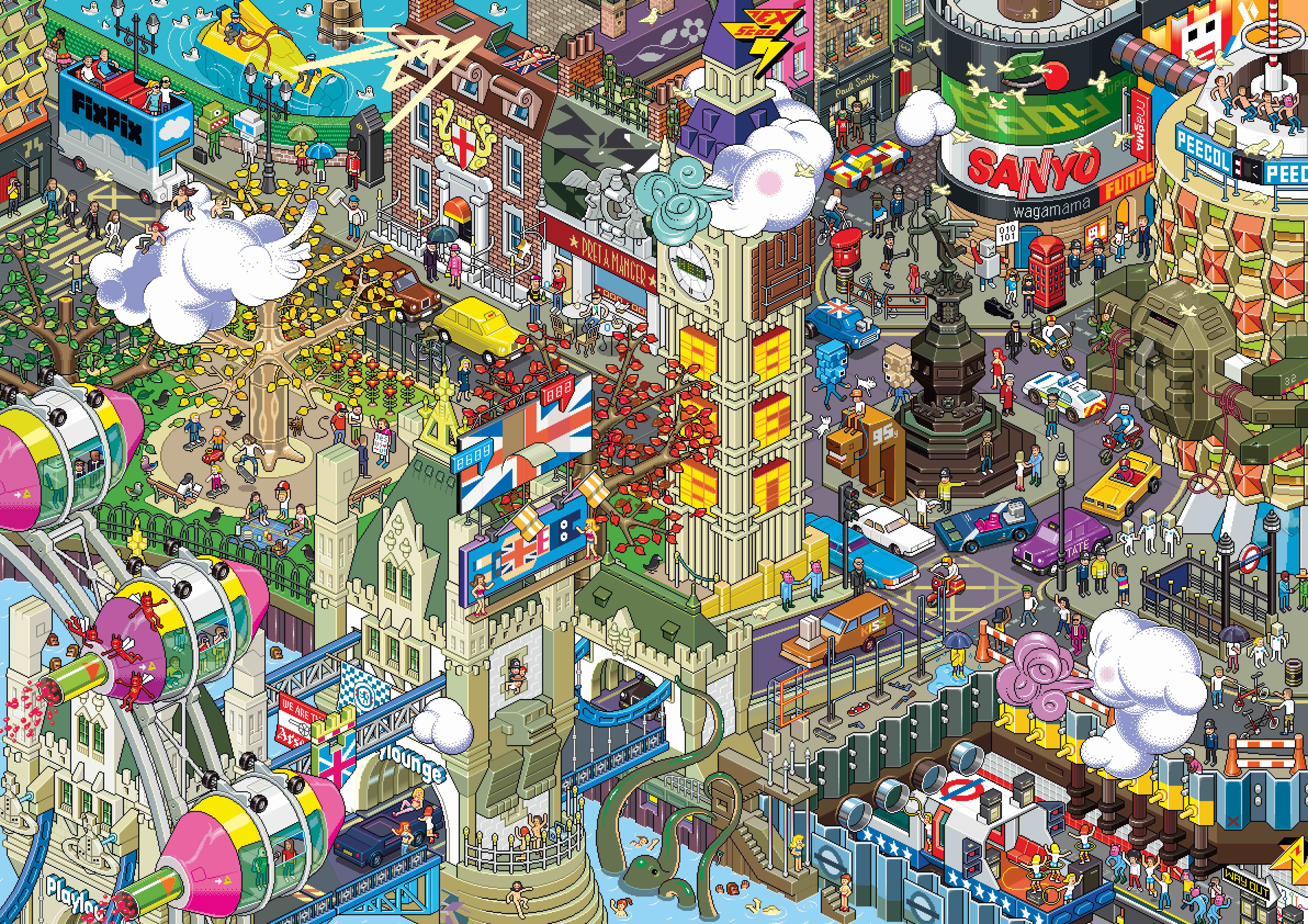 When the Internet sprang up, eBoy learned HTML and joined the small, burgeoning 90s "net.art" movement. The short-lived movement was most clearly rooted in Dadaism, conceptual, and performance art. "Net.art stood for communications and graphics, e-mail, texts and images, referring to and merging into one another," wrote net.art historian Rachel Greene in her Artforum essay, "Web Work: a history of Internet Art." Net.art meant online discourse, according to Greene, instead of real-world object-based and market-driven art practices or "any 'optical' aesthetic." In the Post-Cold War 90s, net.artists like Yael Kanarek, Jodi.org, and Vuk Ćosić used the internet to critique institutionalized art and politics. In 1997, Ćosić famously hacked the Documenta X exhibition website and translated museum works like Andy Warhol's "Campbell's Soup Cans" and Paul Cézanne's "Card Players" series into digital art free to be viewed online.
To make net.art, eBoy settled on using the computer pixel because "a pixel is the smallest part of a screen so you can have control," explains the 53-year-old Vermehr. "Each pixel, for itself, is a beautiful object," he believes, "and it is very easy to combine with other pixels — it's just a lot of fun to handle!" He adds, "If you work with very few pixels, the limitations are very tangible, which forces you to think and find abstractions — which essentially is a way of reflection and understanding."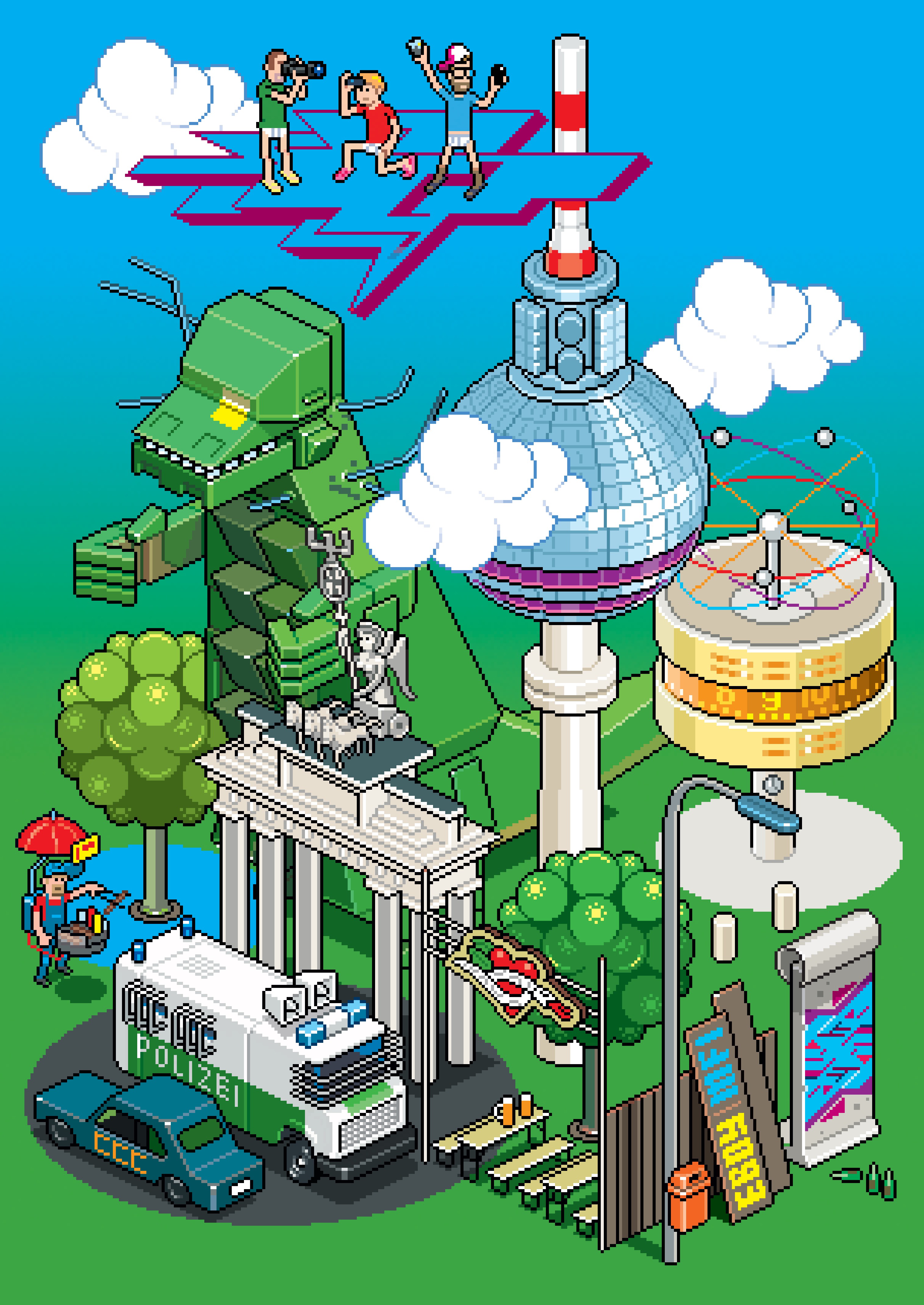 eBoy has become known for using the low-fi, digital dot aesthetic to create complex, urban landscapes, character-driven portraits, and posters that look like advanced SimCities. Their most ambitious works are the pixoramas of cities like the one of London seen on the Comme des Garçons dress. In part because a pixorama is never finished: as cities change IRL eBoy uses what they call "a modular approach" to add people and places to their digital ones. It recalls the spirit of early internet gaming culture where players create their own brave new worlds.
"If you show someone our version of London, everyone has an opinion," says Sauerteig. "And what's so nice," says Vermehr, "about cities is in real cities there are millions of people involved, changing their microcosm. They change what they put on their veranda or the house gets torn down and owned by Trump and he builds an ugly huge house there." The point for eBoy--who has also pixelized Berlin, New York, and Tokyo, among other major cosmopolitan centers--is that cities are constantly evolving in ways that reflect small and big stories about people and their environments.
eBoy's Baltimore Docks is a zoomed-in pixel construction of a part of the city's port. It features a futuristic rendering that alludes to comic book imagery of the city's river, with a flatbed freight ship carrying a container that says "believe" on it. The section of the city eBoy digitized is filled with factories along its riverbank operated by characters they created. A decade ago, eBoy started turning the characters seen in the Baltimore Docks pixoramas into real-life toys. "The first one was a collaboration with the American toy company Kidrobot of small figures which have an lower, middle and upper part," explains the 50-year-old Smital. "It was just so sweet to see these characters and be able to touch them in real life."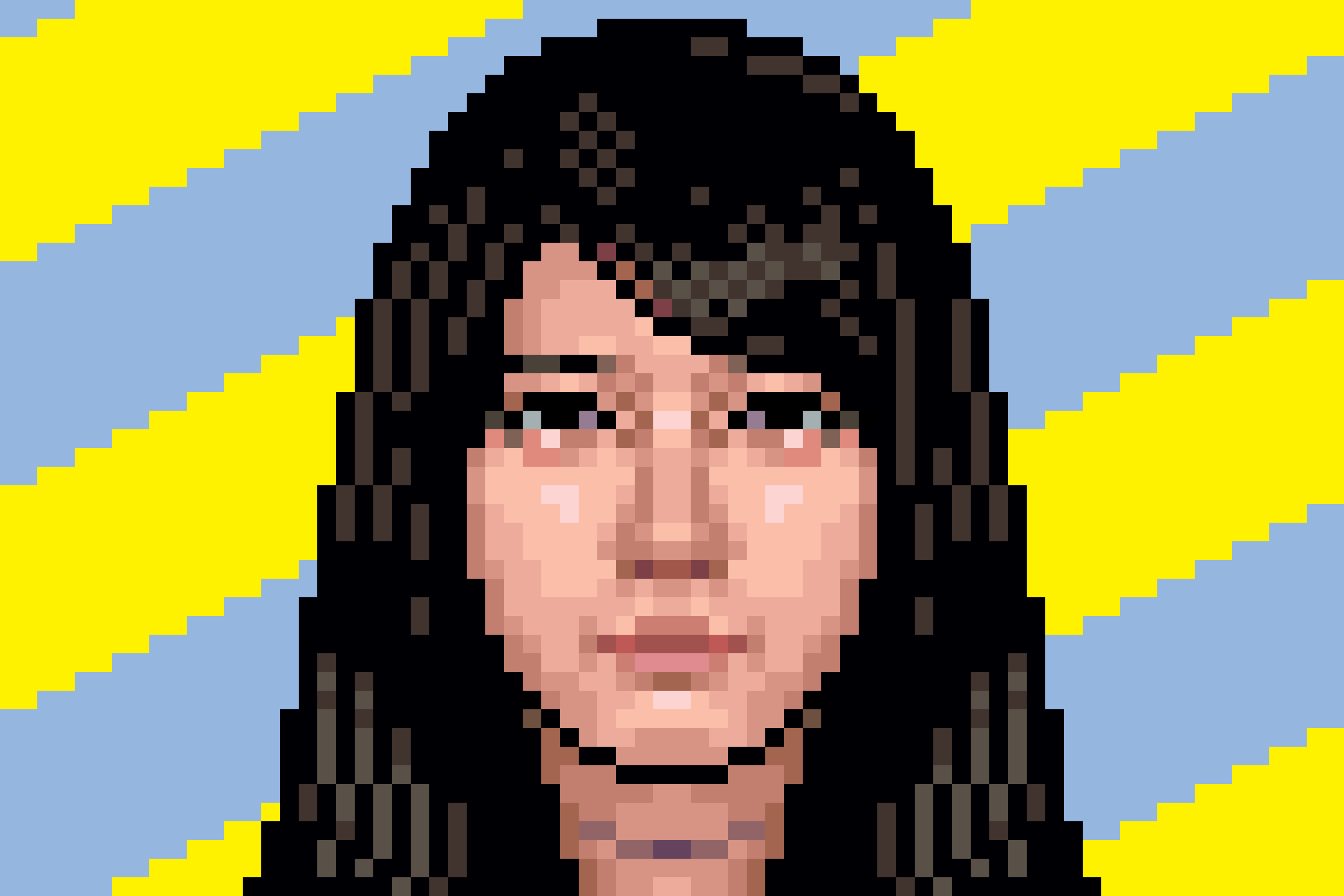 Nearly two decades after the collective formed, technology has pushed the possibilities of pixels. What we see today on our smartphones and laptops are advancements in internet technology that reflect back to us pixels that appear like reality. Yet eBoy has stuck with the simplistic pixel that first surfaced during the early stages of the Internet era. Their retro art conjures nostalgia for what has been and the possibilities of what can be, recalling the radical, democratizing ethos of net.art.
"There have been many changes in technology but we are still improving the skills we learned from the beginning," says Smital. "Pixels are so fascinating because they are like an archetype of a module," says Vermehr. "It's like really the truth of art."