vhs tapes are cool again, thanks to frank ocean
Video fan Frank Ocean has made it clear: it's time to blow the dust off your VCR.
|
28 November 2017, 11:31pm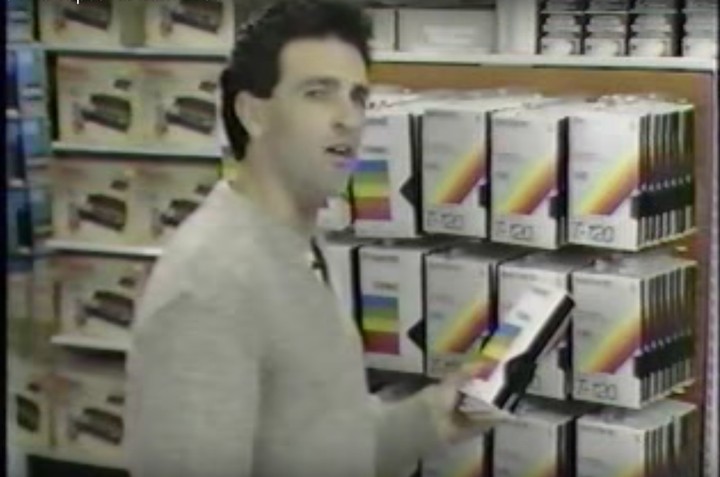 Screenshot via YouTube
4K visuals might be at our fingertips but VHS tapes — with all their static and muffled audio — are making a serious comeback. This was made clear when the always forward-thinking Frank Ocean released his visual album Endless on VHS yesterday. The unique rollout comes at a time when VHS versions of Disney classics are selling online for thousands of dollars and not long after a VHS museum opened in Bushwick. The format's resurrection makes sense, in a way. 80s nostalgia has permeated almost every aspect of pop culture this year: Balenciaga paid tribute to shoulder pads, season two of Stranger Things referenced almost every 80s blockbuster, and synth-heavy DIY songs are trending on SoundCloud and Bandcamp. Of course VHS screenings of 80s films have also become a thing again.
There's a lot to unpack with the revival of lo-fi. Especially when today's films are so crystal-clear you can see every pore on an actor's face. Perhaps movie fans are attempting to escape the flashiness of today's technology, which can sometimes feel disorienting. Or maybe we're nostalgic for our childhoods (TBT to those orange Nickelodeon VHS tapes). Here are just a few reasons why VHS tapes are becoming cool again.
Frank Ocean is a VHS fanboy.
Frank Ocean sometimes seems to exist outside of 2017. He pretty much abstains from social media (beyond the occasional cryptic Tumblr post) and used a vintage Contax T3 35mm to photograph this year's Met Gala. So it's not surprising the i-D cover star has an affinity for VHS tapes since they're the ultimate throwback.
It's possible that Frank is paying homage to artists like Michael Jackson, who pioneered the modern music visual in the early 80s. MJ popularized experimental, high-budget music videos when he released "Thriller" during the peak of VHS tapes' popularity. For a period, the VHS release of the video was the highest-selling home video ever. In a way, without "Thriller," Endless would never have been possible.
Frank is also an extreme film buff. Last year, he released an extensive list of his favorite movies in his zine, Boys Don't Cry. The list includes classic films like A Clockwork Orange, Taxi Driver, and One Flew Over the Cuckoo's Nest. It's more than likely the 30-year-old pop star first watched some of the films on VHS tapes as a kid.
VHS tapes are now being preserved.
The audio and video on VHS tapes don't last forever. Over a period of time, the tapes slowly degrade and become unwatchable. Which is why archivists like the XFR collective are furiously working to digitize VHS tapes and preserve footage from wedding tapes, public access television, and dashboard cams. "In the heads of all Transfer Collective members, we do have kind of this tick-tock," archivist Mary Kidd told NPR. Thankfully, the 155 tapes XFR has digitized are all available to view for free on the Internet Archive. Some standouts include a 1999 broadcast of C-SPAN, old Digimon episodes, and, well, an awkward, peak 90s advertisement for hair clippers.
There are also sites that people can visit to collectively reminiscence about the good ole days of Blockbuster and having to get up from the couch to rewind a film. The site VHS Collector features forums like "80s Renting Memories" and "Favorite Video Artwork." There's even a documentary about today's diehard VHS fans. The 2013 film Adjust Your Tracking (available on VHS, of course) captures the emerging subculture of avid video tape collectors.
People are paying to see VHS films at theaters
Trendy theaters like Brooklyn's Nitehawk have started screening 80s films on VCR players (showing next month: the campy 1984 horror film Don't Open Till Christmas). The VHS tapes screened at NiteHawk typically come courtesy of the collective Horror Boobs, which once rented out a Bushwick warehouse space for vendors to trade and sell tapes. This new obsession is not just limited to America. A talk about the impact of VHS on film and popular culture, featuring a panel of "VHS enthusiasts," was held in New Zealand in 2015. (Perhaps Kiwis are the real trendsetters). And there was the VivaVHS film series in London, which staged a "VHS all-nighter" event last year.
Read More: Meet the 20-Year-Old Capturing Yeezy, Gosha, and Eckhaus Latta on VHS
The VHS tape is not just an artifact, it's art.
Musicians and film buffs are not the only ones celebrating this bygone format. Artists have dedicated entire exhibitions to the nostalgic plastic rectangles. Last year, The New York Times profiled an LA art gallery that a performance art collective transformed into a video rental store that only stocked 4,000 VHS copies of Jerry Maguire.
Then there was the LA art installation Slashback Video this summer, which also took the form of a video rental store. This one had a bit more range, flogging copies of vintage horror films. "There was an allure to the VHS boxes and the artwork that graced their covers," Ryan Turek, who helped organize the installation said in a statement. "The curation of the 'Staff Picks' that maybe sat on an endcap; the cardboard standees announcing the latest VHS release; the lighting; the rows of film titles, and, the time it took to sift through them all until you finally had a stack of VHS tapes you hauled to the checkout counter."
VHS tapes will always possess a endearing charm, especially to those who remember having to blow the dust out of a faulty cassette to make it play. But a large number of Frank Ocean stans' are young teens, born way after the heyday of VHS tapes. For them, DVD players occupy their first memories. And it probably won't be long until portable DVD players are seen as nostalgic relics too.