Slowthai and A$AP Rocky team up for MAZZA
That and all the best new music in one playlist.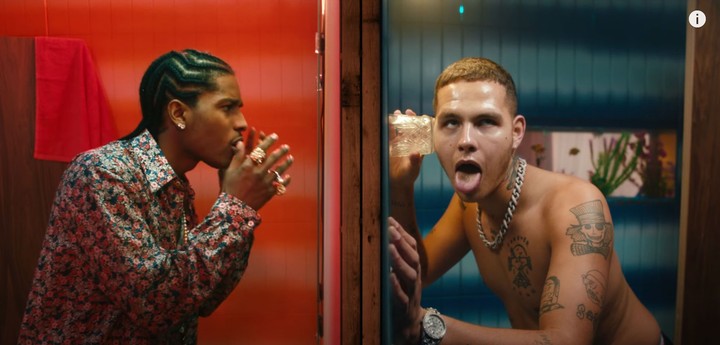 Imagine this: Northampton rapper slowthai and NY's A$AP Rocky are in hotel rooms next door to each other and they're both tripping the fuck out. Their paranoid destructive unravelings in the music video for the former's new single "MAZZA" are an accurate portrayal of how those of us currently in lockdown feel on a regular basis -- a warped but frantic urge to escape. The track, featuring Rocky, is taken from slowthai's forthcoming album TYRON, due 5 February. It opens today's i-D playlist.
Somehow believing that two really long albums (and a deluxe version of the former) in the space of six months isn't nearly enough, Taylor Swift just followed up folklore and evermore with another deluxe edition featuring two bonus tracks. "Right Where You Left Me" depicts an ill-fated acoustic love story in which an ex-partner leaves our protagonist with "no choice but to stay here forever". Meanwhile, "It's time to go" is centred around the importance of knowing when to move on. Both bleak but beautiful tracks appeared on streaming services just yesterday.
Elsewhere in new music you'll find "Delicate Limbs" by Virgil Abloh featuring serpentwithfeet (which the collaborators just told us all about), Olivia Rodrigo's "drivers license", "Best Friend" by Saweetie and Doja Cat, the first single from ZAYN's new album, and a Zara Larsson collab with Young Thug. All that and more in this week's instalment of THE BEST NEW MUSIC playlist.
Tagged: