Courtesy of Dries Van Noten
Dries Van Noten goes back to basics for AW21
The Belgian designer's signature opulence took a backseat this season, in favour of "reassuring, unassuming fun".
|
22 January 2021, 12:19pm
Courtesy of Dries Van Noten
"Feel over effect, function over ornamentation, an abstinence from artifice," read Dries Van Noten's notes on his AW21 menswear collection. The Belgian designer and OG member of the Antwerp Six is known for his collage-like tapestries of colours, textures and mesmeric prints. But like so many fashion designers, the last few months has demanded a radical shift in values and purpose. His latest collection went back to the basics, or, "a fresh, new-fashioned take on the familiar," as he put it. What does that mean? Well, his signature opulence and surface-level adornment took a backseat.
Instead, the focus is on silhouette and construction, precision and subtlety — as well as the designer's devotion to the independent fabric mills and skilled pattern-cutters he collaborates with. Considering that so many designers want to make the loudest statement possible right now, pulling out all the stops to create clothes and spectacles to capture the attention of time-deficient scrollers, Dries' decision to quietly whisper ultimately feels quite radical.
Cotton shirts were elongated to tunic proportions, shorts were widened, trousers were lengthened from sky-high waistlines all the way down to their gathered slouchy hems, and coats came in myriad styles — from ultra-light nylon sports jackets to elegant trenches and tailored overcoats. But as classic and familiar as it all was, and as subtle as those tweaks were, it's the way that everything was put together that made it harmoniously sing.
The collection is ultimately an ode to getting dressed, to the pleasure of pairing different garments together. Put simply, it's about outfits! Who doesn't miss that feeling of staring at their wardrobe, wondering what to wear? Who can remember the careful deliberation over what goes with what, while your friends sit waiting somewhere, wondering why you're so late? What was once so mundane now seems like the ultimate fantasy.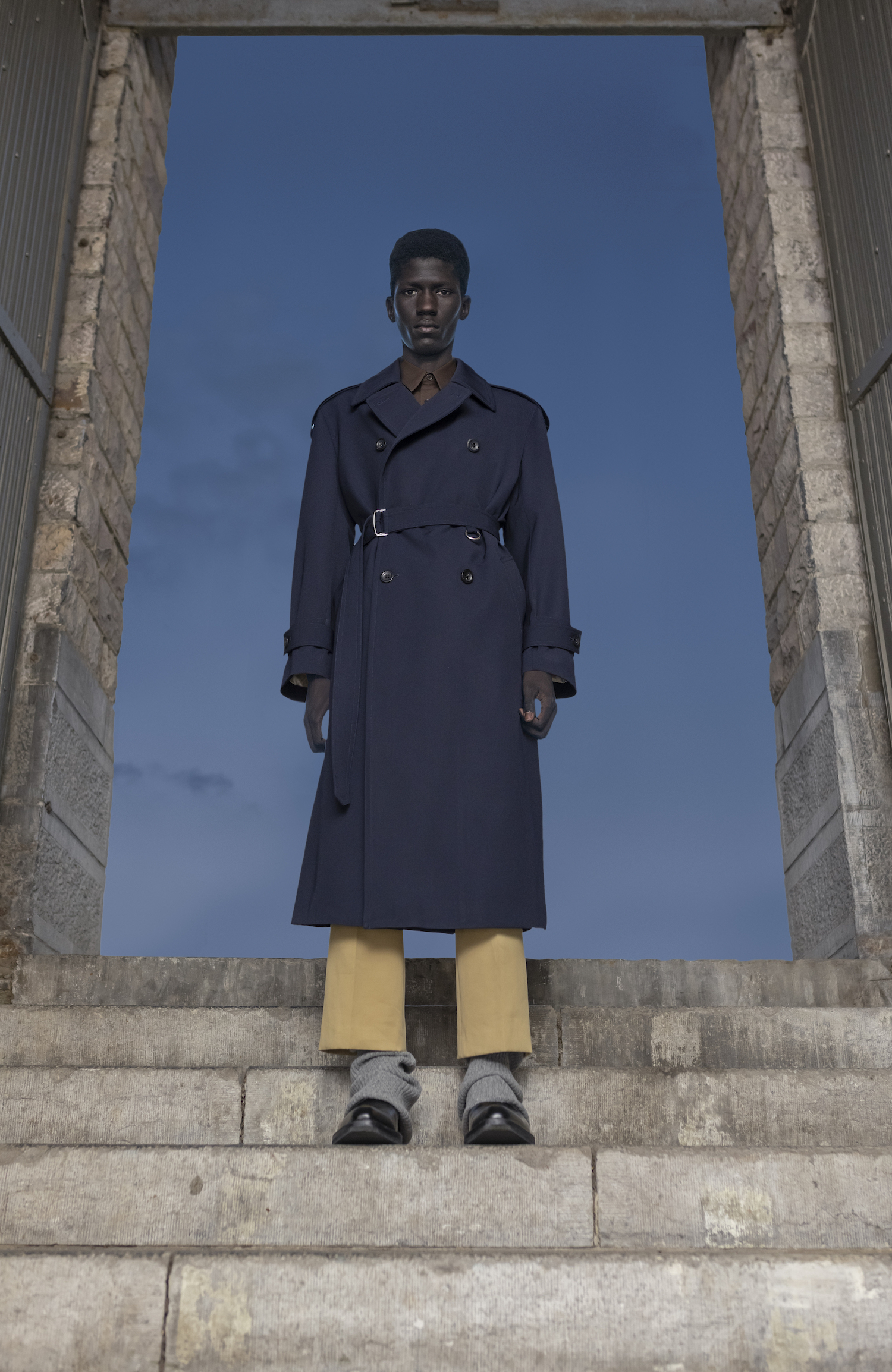 Last summer, in that brief moment of sun-drenched hope, Dries' previous menswear collection arrived with promising optimism. It was a riotous explosion of intensely saturated colour and signature prints, brought to life by Dutch photographer Viviane Sassen. For AW21, however, the mood is more sombre. Colours took their cue from the arsenal of a capsule wardrobe — "archetypal neutrals", as Dries put it — with classic blue denim, familiar charcoal tailoring and the comforting classicism of camel wool, light blue cotton shirting and chunky grey knitwear. Hints of more vibrant tones appeared in a dusky pink satin windbreaker, a peppermint leather parka and a canary yellow bag, brightening up an otherwise classic palette.
Sometimes, that's all it takes to make a brilliant collection — simplicity done very well. Dries hit the nail on the head when he described his work on AW21 as "reassuring, unassuming, fun". And isn't that exactly what we're all in need of right now?