House of Gucci: Everything we know about Lady Gaga's new movie
Who does it star, what's it based on and when can we see the damn thing already?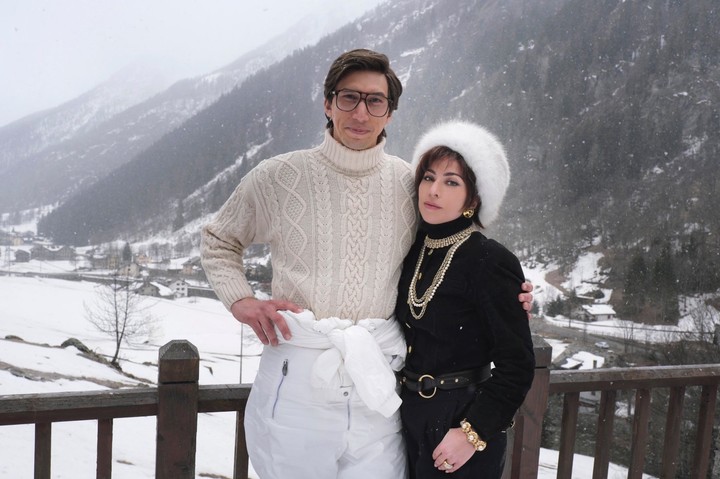 Lady Gaga -- she of "100 people in the room" fame -- decided (like many stars) to pivot back to filmmaking in the wake of the pandemic, where the only shrieks in her vicinity come not from concert crowds but from fans screaming "Yasss Gaga!" behind the barricades of the set of her next movie, House of Gucci.
Back in July we got our first look at the movie, starring her and Adam Driver, who play Patrizia Reggiani and Maurizio Gucci respectively, in iconique Italian regalia in the first full length trailer. Now, the film about how Patricia plotted an assassination against her ex-husband Maurizio, the former head of Gucci has been given it's MPA rating. But who else appears in it? Are any Oscar-worthy filmmakers behind the camera? And for god's sake, when will we be able to see it in theatres?
All that and more is answered below.
Who will star in it?
So alongside Lady Gaga and Adam Driver in those aforementioned roles, House of Gucci's cast seems to be fleshing out nicely. Another Italian American actor has signed on to play Aldo Gucci (Guccio Gucci's son and Maurizio's father), Al Pacino. Jared Leto, currently one of the faces of Gucci's campaigns IRL, will play Maurizio's brother Paolo. There's also another brother in the mix: the eldest, Rodolfo; Jeremy Irons will tackle his character. Elsewhere, British actor Jack Huston and Broadway star Reeve Carney have been cast in undisclosed roles, while French actor Camille Cottin will play Paola Franchi, Maurizio's girlfriend.
The movie has been in the works for a while. Once upon a time, both Penelope Cruz and Margot Robbie were supposed to fill Patrizia's shoes. Leonardo DiCaprio was also in line to play the character of Maurizio too.
What filmmakers are behind the camera?
The prolific 83-year-old director Ridley Scott -- Blade Runner, Alien and Gladiator -- is the director who finally managed to get this long-shopped project over the line. He's taken a new direction towards crime drama in recent years -- such as 2007's American Gangster and 2017's All the Money in the World. Unless Gaga is channelling Chromatica, we imagine this will have more in common with the latter projects than the former.
Ridley will also produce the movie alongside his long-time producing partner and wife, Giannina Scott. Kevin J. Walsh also has a production credit; he "broke out" with the 2016 masterpiece Manchester by the Sea.
No good film can come from a bad script and, what's interesting here is that this behemoth project is the first full-length feature screenplay by London-born Italian screenwriter Roberto Bentivegna. It must have been pretty impressive to catch the eyes of Ridley Scott and the production team.
Fun fact: once upon a time, Wong Kar-Wai was meant to direct House of Gucci in the mid-2010s. The project returned to Ridley in 2019, who's had his eye on it as far back as 2006.
Is House of Gucci an entirely true story?
Though the film is loosely based on the real-life story of Maurizio's assassination and the role Patrizia played in it, the actual screenplay is based on a book.
In 2002, Sarah G Forden wrote House of Gucci: A Sensational Story of Murder, Madness, Glamour, and Greed, a non-fiction unpacking of the case, which obviously attracted a lot of attention before Patrizia's conviction in 1998. As the script isn't public yet, we're unsure how it interprets Sarah's recounting of the story.
Where did House of Gucci filming take place?
Where else could House of Gucci be shot but Italy? Filming kicked off in the Alps, specifically the town of Gressoney, the assumed location of Adam and Gaga's BTS shot, before continuing running over various locations throughout the country, predominantly in Rome.
Is there a trailer?
There is! Set to Blondie's '"Heart of Glass", the trailer promises Gaga — with an Italian accent because, you know, she's Italian — as the star of this high-camp murder drama.
What rating is House of Gucci?
Unsurprisingly, House of Gucci has been rated R for "language, sexual content, brief nudity, and violence."
When will House of Gucci be released?
Although it dropped out of the Venice Film Festival earlier this month, House of Gucci is scheduled to hit theatres on 24 November 2021 before it is later released on Paramount+ to stream.