The Canto-pop singer's avant-garde stage outfits include garb from Raf Simons, Helmut Lang and the Antwerp Six.
Hailed as "the Queen of Canto-Pop", singer-songwriter Faye Wong is not only one of China's most successful musicians, but one of the country's most-beloved celebrities. Over the course of her three decade-long career, the singer has forged her own unwaveringly unique brand of Canto-pop, incorporating elements of alternative sub-genres, from dream pop to trip-hop, and, of course, her set of distinctively sweet vocals. Also distinct about Faye is her singular personal style, from her ultra avant-garde stage outfits (which take in directional garments from Vivienne Westwood to the Antwerp Six) to her so-90s-it-hurts off-duty looks. Here, we chart the singer's career through a selection of her most iconic outfits.
Performing in Hong Kong, 1993
Born in Beijing, China, Faye moved to Hong Kong for college. It was during these years — in the late 80s — that Faye signed her first record deal, recording three albums under the name "Shirley Wong." Frustrated by the state of her early career, Faye moved to New York for a year. Upon returning, she released her fourth album, Coming Home, under the name Faye Wong. The album marked a turning point in her career and a new musical direction for Faye. Here, she sings "Lau Fei Fei", one of her most iconic songs, wearing one of her most iconic outfits: a plastic slip dress over a mohair turtleneck and a pair of knit briefs.
In Chungking Express, 1994
Faye's talents extend beyond music and into the realm of cinema. The singer's most well known film role — to Western audiences, at least — is the eponymous Faye from Wong Kar-Wai opus Chungking Express. Throughout the movie, Faye's snack bar owner-turned-flight-attendant wears quintessentially stripey 90s tees and floral dresses and, of course, her airline uniform, seen above, always topped off with her omnipresent oval shades. After her appearance in Chungking Express, oval sunglasses became part of IRL Faye's uniform, too.
During a photoshoot, circa 1990s
While Faye is known for her unconventional stage style, her off-duty looks are chock full of some of the 90s most recognizable trends. Here, during a promotional photoshoot, she wears a slip dress over a baby tee, a pair of chunky knit arm warmers, and, of course, her tinted oval sunglasses.
During a promotional shoot, circa 1990s
Like her off-stage style — exemplified, above, in a cropped turtleneck, mini skirt and thigh-high boots — Faye's musical influences also embody the spirit of 90s youth culture. Known for her covers of Western artists' songs, Faye has sung Cantonese versions of The Cranberries "Dreams" and Cocteau Twins' "Rilkean Heart". In fact, the latter act became one of Faye's frequent collaborators, pennings original songs for the singer throughout the 90s.
Performing at a concert, 1998
From the mid-90s, Faye became known for her unconventional on-stage fashions, thanks to her partnership with longtime stylist Titi Kwan. Together, the duo experimented with looks that included some of European fashion's most directional designers. To perform, Faye has famously worn a Vivienne Westwood corset, a backless Ann Demeulemeester number and metallic pants from Helmut Lang's AW99 collection. Here, she wears Raf Simons' cobweb knit top, a Jurgi Persoons skirt and Jeremy Scott's sole-less heels. Fun fact: Faye is the only person to have ever worn these shoes off the runway.
During a photo shoot, 1998
Mixing her penchant for the 90s fashion avant-garde with the decade's quintessential street styles, here, Faye wears Helmut Lang's iconic slit-sleeve top with a pair of windowpane check pants and huge, bulbous sneakers. Note the equally decade-appropriate hairstyle — pigtail buns.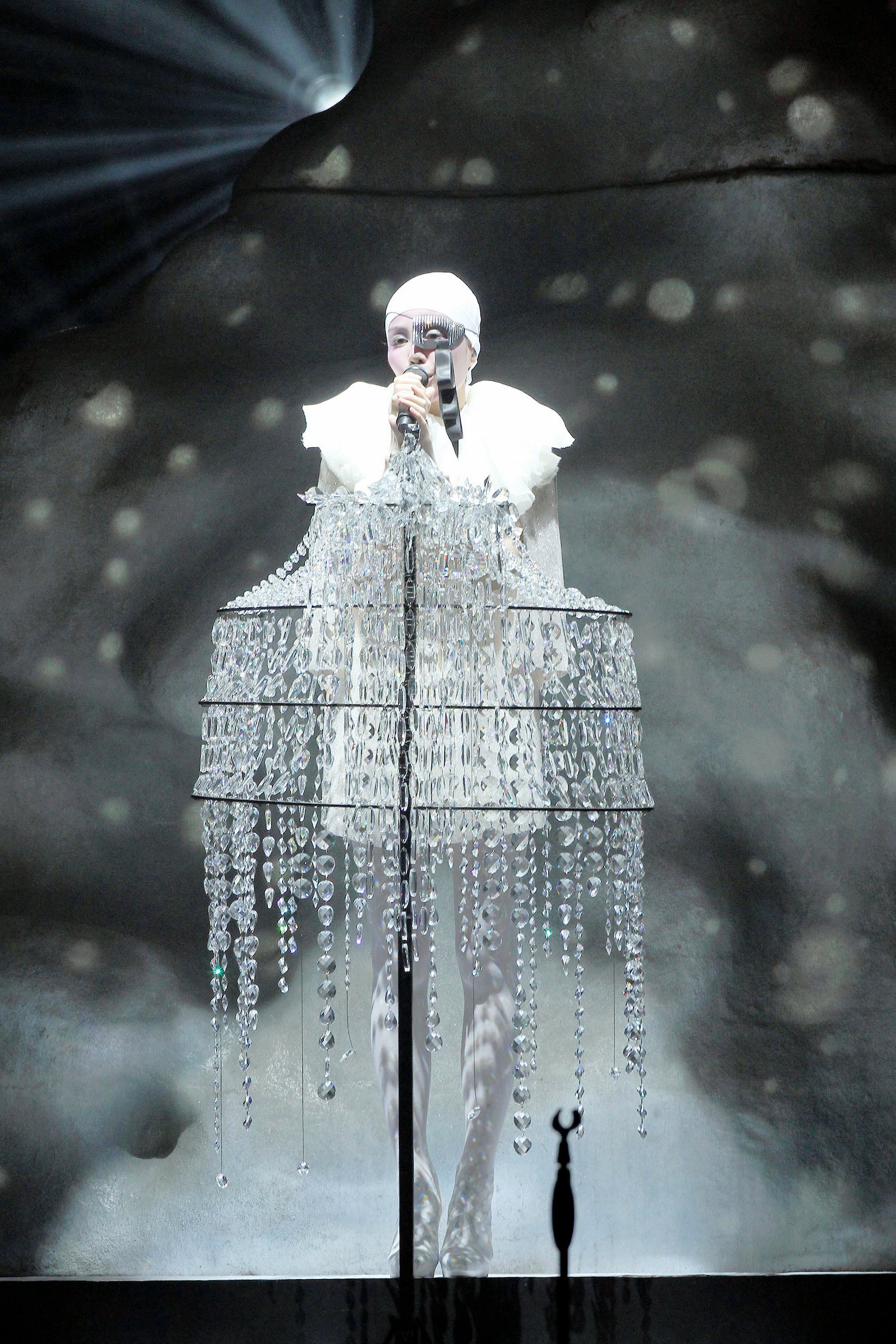 Performing in Taipei, 2011
In 2004, Faye took a hiatus from her musical career. As a result, the singer and her longtime stylist Titi Kwan parted ways, the latter moving to France to become a full-time designer. The singer, however, made a musical comeback in 2010 and, once again, reignited her collaborative relationship with Titi. Here, performing in Taipei she wears a chandelier-inspired dress, dripping with crystals, designed by her former stylist.