L-R: Getty Images; FilmMagic; Getty Images; WireImage
A guide to SZA's style evolution
Over the course of a decade, SZA has perfected the art of sexy sportswear and strappy styling.
L-R: Getty Images; FilmMagic; Getty Images; WireImage
With her unique vocals and incisive visuals, SZA is one of the most compelling musical artists of the 21st century. In less than a decade, the St. Louis-born singer has made her own indelible imprint on alternative R&B, infusing it with witch-house beats, jazzy vocal delivery and diaristic lyrics. From her experimental EPs to the iconic Ctrl, her music has shaped both the zeitgeist and a generation of devoted fans — something it continues to do in 2021. But what about when it comes to fashion?
The singer and i-D cover star's personal style is much like her music. It's evolved subtly over the years, yet remains unmistakably and singularly SZA. Wardrobe stalwarts have long included T-shirt dresses, denim and sportswear, which have shifted into modern cyber-babe looks, glamorous tracksuits and crystal slip dresses. Like her music, SZA's style is also chock full of influential, iconic moments. Who could forget her angelic Met Gala gown? Or her glittering "Good Days" bikini?
Here, we take a look back at some of SZA's most memorable outfits to chart her style evolution from the early 2010s through to today.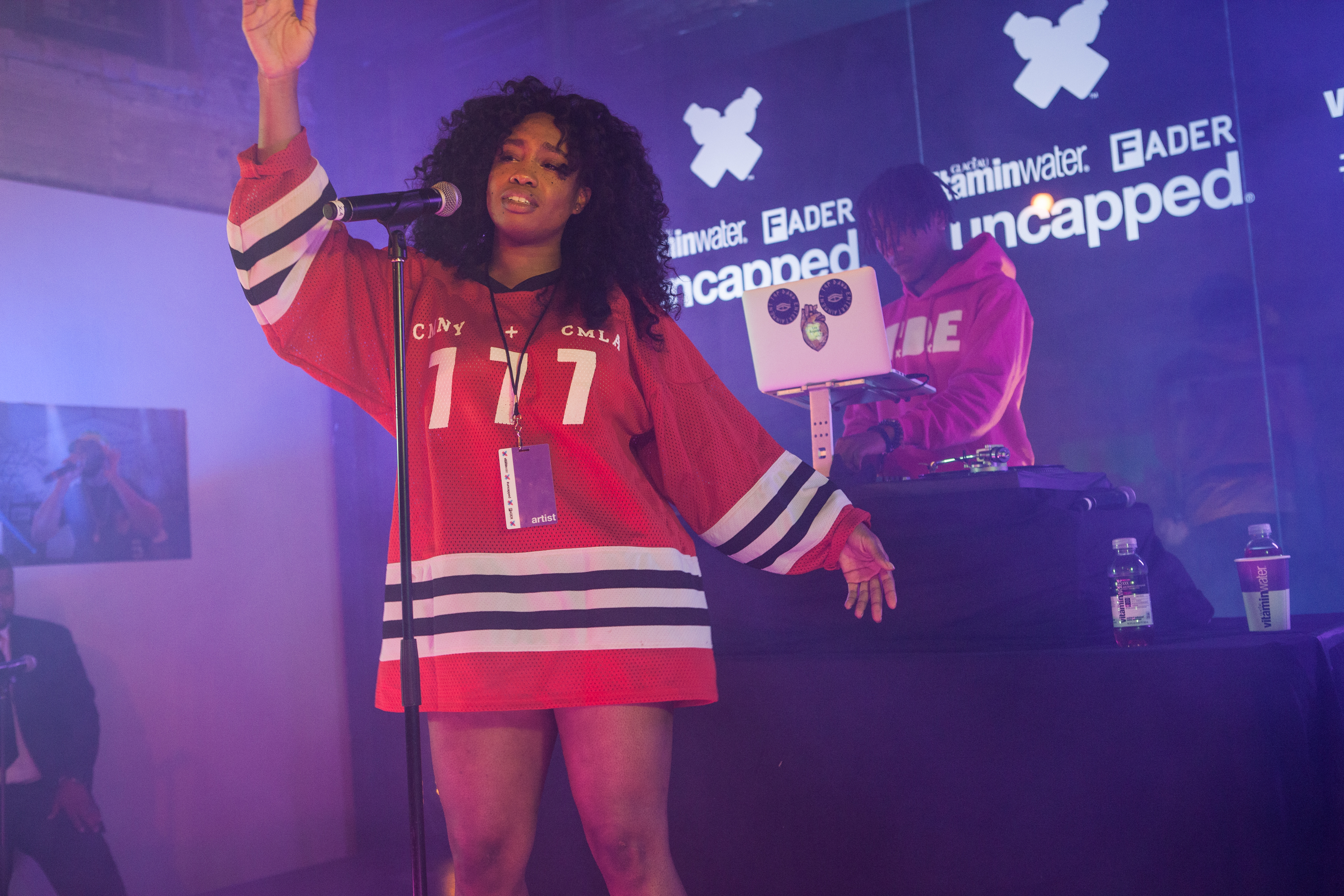 Performing in New York City, 2013
Born Solána Rowe in St. Louis, Missouri, SZA began making music with her friends in the early 2010s, independently releasing her first EP, See.SZA.Run, in 2012. A year later, she signed to record label Top Dawg Entertainment, where she launched her third extended play, Z. Compared to her style today, SZA's early career looks were understated, though no less singular. On and off stage, the singer had a penchant for distressed denim shorts and overalls, simple graphic T-shirts, white Converse sneakers, sweats and sportswear. In fact, SZA's signature look at the time was a sports jersey worn as a mini dress, blending her predilection for athletic gear with one of the era's trendiest looks — the T-shirt dress — resulting in something unique to her.
Backstage at AFROPUNK Festival, 2014
During the summer of 2014, SZA took to the festival circuit in promotion of her first commercial release, Z. During the tour, SZA eschewed her favoured sports logos for more playful imagery — the graphic T-shirt becoming her go-to festival look. From Pitchfork Music Festival to SXSW, the singer donned tees emblazoned with Rod Stewart, cartoon characters and the Portland Trail Blazers' Jerome Kersey. While the graphics changed, SZA's preferred silhouette remained. Here, she wears a Cheech & Chong T-shirt as a dress.
At Bonnaroo Arts and Music Festival, 2015
During the 2015 and 2016 summer festival circuits, SZA began experimenting more with her stage outfits, introducing new silhouettes and colourful patterns. Of course, the stalwart denim, T-shirt dresses and All-Stars stayed. (Even the sports jerseys made a brief comeback at Outside Lands.) But the colours were brighter, the graphics were bolder, the styling more eclectic — and fun. To Pemberton, she wore her signature denim shorts with a DIY patch-covered T-shirt and camo jacket. At Budweiser's Made in America, she paired a "Fuck Donald" T-shirt with crocheted socks and high-top Vans. Here, at Bonnaroo, she dons her trusty white Converse alongside a Peanuts-patterned A-line skirt, chopped-up A Bathing Ape tee and daisy-printed halter.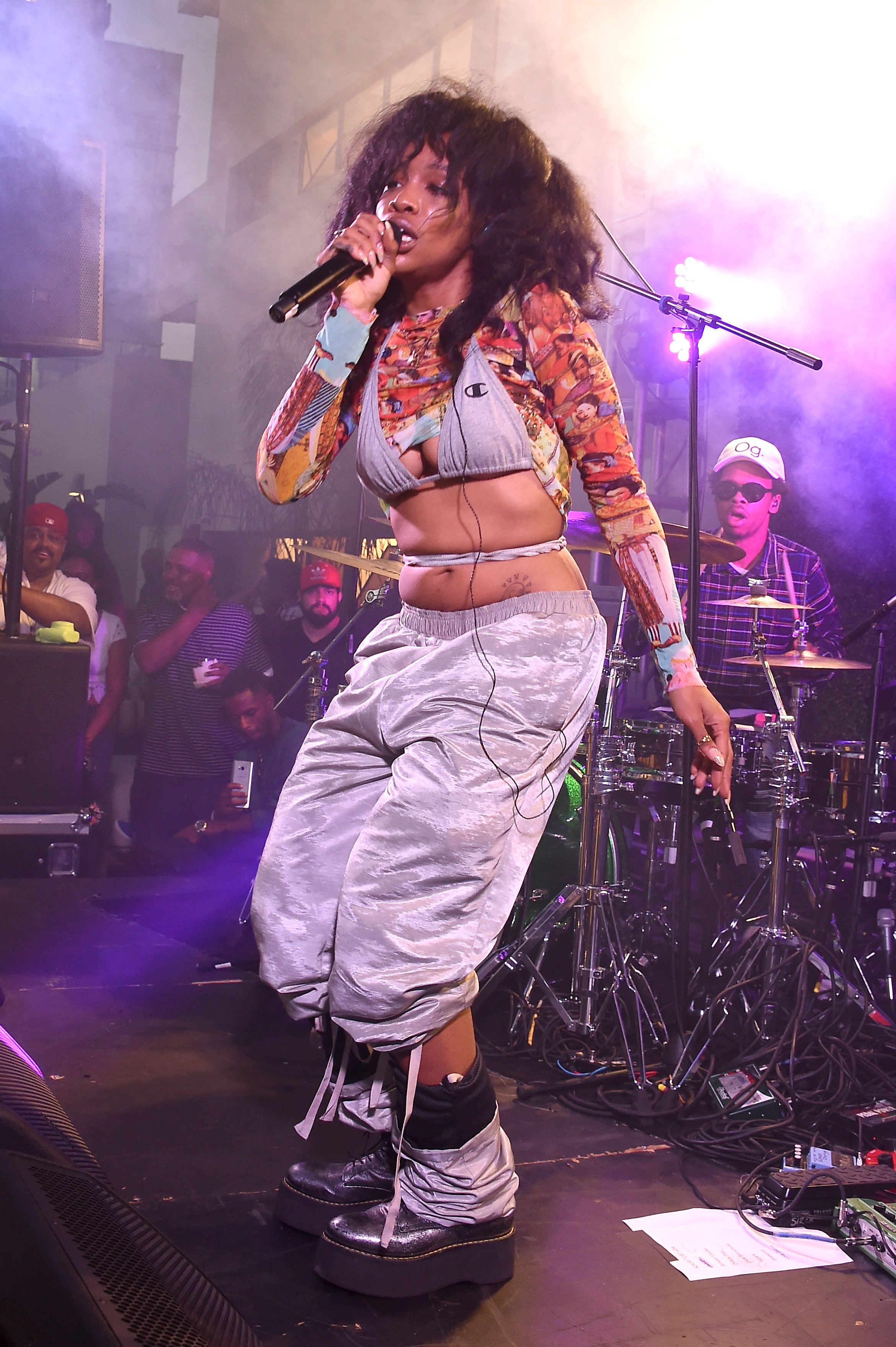 Performing at the YouTube Pre-BET Awards Showcase, 2017
In 2017, SZA released her critically-lauded debut album Ctrl. Through it, the singer advanced a vision of alternative R&B that was more incisive than ever; the album's sound more defined and polished than her previous releases. Her style evolved to match. To promote Ctrl, SZA took a sexier — sometimes gothier — approach to her favoured sport-meets-streetwear look. Think layered mesh and army jackets, sporty bra tops with baggy cargo pants, corsets paired with sweatpants and LaQuan Smith galore. Here, performing at the BET Awards Showcase, she dons a look that truly epitomises this era: a Champion bra layered over a mesh top, paired with track pants and platform Docs.
Performing on SNL, 2017
Near the end of 2017, SZA took to the SNL stage to perform her new album's two hit singles. The two accompanying looks were a glossy, glamorous take on — and a culmination of — the singer's Ctrl-era stage style. To sing "Love Galore", SZA wore a tracksuit-style dress with massive slit and a pair of Vetements platform boots. Accompanying "The Weekend" was a feather-trimmed satin Vivetta gown layered over a long sleeve mesh tee, paired with JW Anderson x Converse sneakers, naturally.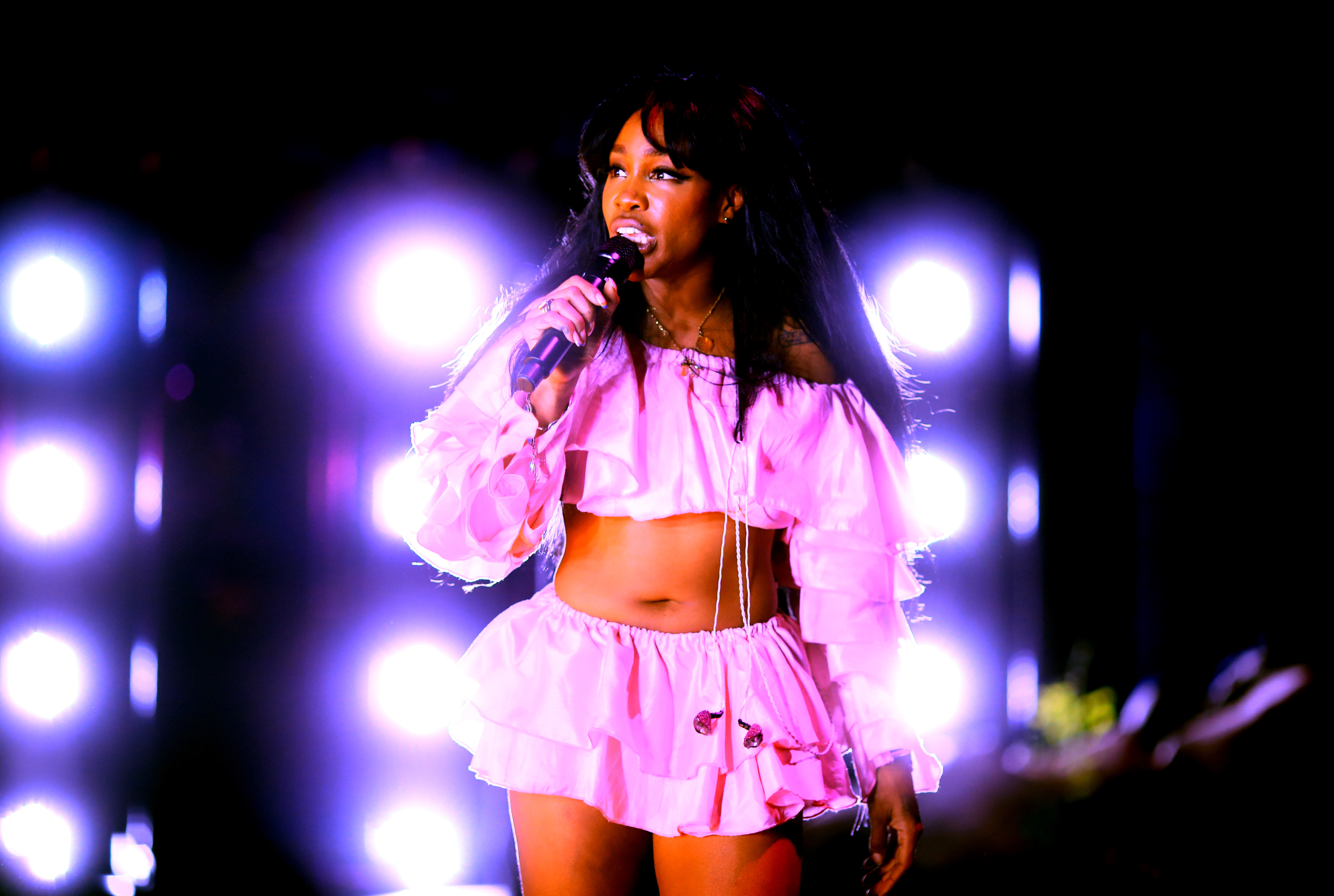 Performing at Coachella, 2018
It seems that SZA's diaphanous red carpet looks also had an influence on the star's stage fashions — or vice versa. Whatever the case, during 2018's festival season, SZA took to the stages of the BET Experience and Lovebox in a series of ruffled, corseted and peasant-sleeved outfits. Here, to Coachella, she wears a cute flouncy pink set, which, in hindsight, reads as a preview of her upcoming Met Gala look.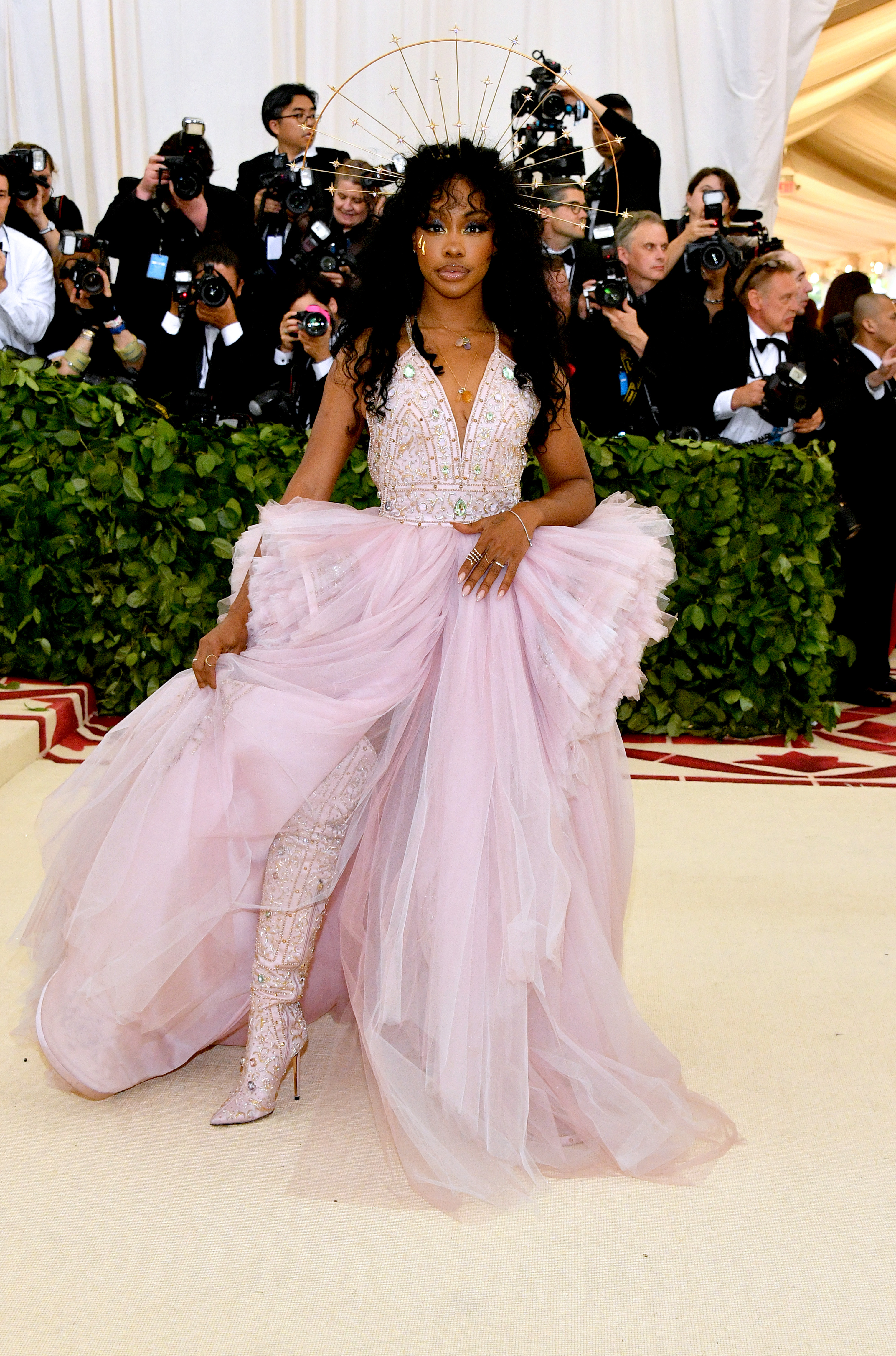 At the Met Gala, 2018
As SZA's career took off, with the release of Ctrl, so did her red carpet style. Spanning the 2018 and 2019 awards seasons, the singer wore a series of gorgeous, ethereal gowns, all delicately-detailed and crafted in pastel hues. To her first Grammy Awards, where she was nominated for Best New Artist, the singer wore a sequinned Versace naked gown. To the next year's ceremony, she donned a white floral Vivienne Westwood confection. Her most iconic Ctrl-era red carpet look, however, is her 2018 "Heavenly Bodies" Met Gala outfit: an utterly angelic Versace tulle number with matching bejewelled boots and headpiece.

At the Soul Train Awards, 2018
SZA pulled up to the 2018 Soul Train Awards wearing a pared-back take on one of her signature Ctrl-era silhouettes: a strappy bra top and baggy trousers, now rendered in neutral tones and paired with an elegant duster jacket. The look, in various minimalist iterations, would come to define SZA's style in the upcoming year. On the cover of Rolling Stone, she wore a similar outfit in white (also with a duster vest). Even in her downtime, as seen on Instagram, she donned a grungier — though no less streamlined — version by Ottolinger.
Backstage at SNL, 2019
SZA revived her love for the oversized tee when launching her sustainable clothing label, Ctrl Fishing Company. Aimed at "saving the ocean", the label offered a line of upcycled tops, some tie-dyed and patchworked together, others printed with custom graphics. The label saw SZA play with patterns and colours in a way she hadn't since 2015. Refreshing!
"Hit Different" video, 2020
Perhaps drawing inspiration from her newly-launched clothing label, SZA injected some colour (and massive pattern) into her signature strappy styling for summer 2020. Think candy-coloured cut-out bodysuits, psychedelic stringy bikinis and a tropical Louisa Ballou number. For her "Hit Different" video — the long-awaited first song and video SZA had released since 2017 — the singer donned a painterly-patterned Ottolinger bra and shirt set with blue cargo pants.
"Good Days" video, 2021
Spending time between Hawaii and Los Angeles last year, the bikini became one of SZA's 2020 wardrobe staples. And the singer brought the signature style into 2021 with an opulent twist. For the video for "Good Days" — SZA's first Top 10 single — the singer draped a crystal slip dress by Area over a gold bikini. In the clip's iconic library pole-dancing scene, she also sports a custom glittered two-piece. Literary luxe.
Tagged: