The trailer for A24's Zola is finally here
After what feels like 84 years, we're finally getting A24's highly anticipated stripper road trip movie.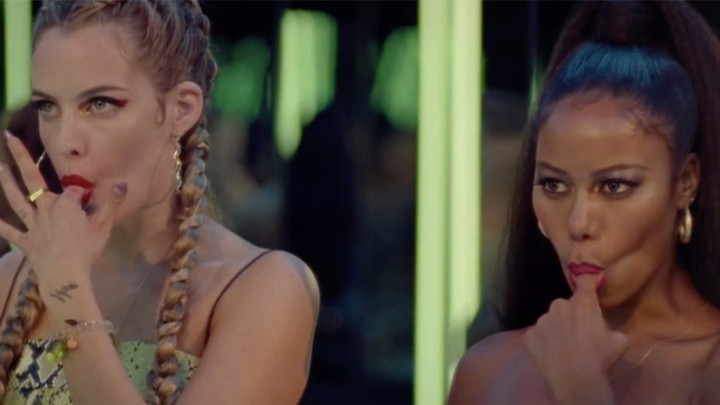 Still from Zola
Where the hell has Zola been? It feels like a half century has passed since the movie -- directed by Janicza Bravo and co-written by Jeremy O. Harris -- bowed at the Sundance Film Festival 2020, prompting every present critic to say 'The internet will love this'. Rightly so, we've all been anticipating this movie about a pair of out of control strippers on a road trip together based off a goddamn Twitter thread ever since. And now finally, we've got a release date and a full length trailer.
Starring Taylour Paige and Riley Keough, Zola tells the story of two girls who meet in a diner, bond over their shared love of pole dancing, and make a quick call to throw caution to the wind and head to Florida in an attempt to make as much money as possible stripping in the clubs. But we know now that this ended in disaster, because we've read this story before. Janicza and Jeremy penned the script using this iconic Twitter thread as the basis for the real life debacle.
The movie has garnered strong acclaim, with an 89% Fresh rating on Rotten Tomatoes. Jezebel's Cate Young called it "a triumph", saying that "Bravo and her team transform the famed series of tweets into an of-the-moment film that captures the same frenetic energy of the story", while The Playlist's Jessica Kiang called it "empowering, saddening, amusing and aggravating in roughly equal measure", and "The Ultimate Internet-Age Tale Of Messy Bitches Being Extra", which automatically makes it the greatest film made since Citizen Kane in our eyes.
In the first trailer to drop (we had a short preview last year, but nothing that showed us how the movie would properly unfold), we get a better look into the world of Zola. Think pimps, hoop earrings and the iconique TS Madison. For fans of previous A24 fare like Spring Breakers, this looks set to be some more irresistible deranged catnip.
What's more, we finally have a release date for the movie too. Watch the trailer below, and prepare for Zola to hit US theatres on 30 June 2021.