The queer and dirrty history of chaps
The assless icon has had a long and controversial life in fashion.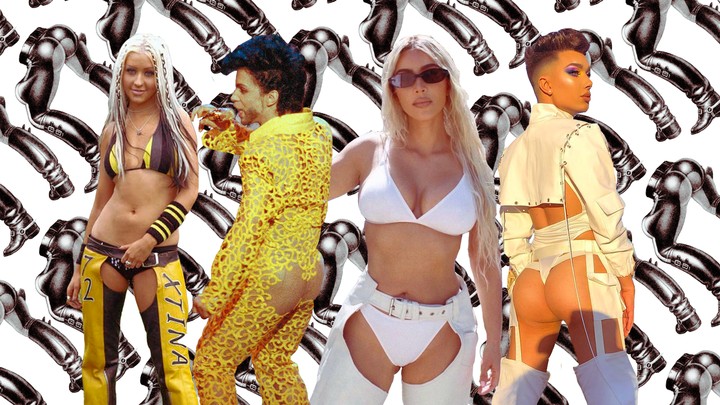 Chaps -- the practical cowboy kit made up of two, groin-less trouser legs connected by a belt -- have, throughout fashion history, held a layer of taboo that has denied them ever becoming a mainstream look. Oftentimes, in fact, their appearance elicits outright ridicule. Just recently, locked down in Wyoming, Kim Kardashian posted a series of images to Instagram wearing the ass-less attire in sleek black leather over trousers, and in her classic eggshell and beige shades over a matching bikini set. While all the posts were lit up by flame emojis and love, among them were comments of confusion and disgust. It's a narrative that pops up whenever chaps make an appearance, often producing more controversy than far more revealing garments. Why?
Chaperreras were originally worn by cattle herders in Mexico, with the name coming from the local chaparral -- low-growing, bristly brush that would damage trouser legs. To protect their clothing while working, these cattle herders would have two pieces of leather attached to their horses' saddles that draped over their legs. Over time, the design was adapted to fit to the wearer's body itself, held together by a belt and leaving the groin area exposed for ease of movement. As Mexican cowboys moved further north into what is now the United States and Canada, further styling changes were made -- the addition of fringing, for example, inspired by the clothing of local Native American tribes, or the development of bell-bottom and straight leg variants, depending on the local climate.
Over the centuries, as men stopped riding horses in favour of motorcycles, chaps started to become associated with a new type of masculinity -- less the good old-fashioned Western 'hero', more outlaw motorcycle clubs who, according to the US Department of Justice, were using their societies as "conduits for criminal enterprises". Post-WWII, state police began to crack down on homosexual behaviour in bars, and gay motorcycle clubs, such as The Satyrs, became a way for queer men to discreetly meet, commune and have sex. The chaps and other leather attire that were worn began to become associated with a new image, one that was inspired by Marlon Brando and which sought to masculinise the perceived femininity of gay men.
Unsurprisingly, it didn't take long for chaps to enter the leather and BDSM communities. Dr Shaun Cole, associate professor of fashion at Winchester School of Arts points out that chaps were almost destined to become a part of fetish culture. "If they were worn over jeans they made them tighter and pushed things in. If they were worn without other clothing they emphasised the body underneath and allowed for sexual acts quickly and easily without having to undress," he says. Artists such as Tom of Finland and Jim French would often draw muscular gay men wearing chaps, sailor outfits, jeans and other garments historically associated with working-class male culture, typically with little else on.
"Tom of Finland was seeing what gay men were wearing, enhancing that, and subsequently influencing [fashion]," says Dr Cole, pointing to its impact not just on gay fashion, but fashion as a whole. "Designers such as Jean Paul Gaultier or those involved in the 90s punk rave scene like Cyberdog started to make chaps out of materials other than leather so that they would lose some of those overt references to BDSM, but not completely." However, the queer, sexualised overtones of the garment had long ago removed it from the realm of sober heteronormativity — chaps became a wardrobe fixture for anyone looking to broadcast a message of shameless sexual liberation.
One of the most famous examples of this is Prince performing "Gett Off" at the 1991 VMAs in a yellow cropped suit jacket and matching trousers designed to have a window right over his swinging butt. "Prince specifically asked for it to be yellow, lacy and for his butt to be out," says Casci Ritchie, a fashion historian and 'Princeologist'. Prince's previous album Graffiti Bridge (1990) had received a lukewarm response and its like-titled film had flopped. As such, he needed an outfit that, as Casci says, "would create headlines". But while many celebrated the sensational spectacle of the suit, much of 90s America wasn't quite ready to watch a man be so brazen with his body and sex appeal, especially in such a camp way at the heights of the AIDS epidemic. Casci argues Prince got off on that. "He loved to flirt with the crowds and treated fashion and performances like a giant burlesque."
While the popularity of chaps showed no sign of letting up in underground leather scenes, their presence within pop culture was limited to occasional stage appearances on artists like Mary J. Blige and TLC's Lisa 'Left-Eye' Lopes. It wasn't until 2002, when an ex-Disney star would don a pair of leather biker chaps with a now-infamous striped bra and questionable dreadlocks in the David LaChapelle-directed music video for her single "Dirrty", that chaps would become part of the mainstream conversation again.
It was a shocking image. It was as if Christina Aguilera -- America's sweetheart -- had been led astray by the sexually deviant and outlawed cultures of underground America, as she provocatively danced in what was traditionally a menswear garment and brazenly showcased her ownership of her sexuality, body and image. Music critics (and surprisingly even Shakira) deemed the look and music video inappropriate, and EW referred to her as a "teen-queen turned barely-clad tart". These days, however, the video has been reevaluated, with Billboard recently calling it "ahead of its time". Casci believes that we don't give Christina enough credit for her impact on pop culture today and indeed the good-girl-gone-bad, Disney star to sex symbol arc that we have seen repeated many times since. "I remember Christina received a lot of bad press for that video," she says, "and the reaction was so misogynistic, especially looking back now from a time when it's just a given that women are allowed to express their sexuality."
To this day chaps still court controversy wherever they go. When they crop up at Coachella, a slew of tabloids scream at the "bonkers trend". In December 2019 when Lizzo wore a chaps-esque dress with cut outs over her butt, the reaction was swift and denouncing. But while strong female icons such as Rihanna and Megan Thee Stallion, and fierce drag queens like Aja and Shea Coulee continue to unapologetically wear them, chaps' place within menswear has almost completely died out. While references have been made on the runways of Loewe and Versace, and the Pride campaigns of Levi's and Gaultier -- reworked out of denim -- chaps are still yet to make the leap to the high streets, more or less exclusively worn in fashion shows, in the queer BDSM and leather scenes or by straight men as a gag.
Is this a bad thing? Maybe not. Whether worn by mythical 'heroic' cowboys, fearsome motorbike gang members, queer leather doms, or liberated, empowered pop icons, the sense of power and proudly sexual energy that emanate from a pair of chaps radiate isn't necessarily something that everyone is strong enough to wield.