Watch the trailer for a sinister new Netflix thriller starring Robert Pattinson
R Pattz perfects his southern twang in a first look at 'The Devil All the Time'.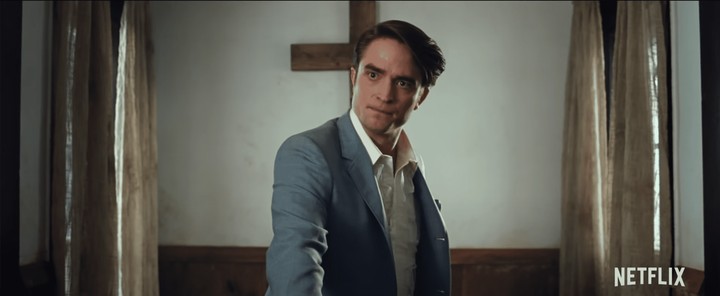 It's been a while since we got excited for a new movie. Something about cinemas closing and production ceasing en-masse thanks to Miss Rona took all the fun out of watching trailers as release dates were pushed back and studios adjusted to the new normal. But the new trailer for The Devil All the Time might just change that for us.
Starring Robert Pattinson and Tom Holland, the movie — based on a 2011 novel of the same name — is set in desolate, post-WWII Ohio and West Virginia, and tells the story of a disturbed war veteran, a twisted husband and wife serial killer duo, and an 'unholy' preacher. All sounds very sinister and spooky.
Those vibes definitely seep out from the first look we've got at the film, which sees R Pattz assume the role of the preacher, complete with cheap suit and southern accent. Produced by Jake Gyllenhaal, the film, which is available on Netflix 16 September, has a pretty impressive all-star cast. Alongside Robert and Tom, Eliza Scanlen, Riley Keough, Sebastian Stan, Mia Wasikowska and Bill Skarsgård -- without the clown makeup -- all make an appearance.