Photo by Warner Brothers/Getty Images.
7 of Shelley Duvall's most iconic outfits
As 'The Shining' turns 40, we look back on how its leading lady became an unlikely style icon of the 70s.
Photo by Warner Brothers/Getty Images.
Perhaps the most iconic thing about Shelley Duvall is the fact that the 70s Hollywood starlet became a household name entirely by accident. Growing up in Texas, she hoped to become a scientist until director Robert Altman plucked her from a party in Houston and put her in his comedic film Brewster McCloud. The two would go on to make many movies together, including 3 Women, for which Duvall won the Cannes Best Actress Award. Lovingly referred to as "The Texas Twiggy" for her doe-eyed resemblance to the famed model of the 60s, Duvall's eccentric personality and charisma helped her carry a variety of roles throughout her career. "She looks and sounds like almost nobody else," wrote film critic Roger Ebert, who interviewed her shortly after The Shining was released in 1980. "In all of her roles, there is an openness about her, as if somehow nothing has come between her open face and our eyes – no camera, dialogue, makeup, method of acting – and she is just spontaneously being the character." As Stanley Kubrick's legendary horror film turns 40, we look back on some of the iconic roles and equally iconic looks that made Duvall an unlikely style icon of the 70s.
In full character for Brewster McCloud, 1970
Duvall's first film role was that of Suzanne Davis, a part-time race car driver and love interest of loner Brewster in Altman's experimental comedy, Brewster McCloud. Her looks range from a full on tangerine-haired clown get up to a classic red striped T-shirt, most aptly worn as a dress, all topped off with the long Twiggy-esque under-eyelashes that earned her her nickname. As the story goes, Altman met the striking 20-year-old college student at her own party, and asked her to be in his upcoming film on the spot. "I thought, 'Oh, no, a porno film,' because I'd been approached for that when I was 17 in a drugstore," she told Andy Warhol. But while filming Brewster McCloud, Duvall signed a 5-year acting contract and never looked back.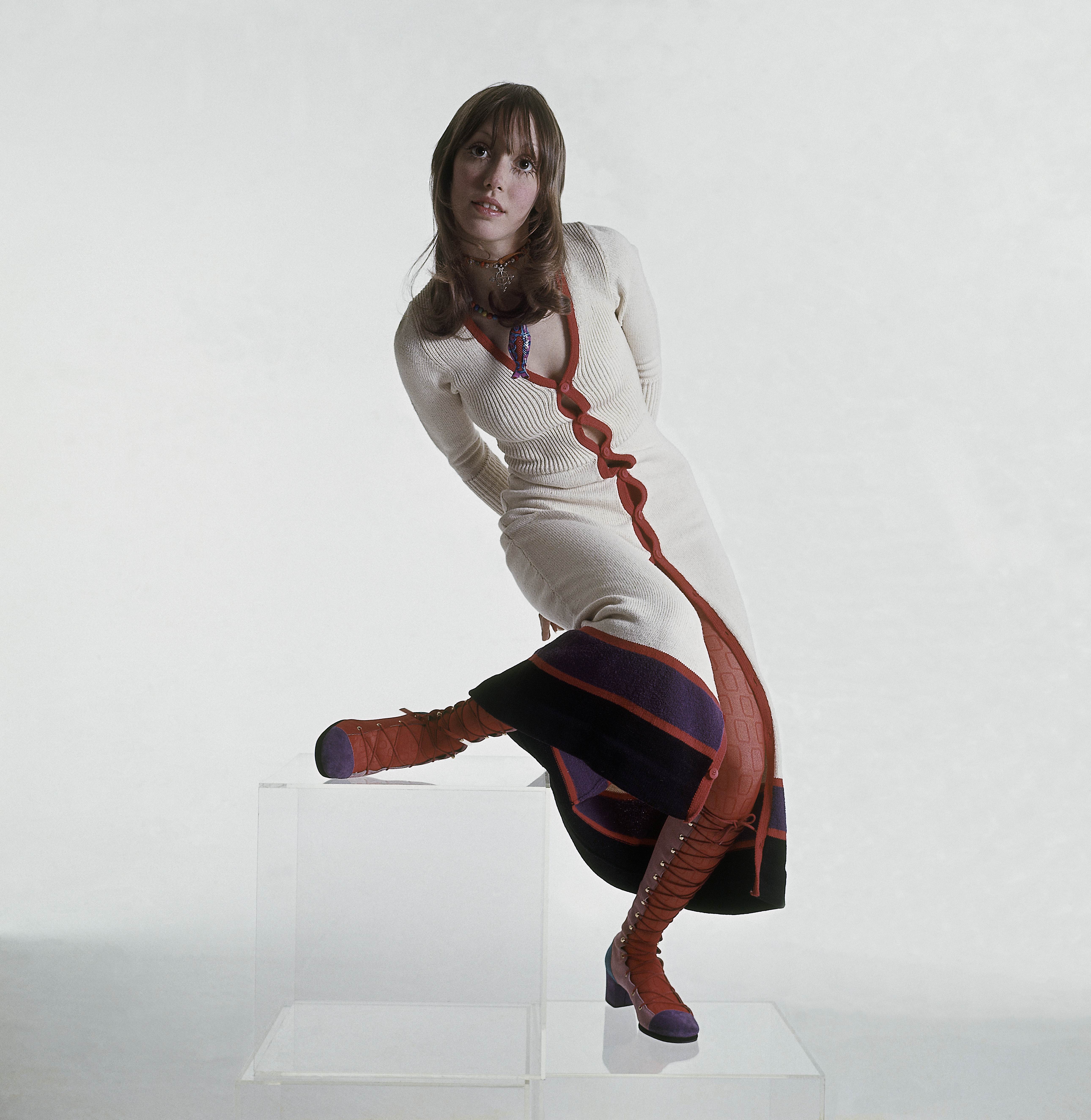 Photographed for Vogue, 1971
To promote Duvall's film debut in Brewster McCloud, the budding young actress was photographed by Bert Stern, and made her slightly more fashionable debut in the pages of Vogue. The shoot was inspired by the movies' brightly-colored, playful looks, not unlike Duvall's own everyday fits (after all, she wore a bright pink flared dress, green linen boots and a pink and green silk shawl to meet Warhol). Here, she wears a cream knitted coat-dress, orange patterned tights and lace up, capped tow purple boots. And those lashes.
As a groovy 70s groupie in Nashville, 1975
Before meeting Altman, Duvall had never left Texas, but she quickly became one of his greatest muses, starring in McCabe & Mrs. Miller (1971), Thieves Like Us (1974) and then, the ensemble comedy Nashville (1975). In the latter, Duvall plays a young, country music groupie name L.A. Jane, with a love of smocked 70s crops, micro-mini patchwork shorts and platforms fit for Coachella. "Bob won my trust right at the beginning," she told Ebert. "He encouraged me to be myself on the screen, to never take acting lessons or to take myself too seriously. When I play a character, at that moment nothing else exists."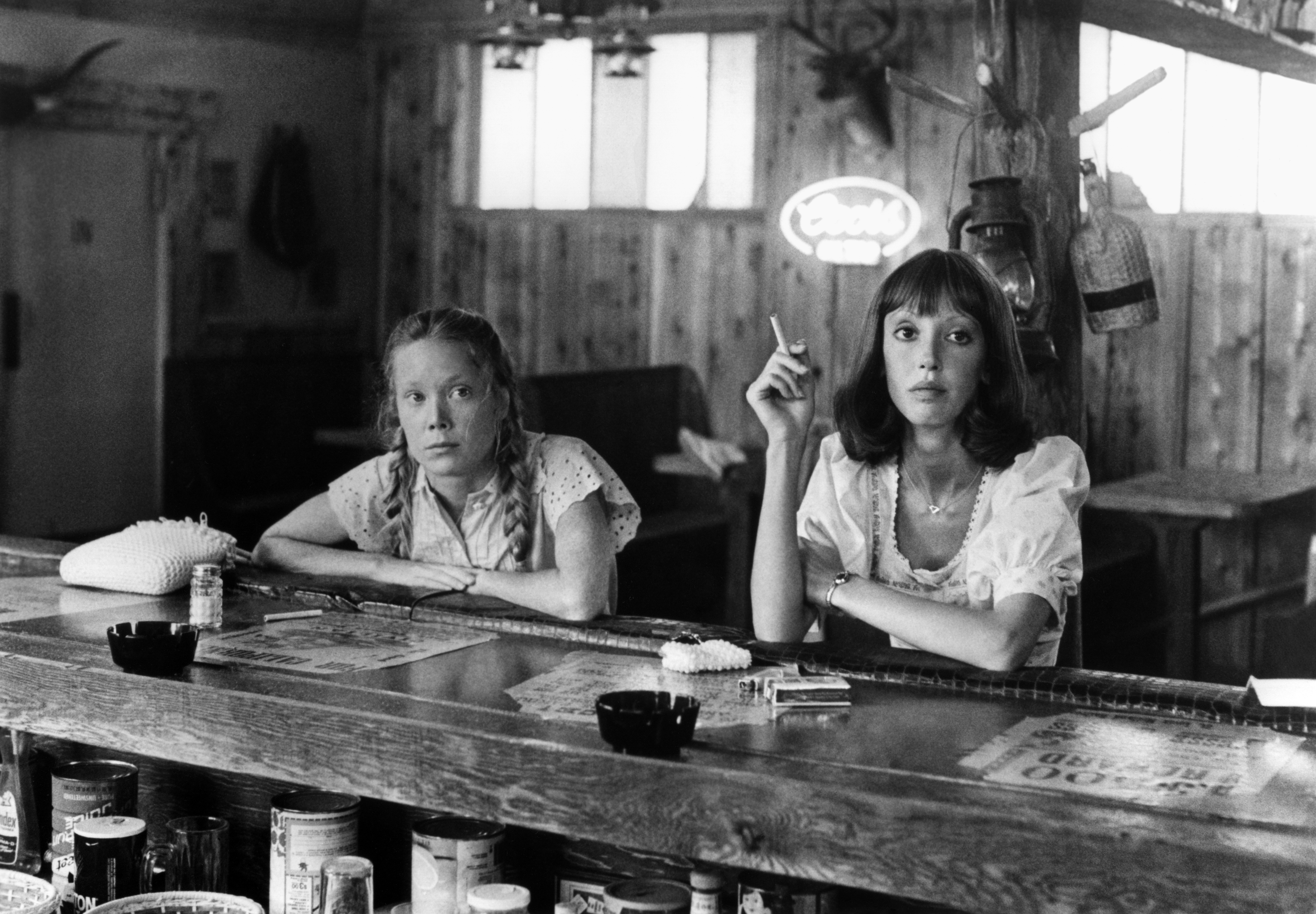 With Sissy Spacek in 3 Women, 1977
The idea for 3 Women came to Altman in a dream, and the films' fashions might as well have jumped out of one -- Shelley Duvall and Sissy Spacek slip into saccharine prairie dresses and low-back La Bomba-like halters that are as of the era as they are of the moment. In the avant-garde, psychological triller, Duvall and Spacek play chain-smoking roommates and therapists at a spa in Palm Springs, and they look really good while doing it. Though the film didn't exactly smash the box office, it was met with widespread critical acclaim, and at it's Cannes Film Festival premiere in 1977, Duvall won the Best Actress Award.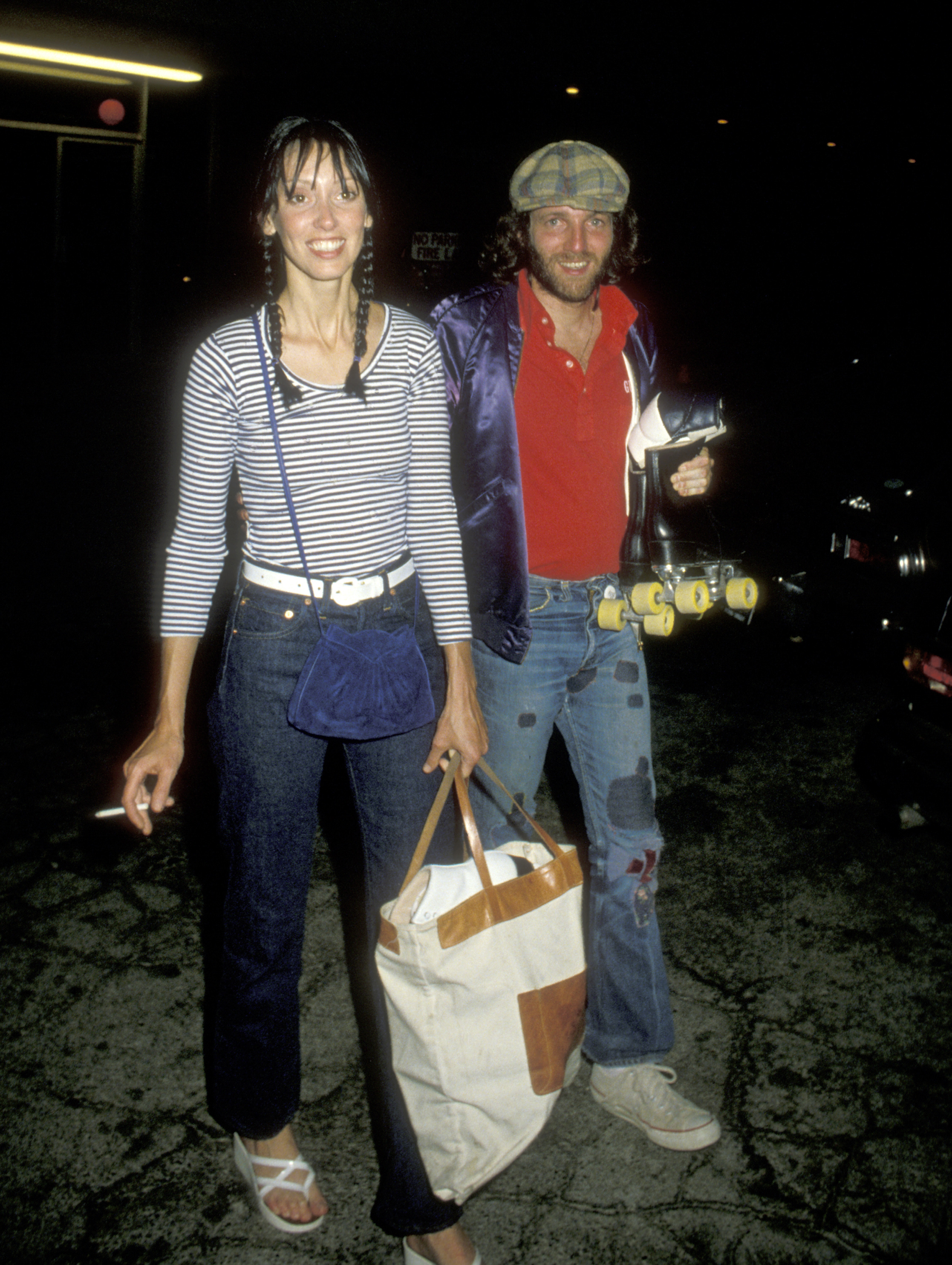 Off-duty 70s style in California, 1979
Though her film fits have always been quite stylish, it's Duvall's off-duty outfits that make her the ideal poster girl for the 70s. Whether leaving Heathrow with friend and Beatle Ringo Starr, a bolo tie cinching her collared top, or dancing in a floral, floor-length dress and matching necktie with Paul Simon at Studio 54, her looks are always thrown together effortlessly. The star favors dressing down to dressing up, even to movie premieres, unapologetically donning a pair of overalls or a matching set. Here, she's shown en route to the roller rink with her then boyfriend, wearing blue jeans, a classic striped top and platform sandal.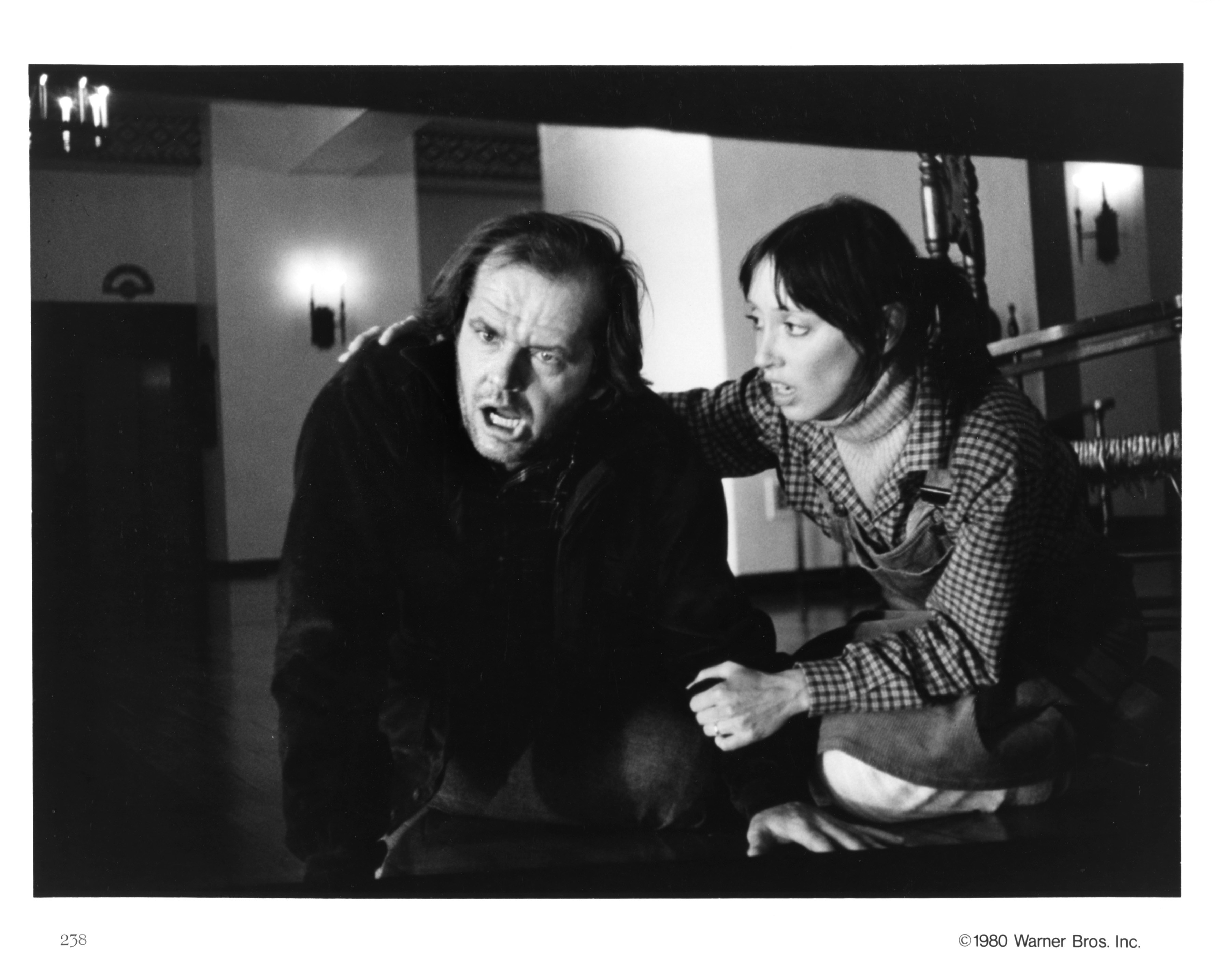 Alongside Jack Nicholson in The Shining, 1980
Filming The Shining, which is arguably Duvall's most well-known turn, with her signature layered overalls and striking jet black hair, was far from a pleasant experience for the actress. To get into character as Wendy Torrance, who's husband (Jack Nicholson) turns into a terrorizing killer, was "almost unbearable," as Stanley Kubrick is said to have been almost equally as terrorizing to her on set -- wanting her to feel isolated, and broken down, like Wendy herself. "I was really in and out of ill health because the stress of the role was so great," she says in The Complete Kubrick. "Stanley pushed me and prodded me further than I've ever been pushed before. It's the most difficult role I've ever had to play." After the film, she returned to Altman, to play Olive Oyl alongside Robin Williams' Popeye.
Shelley Duvall's Faerie Tale Theatre, 80s
From 1982 to 1987, Duvall created, produced and hosted her Faerie Tale Theatre TV series, famously opening each episode of live-action fairy tales by rather soothingly chiming, "Hello… I'm Shelley Duvall." Nearly 30 years after the series aired, compilations of her introduction went viral on YouTube, acting as a highlight reel of all her best 80s fits -- featuring way too many shoulder pads -- and further immortalizing our unlikely fashion icons' most iconic looks through the years.