Lil Nas X comes out as a power bottom
And shuts down homophobic bigots in one fell swoop. The representation we all needed.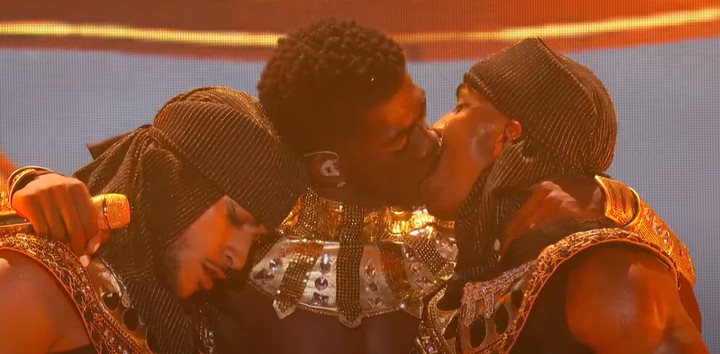 It is right there in the bible; Leviticus 18:22: "Conservatives can't stand the thought of a gay bitch thriving." It is the mantra that applies to everybody's favourite rapper Lil Nas X, who after "causing controversy" (read: kissing another man) on stage at the BET Awards on Sunday, is now facing backlash from pissed off bigots on Twitter and right-wing media.
During a performance of his track "Montero (Call Me By Your Name)", Lil Nas X, who was dressed as a sexy Egyptian pharaoh, writhed around on stage wearing next to nothing, and topped off the performance by tongue kissing his backing dancer, much to the hysteria of the crowd (including Pose's MJ Rodriguez, who gave the performance a standing ovation), Twitter and people watching at home. Even rap legend Diddy gave it his seal of approval.

Homophobes remained pressed though. With some tweeting (ew and ew) their thoughts as if anybody actually cared what they had to say. Madonna, a certified queer icon, even stirred the pot by posting on Instagram a collage of her performance where she kissed Britney and Christina on stage at the VMAs with the caption "#DidItFirst".

Lil Nas responded with dignity, before dropping the tweet that really shut everyone up:
He has a point. The mindbogglingly small act of kissing a man on stage has automatically prompted outrage within those who see it as an overtly sexual and corrupt act -- but there's plenty he could have done, that a cis straight male-female pairing could have gotten away with, that he didn't.
That tweet led to a truly iconic interaction between hip-hop's two favourite gay men. Our king, BROCKHAMPTON's Kevin Abstract, replied to the above tweet with a very simple question: "Lil Nas X are you top or bottom?"
"Power bottom," he replied, prompting a cry of joy from verses and tops the world over.
He continued, referencing a famous, niche meme from a few years ago, to riff off Chimamanda Ngozi Adichie's guest monologue on Beyoncé's "Flawless". "We teach our bottoms to shrink themselves, to make themselves smaller," he tweeted. "We say to bottoms, you can have ambition, but not too much. You should aim to be successful, but not too successful. Otherwise, you would threaten the top."
And just like that, Lil Nas X reminded us that, no matter the discourse, he really doesn't give a fuck about what the homophobic, femmephobic bigots think. That, bitch, is why we stan.